"Estate Agents Don't Sell Houses Anymore"
With the rise of sites like Rightmove and Zoopla and easy access to information, Russell Quirk of online agents eMoov suggests that estate agents don't sell houses anymore...
November 23, 2016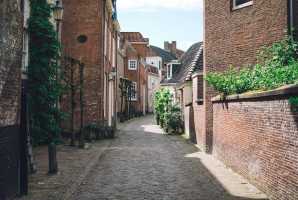 Back in the day, you went to an estate agent to sell your house.
You did this because they had all of the buyers registered and because they knew how to price your property.
When I first started in estate agency in 1984, people would pop in to each local agent to add themselves to their mailing list – a Rolodex of wishes and wants that served as the database (albeit a manual one) of all those that were in the market to buy. Twice a week, I'd sit in the back of the office photocopying sales particulars and stuffing them into envelopes ready to be franked and posted to hundreds upon hundreds of waiting potential purchasers. The 'hot' ones would receive a call from our negotiators whenever a suitable listing was instructed to us and that would go something like this:
"Hello, it's Sally at Quirk and Partners. Are you still looking for a property?"
"Yes, I am", would sometimes be the reply.
"Well, I've just taken on a lovely three bedroom semi in Peartree Lane that I thought might interest you," says Sally.
"Ok, can you stick the details in the post?" was the regular riposte. And the applicant card would then be thrown to the back of the office for me to add to my pile of post.
Of course, if Sally noted a morsel of enthusiasm from said applicant she'd lurch into an eloquent and persuasive prose with a view to tempting said person into a viewing. Success in that regard was infrequent but not impossible, albeit that property buyers then, as now, wanted to see the goods and to kick the tyres before committing to making an effort.
One thing was for sure in days gone by: the estate agent had the power. They had the register of buyers. They held the ability to disclose details of new property listings via press ads, ring outs and their mailing list. They had control of the flow of property information and had the upper hand in knowing what had sold, for how much and how long that home had been marketed for.
And hence the estate agent sold houses and could charge a fee based on their pivotal and valuable position in the buying and selling process.
Then something changed…
The disintermediation of that power and information went online for all to see.
Since 2000, when Rightmove launched, visibility on all properties marketed for sale and all sold data became democratised.
Each agent's inventory, sold prices, time on market, internal photos, room measurements, previous price changes are all fair game to the prying eye. No longer do the public have to rely on scraps of informative being fed to them at the will of a vested interest. It's open season on property info, 24/7.
The new order of things as a would be property buyer is to search online via Zoopla and Rightmove and to set up alerts that advise when a new listing comes to market that suits requirements. This is the modern day mailing list or ring out.
Checking to see whether an asking price is correct is a doddle now. Local comparable home sales and the prior value of individual houses themselves are readily available via the likes of Zoopla, HM Land Registry, Nethouseprices.com and so on.
Joe and Jo Public have become, in effect, the agent. They buy what they want to buy, merely helped by the agent.
So why do you need an agent at all now if the info balance has shifted and transparency of data prevails? Because the agents' job has become one of facilitation. As a conduit between buyer and seller and as a means of communication. The estate agent is now, by my contention, a concierge predicated around great communications and exceptional service levels. A hand-holder. A property usherette.
No longer do agents sell houses as such. And they should be paid accordingly.
Written by Russell Quirk, eMoov
Sign up to our

FREE

weekly newsletter

for the latest news, advice and exclusive money saving offers
Sign up to our

FREE

weekly newsletter

for the latest news, advice and exclusive money saving offers