Five questions to ask your estate agent
Spring is in the air and many of us are starting to think about moving home. If you are preparing to sell, you'll soon have estate agents giving you their sales pitch for why you should use them. But how do you work out which agent will be best for you?
February 28, 2019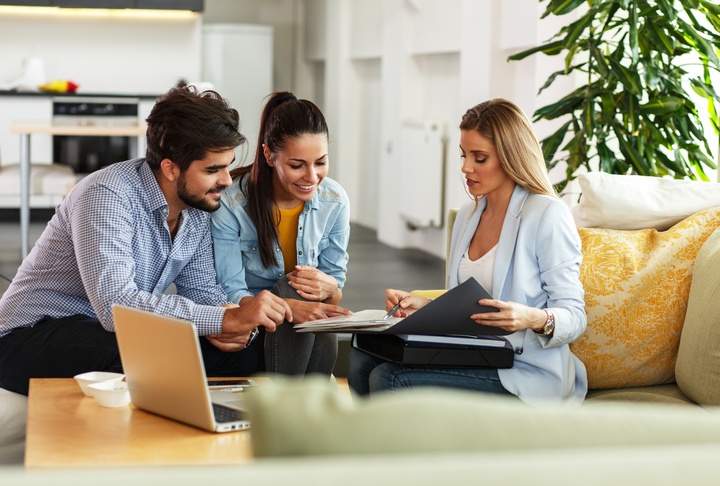 Here are five questions to ask your estate agent that will help you separate the wheat from the chaff.
1. How much will you charge?
Obviously, this is at the forefront of your mind when choosing an estate agent so it is one of the key questions to ask your estate agent. Most estate agents charge a percentage fee which can be anything from 0.75% to 3.5% of the selling price, depending on the type of contract.
We would recommend you aim for a fee of 1% +VAT for a sole agency contract. Be prepared to haggle!
Online estate agents charge less but you'll have to pay upfront. Our online comparison tool lets you compare prices and packages they offer. You should make sure any basic package includes at the very least floorplans, professional photography, and listings on Rightmove and Zoopla.
2. How much is my home worth – and why?
The obvious next question is how much is my house worth? You'll want your estate agent to use local knowledge and data to give you a price at which to start marketing your property. Don't be wooed by a high valuation – you won't necessarily secure this price and it may take longer to sell.
Do your own research beforehand so you know what you're talking about. Look at what houses like yours in your area have sold for (not the price they were or are listed for – you want to see how much they eventually sold for) by checking the Land Registry website. You can also use our free instant valuation tool to get a rough idea of what your home is worth based on Land Registry data.
Valuing your house isn't a science though, and it will depend on your motivation – is it most important to you to sell quickly or maximise the price? Plus, how much a buyer is willing to pay. Invite at least three estate agents round to help get a rounded view of what the best asking price should be. Take their advice on board – they know the local market and what is happening locally in this Brexit uncertainty where people are looking for deals – but ultimately the decision of the sales price is yours.
3. What type of contract do you offer?
There are a number of different contracts that you could end up on. Each have pros and cons, so this is one of the important questions to ask your estate agent.
Sole agency is the most common type of estate agent contract.  This means that the agent you have appointed is the only one contracted as agent on the sale.  You have to pay them even if another agent finds your buyer during the sole agency period.  Some contracts give the agent "sole selling rights" which means that even if you find your own buyer through friends and family during the agency period, you still have to pay commission to your estate agent.
In both sole agency and sole selling agency cases, you have to be careful about claims for double commission in the event that you involve new estate agents later on.  Multi-agency means you can list your home with as many agencies as you want and only pay commission to the one who finds you a buyer.  For this reason, commission for multi-agency is a lot higher than on sole agency.
Make sure you understand what happens if you want to switch agents. It is becoming increasingly common for you to have to pay commission to both the new agent and the old one when you sell. The Property Ombudsman (TPO) has highlighted that complaints about dual commission fees are on the rise. The problem comes from terms hidden in the estate agent contract. "Because of the level of detail in a contract, many consumers fail to read and understand all the information outlined," a report from TPO states.
4. Am I tied-in?
Many estate agents like to tie you to them for a period. This means there is a set period of time where you cannot list your home with another agent. Known as the sole agency lock-in period this is usually four to 12 weeks.
You could also have a lengthy tie-in period – we've known this to be 20 weeks. So, be prepared to challenge if you find a 20 week tie-in in your contract. Ideally, you want the flexibility to terminate without incurring a penalty, after a month or six weeks – not four months – just in case you don't get on or are unhappy with the service.
If you're not sure about your estate agents contract get in touch with us. We can look it over for you and tell you the sections you need to have removed or changed.
Join the HomeOwners Alliance for expert advice and help resolving problems
5. Are there any additional costs?
Among the questions to ask your estate agent querying additional costs is important. Don't spend ages haggling the estate agent's fee to then discover there are a load of further charges on top. Ask whether the fee includes a for sale board, floorplans, 360 degree photos, featured listings on property portals. All these marketing costs should be included in the % fee.
Use our online tool to find your local estate agents. You can compare everything from their fees to how likely they are to achieve the asking price when selling your home.
Sign up to our

FREE

weekly newsletter

for the latest news, advice and exclusive money saving offers