How to protect against a mortgage rate rise?
The Bank of England has increased the base rate to 0.75% this week – the third increase in three months. We look at what it means for mortgage rates and what you can do.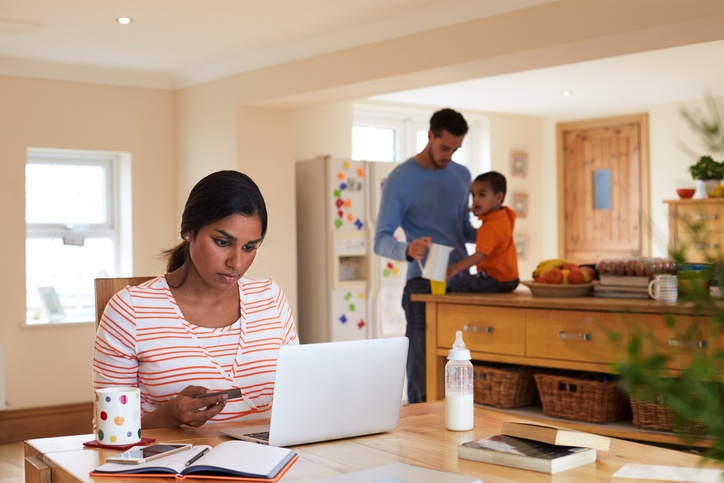 How can I protect against a mortgage rate rise?
On 17 March the Bank of England increased the base rate from 0.5% to 0.75% taking the benchmark rate back to the level it stood at in January 2020 (pre-covid levels). This is the third increase in three months. Last month we saw an increase from 0.25% to 0.5%. While in December we saw an increase from 0.1%-0.25%.
So we look at what's been happening with interest rates, what the rise will mean for you and what you can do about mortgage rate rises.
What is the base rate and why does it matter?
The Bank of England sets the base rate and it's important to homeowners because it acts as a benchmark for the cost of borrowing money. So the lower the base rate the lower mortgage interest rates. And if the base rate rises, so too will mortgage interest rates.
When base rates are low borrowing is cheap but it's less good for earning any interest from savings. The higher the base rate, the higher the cost of borrowing, but the more you'd make in interest on any savings.
How much will a mortgage rate rise cost me?
The amount a mortgage rate rise will cost you will depend on what type of mortgage you have.
Fixed rate mortgages: If you're among the 74% of mortgage borrowers in the UK on a fixed rate deal you would only see a change in your repayments when your current deal ends.
Tracker mortgages: If you're on a tracker mortgage, then your mortgage payments will rise. So it's important to check what rising interest rates could mean for your monthly payments. Use the online rate change calculator to see what different scenarios would add to the monthly cost.
For example: If the rate rises by 0.25%, a homeowner with a £200,000 repayment mortgage tracking at 1.5% above the Base Rate will see their monthly payments go up by around £25 a month.
Standard Variable Rate: And if you're one of the 1.1 million households on a Standard Variable Rate it's less straight forward as these can change at the lender's discretion. The lender can pass on the full increase, some of it, or none. And if it wanted to, your lender could increase rates by more. So if you're not sure how if your rate has increased it's important to check.
Mortgage Finder
Get fee free mortgage advice from our partners at L&C. Use the online mortgage finder or speak to an advisor today.
Find a mortgage
Interest rate predictions: how much do experts think rates will go up by in 2022?
At this stage it's all speculation. However financial markets are now pricing in two more rises in 2022, which would see rates reach 1.25% by the end of 2022 – the highest level since early 2009.
How soon will a mortgage rate rise start driving up costs?
We saw super cheap mortgage rates available in 2021 due to a combination of a low base rate and fierce competition between lenders. But from late October 2021 amid speculation the Bank of England would raise the base rate we saw a shift as banks started increasing rates on fixed rate deals.
This trend continued in the following months and with each base rate increase – and the speculation they were going to happen – we've seen rates shooting up as lenders have pulled their cheapest deals.
However, don't panic. If you're looking for a fixed mortgage deal, while the super cheap deals may have dried up, there are still some great rates available. Find out more by reading Best Mortgage Rates which is updated with the latest best mortgage deals.
How to protect against a mortgage rate rise
There are some steps you can take to protect yourself financially against a mortgage rate rise.
Fix your mortgage rate
The most obvious course of action to guard against a mortgage rate rise is to take cover and batten down the hatches.  Switching your mortgage to a fixed rate – especially if you are currently on the lender's (often more expensive) standard variable rate – will lock the mortgage down and give you a period of budgeting certainty. Even if the base rate rises your monthly payments will stay the same. You can still move home and retain your fixed rate, by porting your mortgage. But remember that rates could be higher when your current deal finishes, so you could face steeper costs when you come to remortgage. And when it comes to fixing your mortgage there are some other factors to consider:
Should you fix for longer? If you fix for a longer period of time, for example by taking out a 5 or even 10 year fixed deal, this means you're insulated from potential interest rate rises for a longer period. And you can fix for even longer if you wish. But whether this is right for you will depend on your circumstances. And bear in mind that if better deals come on the market in the next couple of years you may not be able to switch onto them without incurring hefty charges. It's a good idea to chat it through with a mortgage broker to explore your options.
Start looking six months ahead: And if you're looking to remortgage within the next six months it's a good idea to start looking now. Lots of lenders' offers are valid for six months. So if you lock one in now, you're protecting yourself in case the best deals disappear.
Can you save by switching mid-deal? It may be worth switching to a better deal even if your current deal isn't due to end any time soon. There may be fees to pay, such as an early repayment charge, and these can be significant. But depending on your circumstances it may be worth considering. It's a good idea to speak to a broker about your options and they'll run through the costs and potential savings with you.
Remortgage Finder
Get fee free remortgage advice from our partners at L&C. Use the online remortgage finder or speak to an advisor today.
Find a mortgage
Stay and Overpay
If you have some time before rising interest rates hit you in the pocket, take advantage of the low rate you're currently on and make overpayments if you can. Overpaying will help to drive down the mortgage more quickly while interest rates are low, which will mean a smaller mortgage balance as rates rise. Check if your mortgage allows overpayments (most do) and also check if there are limits on how much you can overpay by.
Work out a budget
If your mortgage payments are likely to increase then it's important to know how this will affect your finances. Many households are already feeling the squeeze with rising energy bills and food costs. So create a budget and see if there is anywhere you can cut back. And if your mortgage payments are likely to increase in the future, start putting some money away to create a savings buffer which will make it easier to manage the rises when they come. Read our guide 10 Truths of household budget planning for more tips.
Build up your credit score
Your credit rating affects whether your mortgage application is successful and influences how much you'll pay each month too. So it's essential to improve your credit rating if you're planning to remortgage. There are simple things you can do to improve it such as checking your credit reports are correct and getting on the electoral role. For more tips read our guide How to improve your credit rating before getting a mortgage.
If you're worried about a mortgage rate rise
If you're struggling to pay your mortgage you should contact your lender as soon as possible. Depending on your circumstances the lender may offer a range of options such as reducing the amount you pay for a short period of time. You can also get free money advice from various charities and organisations including Citizens Advice and Step Change Debt Charity.
Mortgage Finder
Get fee free mortgage advice from our partners at L&C. Use the online mortgage finder or speak to an advisor today.
Find a mortgage
Mortgage prisoners
The most vulnerable borrowers are those that do not have the opportunity to shop around for a better mortgage deal.
Mortgage prisoners are borrowers who took out high-interest home loans with lenders such as Northern Rock, which collapsed during the 2008 financial crash.
Their mortgages have since been sold on to other providers, who do not offer new mortgages, so remortgaging with them is not possible. Issues including negative equity, having an interest-only mortgage, missed payments or changes in circumstances have prevented people from switching to a different lender despite interventions from the FCA.
And according to the FCA's Mortgage Prisoner Review, which was published in November 2021, there were about 195,000 households whose debts had been sold on to inactive lenders. And it estimated 47,000 of these households could save money if they were allowed to switch to a new deal.
However, despite changes that have made it easier for banks to offer these borrowers mortgages at a lower rate than they're currently paying, the FCA found that demand from customers and supply from lenders has been low.
And the FCA said it hoped this situation will improve for mortgage prisoners. It said: 'We hope that more mortgage prisoners will be able to switch their mortgage. We encourage lenders to consider if they can amend their lending criteria to lend to mortgage prisoners who are close to their risk appetite.'