Welcome to the HomeOwners Alliance
Welcome to the HomeOwners Alliance – the voice of the homeowner! We are Britain's only organisation to champion, support and serve Britain's 17 million homeowners and 5 million aspiring homeowners. We provide unbiased advice and services you can rely on. As a membership organisation, we promote our members interests in government, the media and industry to help get them a better deal.
Nightmare New Builds on Channel 4's Dispatches
HOA is featured on C4's award-winning investigative current affairs programme Dispatches, highlighting problems with many new build homes.
Read more... »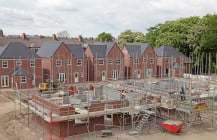 Top tips for buying a new build home
New build homes are a great option whether you're a first time buyer, have a growing family or "right sizing" in later years. But there are also common problems many home buyers aren't aware of. Here are the most common pitfalls and top tips for side stepping them...
Read more »
Online Estate Agents
Looking to sell your home but don't want to pay thousands for the pleasure? Our comparison table, as featured in the Daily Mail, helps you choose the right online estate agent for you.
Find out more »
HOA's Voice

February 9, 2016

2 for 1 tickets to the Ideal Home Show 2016!

Be inspired and discover everything the UK's Biggest Home Show has to offer! Whether you have a substantial home project or want to add those finishing touches that make a [...]

No Comments

Ask An Expert

Homeowners are often confronted with complex - and very expensive - problems that they have never experienced before. Knowing what to do can be nail-bitingly confusing. Members can send in their for an expert response.

Ask An Expert »
House Price Watch
Our latest service is a concise summary of the cacophony of voices trying to tell you that we are seeing both a housing boom and bust. Let us be your one-stop-shop for all house price info
House Price Watch »
Sign up to our FREE newsletter

Keep up to date with all our latest advice and services

Sign up! >
Latest Tweets
HomeOwners Alliance
Compare online estate agents like @eMoov and @easyPropertycom to find the best one for you! https://t.co/sgPyPua0G6 https://t.co/0xvnZWMkJX

10 February 2016

HomeOwners Alliance
Bridesmaids or bricks this #ValentinesDay? Read our latest newsletter to catch up on the top #property stories | https://t.co/mJyR1UN7pH

10 February 2016
Ask an expert
Get advice from industry experts on your homeownership issues
Members of the HomeOwners Alliance can send in their questions and we will find an expert to give you a tailored answer, using their industry-insider experience
Ask an expert >