Welcome to the HomeOwners Alliance
Welcome to the HomeOwners Alliance – the voice of the homeowner! We are Britain's only organisation to champion, support and serve Britain's 17 million homeowners and 5 million aspiring homeowners. We provide unbiased advice and services you can rely on. As a membership organisation, we promote our members interests in government, the media and industry to help get them a better deal.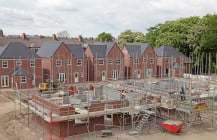 Top tips for buying a new build home
New build homes are a great option whether you're a first time buyer, have a growing family or "right sizing" in later years. But there are also common problems many home buyers aren't aware of. Here are the most common pitfalls and top tips for side stepping them...
Read more »
Essential Guide to Home Improvement
Our top tips for stress free home improvement projects feature in the FMB's Essential Guide, included with Real Homes and Homebuilding & Renovating magazines. On shelves now or read it here...
Read it now »
Selling your home in 2015?
We've got the clever questions to ask when choosing an estate agent to sell your home. So be a savvy home seller and get answers to these questions before you sign on the dotted line...
Read more »
HOA's Voice

September 3, 2015

Member's experience: buying a new build contract reassignment

We bought an assignment on a leasehold flat built by St George in London. Buying on assignment means we are buying the right to buy from somebody else; not directly from [...]

No Comments

Ask An Expert

Homeowners are often confronted with complex - and very expensive - problems that they have never experienced before. Knowing what to do can be nail-bitingly confusing. Members can send in their for an expert response.

Ask An Expert »
House Price Watch
Our latest service is a concise summary of the cacophony of voices trying to tell you that we are seeing both a housing boom and bust. Let us be your one-stop-shop for all house price info
House Price Watch »
Sign up to our FREE newsletter

Keep up to date with all our latest advice and services

Sign up! >
Latest Tweets
HomeOwners Alliance
Member's experience: buying a new build contract reassignment http://t.co/92VJtBzwmx

04 September 2015

HomeOwners Alliance
Summer holiday regrets? Let us help you move on /#HousePrice Watch /Remortgaging & more: http://t.co/gV6FwA6BeM http://t.co/ju5CSRMFUR

03 September 2015
Ask an expert
Get advice from industry experts on your homeownership issues
Members of the HomeOwners Alliance can send in their questions and we will find an expert to give you a tailored answer, using their industry-insider experience
Ask an expert >