Sponsored Post
Upcycle your furniture and save £200 with Plumbs
A new home is full of fresh opportunity. From the crisp white walls of a new build, to an older house that's brimming with projects - this is your chance to inject a whole new sense of style. But what if your old furniture doesn't fit the new look? We've teamed up with Plumbs to tell us all about how they can help upcycle your furniture - and offer you £200 off your first order.
September 25, 2019
Refresh your old furniture with a brand new look
In the majority of cases when you move into a new home you'd decide to go out and begin the stressful process of buying a new sofa suite, armed with tape measures and paint samples.
But hold on just a minute! Here at Plumbs we have an alternative that means you can upcyle your furniture and the pieces you love, but give it a whole new look. Plus you can save £200 with your first order with our special discount below.
It might sound peculiar, but your furniture is a big part of your family. It's been there through the good times and the bad, seen all your big moments and spent every lazy Saturday evening with you. Despite it looking a little worn, weary and out of place, Plumbs can help to restore its former glory.
Once you've decided to upcycle your furniture you have two options; made to measure fitted covers or invest in reupholstery.
How made to measure works
Plumbs made to measure fitted covers means each piece of furniture is individually measured to ensure your covers are the perfect fit.
Your new covers can be made removable and usually machine washable for a fresh new look time after time, giving you total peace of mind against the stains and spills of family life.
Plumbs have a wide range of fabrics to choose from, so no matter the look you're after, there's bound to be something for you.
We can also help your sofa get it's bounce back. Sagging seats can be revitalised with new foam cushions.
Revive your furniture with reupholstery
Think your furniture needs something a little more intensive? The Plumbs reupholstery service will upcycle your furniture from the inside out. Perfect for those suites that boast beautiful wooden features or a buttonback design, during reupholstery, expert craftspeople will strip your furniture right down to the frame and totally restore it, right up to your fresh choice of fabric.
Plumbs carries out a complete inspection to assess the condition of your furniture; damaged or loose parts can be replaced to secure your frame. Plumbs skilled craftsmen also replace disintegrated foam, springs and webbing to ensure your furniture will last for many more years to come!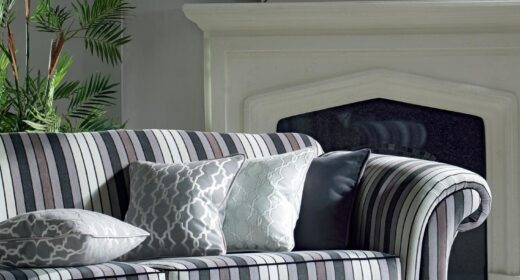 Be inspired with over 800 styles to choose from
Struggling to work out what colour will look best in your room? Don't worry! Plumbs have a network of design consultants throughout the UK, who are on hand to help with any questions you might have.
In the comfort of your own home, you can browse over 800 fabrics and receive advice on colour and design. There's no pressure to buy and you'll get all the time you need to make the right decisions. Your home consultant will also be able to measure up and provide you with a free, no obligation quote.
Save £200 on your first order.
Think you're ready to freshen up your furniture? Simply click here to book a free home visit and consultation plus receive a £200 discount to your order.
Sign up to our

FREE

weekly newsletter

for the latest news, advice and exclusive money saving offers