Sept 2019 House Price Watch
Annual house price growth is slowest in nearly six years
Most of the indices report a fall in house prices over the past month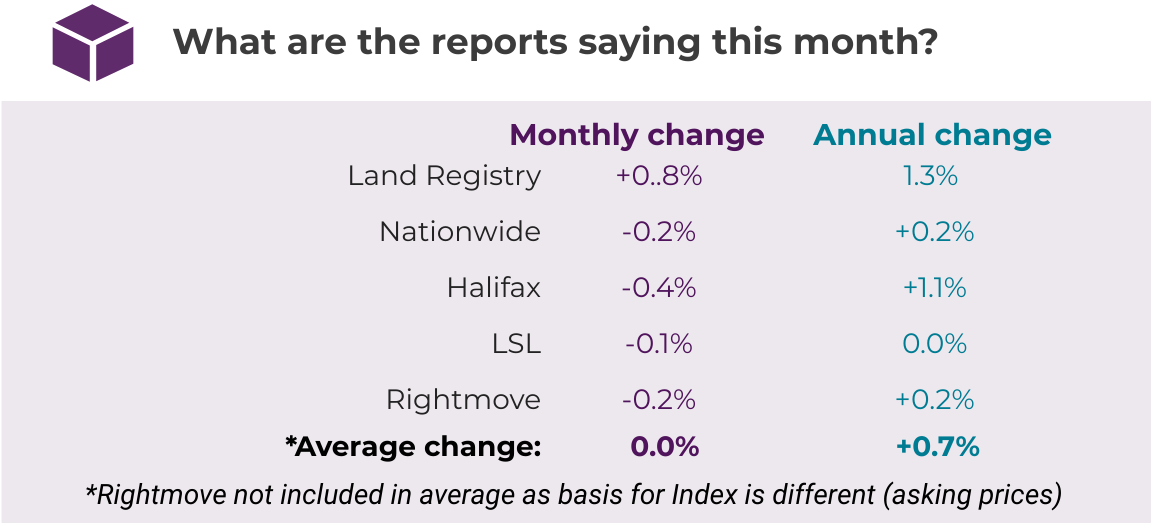 The September 2019 House Price Watch indicates that across the major indices, house prices are unchanged in the past month and annual house price growth has slowed from +1.0% last month to 0.7%.
House prices have remained steady or fallen in 5 out of 10 regions over the past year
House prices have fallen over the past year in London (-1.4%) and the South East (-0.6%).
There has been minimal house price growth in the past 12 months in the East of England (0.1%), the South West (0.9%) and Yorkshire & Humber (1.0%).
Wales continues to be the region experiencing the biggest rise in house prices over the past 12 months (+4.5%).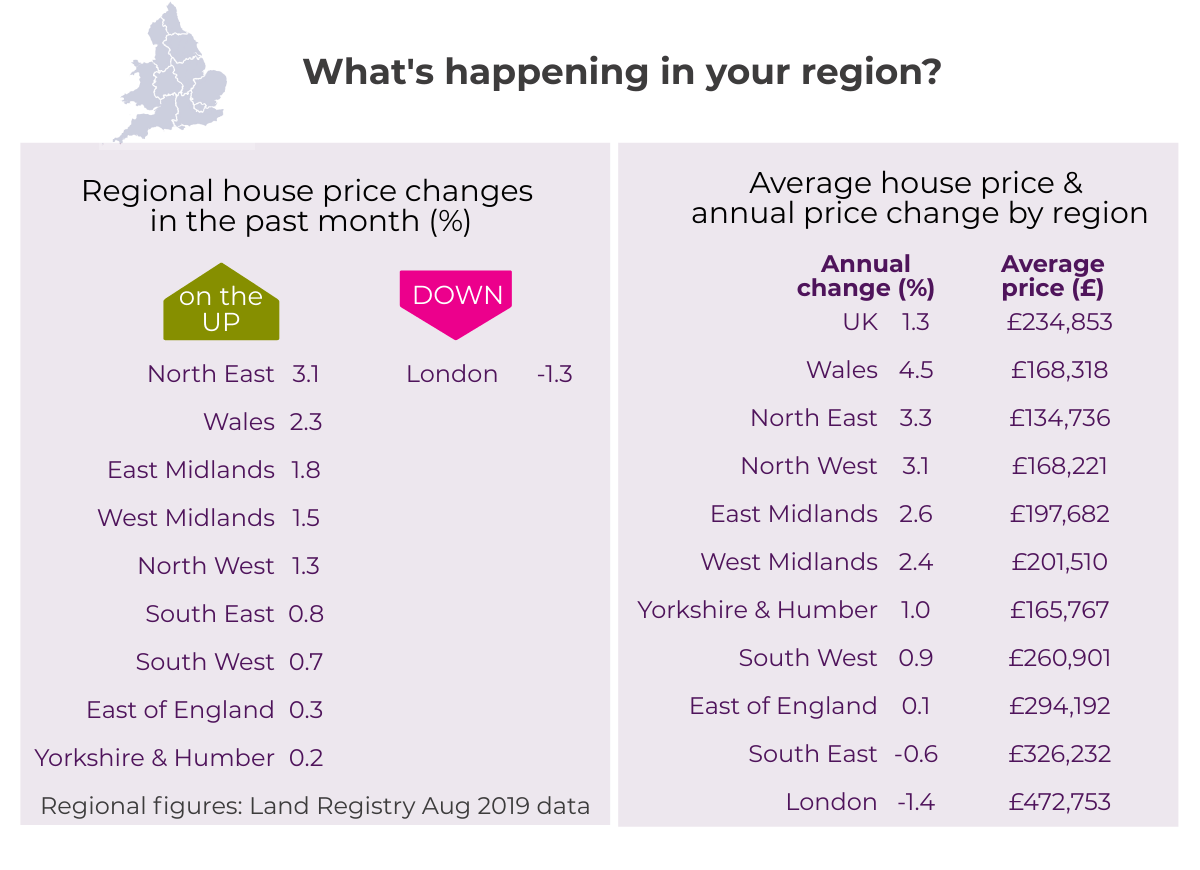 HMRC transactions strengthen in August but surveyors and agents report a fall in buyer enquiries, seller instructions and agreed sales in September
The latest residential property transaction figures from HMRC show that home sales increased 16% in August (99,890) up from a six year low in July (86,240). Transactions are similar to the same month a year ago.  (HMRC Aug 2019 UK residential property transactions)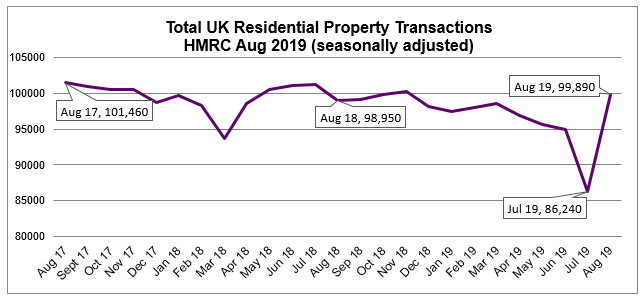 The number of buyer enquiries and seller instructions declined in September. This has resulted in a fall in the stock of properties available for sale (RICS residential market survey). Rightmove also reports that the number of properties coming onto the market is down by 7.8% in September nationally and down 20% in London compared with the same period a year ago.  Both surveyors and agents report a fall in agreed sales in September.
What the indices say?
HomeOwners Alliance: "At a national level, annual house price growth is at its lowest point in almost 6 years. Seller instructions and buyer enquiries have dropped off in September as Brexit uncertainty intensifies.  Regionally, house prices are either falling or stagnating in 5 out of 10 regions, suggesting the knock to confidence is spreading outside London and the South East. Annual house price growth continues to be most buoyant in Wales."
Rightmove:  "Many have got used to living in the jaws of uncertainty since the referendum over three years ago, and have been getting on with their lives and housing moves. However, as we approach yet another Brexit deadline, there are signs that the increasing gnashing of teeth is causing some to hesitate. The autumn bounce normally kicks off at the same time as kids go back to school, but this year it's a late starter at best, and if uncertainty persists then the autumn term could be missed altogether and its activities be delayed until the new year. Those who are planning to buy or trade up and can keep their nerve whilst others hesitate may find that they are in a stronger negotiating position to get a favourable deal."
Nationwide: "UK annual house price growth almost ground to a halt in September. This marks the tenth month in a row in which annual price growth has been below 1%. "Indicators of UK economic activity have been fairly volatile in recent quarters, but the underlying pace of growth appears to have slowed as a result of weaker global growth and an intensification of Brexit uncertainty. However, the slowdown has centred on business investment – household spending has been more resilient, supported by steady gains in employment and real earnings. The underlying pace of housing market activity has remained broadly stable, with the number of mortgages approved for house purchase continuing within the fairly narrow range prevailing over the past two years."
Halifax: "Annual house price growth slowed somewhat in September, rising by just 1.1% over the last year. Whilst this is lowest level of growth since April 2013, it remains in keeping with the predominantly flat trend we've seen in recent months. Underlying market indicators, including completed sales and mortgages approvals, continue to be broadly stable. Meanwhile for buyers, important affordability measures – such as wage growth and interest rates – still look favourable. Looking ahead, we expect activity levels and price growth to remain subdued while the current period of economic uncertainty persists."
RICS: "Survey results suggest activity remains subdued across the sales market with headline indicators on buyer demand and supply slipping into negative territory. Much of the anecdotal commentary is pointing to heightened economic and political uncertainty as a contributing factor behind the sluggish picture. Significantly, forward looking metrics imply that the market is unlikely to gain impetus over the next three months."
To see how we calculate our House Price Watch click here and to see previous reports click here
Sign up to our

FREE

weekly newsletter

for the latest news, advice and exclusive money saving offers