Nov 2020 House Price Watch
Annual house price growth and transactions reach 4 year high: on average +6.5% over the past year and +0.9% over the past month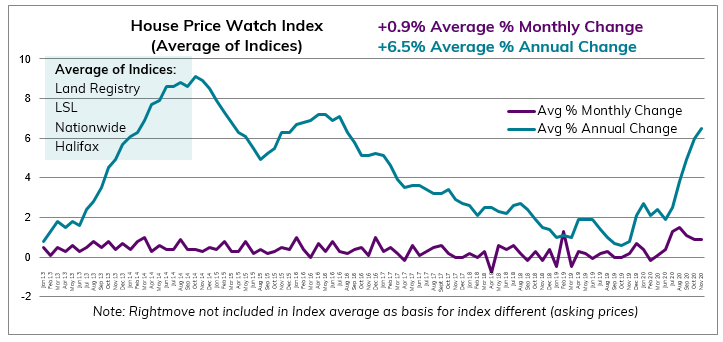 Monthly shifts in house prices reported by the major indices: Land Registry +0.7% (Oct), Halifax +1.2%, Nationwide +0.9%, Rightmove -0.5% (Nov). The average of the major indices indicates house prices are up +0.9% over the past month and the average annual rate of house price growth is 6.5%; the fastest annual rate of growth since August 2016.
Transactions highest in 4 years
UK home sales of more than 105K are at their highest since 2016. Home sales increased 10% in October (up on September) and are 8% higher than October last year.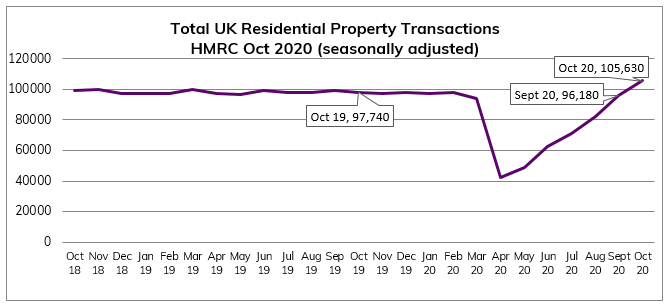 RICS residential market survey indicates buyer enquiries, agreed sales and new instructions continued to rise into November.
Mortgage approvals rose in October to the highest level seen in 13 years. The latest Bank of England figures show the number of mortgages approved to finance house purchases, rose by 6% in October. Year-on-year, the October figure was 51% above October 2019. Source: Bank of England, seasonally-adjusted figures)
What's happening in your area?
Annual house prices have risen across the country but fastest in the East Midlands (6.6%), the North West (6.6%), Yorkshire & Humber (6.6%) and the South West (6.1%).
House prices have fallen over the past month in London (-1.2%), the East of England (-0.9%) and the North East (-0.3%) but are up in other parts of the country.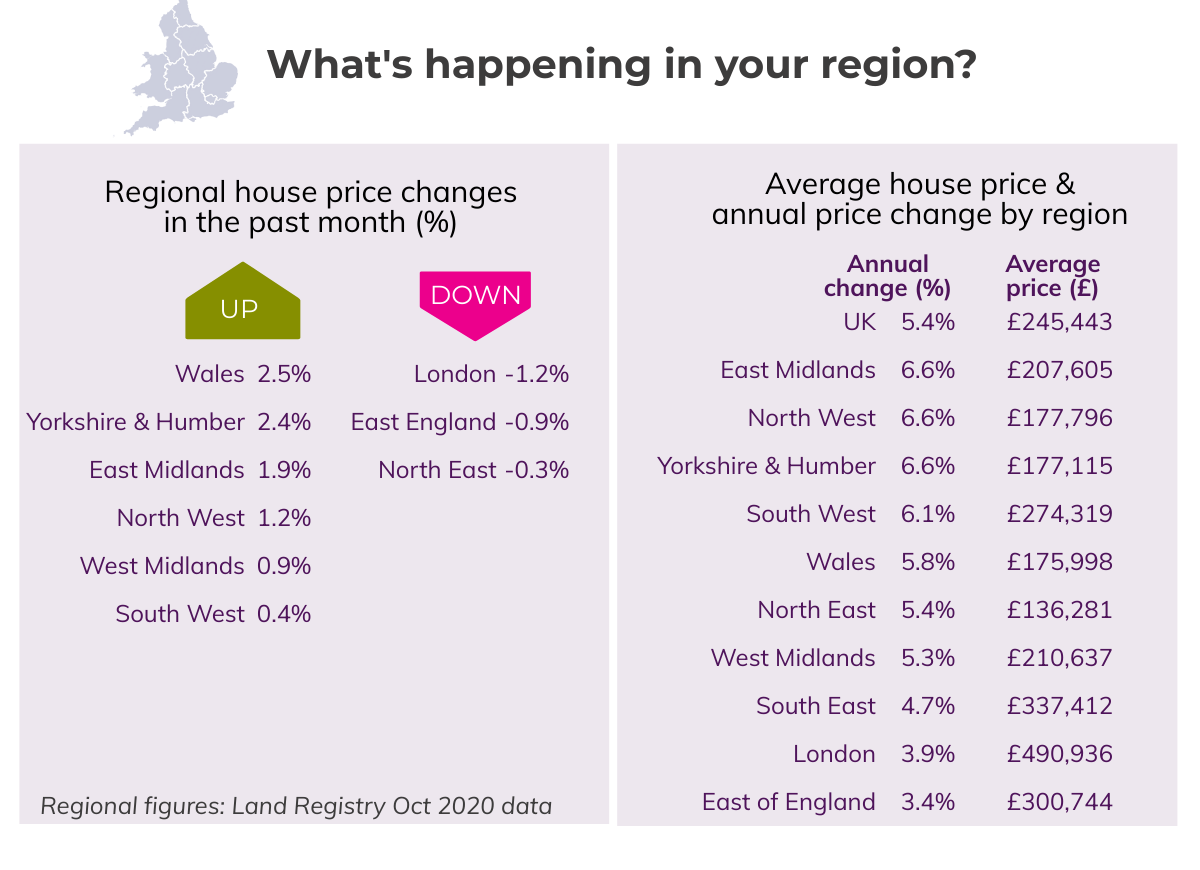 What the indices say?
HomeOwners Alliance: "House prices and transactions accelerated this month to the fastest rate in four years with buyer demand unaffected by the national lock-down in November. Mortgage applications are at a 13 year high, indicating activity is likely to continue in the near term. However, with predictions of rising unemployment and uncertainty about the recovery of the wider economy, we are likely to see a dampening effect on activity and house prices over the coming months."
Halifax: "With mortgage approvals at a 13-year high, the current market continues to be shaped by a desire for more space, the move from urban to rural locations and indications of a trend for more home working in the future. As the stamp duty holiday deadline approaches, properties sold to home-movers recorded a much higher rate of annual house price inflation than first-time buyers. The stamp duty saving of £2,500 on a home costing £250,000 is now far outweighed by the average increase in property prices since July. The housing market has been more resilient than many predicted at the outset of the pandemic. However, with unemployment predicted to peak around the middle of next year, and the UK's economy not expected to fully recover for a number of years, a slowdown in housing market activity is likely over the next 12 months."
Nationwide: "Despite economic headwinds, housing market activity has remained robust. October saw property transactions rise to 105,600, the highest level since 2016, while mortgage approvals for house purchase in the same month were at their highest level since 2007. Behavioural shifts as a result of Covid-19 may provide support for housing market activity, while the stamp duty holiday will continue to provide a near term boost by bringing purchases forward. However, the outlook remains highly uncertain and will depend heavily on how the pandemic and measures to contain it evolve, as well as, the efficacy of policy measures implemented to limit the damage to the wider economy."
Rightmove:  "Given the ongoing mini-boom, prices might have been expected to rise again this month, but instead we have a slight dip which could be a result of some new sellers pricing more realistically to have a better chance of agreeing a sale in time to benefit from the stamp duty savings on their onward purchase. Sellers are twice as likely to sell if they agree a sale based on the first price at which their property goes on the market, something that's even more important now as we move towards the end of March and the end of the stamp duty holiday."
RICS: "The November 2020 RICS UK Residential Survey results remain consistent with a solid trend in sales activity across the market, even if the sharp growth in buyer demand reported over recent months appears to be losing a bit of steam. For the time being, prices continue to be driven sharply higher in most parts of the UK, although near-term expectations for both prices and transactions point to a more moderate picture emerging over the coming months."
See previous House Price Watch reports and How we calculate the House Price Watch average
Sign up to our

FREE

weekly newsletter

for the latest news, advice and exclusive money saving offers
Let us help you…