June 2019 House Price Watch
Annual house price growth steady but transactions lowest in 3 years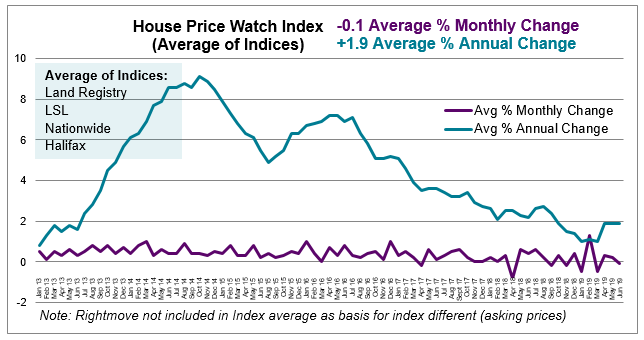 No major shifts in house prices reported by the major indices – the rate of annual house price growth has been steady for the past 3 months
The June 2019 House Price Watch indicates that across the major indices, house prices have fallen on average -0.1% in the past month and annual house price growth has held at +1.9%.
Annual house prices biggest rise in North West and Wales and biggest fall in London
House prices are on the up this past month in: South West (1.2%), South East (0.9%), North West (0.9%), East of England (0.7%), Yorkshire & Humber (0.4%) and the West Midlands (0.2%).  And are down in: London (-2.5%), Wales (-1.4%), the East Midlands (-1.2%) and the North East (-1.0%).
House prices are up over the past year in all regions except London (-4.4%) and the North East (-0.7%).  The biggest annual rise is in the North West (+3.4%) and Wales (+3.0%).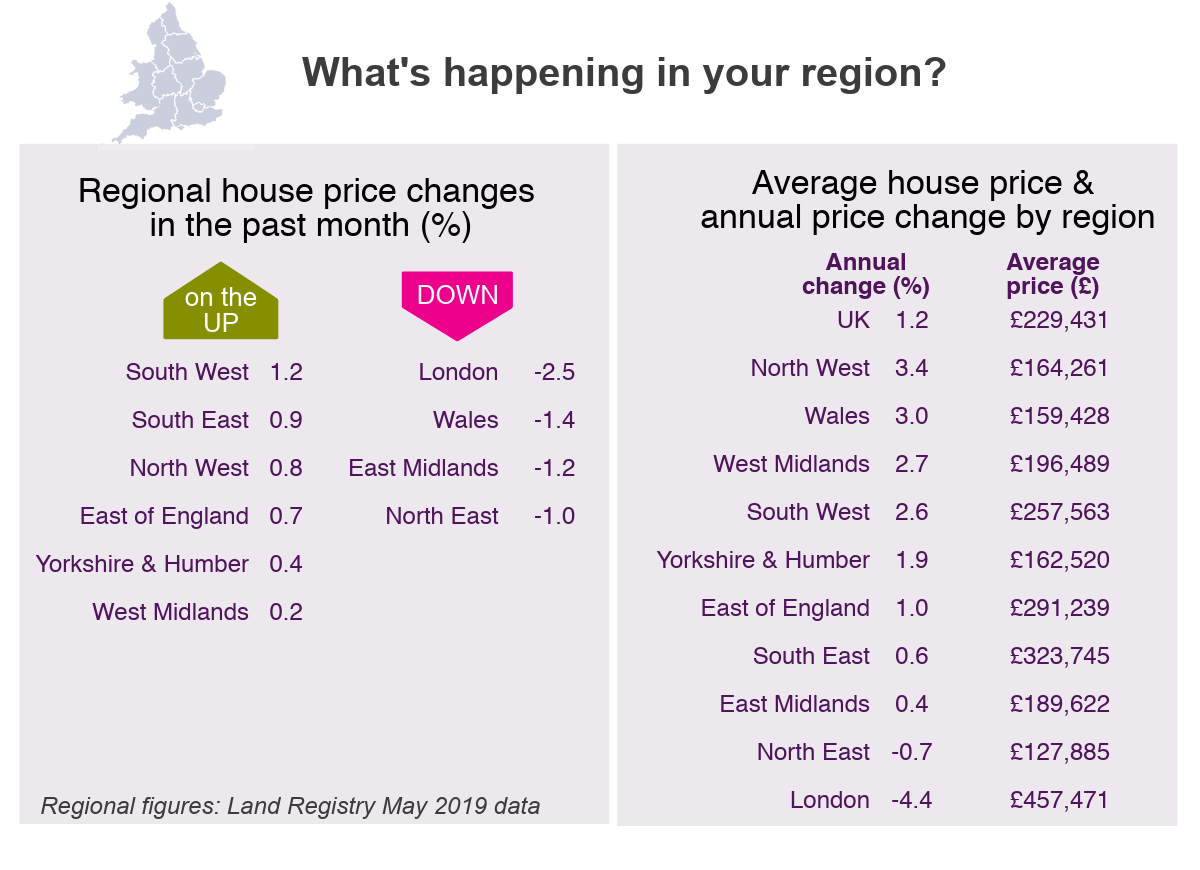 Buyer enquiries up and seller instructions steady
Buyer enquiries increased in June and new instructions from sellers held steady. This is the first month in a year that instructions haven't fallen. Still, average stock levels on estate agents' books remain at near record lows. The number of appraisals undertaken in June is reportedly down 25% on the same month a year ago.  This signals that the new instructions pipeline going forward will remain subdued. (RICS June 2019 UK Residential Market Survey).
Transactions at lowest point in 3 years
The latest property transaction figures from HMRC show home sales are at their lowest point in three years.  May 2019 transactions are down 6% on the previous month and are down 11% on May 2018. The last time transactions were lower was May 2016 (88,830) (HMRC May 2019 UK residential property transactions).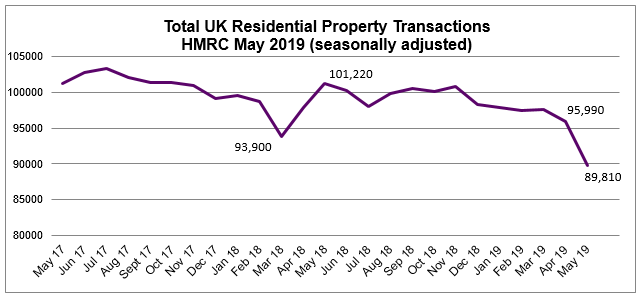 What the indices say?
HomeOwners Alliance: "At a national level, annual house price growth remains unchanged for the third month running. Transactions have been sluggish but reports from surveyors indicate that buyer interest is picking up.  Regionally, there is a varied picture with annual house prices continuing to fall in London and the biggest house price growth evident in the North West and Wales.
Rightmove:  "The national market faces a range of challenges, with average asking prices barely changed from last year, and activity levels slightly lower. Some buyers are hesitant due to the long-drawn-out uncertainty of Brexit, and there is also a slight tightening of mortgage availability and stretched buyer affordability, especially when it comes to raising a deposit. There is, however, a marked north/south divide. On average the number of sales agreed for the year to date in the northern regions is down by 1.7% compared to the same period last year, while success at selling is more elusive in the southern regions, down by an average of 7.1%."
Nationwide: "Housing market trends are likely to continue to mirror developments in the broader economy. While healthy labour market conditions and low borrowing costs will provide underlying support, uncertainty is likely to continue to act as a drag on sentiment and activity, with price growth and transaction levels remaining close to current levels over the coming months."
Halifax: "The housing market is displaying a reasonable degree of resilience in the face of political and economic uncertainty. Recent industry figures show demand looking slightly more stable, with mortgage approvals ticking along just above the long-term average. One of the major restraining factors on the volume of transactions in the market continues to be the very low level of stock for sale. With the ongoing lack of clarity around Brexit, people will be looking for more certainty in the coming months, both to encourage them to list their property and to create the confidence needed to encourage buyers."
RICS: "Latest results [from the residential market survey] are consistent with a somewhat stable trend. Although much of the anecdotal commentary remains a little downbeat, contributors reported (in net balance terms) a very modest rise in buyer demand whilst new instructions to sell have also held steady over the month. In line with this, the newly agreed sales measure edged into positive territory for the first time this year. Although forward looking metrics suggest the picture is unlikely to change materially over the coming three months, momentum is a little more upbeat at the twelve-month time horizon."
To see how we calculate our House Price Watch click here and to see previous reports click here
Sign up to our

FREE

weekly newsletter

for the latest news, advice and exclusive money saving offers