Dec 2020 House Price Watch
The 2020 housing market finished with transactions at a 13 year high and house prices up on average 7% this year. In our December report, we look at how house prices have changed in your area this year and the predictions for house prices in 2021.
2020 finishes with highest annual house price growth in 4 years: +7.0% on average this year and +0.7% this month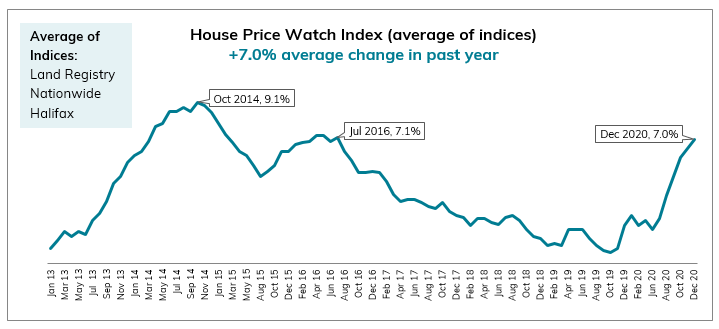 In the Dec 2020 House Price Watch, all the major indices report annual house price growth over 6.0% with the average of these +7.0%. This is the fastest annual rate of growth since July 2016.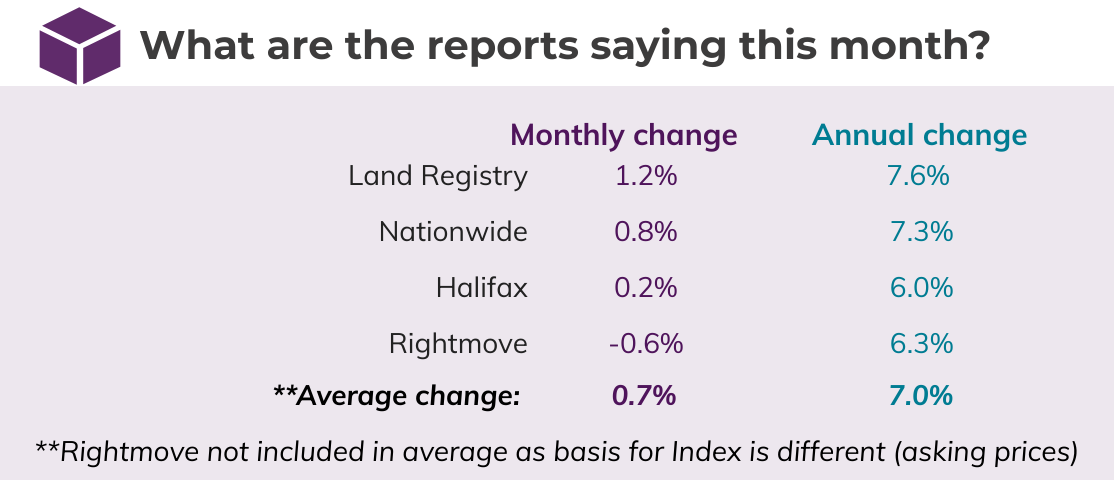 What's happening in your area?
The average house price in the UK is now just under £250K.
House prices are up significantly in all regions this year.  The annual rate of growth ranges from 5% to 10% across the regions with the East of England seeing the smallest change in house prices this year and London and Yorkshire & Humber the biggest.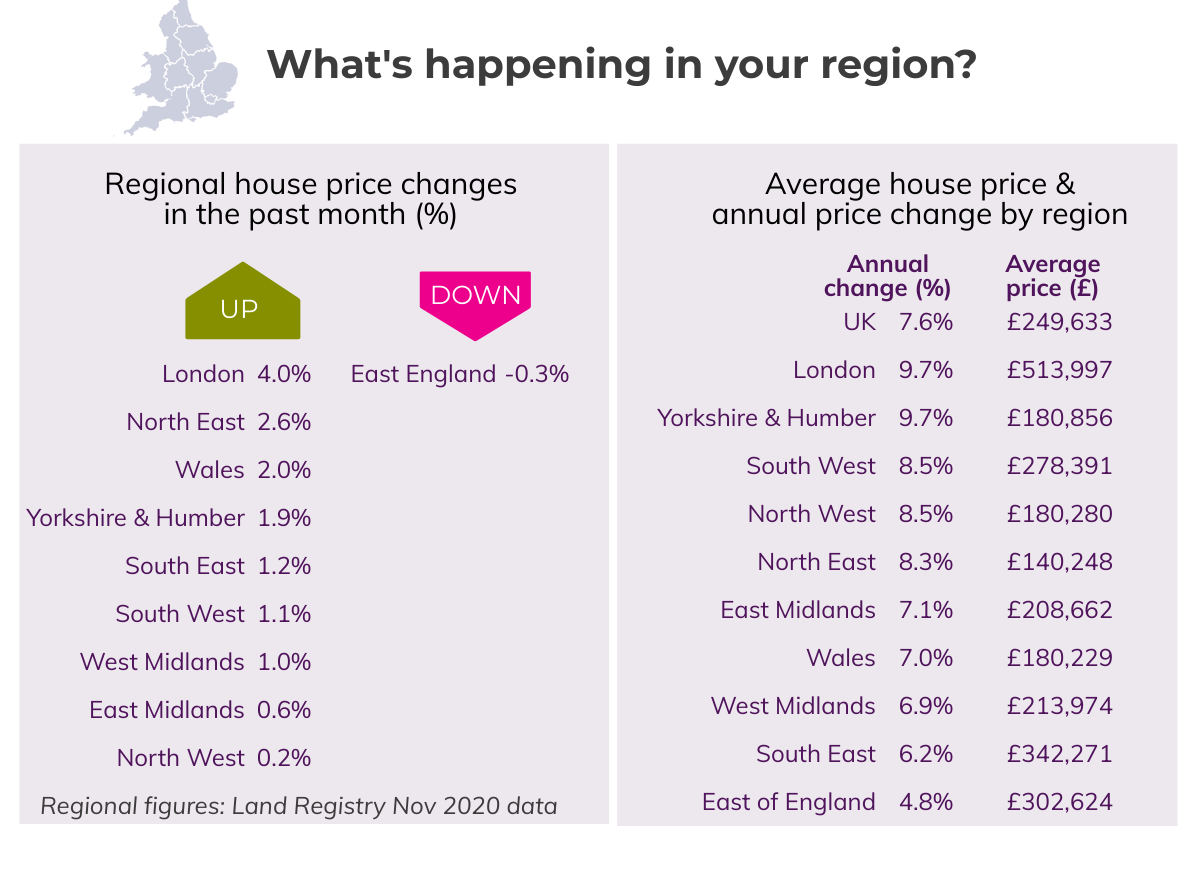 November transactions highest in 13 years
UK home sales of more than 115K in November is the highest number of monthly transactions since November 2007, up 10% on October and 7% higher than November last year. Whilst transactions since lockdown have risen sharply, the total number of transactions in 2020 is likely to be similar to 2019.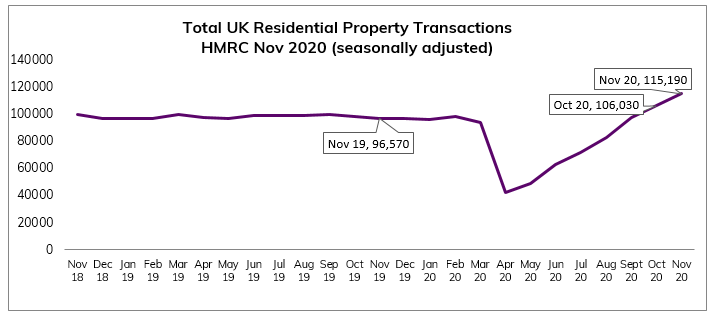 RICS residential market survey indicates new buyer enquiries, agreed sales and new instructions continued to rise into December, although at a more modest rate. The pace of growth looks to be slowing.
Mortgage approvals rose in November to the highest level in 13 years. Bank of England figures show house purchase mortgage approvals, rose 6.7% in November, 56% above November 2019.
Predictions for 2021
HomeOwners Alliance: "The 2020 housing market finished with transactions and mortgage approvals at a 13 year high and house prices up on average 7% this year. We expect 2021 to be affected by the stamp duty holiday bringing transactions forward early in the year, people's ongoing ability to afford to buy and move against their wish to do so as the coronavirus job retention scheme ends, as well as, the speed with which consumer confidence bounces back later this year if the vaccine effort proves to be a success. We expect 2021 to be bumpy year in terms of transactions with more activity early in the year and fewer transactions overall than in recent years, as well as, a slowing in the rate of national house price growth to 3% as affordability curbs demand. Unless the government decides to extend the stamp duty holiday — then we would expect to see another mini boom this year."
Rightmove:  "Rightmove forecasts robust 4% national average price growth in 2021 as housing priorities stay high on people's life agendas, though price rises for newly marketed properties will be at a slower pace than this year. Uncertainties remain in 2021, but housing needs and fresh-start mentality suggest the market will continue to outperform, as shown by 53% more prospective buyers contacting estate agents than at this time a year ago."
Halifax: "In the near-term, and with mortgage approvals at a 13-year high, there may be enough residual strength in the market to sustain prices up to the deadline for the stamp duty holiday and the scaling back of Help to Buy at the end of March. However, with the pace of the UK's economic recovery expected to be constrained by the renewed national lockdown, and unemployment widely predicted to rise in the coming months, downward pressure on house prices remains likely as we move through 2021."
Savills – "We expect 2021 to be a year of three parts. The desire to beat the stamp duty holiday deadline will sustain activity in Q1 2021. The end of the stamp duty holiday will coincide with rising unemployment as the furlough scheme comes to an end which will slow activity. While lockdown is likely to increase people's desire to move, the economic impact is expected to restrict their ability to do so. Thereafter, the economy is forecast to recover and the housing market likely to pick up again. Overall, we expect net price growth at or close to zero, however activity will vary in these three phases."
Nationwide: "The 2021 outlook remains highly uncertain. Much depends on how the pandemic and measures to contain it evolve as well as the efficacy of policy measures implemented to limit damage to the wider economy. Behavioural shifts as a result of Covid-19 may provide support for housing market activity, while the stamp duty holiday will continue to provide a near-term boost by bringing forward home moves. However, housing market activity is likely to slow in the coming quarters, perhaps sharply, if the labour market weakens as most analysts expect, especially once the stamp duty holiday expires at the end of March."
RICS: "Respondents anticipate the latest lockdown restrictions, related economic challenges and the end of the Stamp Duty holiday to weigh on activity going forward. Beyond this, feedback from RICS members is that the uplift in prices over the past year will be sustained, for good or ill, as the macro picture gradually improves on the back of the rollout of the Covid vaccination programme."
Commentator – Henry Pryor: "House prices are expected to fall back in 2021 – by 8% perhaps, driven by the end of the stamp duty holiday and the hit to household incomes from the labour market adjustment that we assume will follow the end of the Coronavirus Job Retention Scheme. The stamp duty holiday has added further impetus to transactions, though there are reports that it is also creating bottlenecks in the system. Due to forestalling, the OBR expect the number of transactions to rise sharply in the first quarter of 2021 and then drop off sharply in the second quarter of 2021."
See previous House Price Watch reports and How we calculate the House Price Watch average
Sign up to our

FREE

weekly newsletter

for the latest news, advice and exclusive money saving offers