Aug 2018 House Price Watch
House prices up on average 0.2% in the past month and up 2.7% in the past year
Most of the major indices report a rise in house prices in the past month
Land Registry (1.2%), Halifax (0.1%), LSL (0.1%) report house prices up
Nationwide (-0.5%) and Rightmove (-2.3%) report a fall in house prices
Land Registry refers to July data. Other indices refer to August house price data.
The average of the major indices shows monthly house prices up (0.2%) and annual house prices up (2.7%). (Rightmove is excluded from the average).
Mixed regional picture in terms of shifts to monthly changes in house prices. Annual house price growth highest in North West and lowest in London and the South East
Regions with the biggest annual change in house prices include: The North West (+5.6%), the West Midlands (+4.4%), the South West (+4.4%) and Wales (4.2%).
London (-0.7%) and the South East (1.8%) have the slowest rate of annual house price growth. London is the only region to have experienced a fall in house prices over the past year.
Home sales down 2.6% year on year
Home sales increased 1.3% between July and August 2018 but are 2.6% lower than August last year. (HMRC Seasonally adjusted residential property transactions).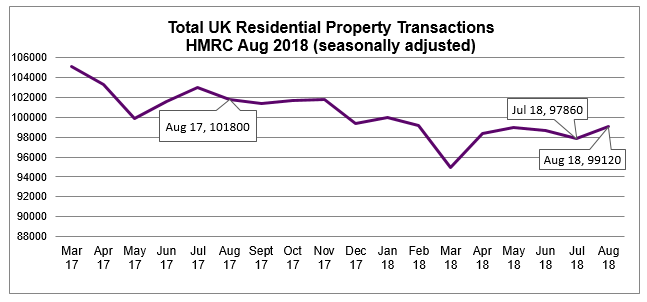 The stock of homes for sale fall back to record low with a fall in new instructions
New instructions fall, further depleting the number of properties available for sale. The level of new buyer enquiries is unchanged, continuing to reflect a cautious approach from buyers.  Overall, average stock levels on estate agent books have fallen to the lows recorded earlier in the year. (RICS Aug, 2018 UK Residential Market Survey)
Market commentary:
HomeOwners Alliance: "Nationally, overall activity remains subdued compared with the same period a year ago. The number of properties on estate agent's books has fallen further this month with a fall in new instructions.  This is keeping upward pressure on house prices.  There is a varied picture across the country with house prices rising significantly over the past year in a number of regions. House prices are up significantly in the North West, while house prices in London are down."
RICS: "With regards to demand, the level of new buyer enquiries portrays a slightly more cautious approach from property purchasers.  This is not entirely surprising in the wake of the Bank of England's decision to increase interest rates in August alongside the broader political economic uncertainty influencing the sales market. Whilst sentiment remains downbeat in London, parts of the wider South East, and to some extent East Anglia, the results remain more solid in other areas."
Halifax:  "House prices picked up in August.  While the pace of employment growth has recently slowed, a low unemployment rate and a gradual pickup in wage growth are helping to support household finances.  This has been accompanied by interest rates still remaining at a historically low rate and a stable, yet constrained, supply of new homes onto the market further supporting house prices."
Nationwide: "August saw a slight softening in annual house price growth.  Nonetheless, annual house price growth remains within the range of c2-3% which has prevailed over the past 12 months, suggesting little change in the balance between demand and supply in the market.  Subdued economic activity and ongoing pressure on household budgets is likely to continue to exert a modest drag on house price growth and market activity this year, though borrowing costs are likely to remain low."
Rightmove:  "Sellers who come to market in the peak holiday month often have a pressing need to sell and price down accordingly, and are offering 'summer sale' prices to entice holiday-distracted buyers. The market started its most recent cyclical price upturn in 2010, and since then the average price of property coming to market has gone up by 32%, stretching buyer affordability. More substantial discounts are therefore required to tempt warier buyers, with higher house prices also tightening the purse-strings of lenders. With lacklustre average wage growth, more buyers are bumping up against the tighter lending criteria brought in four years ago following the Mortgage Market Review, which were intended to prevent another boom-and-bust cycle."
To see how we calculate our House Price Watch click here and to see previous reports click here
Sign up to our

FREE

weekly newsletter

for the latest news, advice and exclusive money saving offers
Let us help you…