A third of us pay cash to avoid VAT to afford home improvements
Home improvements are expensive. But add on VAT at 20% and you can see why our HomeOwners Survey reveals homeowners either deterred from doing home improvements at all, or forced to pay cash to afford it
May 4, 2019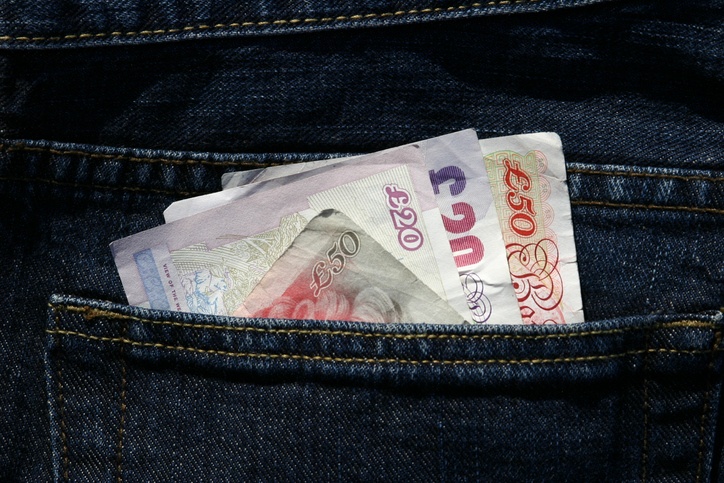 VAT costs are deterring almost a quarter (23%) – roughly 4 million homeowners – a much bigger issue than Brexit (15%)
A third (31%) – approximately 5.3 million homeowners confess to paying cash to avoid VAT costs on home improvements
In the latest news release from our annual HomeOwners Survey of over 2000 UK adults, polled by YouGov and sponsored by Resi.co.uk, we found Brits are paying cash in hand to get their home repaired or done up.
Cost of VAT puts off 23% of us
Paula Higgins Chief Executive, Homeowners Alliance, says: "It's concerns about VAT – not Brexit – that are stopping homeowners making home improvements. Homeowners struggling to afford home repairs and renovations will obviously be tempted to pay cash.
"But there is a huge risk of not getting a receipt for the work: they have no proof that builder, carpenter or electrician has done the work – and therefore no guarantee that if things go wrong they will come back to put things right.  
"For several years the Home Owner's Alliance has supported the cut the VAT campaign. We need VAT to be slashed to a minimum 5% – otherwise a black economy is being fuelled and government is tacitly green-lighting this."
Extraordinary amount of money
Alex Depledge, CEO of Resi.co.uk, says, "Buying a home is the largest purchase most people will make and renovations are often their second largest lifetime spend. And if you're spending £100,000, which is an extraordinary amount of money to save up – or take out on top of your mortgage – and then have VAT slapped on top of it, it can become impossible.
"But VAT on building work doesn't just affect consumers. Builders are also affected. For smaller operations, working below the VAT threshold, it can become extremely difficult not to succumb to the temptation to take some aspects of a project off the books."
Black market booming thanks to VAT
Almost one third (31%) of homeowners have paid cash to avoid VAT cost on home maintenance and improvement jobs. That makes 5.3 million homeowners.
Paula Higgins Chief Executive, Homeowners Alliance, says: "Our current system is inadvertently forcing homeowners to be dishonest. Many people have cash to build an extra bedroom for their growing family or to have a downstairs loo put in for their elderly parents. Government needs to have some focus and cut VAT right back to a maximum 5%.
"It's been demonstrated that this could give at least a £15 billion boost to our economy, creating thousands of jobs. The current short-sighted system means that Government are actually doing themselves out of money."
Tip of the iceberg
Alex Depledge, CEO of Resi.co.uk, says: "The reality is that this figure – while shocking – is almost certainly just the tip of the iceberg. We all know someone who has paid cash in hand to avoid paying VAT, it happens all the time. But this black market makes homeowners vulnerable. There is no recourse when something goes wrong if you've paid cash in hand.
"At Resi we are calling for a simplification of the rules around VAT. Previously we would have called for the rate to be reduced to 5%, in line with EU law. However, if we do end up exiting the EU, VAT on construction work could be suspended completely. This could be a rare silver lining to Brexit, kickstarting the UK's construction industry just when it needs it most."
A boost to the economy
Brian Berry, Chief Executive of the Federation of Master Builders (FMB), says: "Reducing VAT on housing repair, maintenance and improvement work could boost the UK economy by more than £15bn over a five year period, according to independent research by Experian. A reduction in VAT could also create more than 95,000 jobs and save 240,000 tonnes of carbon dioxide from thousands of homes.
"This proposal has the backing of more than 60 charities, trade associations, business groups and financial firms as there is no other policy that will help the UK achieve so many of its economic, environmental and social aims with so little cost to the public purse. At a time of continued political uncertainty and a dip in construction output, this is exactly what the UK economy needs."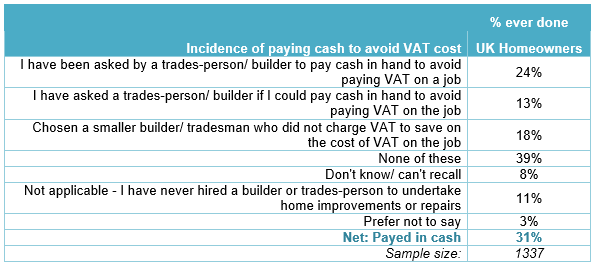 Financing improvements, securing a reliable builder, planning issues, architectural costs and VAT main obstacles to home improvements
Trusted builder – Difficulty finding reliable builder (42%)/ Good builders booked up (29%)
Financing improvements – Difficulties financing cost of improvements (39%)
Planning permission issues (27%)
High cost of architects (25%)
VAT (23%)
Brexit is a factor for 1 in 6 homeowners (15%) in putting off home improvements. The issue is greatest among homeowners in London (20%).
Methodology – 2019 HomeOwners Alliance Homeowners Survey

How calculations derived: Source: DCLG live tables on dwelling stock Great Britain table 102 by tenure (May 2018). 17,345,000 owner occupied dwellings: x 41.74% = 7.2 million (finding a builder); x 27.47% = 4.8 million (planning issues); x 23.16% = 4.0 million (VAT cost); x 30.53% = 5.3 million (paid cash in hand)

Methodology – 2019 Homeowner Survey
This is the 7th Annual Homeowner Survey, a state of the nation report on the housing concerns and trends affecting homeowners and those aspiring to own.
All figures, unless otherwise stated, are from YouGov Plc. The surveys were carried out online. The figures have been weighted and are representative of all UK adults (aged 18+). In 2019, total sample size was 2195 adults of which 1337 were Homeowners. Fieldwork 14-15th Mar, 2019
The 2019 Homeowner survey was made possible through sponsorship by BLP Insurance, leading provider of housing warranty insurance and Resi.co.uk UK's leading architecture practice for everyday homeowners.
Calculation method: Source: DCLG live tables on dwelling stock Great Britain table 102 by tenure (last updated May 2018) Total UK Dwellings 27,713,000, 17,345,000 owner occupied dwellings
Sign up to our

FREE

weekly newsletter

for the latest news, advice and exclusive money saving offers