Create a bathroom spa in 8 easy steps
Transform your bathroom into a spa with these simple solutions from our friends at Walls and Floors.
May 30, 2019
Step 1 – Assess Your Needs
The most important part of updating any interior is to carefully think about your needs. Otherwise, in just a few months, you may find yourself redecorating again! The critical element to planning your new bathroom spa renovation is to forget how you currently use the space and instead visualise how you would like to use it…
Maybe you're looking to feel refreshed, energised and invigorated? Or maybe you are seeking a soothing spa style sanctuary? The kind of vibe you are aiming for will affect the outcome of your design; from the textures you choose, the colour scheme, to the style of your fixtures and fittings. If you're not sure where to start check out our guide to bathroom refurbishments.
Step 2 – Defining Your Personal Style
You may already have an idea of your preferred style. However, keeping an ideas book could help you become a little more experimental.  You will discover new trends and products to fall in love with and get your creative juices flowing.
Your mood board will allow you to narrow down your preferred bathroom spa style and define the essential characteristics of your own personal taste. Whether you end up with a calm, oriental-zen look, something a bit more sleek and contemporary, or even a Scandi inspired approach, this will become clear from your mood board.  You will then be able to direct your vision for your selected bathroom style with no trouble.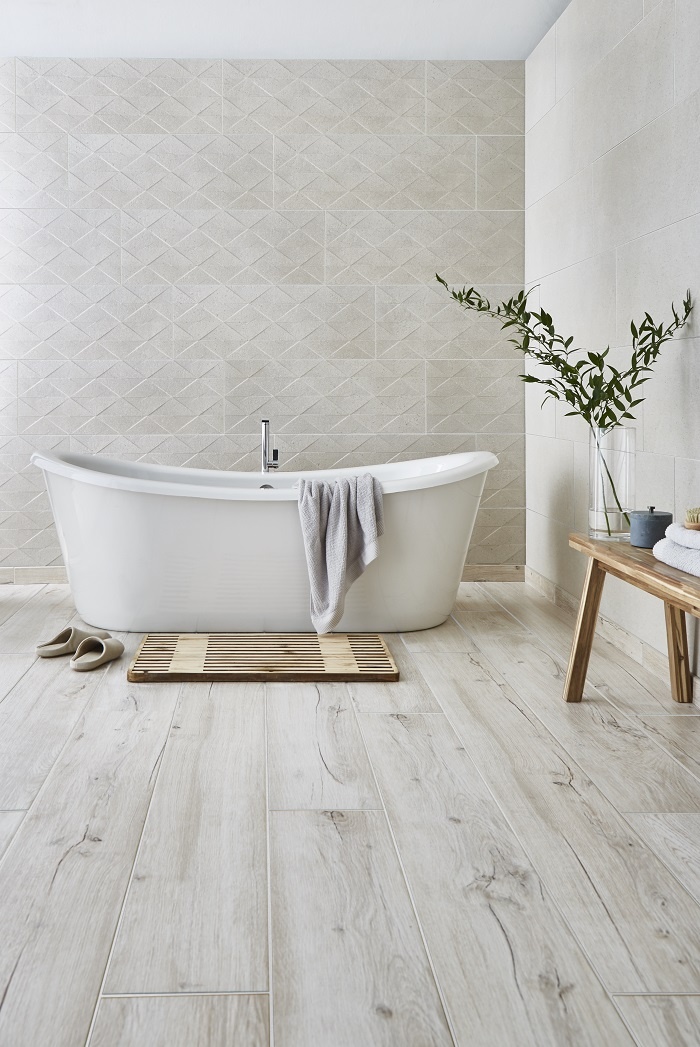 Step 3 – Create a Wish list 
If your chosen space is a family bathroom, don't be put off using inherent spa-style features for all the family to enjoy.  Although the overall design, fixtures and materials for family bathrooms need to be practical and durable,  getting a design that is both attractive and functional is certainly possible with the range of options available today!
On the other hand, if your chosen space is a personal en-suite don't skimp on the luxury. It may be your only chance to incorporate self-indulgent touches into your home. Imagine a Japanese-style soak bath with a jewelled mosaic tile backdrop that dazzles under mood lighting. Now that really would create a definitive, bathroom spa feel…
Step 4 – Surface Selection
As we know, bathrooms are a typically steamy, damp environment making it essential to find suitable, efficient materials that will stand the test of time. Tiles are the preferred choice for both wall and floor areas. But, don't be put off thinking this will compromise your favoured style or take up a large amount of your budget.
To avoid any unwanted accidents, always select an Anti-Slip Floor tile. For those of you that prefer a minimalistic Scandi – inspired approach, consider using Wood Effect tiles; now more life-like than ever with realistic texture and knots. Glass Mosaics and luxury marble flooring offer a sparkling backdrop and  tranquil atmosphere that will continue to enhance any of your chosen accessories.
Step 5 – Heating
Nobody likes a cold bathroom! There are many heating options if you don't already have central heating in the form of traditional radiators or towel rails.  A more sophisticated style of heating would be to lay electric underfloor heating.  With underfloor heating kits now available, installing a heated floor has never been easier. If you like a warm towel when you step out of the bath or shower, consider purchasing an electric or gas heated towel rail too and, for ultimate luxury, a heated mirror!
Step 6 – Research & Budget
Whenever you plan a project there can be the lingering question in the back of your mind, "Can I afford it?" It's a good idea to set a budget from the start of planning your project. This will help you to be on top of your finances and help with your priorities for both saving and spending. Think about how you're going to finance your home improvement project before you set your budget.
When determining a budget there are a few things to contemplate. If you're going to stay in a home for three years or less, then the improvements should be viewed as a short term investment.  If you're going to be in your home for a longer period of time, you may want to look at what's going to make you and your family the most comfortable. This could potentially mean spending a little more money, but in the long term, it will be worth it.
Remember, it doesn't have to run into thousands to give your new bathroom an injection of spa style.  Shop around both online and offline.  Most respected companies have newsletters with inspirational trends which not only showcase new products and interesting trends but also offer numerous discounts. It's worth signing up to these to help you during your research phase.
Step 7 – Construction
With an idea of your overall budget and ideal bathroom design,  you will also need to factor in whether you are getting a professional to do some or all of the bathroom renovation. Hiring a professional will be a significant part of the cost, so it is important to get quotes from a few contractors early on.  If you are confident in your DIY skills, you may be taking on some or all of the project yourself.
Whichever approach you choose, it is essential that your bathroom project is well-planned. You should allow enough time ahead of the start of building work to do all your researching, sourcing/buying and finally, having everything delivered. To avoid delays, it is important that items are delivered on time for the builder to complete works. To avoid setbacks, it is often a good idea to purchase products in advance. This will ease any strain on timescales and budgets.
Step 8 – Final Touches
When selecting accessories for your finished bathroom, it is important to think about the overall look and feel you are trying to create. Spa style often means less is more. Perhaps use the budget you allowed for this project to indulge in some luxury towels or candles rather than numerous trinkets that may add clutter to your space. Remember what feeling you are striving for  — do you want a space that makes you feel refreshed and revitalised or a space of sanctuary and escape.  The ultimate goal, is to feel calm and relaxed in your new bathroom with all your design elements working in harmony, including the finishing touches.
For further inspiration please take a look at Walls and Floors Bathroom Trends for 2019
Save 20% off tiles until June 30th with Walls and Floors
Walls and Floors are offering HOA readers an exclusive 20% off until 30th June 2019. Simply enter code HOA20 at the checkout when you visit their website.
Terms and Conditions Apply.
Sign up to our

FREE

weekly newsletter

for the latest news, advice and exclusive money saving offers