Home Selling Pain Points 2018
More than 300K property transactions collapse every year due to broken chains and buyers changing their mind, costing sellers £2.7K. This and more from our Annual HomeOwner Survey on the real pain points of selling your home
May 13, 2018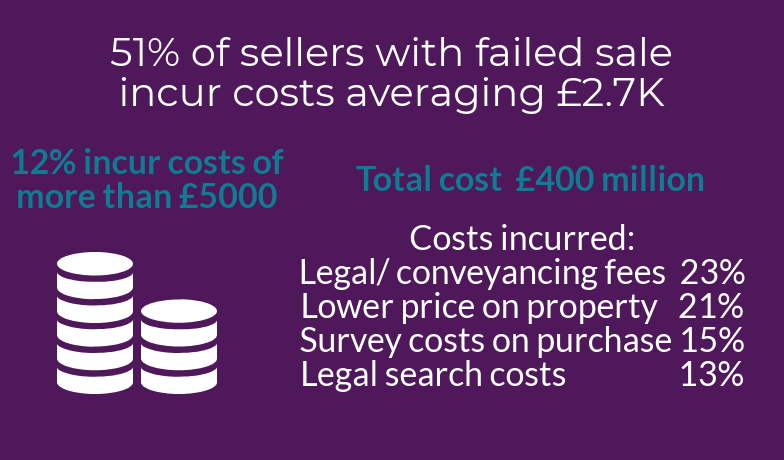 More than 300,000 property transactions are falling through every year, in large part, due to buyers pulling out of the deal, costing sellers a total of £400 million latest research has revealed.
The survey exploring the experiences of home sellers conducted us, HomeOwners Alliance, and IMMO.co.uk, the UK's online homebuyer, and polled by YouGov, found a massive 20% of sellers have experienced a sale collapse, half (51%) incurred costs averaging £2,727; of those affected, one in ten (12%) incurred more than £5K
Overall, more than two thirds (69%) of the home sales that fell through did so because of buyer related reasons, including the buyer changing his mind/ finding another property (39%) and the buyer's finances not being in order (28%). Sales falling through further up in a chain accounted for 20% of collapsed sales.
Nearly one in ten sellers (8%) with a failed sale have experienced gazundering; where the buyer lowered their offer just before the exchange of contracts.
Worryingly, the research found uncertainty may actually put people off selling. One in three (34%) homeowners say risks of property chains breaking down and nearly one in five (19%) homeowners say uncertainty regarding the sale price they may get for their property might prevent them from selling.
The research comes after the government announced plans to improve the home buying and selling process with a number of measures, including the introduction of voluntary reservation agreements. These legally binding agreements, advocated by HomeOwners Alliance, would require both buyers and sellers to put down a non-refundable deposit to commit both sides earlier in the process.
Commenting on the findings, Paula Higgins, Chief Executive of HomeOwners Alliance says:
"We often hear about would-be buyers losing their dream homes as a result of sellers accepting higher offers but less is said about sellers forking out thousands in wasted fees only for buyers to change their mind, leaving the seller back at square one."
"Gazundering and time wasting is a huge problem. The homeselling system is so unreliable it's deterring homeowners from selling – adding to the ongoing housing shortage crisis as a lack of suitable homes is one of the barriers to people moving up the property ladder. Buyers need to have a little more skin in the game too. An earlier commitment – for example through reservation agreements – would go some way to avoiding these situations."
Samantha Kempe, Co-Founder of IMMO.co.uk, says: "The current system has created a fundamental power imbalance between the seller and the buyer, with the seller often at the buyer's mercy during what is often the largest financial decision of their lives. Sellers should be able to proceed with the sale of their property knowing what price they will receive and feeling assured that the sale will go through."
"At IMMO, we believe in a better way to sell property which allows sellers to maintain the upper hand and avoid the uncertainty, hassle and stress created by the homeselling system."
Among UK adults, the survey showed 80% would like to see buyers show proof of funds before being able to put an offer to buy a property. In addition, 65% of UK adults support the idea of a reservation agreement requiring buyers and sellers to put down a non-refundable deposit to commit both sides earlier in the process.
Key findings in more detail
Selling a home is not always as straight-forward as it may seem:
Nearly one in four (22%) home sellers say they had 6 or more different people view their home before selling. The average number of viewings is just under five. Figure 1
Lack of clarity of the sale price and risks of property chains are barriers to selling. One in three (34%) homeowners say risks around property chains breaking down and nearly one in five (19%) homeowners say uncertainty regarding the sale price they are likely to get for their property might prevent them from selling Figure 2
One in five (20%) home sellers experienced a sale not going through to completion. Figure 3
Among sellers who have had a breakdown in their sale, 69% say buyer related reasons were the cause. Sellers indicate the main reasons for a sale breaking down include: the buyer changing his mind/ finding another property (39%), the buyer's finances not being in order (28%) a sale further up the chain falling through (20%). Figure 4
Nearly one in ten (8%) with a failed sale have experienced gazundering; where the buyer lowered their offer just before the exchange of contracts. Figure 4
Of sellers who have had a breakdown in their sale, 51% incurred costs related to the transaction falling through. Figure 5
The kinds of costs include: legal/ conveyancing fees (23%) legal search costs (13%) lower offer on property (21%), survey costs on purchase property (15%). Figure 5
Those who incurred costs due to a failed sale estimate these to be on average £2,727. Nearly one in ten (12%) of those who incurred costs estimate these to be more than £5000. Figure 6
Figure 1: Number of Home Viewings Needed to Achieve a Sale



Figure 2: Potential Barriers to Selling a Home


Figure 3: Incidence of Sale Falling Through Before Completion




Figure 4: Reasons for Sale Falling Through Before Completion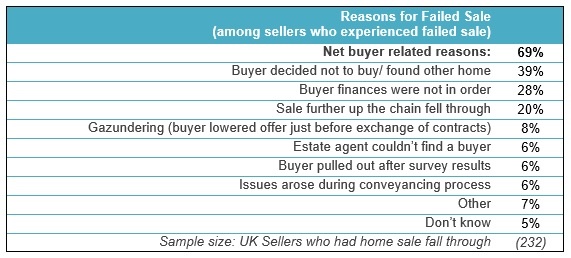 Figure 5: Incidence of & Nature of Costs Incurred from Breakdown in Sale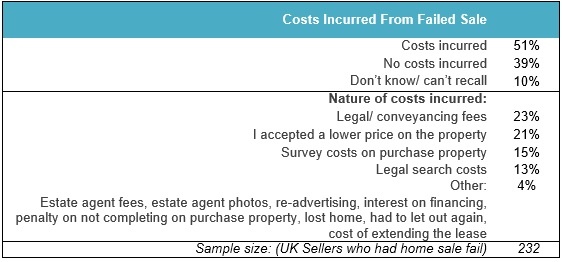 Figure 6: Estimated Costs Incurred from Breakdown in Sale

Sign up to our

FREE

weekly newsletter

for the latest news, advice and exclusive money saving offers