boo
If you own your own home you are likely to live longer
Across most of the UK there is a direct correlation between homeownership levels and life expectancy according to an analysis conducted by the HomeOwners Alliance; where homeownership levels are higher, so is life expectancy.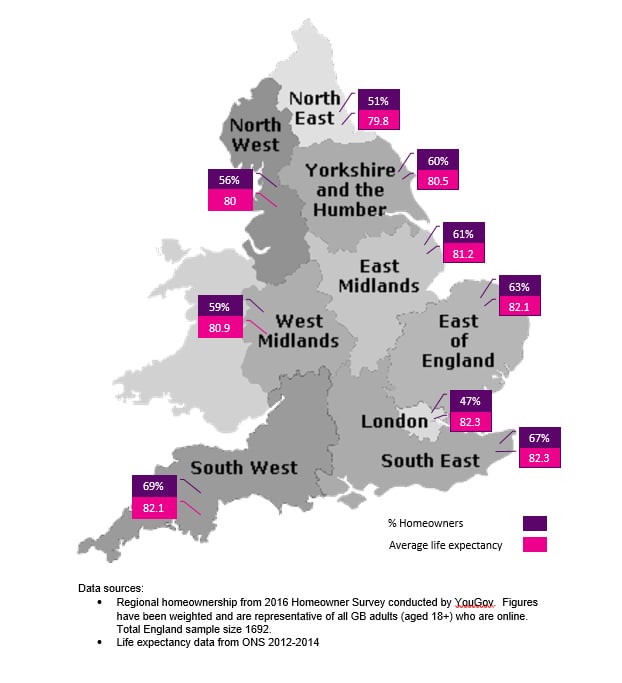 However, homeownership levels have been declining for the past decade (peaking in 2002 at 69.7% down to 63.8% according to latest official figures from the April-June 2016 Labour Force Survey). High demand for homes is pushing house prices to unaffordable levels. Political parties, experts and the government all agree that the underlying cause of the housing crisis is that we have not been building enough new homes for decades.
Home Ownership vs. Life Expectancy graph:
Data sources:
Regional homeownership from 2016 Homeowner Survey conducted by YouGov.     Figures have been weighted and are representative of all GB adults (aged 18+) who are online. Total England sample size 1692.
Life expectancy data from ONS 2012-2014
The decline of homeownership is having and will increasingly have profound, long-lasting and adverse economic and social consequences. For example, it increases poverty among pensioners, increases social problems for children raised in insecure rented accommodation, reduces living standards among lower and middle income earners, pushes up the housing benefit bill and increases inequality. And, as our analysis shows, it also has an impact on life expectancy.
The only exception to the correlation between homeownership and life expectancy is London, where life expectancy and homeownership are not strongly linked.
Paula Higgins, CEO of HomeOwners Alliance believes, "Reversing the decline in homeownership should be one of the government's highest priorities. We know that homeownership in this country has tangible benefits – including longer and happier lives. But the high costs mean it is out of reach for more and more people – widening the gap between the rich and the poor and fuelling social inequality.  The UK urgently needs a functioning and stable housing market as the current housing situation is deeply unfair."
Plentific Launches Guarantee to Protect Homeowners When Hiring Tradesmen
When hiring tradesmen or home service professionals, it's best to have as much financial security as possible.
The Plentific Guarantee gives homeowners added security when booking trade professionals through their website. This latest addition promises work of the highest quality from the pre-screened Pros and gives homeowners the confidence that their project will be completed to a high standard. Customers entitled to the Plentific Guarantee are guaranteed 100% satisfaction when booking a verified trade professional.  
The new policy covers all services advertised on the Plentific website; from architects to builders. Any verified trade professional booked through Plentific can offer the guarantee, regardless of the size of the project.  
Cem Savas, Co-Founder of Plentific.com said: "This guarantee is the next step in Plentific's mission of connecting homeowners with reliable home services professionals. It adds a newfound level of trust which did not exist before today. We want to find and recommend the UK's best and most reliable trade professionals and consequently remove all common fears when hiring a Pro."   
Legal cover is for contractor related events and covers legal fees up to £50,000. Insurance underpinning the Plentific Guarantee has been developed in partnership with The Home Insurer, authorised and regulated by the Financial Conduct Authority.
Paula Higgins, chief executive of the HomeOwners Alliance commented, "This is fantastic news for consumers. Whilst some websites offer basic verification on the trade professionals they list, homeowners have no one to turn to if they aren't happy with the standard of the work. The Plentific Guarantee offers consumers a newfound level of protection should anything go wrong."
Using the Plentific Guarantee  
When using the Plentific tool on this site, users need to look for the gold tick with 'Verified by Plentific'. This logo indicates that the selected professional has passed the comprehensive background check and can offer the Plentific Guarantee. As such, this guarantee helps both the homeowner, in offering extra protection, and the trade professional, as it confirms their legitimacy and attracts customers. Plentific also offer a secure payment platform for booking the professional. All funds are recorded and consequently covered by the guarantee for additional protection.   
If the homeowner is somehow unsatisfied by the quality of work produced by a verified professional, then the Plentific Guarantee covers four key areas: the deposit, pre and post completion of the project and any legal fees. These added safeguards assure that, whatever the situation, the homeowner has nothing to fear. The comfort provided by the Plentific Guarantee is an essential commodity for today's home services marketplace; in the wake of Brexit, more Brits are looking to make home improvements, and cannot afford disappointment.       
How are tradesmen verified?
At the heart of the Plentific Guarantee is the vetting process that Plentific uses to verify professionals. This background check includes:
Identity confirmation
Confirmation of Company House registration
Insurance cover
Proof of qualifications and certificates
References from previous work
Credit checks
For homeowning tips or advice on a specific query, join us as a member  – we're happy to help!
Aylesbury Estate Compulsory Purchase Order blocked – what happens next?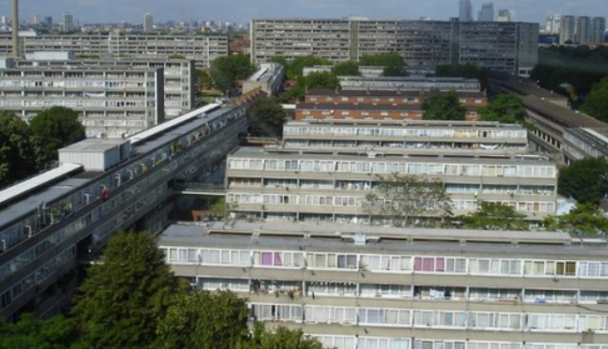 The Aylesbury Estate in South London, built in the 1960s and 1970s, is in the process of a massive regeneration which will see the existing buildings demolished to be replaced with higher density and modern private and social housing.
But what about the residents who are currently living on the estate? Whilst some current residents support the changes, others have been concerned that their interests have not been considered and that they will not be offered affordable or suitable accommodation on the redeveloped site.
A number of leaseholders from Aylesbury Estate have recently gained the support of the Secretary of State for Communities and Development in what Compulsory Purchase Order surveyor Dan Knowles describes as a "milestone" decision. The Secretary of State upheld the planning inspector's report that the CPO for part of the development should not be confirmed. The main reason given was the human rights of the existing residents. Another reason for blocking the Order was that the local authority (Southwark) had not taken enough steps to negotiate with the homeowners. It was successfully argued that the deal being offered to residents of the Aylesbury Estate would likely mean that many of them would not be able to remain in the local area and would be forced to move away.
Dan Knowles comments "With future CPOs, residents may be buoyed by the prospect that acquiring authorities making insufficient efforts to negotiate can now be reprimanded. Similarly, new properties made available to leaseholders on a shared equity basis may be more rigorously tested to ensure they are viable options for residents."
Southwark has said it will seek judicial review of the case but it may take a year for the High Court to decide on this. In the meantime, in order to progress the development, the authority would be well advised to listen to the leaseholders' views and perhaps to try to reach settlement with them. In any event, the decision now means that all acquiring authorities will have to make more effort to show that they are genuinely engaging in proper negotiations with leaseholders and cannot assume that the greater good of a regeneration scheme will automatically prevail over existing homeowner's interests.
Paula Higgins, chief executive of the HomeOwners Alliance said, "Well done to the residents of Aylsebury Estate for keeping up the fight. We have found that some councils do everything they can to avoid paying up and often offer below what they are required to. They can take advantage of people's inexperience, lack of time and the fact there is very little help out there for those in this situation. This is clearly unacceptable and needs to be stopped."
"Under the existing system, residents  navigating  the CPO process have to prepare to constantly fight at local hearings for fairer compensation. When you have a full time job and family to care for this can take it's toll. These families need more support to help ensure they get proper representation from professionals so that councils do not take advantage of them."
How to sell a rural property

How do estate agents value rural properties?
Unlike a big town or city, what agents and portals call "comparables" are in shorter supply in rural areas. For example, if your Edwardian semi-detached home sits in a road of similar properties any estate agent can log into Rightmove Plus or Zoopla Pro to get a valuation range – before they even step foot in your house.
A rural property may not have those comparables – how can a 5 bedroomed farmhouse with 2 acres be compared with a 5 bedroom barn conversion with 10 acres within a mile's radius?
The search area when agents make these initial valuation judgements has to stretch – a postcode search within a quarter of mile of an Islington property may give some idea, but an isolated country pad may need a 10 mile search radius.
When you get to the point of inviting an agent into your home to provide a valuation, ask them how they reached the figure they propose for marketing your home. They should take location and any land into consideration, and employ a house price calculator that considers price paid and capital growth since ownership.  They should also be able to tell you their experience in selling similar properties to yours. But be warned: the hackneyed phrase "A house is only worth what someone is prepared to pay" may rear its head. 
Where do rural estate agents find qualified buyers?
All estate agents have a network, a subscription list or a mailing list of buyers who've either contacted them directly enquiring about a certain type of property, or have requested details or arranged a viewing on a different marketed property.
When you meet your shortlisted agents, ask where they find qualified (i.e. legitimate, with funds in place) buyers, how widely they market and what they'll do for your property to go that extra mile? For example, unique, rural properties often lend themselves to printed glossy brochures and featured newspaper articles in local and national papers. 
How do you find the right estate agent to sell a rural property?
Use our free and impartial service to select the best local agents near you. It allows you to search and rank local agents based on how quickly they sell, how often they achieve asking price, how successful they are at selling homes like yours and their fees.
Invite three agents to see your property and don't forget to ask:
"What rural properties have you sold recently and what is the percentage of asking price to selling price?"
"How many potential "active" buyers have you got on your database?"
"How would you market my property?" and
if applicable, "Do you have surveying expertise in terms of valuing land?"
Often, by virtue of rural location, estate agents already offer that niche expertise.
Remember that a rurally-based estate agent may lay claim to acquiring a higher selling price for you based on their local knowledge, experience and network than an online agent. Do you think this is necessary or do you feel your rural property would sell itself without that local knowledge? If so, consider an online estate agent.
Remember, the best agent to sell your home – whether it's rural or urban –  is the one who achieves the highest selling price, not the one with the lowest commission structure.
The HomeOwners Alliance provides members with guidance on selling their homes. To see how we can help, find out more about the benefits of joining the HomeOwners Alliance.
Estate agents to be more transparent over VAT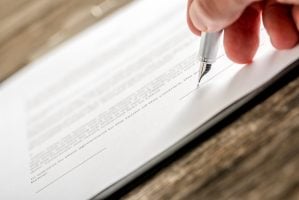 A change to TPO's Code of Practice for Residential Estate Agents insist that estate agents must now list their charges for commission in the form of a final figure based on the asking price and including VAT. Up to this point, estate agents have not been obliged to include the VAT sum, leaving it up to the seller to calculate themselves. The new rules state that the estate agent's commission fee – as a figure and including VAT – must be clearly written into the seller's written contract.
Sellers previously caught 'off-guard'
The Ombudsman acted after receiving a number of complaints concerning a lack of transparency in respect to charging commission where estate agents would list a figure for commission but without calculating the cost of VAT (merely stating that VAT was to be added). Confusion led to many sellers being caught off-guard and having to fork out much more money than they had budgeted for.
Paula Higgins, Chief Executive at the HomeOwners Alliance said:
"We welcome the Ombudsman's move to increase clarity over estate agent charges. Selling a home can prove an extremely busy and stressful time and because of this it's easy to overlook VAT charges if they are not already clearly stated. This move by the Ombudsman gives home sellers clarity over what they will paying for marketing their home up front, and avoids putting them under additional financial pressure at the point of sale when money is already very tight."
What do commission fees consist of?
The commission fee is commonly listed as a percentage rate and typically between 0.75% and 3.0% of the property's value. It is commonly listed as covering work such as advertising the property both physically and online, and other marketing material and activities which can vary. VAT in the UK currently stands at 20%.
As with existing guidelines, estate agents must also make it clear that, should the selling price of the property be higher or lower than the asking price, the commission fee would vary accordingly. With the fixed fee, clients should be informed the fee won't vary regardless of the eventual sale price.
Gerry Fitzjohn, Chairman of the TPO Board, said: "The decision was taken to carry out a full review of the Codes to reflect market developments and provide clear definitions of unfair practices."
Estate agents found to be ignoring the new ruling regarding clarity in respect to commission fees face could be reported to Trading Standards and banned from practising in the UK.
Meanwhile, further information on this issue, as well as other updates to the Property Code of Practice (including a ban on 'portal juggling') will be discussed at the TPOs annual conference 'Raising Standards' at the National Conference Centre in Solihull on Oct 12th.
The HomeOwners Alliance provides members with guidance on selling their homes. To see how we can help, find out more about the benefits of joining the HomeOwners Alliance.
What is an estate agent good for?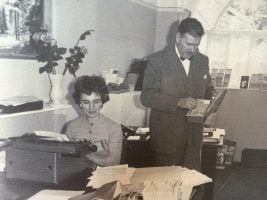 My grandfather would sit in his estate agency office during the 1960's and 1970's almost single-handedly overseeing the local property landscape in so far as deals and prices. He was the Don Corleone of local housing market dynamics. The ultimate local knowledge.
His Godfather like status came about because he really did have the power. The authority that knew every transaction, how long a home had been marketed for, whether it had achieved its asking price and indeed he'd probably meet the building society surveyor in the pub to discuss and help agree the town's mortgage valuations each week. Knowledge is power.
Or rather as far as estate agents are concerned, it was…
The internet is the great leveller. Todays font of all knowledge. The record of truth that is an ever increasing flow of fact and stat that simply cannot be matched by a guy with a Rolodex and a creaking filing cabinet.
Buyers decide where they want (or need) to buy without recourse to a stranger in the high street that happens to know where all the doctors' surgeries are. They check online for schools data, crime statistics and local amenities. And of course, they scrutinise nearby house prices. All of this information is available via a myriad of resources such as HM Land Registry; Rightmove; Zoopla; Property Detective and so on. Buyers know the market and will often spend weeks or months investigating and checking what's new, what's reduced in price, and will know full well what is languishing on the market because the portals tell them so. From this close contact with the day to day, buyers form an opinion on value and offer a price accordingly when they are ready to move.
Buyers are the local market. Not the agent, who is a mere reflection of the market.
Sellers, no matter what they want or hope to achieve, will sell for what the market dictates and no more. An agent cannot wave his/her wand and flout the transparency of that which is plain to see evidentially.
If the power of such information has now been democratised, then what is an estate agent for? What is the point of an estate agent?
Well, apart from the fact that sellers are not able to list their homes on Rightmove and Zoopla directly and are therefore compelled to go via an agent, they have now become just a mere conduit between seller and buyer. A concierge of communication, comfort and, often, problem solving. The agent is now a facilitator rather than an authority.
This means that the profession has to be really, really good at this aspect. Returning calls, email responses, follow ups and overall good communications are essential to justify their place in the new order of things. And if these fundamentals are ignored and misunderstood, as they often are, then the perception of agents as far as the public are concerned will not improve. Ratings on the likes of AllAgents and TrustPilot will not improve either.
Estate agents need to be customer service centric. In just the same way that Amazon don't show you the goods prior to dispatch (nor Ocado, eBay etc), the crux these days is in the ease of interaction, promises fulfilled and a humble and decent approach. A clear, honest proposition that is well executed and reliable.
My grandfather would not understand this, but the world has moved on since his day. For most of us, anyhow.
Written by Russell Quirk, CEO, eMoov
If you've had experience of poor estate agency service – whether from an online or high street agent – do get in touch and share you story with hello@hoa.org.uk
How to Furnish your Home Creatively on a Budget
Unless you're a super saver or have recently happened on a windfall, no-one has any money left for furniture after buying a new home these days. Well, with the costs of moving now at £11,000, it's no wonder.
If that's you, don't despair – this article lists lots of ways you can create a beautiful 'new'ish' interior, without the boredom and nutritional dilemma of having to live on baked beans for the next six months or so…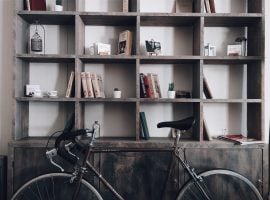 Upcycling
You've probably heard the term banded around from time to time and maybe more so in recent years, because this past-time is becoming increasingly popular.
Those who love the shabby chic décor style have been doing it for years (i.e. getting old pieces of furniture then sandpapering and painting them to look deliberately aged and full of character). You can adopt the shabby chic style if you like, but you can also give second hand furniture a modern twist by, for instance, getting a chair upholstered in a contemporary fabric (get someone to do it for you or take a course at night school).
Other wooden furniture such as tables, bookcases and TV units can also be sandpapered down and repainted/varnished too. Not only will you save a fortune but it can be fun doing a crafting project like this and you'll get huge satisfaction once you've completed it (and kudos after the neighbours admire it!).
Where to find furniture: auction houses, second hand shops/websites, flea markets, charity shops, a reclamation yard, car boot sale, neighbourhood skips or adverts on Facebook / Gumtree
What you'll need: paint stripper, sandpaper, wipe on stains, paint brushes, old sheets etc to paint on
Learning how: buy or download a book on the subject, check out websites or take a course (especially if it's upholstery you're interested in)
DIY
Making your own furniture can be easier than you think – and it'll have that mark of individuality too.
There are lots of DIY sites focused solely on creating your own headboard. Some of the finished articles are pretty spectacular. Take the following 'statement' headboard which involved covering a piece of wood in fabric using glue and stapes then running a sewing machine around the edge of the wood. It doesn't have to be this large, of course, unless you're after a showstopper.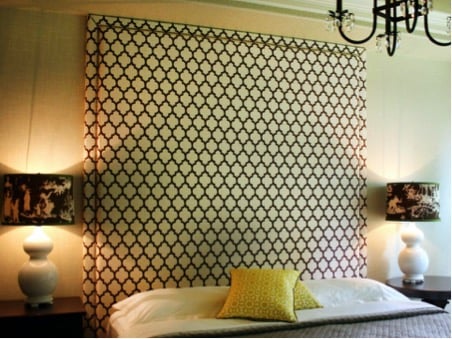 Image via HGTV.com
The following involves some discarded wooden planks cut to size at a local timber yard then painted to match the rest of the bedroom.
Image via homestyleaustin.wordpress.com
And what's stopping you creating your own unusual shelves? There are some pretty fabulous ideas out there involving step ladders, old rope and even a pair of crutches with some cut down planks of wood.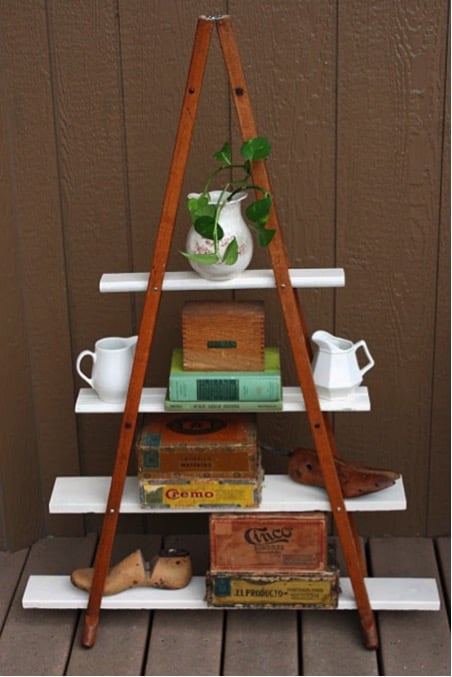 Image via Positivre.fr
Or even blocks of wood glued on top of each other to form corner shelving (great for small bathrooms/bedrooms)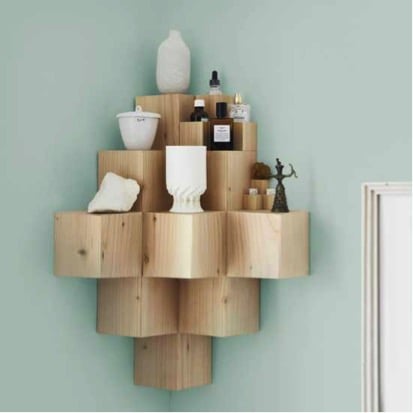 Image via stylizedliving.com
And you might want to think twice about throwing those old crates out…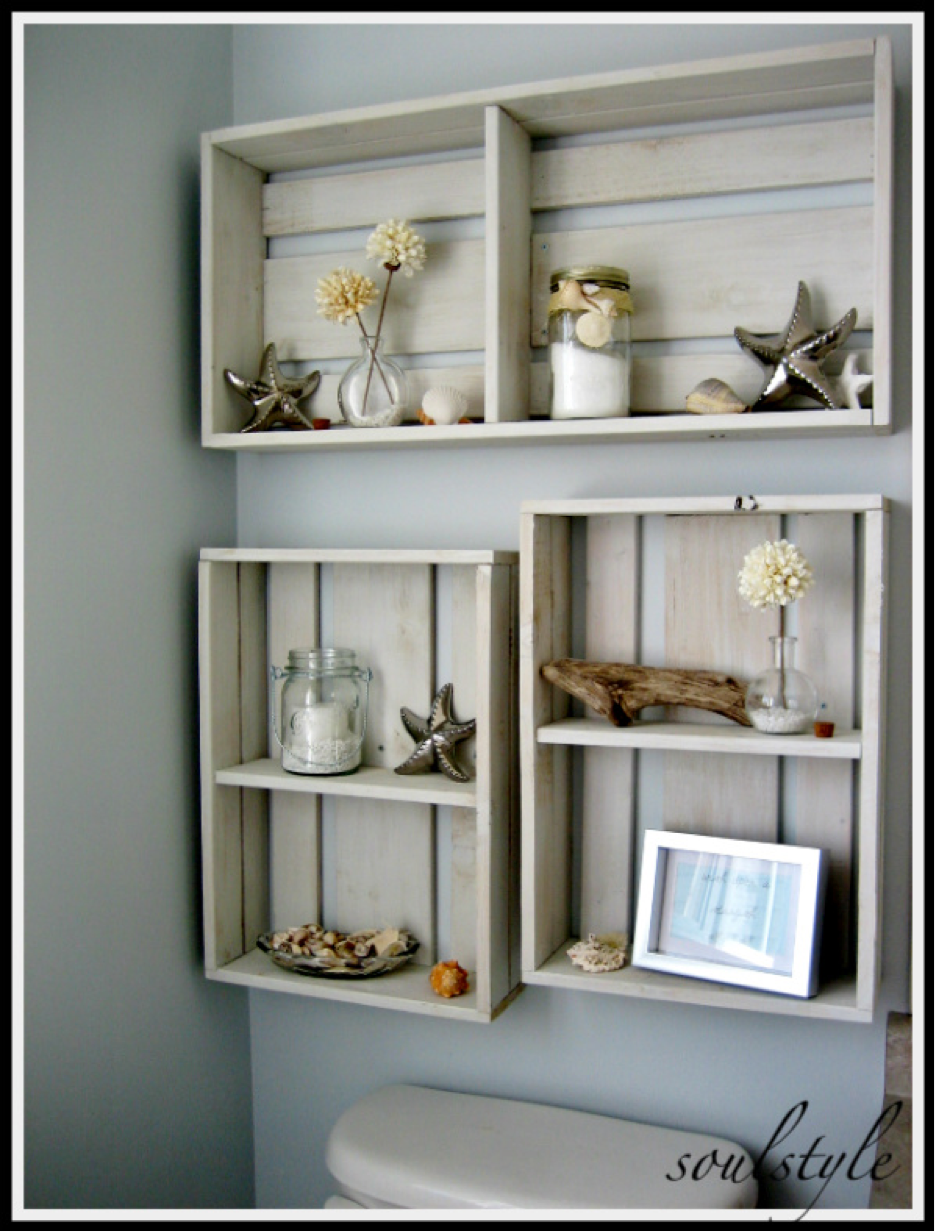 Additional interior DIY tips
Buy canvas boards and cover in a fantastic fabric or wallpaper sample and hang instead of a picture
Make your own curtains, cushions, table clothes, throws, etc by purchasing fabric and picking up a sewing machine for free or at little cost via some of the following sites below
Finding inexpensive household goods
Check out websites such as Gumtree (house clearance section), eBay local app, Freecycle, Snaffleup, Preloved, town community site, cards selling household items in newsagents windows/ local supermarket board
Combine second hand and new (just as you'd wear a designer jacket with high street jeans)
Buy from factory outlet stores or check out the Homes and Bargains website for discounts on home goods
Use online comparison sites to find the least expensive version of a high street product
Find a local auction site nearby or look for a hotel liquidation sale
Check out exhibitions such as the Good Homes Show and Ideal Home Show where small companies often offer impressive one-off show deals
Not feeling so confident? Find a Tradesman with Plentific in a few simple steps!
Fairer leasehold system needed to protect homeowners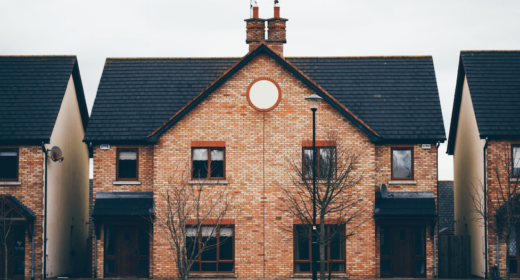 Problems with the leasehold system
One of the main causes of stress and upset of our members here at HomeOwners Alliance is the leasehold system. If you own a leasehold property and are trying to sell, you're in the hands of your leasehold administrator and freeholder. They in turn can pretty much charge what they like for the paperwork you need and can send it whenever they want as there is no provision for redress in respect of delay.

If you're not happy, the most you can do (and in very limited circumstances) is to take your complaint to a tribunal – and in doing so would no doubt irritate your freeholders and you could potentially lose your buyer.

We don't think this is good enough. And nor does the Conveyancing Association (CA), who are of the view that leasehold property owners can easily be exploited by unscrupulous freeholders and their agents under current legislation, and are therefore calling for reform and an amendment of the leasehold legislation.

The CA argues that current legislation is not providing adequate protection for leaseholders during the buying and selling process. Its main concerns are the "significant delays and overcharging." It launched a campaign in August 2015 with recommendations for set fees and a redress scheme for freeholders and their agents.

HomeOwners Alliance is backing the CA's campaign because we believe that leasehold property owners are getting a raw deal. It is usually people with smaller budgets, such as first-time buyers, buying leasehold properties, as they tend to be apartments and therefore more affordable, so it is even more important that they receive adequate protection.

Leasehold property owners looking to sell their property require information from the freeholder for the sale for which the freeholder can charge administration costs. If leaseholder believes that the charges are unfair, they can challenge them at the First Tier Tribunal.

However, the CA say that the tribunal is "only granted jurisdiction in the Commonhold and Leasehold Reform Act 2002 over administration fees in respect of approvals or consents and therefore there is no form of redress for items such as Notice of Assignment, Deed of Covenants (unrelated to an application for consent), Certificate of Compliance or Transfer of Shares)."

This "legal loophole" means that freeholders and their agents are free to charge whatever they want and there is no redress. There is also currently no provision for redress in respect of delay in the leasehold sales process. Leaseholders have no ability to take action against a freeholder or its agent if they do not send relevant information on time.

Paula Higgins, CEO of HomeOwners Alliance, says: "Buying a home is an expensive process so it is vital that buyers know what the costs are upfront. However, when it comes to buying and selling a leasehold property, there are no set fees for administration costs.

"Prospective buyers and sellers are held to random by some freeholders and their managing agents, having to pay extortionate fees to enable the sale to proceed and to comply with the terms of the lease.

"Even when they can dispute a charge such as the Leasehold Property Enquiry Fee, this is not a real option as they need the goodwill and cooperation of the freeholder to sell their property.

"As there is no requirement for freeholders and their agents to join a redress scheme, they can take as long as they want hand over paperwork. Delays are a huge source of stress for buyers and sellers and can cause great financial expense. The balance of power is tilted in favour of the freeholder and it needs to be addressed."

Beth Rudolf, director of delivery at CA, says: "Some charge as much as £300 for a Deed of Covenant when it should cost £80. There should be a scale of fees set by the Secretary of State based on the actual work involved plus a reasonable margin, similar how Land Registry charges are set for its services, and an ability to enforce it."

Rudolf says: "Buyers should know the charges at the beginning of the process so they can factor it into their home buying costs. It's a barrier to moving home as it upsets clients and holds up sales."

Even if a leaseholder is able to challenge a charge, many choose not to. This is because they need the freeholder's cooperation in the sale and any delays could jeopardise the sale.

Rudolf says: "You can't even take your complaint to the Property Ombudsman, and even if you could, their current complaint resolution timescale is 26 weeks, which is just not feasible mid sale. There needs to be a fit-for-purpose scheme that applies to anyone charging for the service and fast tracks the process to ensure that documentation is sent quickly and can penalise those that don't sent it on time."

The CA says that the Department of Communities and Local Government have suggested that they do not recognise that there is a problem. Rudolf says: "The next step is to bring to their attention the loophole and case law. The DCLG think that the legislation is adequate but there is no jurisdiction for these issues."

Nearly 26% of Land Registry transactions are leasehold properties and more leasehold schemes are coming as developers are increasingly building new homes – houses as well as apartments – on a leasehold basis.

Growing numbers means more sales and purchases; 260,000 in 2015 up from 220,000 in 2011, according to the Land Registry – with 57% of all transactions in Greater London being for leasehold properties.

We would love to hear your stories and comments about the issues that the campaign is addressing. Please email us on hello@hoa.org.uk or write a comment in the box below.

For more information, dedicated support and expert advice on your homeowning queries, join us as a member today!
Half price tickets to Grand Designs Live 2016!

Claim your half price tickets!
Missed out on our last competition for Grand Designs Live tickets? Never fear, we're now running a special discount code offer for better-than-half-price tickets!

Using our discount code, tickets will cost just £9*.

Grand Designs Live, based on the Channel 4 TV series presented by Kevin McCloud, returns to Birminghams's NEC from the 19th – 23rd October 2016. 

The show offers visitors a unique opportunity to see all the latest trends for the home, as well as many new products never seen before.

Get inspired for your own home improvement project or Grand Design while treating a friend or loved one to a fantastic day out!
To claim your tickets, simply head to www.granddesignslive.com, follow the link to book your tickets and enter the discount code GDLHOA. Alternatively, call the ticket hotline on 0844 854 1348. You will then be able to download and print your e-ticket to the show.

T&C's – Transaction fee of £1.70 applies per order. Tickets must be booked in advance. Offer ends 22/10/2016. Offer valid on standard admission tickets only. Saving based on the door rate.

*Usual ticket prices are £12/£15 in advance and £17/£20 on the door.
Sign up to our newsletter to find out about new competitions and prize draws
Free tickets to Grand Designs Live 2016!
The inspiration starts here… with a visit to Grand Designs Live 2016
Grand Designs Live, proudly sponsored by Anglian Home Improvements, returns to Birminghams's NEC from the 19th – 23rd October 2016. 

Now running for five days, the show offers visitors a unique opportunity to see all the latest trends for the home, as well as many new products never seen before.

Based on the Channel 4 TV series, and presented by design guru Kevin McCloud, the event will be packed with over 500 exhibitors across six different sections, where you can take away ideas and inspiration for your very own Grand Design.

We know our readers love their homes and are always searching for inspiration, so we're giving away FREE tickets to the show! All you need to do is send us an email*. The competition ends next Tuesday 13th September. Tickets are limited and issued on a first come first served basis, so be quick!
SORRY, THIS COMPETITION HAS NOW ENDED.
Sign up to our newsletter to find out about new competitions and prize draws
*Don't worry – your email address will not be shared with anyone.
Sign up to our FREE newsletter

Keep up to date with all our latest advice and services

& nspb ;

Sign up! >