boo
Stick or Twist – The Home Raffle Gamble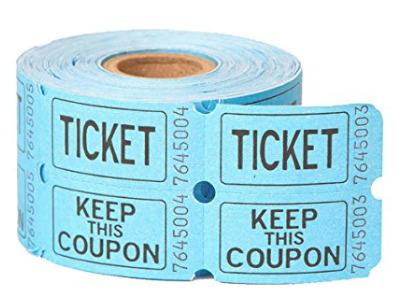 Whether it's the promotion of an unusual feature, sought after location or the close proximity of a good transport link, UK homeowners are savvy when it comes to making their home stand out from the rest. But despite recent signs that the market is once again beginning to lift, many have found it hard to sell over the last year or so and have had to turn to even more creative ways of getting their sale over the line.
One path that some have chosen is the house raffle and there have been numerous cases of this practice covered extensively within the media, highlighting it as a great way to boost advertising footfall and exceed the current market value of your home.
But it isn't just those entering that are relying on the luck of the draw. Raffling your house can be a minefield of unforeseen problems that could see the successful sale of your property fold.
The Gambling Commission
Before you even get started with a house raffle, you need to be aware that there are a strict set of rules and regulations you must abide by, as not doing so could result in breaking the law.
Not upsetting the Gambling Commission can be tricky and there is a whole host of things to consider but the initial things to know are: –
A Lottery
The Gambling Commission only regulates lotteries, not free draws or prize competitions.
A lottery is where entrants pay an amount for a chance to win based on pure luck. To avoid running an illegal lottery and facing potential legal action, you must have the correct licensing from the Gambling Commission.
A lottery must also only be run for a good cause, not for personal or commercial gain.
Free Draw
A free draw or prize competition is not regulated and so either can be run for personal gain, such as exceeding the asking price of a property.
A free draw, as it suggests on the tin, is where all entries to a completion are free above any cost to enter such as the price of a stamp or phone call.
So, although like a raffle, you would essentially be giving your house away for free (or the cost of a few stamps).
Prize Competition
The outcome of a prize competition must be dependent on the entrant's demonstration of a skill, knowledge or judgment.
The idea is that this barrier to entry should deter a "significant proportion" of people taking part, or of those that do, from winning a prize.
The Risk
With the above considered, simply advertising a chance to win your house at £2 a ticket with the hope of accumulating a sum above asking price and randomly selecting a winner, will almost certainly see you implicated in the running of an illegal lottery.
If you plan to do so, make sure you contact the Gambling Commission first to ensure you have the correct amount of red tape in place or adapt this concept even further to bring it in line with a prize competition. This could be anything: perhaps challenge each buyer to a Ninja Warrior style assault course at £2 a go, with the quickest time securing the house?
But even with the Gambling Commission satisfied remember with anything of a gambling flavour, there is a risk involved in playing the game itself.
Just because you cause a stir selling your home for "£2" in the tabloids, it doesn't mean you will sell the desired number of tickets and in some cases, sellers have failed to do so. You may see your property go for £100,000 less than expected, £80,000 less than you would have secured via the traditional method, and still have the obligation of honouring your raffle prize.
The Winner
Then there's the potential winner. They might have the £2 laying around to enter, but do they have the finances to pay the legal fees, the stamp duty, the upkeep of the property? This could lead to winner after winner declining the prize and even if you were to pay the stamp duty and legal costs on their behalf, you could see your former home fall into disrepute.
We find a lot of the time at eMoov, that a seller is willing to take a slightly lower offer because they built a rapport with the buyer and knew that the property would be in good hands over years to come.
Raffling a property can be tricky but as with gambling itself, you should only do so if you are in the financial position to do so as there is always the chance you might lose. There's a difference between throwing a diamond ring in the poker pot because you have another three at home and losing doesn't matter, to throwing in your mother's diamond ring that's a priceless family air loom and one of a kind because you think you have a winning hand.
If the property is buy-to-let and you simply want to shift it, perhaps because of the new stamp duty regulations, then the chance of a loss via a raffle may not be such a big deal to you.
If you are desperate to sell because you need to pay off debts and your family life is relying on a large sum of money, then it probably isn't worth the risk as you should only ever gamble what you can afford, and never in desperation. In this case, a slightly longer time on the market or slightly lower sold price is a much safer bet. In addition, selling through an online agent such as eMoov could see you sell quicker and for a higher asking price than the high-street, but you won't pay thousands in commission and we will do all the hard work for you.
Provided by Russell Quirk
eMoov
The Race to Remortgage
Race to remortgage
For many years now homeowners in the UK have enjoyed record low interest rates and, as a result, impressively low mortgage repayments. But with whispers about an imminent rate rise persisting many homeowners are now racing to remortagage in order to tie in to a great deal. According to figures from Connells Survey & Valuation remortgaging was responsible for a record 37% of valuations in August, up from 34% at this point last year.
John Bagshaw, corporate services director of Connells Survey & Valuation, said:"Remortgaging is quickly becoming the dominant activity in the lending market. The record high in August was driven by consumers seeking out better value borrowing. Having benefited from a decade of low interest rates, consumers are sensing the risk that this era is nearing an end. Many older mortgage deals are expiring this autumn which will mean moving onto more expensive standard variable rates. As a result, homeowners on these deals are opting to refinance, taking advantage of the intense competition in the mortgage market right now."
Get free, unbiased advice from our mortgage partners at London & Country 
HSBC scraps valuation fees
Anyone who has bought a house before knows the fees you have to pay can be pretty hefty. From solicitor fees to product fees, it's safe to say these are added extras you could do without. A big thumbs up then for HSBC which has announced it is scrapping valuation fees for its customers, saving buyers hundred of pounds in the process.
With an interest rate rise reportedly on the cards in the not too distant future lenders are unlikely to be lowering their mortgage rates any time soon so we may well see more follow in HSBC's footsteps to entice customers. Great news for buyers!
Find how much your home is worth now with our free instant online valuation tool
Going, going, gone – Accord withdraws record low rate
It caused quite a stir when it came to market earlier this month but sadly Accord Mortgages has now called time on its show stopping 0.99% fixed rate. Available up to 80% LTV, the mortgage was the lender's lowest ever two year fixed rate and had borrowers in a frenzy when it was launched on September 19 but all good things must come to an end and the limited edition product has now been pulled. We'll be sure to update you about any other jaw-dropping rates so keep your eyes peeled!
Check out our tips on how to make a successful mortgage application
Mortgage Best Buys
Check out today's best mortgage deals.  Click see more best buys to see the full range, or speak to London and Country today on 0800 073 2326
Consumers fail to check facts and figures when appointing estate agents
Consumers are leaving themselves at risk of getting a bad deal when choosing an estate agent because they're not paying attention to facts and figures, research from EstateAgent4Me has revealed. The research has found that despite sellers claiming fees and performance were the most important factors when choosing an agent, very few actually took the time to access this information properly.
Don't ask, don't get
While 96% say fees charged by the estate agent are important, only half of sellers invited two or more agents around to do a valuation and sales pitch, only one in four sellers (26%) negotiated the commission they paid and only one in five (22%) asked to see the agent's standard terms and conditions before selecting their preferred agent.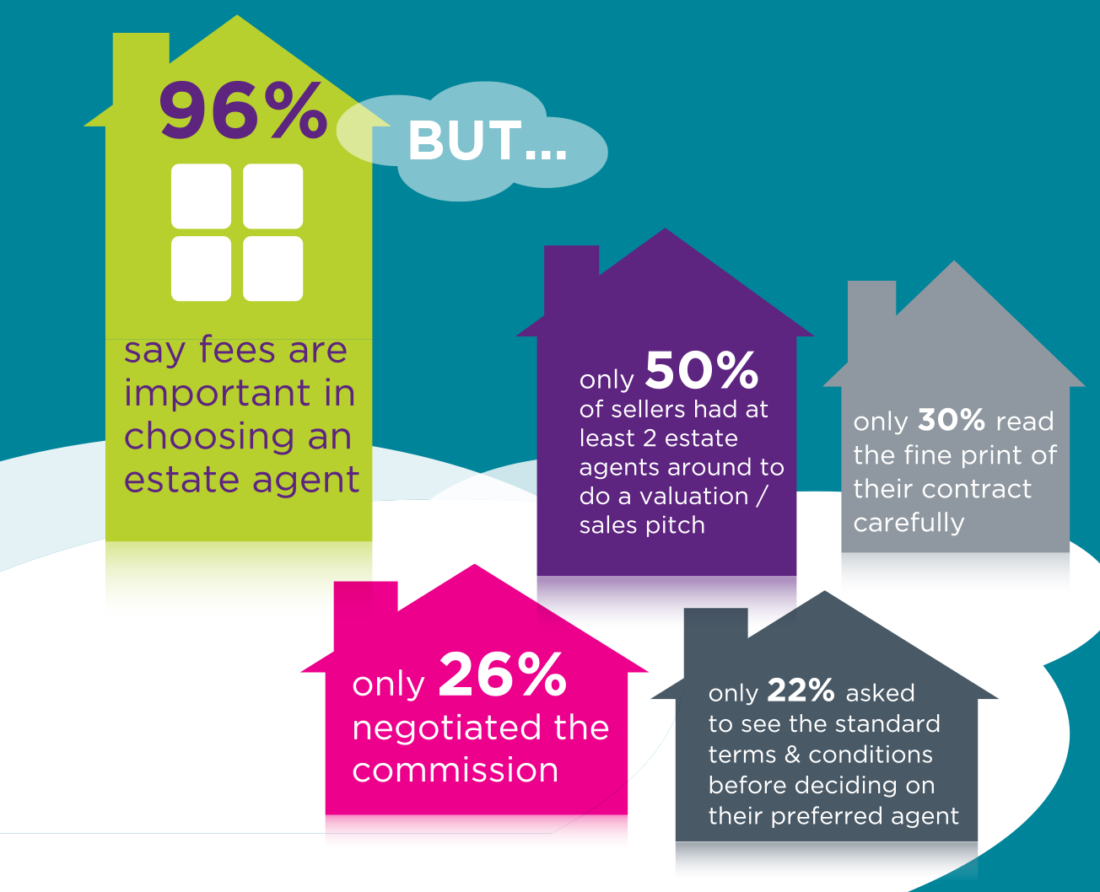 The HomeOwners Alliance provides members with guidance on their agreements with estate agents and can check your contract for you. To see how we can help, find out more about becoming a member 
Meanwhile, despite 91% saying performance of the estate agent – their success rate, ability to achieve asking price and the number of properties on their books – is important, only a third of sellers (32%) checked the agent's recommended selling price against similar properties on Land Registry/ Rightmove or Zoopla.  Only one if five (19%) sellers looked for feedback or online reviews on the agent they engaged and – shockingly – only 30% of sellers read the fine print on their contract carefully.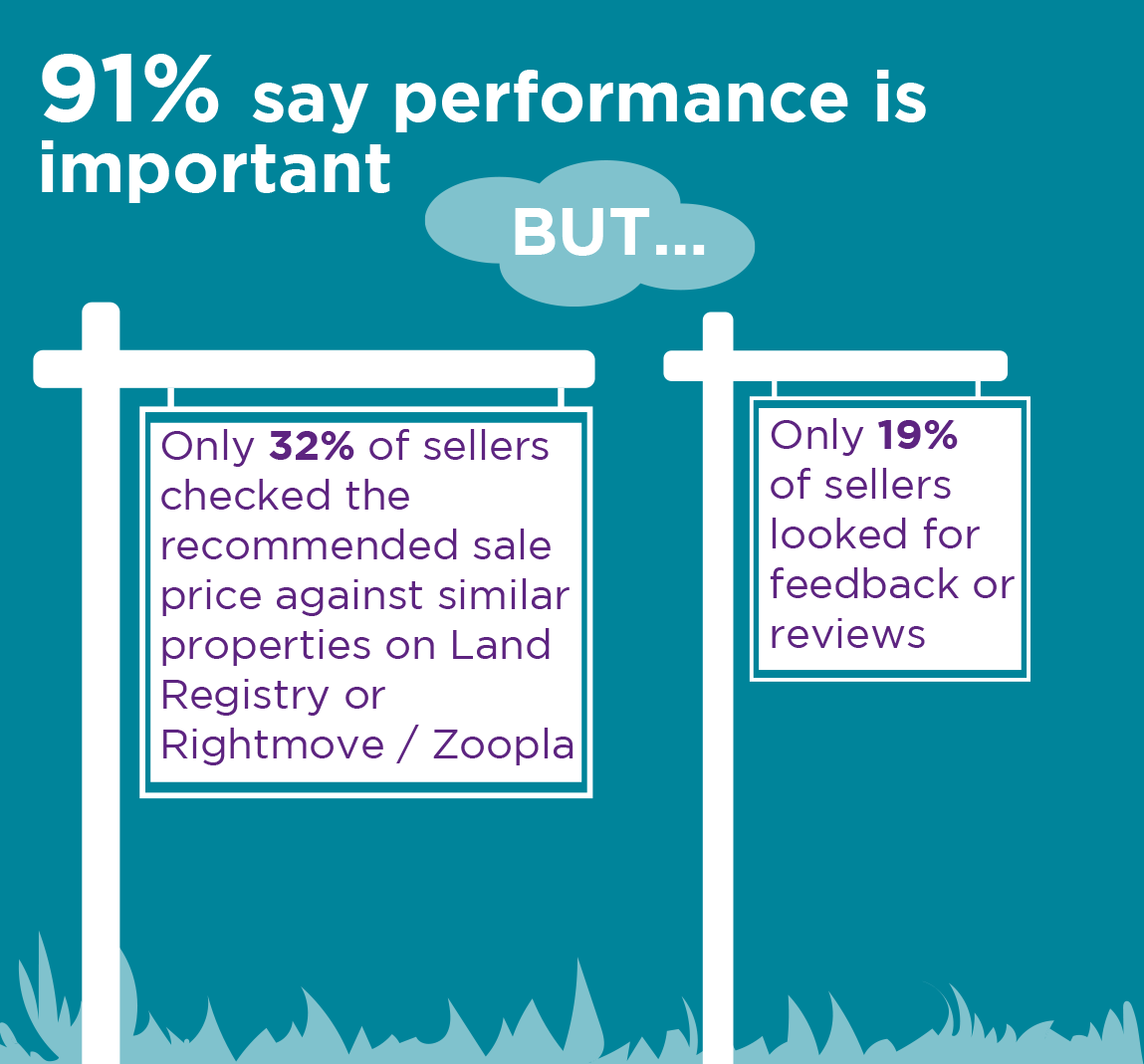 Lower in the list of important factors in choosing an estate agent are recommendations from neighbours, friends and family (73%) and previous experience of the estate agent – having bought or sold from the agent before (68%). While industry awards are cited as the least important factor in choosing an agent (49%).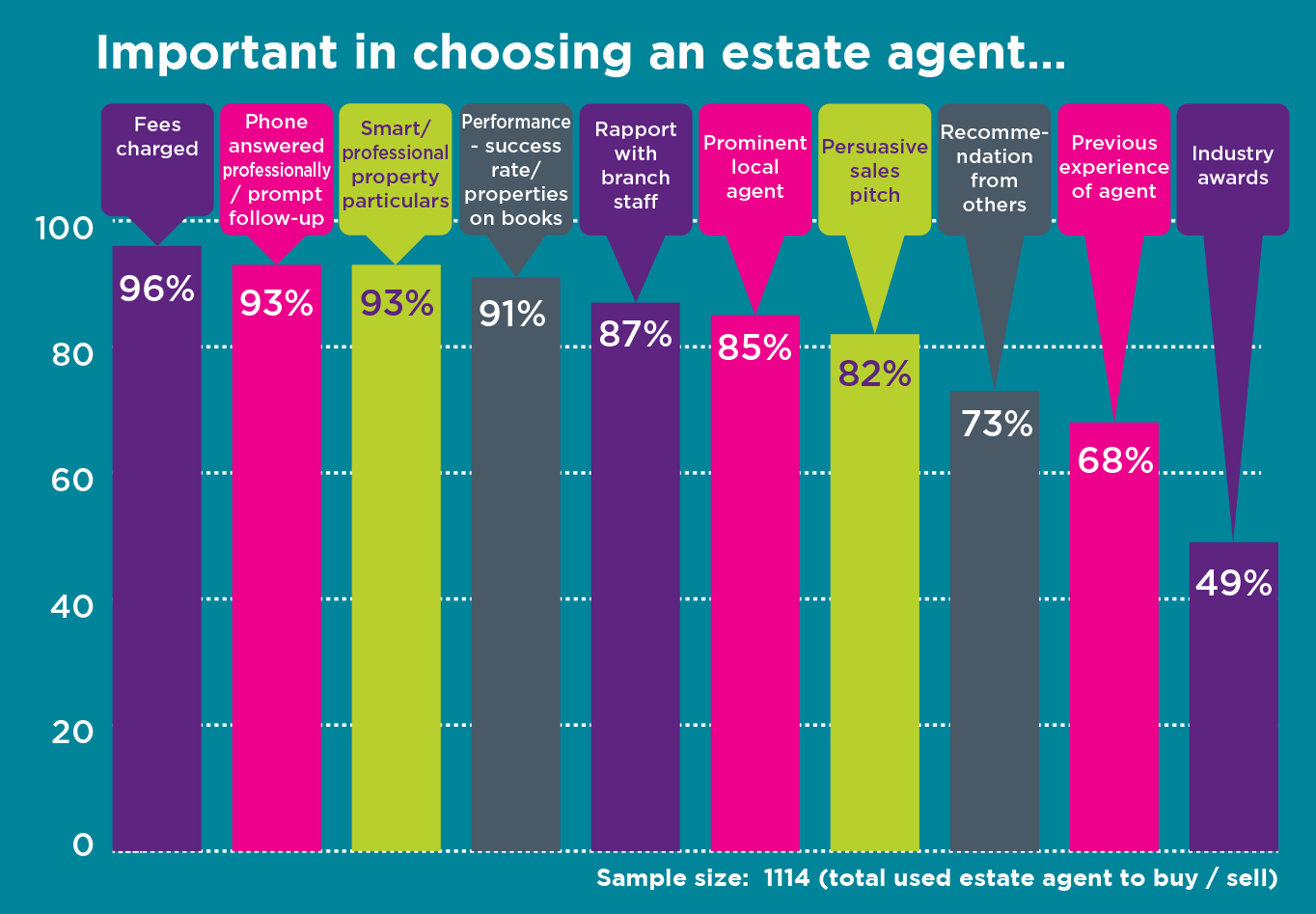 The survey also revealed that professionalism, appearance and manner matter more to consumers than experience. Professional cues rate as highly important in choosing an estate agent. 93% say answering the phone professionally with prompt follow-up is important and 93% say professional and smart-looking property particulars are important.
The turn-offs
Being too pushy or using obvious sales tactics is the number one turn-off (48% say this would be likely to put them off an estate agent) while a lack of professionalism in tone can put off potential buyers and sellers. 39% of consumers say being unfriendly, unenthusiastic or stand-offish would be likely to put them off while 27% thought it could go too far the other way, with an agent being over-familiar.
One in five respondents said they would be put-off an agent that does not look presentable (20%) or that looks too flashy (19%) while a lack of local knowledge would be a key reason for disregarding an agent (47%), only 12% say that they would be put off by an agent that seemed nervous or inexperienced.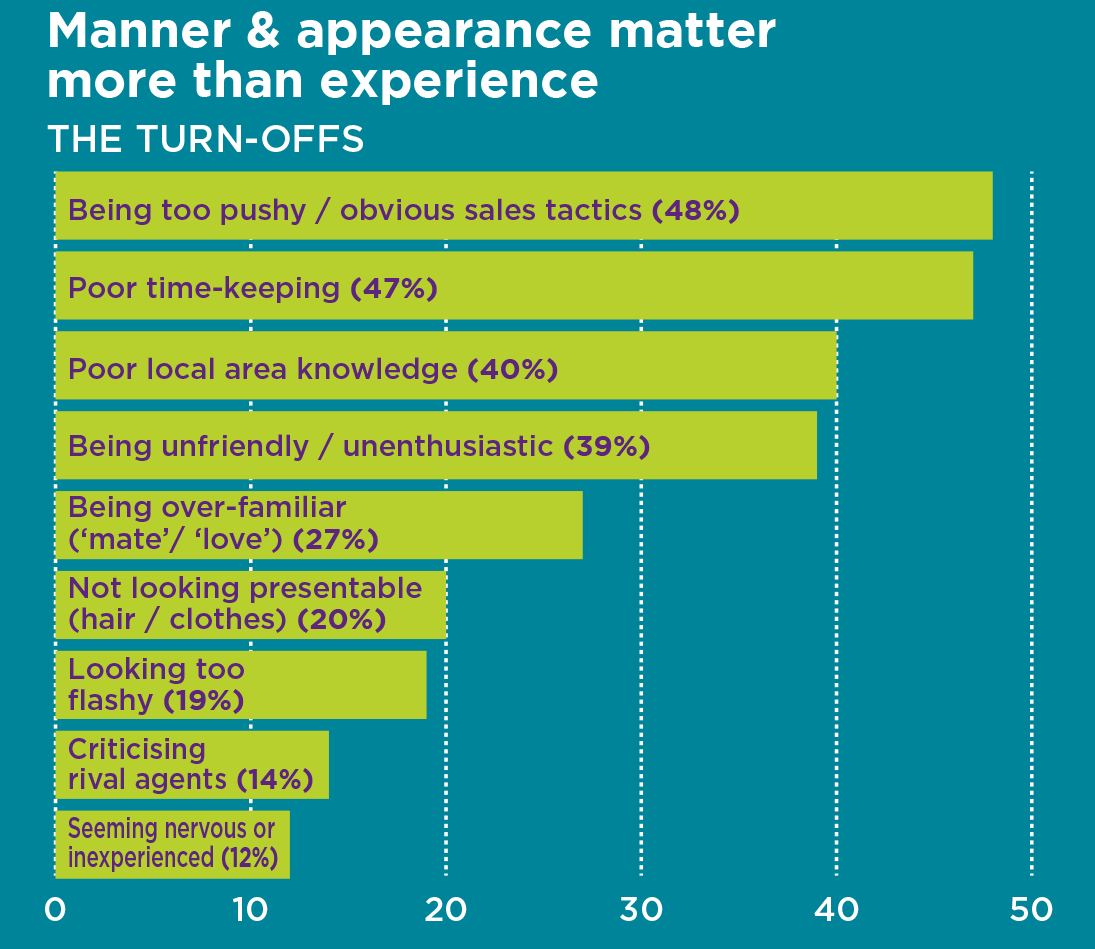 The personal touch
Interestingly, given the rise in popularity on online agents, the vast majority of respondent said personal connection and rapport remains important.
Almost nine in ten (87%) say that rapport with branch staff is important when choosing an estate agent to deal with and more than half of sellers (52%) and 43% of buyers visited the estate agent branch.

Paula Higgins, chief executive of Homeowners Alliance, says:
"It's worrying that while consumers seem to be aware of what really matters when it comes to choosing an estate agent, few of them actually base their decisions on this. Not having three agents give you a valuation before appointing one and not reading your contract carefully are basic mistakes that could lead to big problems. While instinct is always important it's essential that sellers trust the numbers and remember the devil is in the detail."
"We're here to help consumers get a better deal. From helping you find the best three estate agents in your local area, based on their performance, to checking your estate agent's contract for you. We're on your side"
Methodology: The data in this release is based on research conducted in July/August 2017 and based on 1,114 UK adults that have used an estate agent to either buy or sell a property.
Prepare your home for winter
As the old saying goes, the time to fix the roof is when the sun is shining. We may be able to squeeze in a few more sunny days before the cold weather really kicks in but kick in it will so there's no better time to make sure your house is ready for it. Here's our autumn checklist to take your home into harsher seasons.
Check the heating
Chances are you've not had your heating on for a good few months and, even though the temperatures have dropped you're refusing to turn that knob, clinging on to the hope summer will make a reappearance (it's over – let it go). But if you wait until it gets really cold before switching the heating on there's a chance you'll get a nasty surprise when it doesn't work. Turn your heating on now and check all the radiators, bleed them if necessary and then switch them back off safe in the knowledge they're in working order for when you need them.
Read our top tips on how to cut your gas bill >
Clean your gutters
Blocked gutters can cause pipes to overflow leading to damp problems in your house. During the autumn months blocked gutters are a common problem because leaves falling from the trees can clog them up. Make sure you regularly clean them out.
Check your roof
While you're sorting your gutters take the time to check the roof. If you have any loose tiles repair them now before a nasty storm or particularly strong winds make the problem much bigger and much more expensive to remedy. Remember, your insurance policy is unlikely to pay out for storm damage if the roof was not in great shape to begin with.
Service your boiler
If you've not had your boiler serviced in a while, do it now. Prices start at £89 with our partners at Plentific. They can find your local  a  engineer, book instantly and pay through their secure payment system so your money is protected. Find out more > 
Insulate
According to energy advice service The Green Age about 25% of the heat in a house escapes through the loft and about 35% through the walls. Proper insulation can significantly reduce this. Cavity wall insulation can help to stop heat escaping the house by filling the gap between the two walls. Newer homes should already have cavity wall insulation but if yours doesn't it's worth getting it fitted.
Get your chimney swept
Curling up in front of a roaring fire is one of the best things about the winter but don't throw any logs on yours until you have had your chimney swept. You can hire a fireplace specialist to sweep your chimney for just £69. Find out more today >
Switch it up
In a few weeks time you're likely to be cranking up the heating, turning on the lights a lot earlier and spending more time at home – in short your energy and heating bills are going to soar. So why not take the chance to reduce the cost while you can by switching provider.
Compare energy deals and save hundreds by switching supplier today >
HomeOwners Alliance calls for better protection for leaseholders
Here at the Homeowners Alliance we have been vocal on the issue of leaseholds for some time now and after plenty of campaigning – including the publication of our Homes held Hostage report – it seems the government is finally starting to take notice. But will it go far enough?
During the summer communities secretary Sajid Javid announced plans to ban leasehold tenures for new build homes and opened a consultation on the matter. Responding to that consultation Homeowners Alliance is calling for Mr Javid and the government to go further.
Cap on ground rents
In that response we state how we would like to see the government introduce a statutory cap on the annual ground rents that homeowners have to pay, to protect leaseholders from exploitation by unscrupulous freeholders.
The cap on the ground rent would be a share of the value of the property, which we suggest should be 0.1%. That means that a £200,000 property would face a maximum ground rent of £200 a year. The cap would prevent the homeowners being hit by the common practice of ground rents increasing or even doubling every few years, which have pushed many into financial hardship or made their properties unmarketable. The cap would mean probably hundreds of thousands of homeowners would be hundreds of pounds a year better off.
Ban ground rents on new leasehold properties
Furthermore we're calling on the government to ban ground rents on all new leasehold properties and all lease extensions in England and Wales, as part of a public commitment to phase out the much-abused leasehold system. At present, only ground rents in formal leasehold extensions are legally required to be zero (or a "peppercorn" in legal parlance), but here at the HomeOwners Alliance we are calling for that requirement to be extended to all new leases and all lease extensions, including informal ones.
Paula Higgins, chief executive of HomeOwners Alliance, said: "Many homeowners have suffered outrageous exploitation by increasingly unscrupulous freeholders. We obviously welcome the fact that the government has accepted our proposal to ban the sale of leasehold houses. It is good the government is up for reform to end the injustice, but malpractice by freeholders is so widespread that the government needs to be prepared to be radical – the time for tinkering is over."
We need a plan
In our consultation response we have also called on government to state its commitment to ending the leasehold system and ground rents, and to set out a plan to do that. In summary we recommend the following.
To protect those buying new build houses we want to see a:
Ban on the sale of new leasehold houses, except in very limited circumstances
Ban on the sale of freehold of leasehold houses to third parties without giving the leaseholder the right of first refusal.  This right currently exists for leaseholders of flats, but not for houses
To protect leaseholders already suffering onerous ground rents we recommend:
that for all leasehold properties, set a statutory cap on existing ground rents as a proportion of the value of a home (to be set by government, but could be 0.1%). Ground rents above that level would have to be reduced to the cap, and disputes would have to be referred to the leasehold tribunal
that a Leasehold Mis-selling Commission is established
We also propose limiting ground rents on all new leases:
Set ground rents at a peppercorn for all new leases for all properties, and lease extensions. This currently applies to all formal leasehold extensions, but it should also apply to informal extensions and new leaseholds
And a range of other reforms:
Make commonhold tenure mandatory for all newly-built blocks of flats or apartments (with a possible exception for shared ownership tenure)
Ban freeholders selling the freehold to the leaseholder while imposing restrictive covenants which require leaseholders to continue making certain payments to or asking for consent from the original freeholder
Protect freeholders on estates from unreasonable service charges for communal services, just as leaseholders are
Ensure enforcement of the law requiring estate agents and developers to state whether the properties they are marketing are leasehold or freehold and to include information on length of lease and service charges
Latest Mortgage News, September 2017
A mortgage for life?
A mortgage is for life, not just for Christmas may not have the same ring to it as the famous pet campaign but lifelong loans may well be becoming a reality. In its quarterly consultation paper the Financial Conduct Authority (FCA) proposes bringing back retirement interest only  mortgages which would essentially mean borrowers could have a mortgage for life and just pay the interest, with the capital repaid when they die or move into care. The move, says the regulator, will offer a solution to those borrowers stuck with interest-only mortgages approaching the end of their term who don't want to take on an expensive equity release plan (known as a lifetime mortgage).
"Retirement interest-only mortgages have significantly different risks compared to lifetime mortgages," says the paper. "In particular, they do not feature the roll-up of interest, meaning that consumers are not at risk of rapid equity erosion and the subsequent reduction of funds available for a bequest. Consumers are also more likely to be familiar with the product features of a mortgage involving interest payments. However, we do consider that there are some risks associated with lending with no fixed term and we are proposing to add a small number of additional requirements for the sale of these loans." The consultation period for this proposal will last for two months. Watch this space.
In the meantime, check out our guides on mortgages for the over 50s and equity release
The long and the short of it
And while the mortgage industry may be looking towards lifelong loans it seems borrowers are certainly up for taking out mortgages for longer. According to a report in the Daily Mirror, one in four first time buyers are taking out a mortgage that will last 35 years or more.
The newspaper says 28.1% of mortgages taken out by first-time buyers in 2016 were for a term of 35 years or longer. In the first quarter of 2017 that figure has risen further to 30%, up from just 13.8% in 2006, according to figures released following a Freedom of Information to the FCA.
Confused about mortgage terms? Read our Mortgages Made Simple guide 
Save a little harder for big rewards
For most people looking to buy a house raising the deposit is the biggest hurdle to get over. So there'll be plenty of would be buyers who'll rejoice at the news that the number 90% LTV loans on offer is approaching an all time high. Financial data firm Moneyfacts says the number of mortgage products on offer increased by 107 in September to 4,764  with 687 mortgages available at 90% LTV, up from 649 last month.
The current record for high LTV loans is just 21 products higher at 708 (which was achieved in April 2008).
We're unlikely to see the same number of 95% mortgages that we saw before the financial crisis however as this month saw  a slight downturn in the 95% LTV tier, with the number of mortgages available falling by six on a monthly basis to 270.
Rachel Springall of Moneyfacts says: "The rates on offer for those with a 10% deposit versus those with just a 5% deposit couldn't be more different. By raising an extra 5%, borrowers will find it opens the door to more choice of cost-effective deals. As the number of deals in this market hit a post-crisis high, it's clear to see how lenders are competing in this area, which was previously seen as a much more risky."
Find out everything you need to know about first time buyer mortgages here
This month's mortgage best buys
Get free, unbiased advice from our mortgage partners at London & Country 
***************************************************************************
Mortgage news from earlier this month…
(published 1st September)
It's back to school and back to business in the mortgage world. We take a look at how the housing market has fared over the summer and what's coming up next.
Discount by name, discount by nature
First time buyers could save themselves as much as £1,000 by taking out a discounted rate mortgage instead of a fixed rate, according to new research by Moneyfacts.
Charlotte Nelson, finance expert at Moneyfacts said: "Despite the array of options available to first-time buyers, many tend to stick to fixed rate mortgages not just as they are the simplest to understand, but also because they are a great way for usually cash-strapped first time buyers to manage their money. However, as fixed rates for those at 95% LTV are on the rise, ignoring other options can be a costly mistake.
"Fixed rates for first-time buyers are going up, with the average two-year fixed rate at 95% LTV well above last year's figure. In contrast, the average rate for discounted variable deals is still falling, and while the difference between the two rates was already clear to see in previous months, it has now risen to a whopping 0.82%."
Read our guide on what type of mortgage you should get
A step too far?
If you've recently got on the housing ladder, you may feel like the battle is won, but latest research from Lloyds Bank suggest the biggest challenge is yet to come. According to the Lloyds' Second Stepper report published this week homeowners looking to take the second step up the property ladder say it's harder than getting on it in the first place.
The research found almost a quarter (23%) of homeowners plan on waiting until later in life to have children  while 12% will have fewer children as a result of the added expense of moving up the ladder. And 13% of homeowners have had to change careers to move up in the housing market.
For those seconds steppers trying to sell their current home only 9% said they would consider lowering their asking price to attract interest while just over a fifth (21%) stated that they would look to rent their property instead and still move.
Number of buyers falls during summer months
Summer is drawing to a close and as we say goodbye to sunny days (remember, we had those two back in June?) those homeowners looking to sell up will be breathing a sigh of relief. Selling in summer has never been easy and this year has been no exception.
According to the National Association of Estate Agents the number of people looking for properties fell 10% from 384 per branch in June, compared to 347 in July as the summer lull took hold.

Mark Hayward, chief executive, NAEA Propertymark, said: "It is natural for the market to dip in the summer and then recover. We usually see a subdued July and August, and then a boom in September with an influx of new properties coming onto the market, it remains to be seen whether this year is typical.  We'd also expect to see the number of house hunters increase, as buyers strive to complete sales before the winter kicks in."
Read our Step by Step Guide to Selling your Home
Image credit: PA
Getting past the "deposit barrier"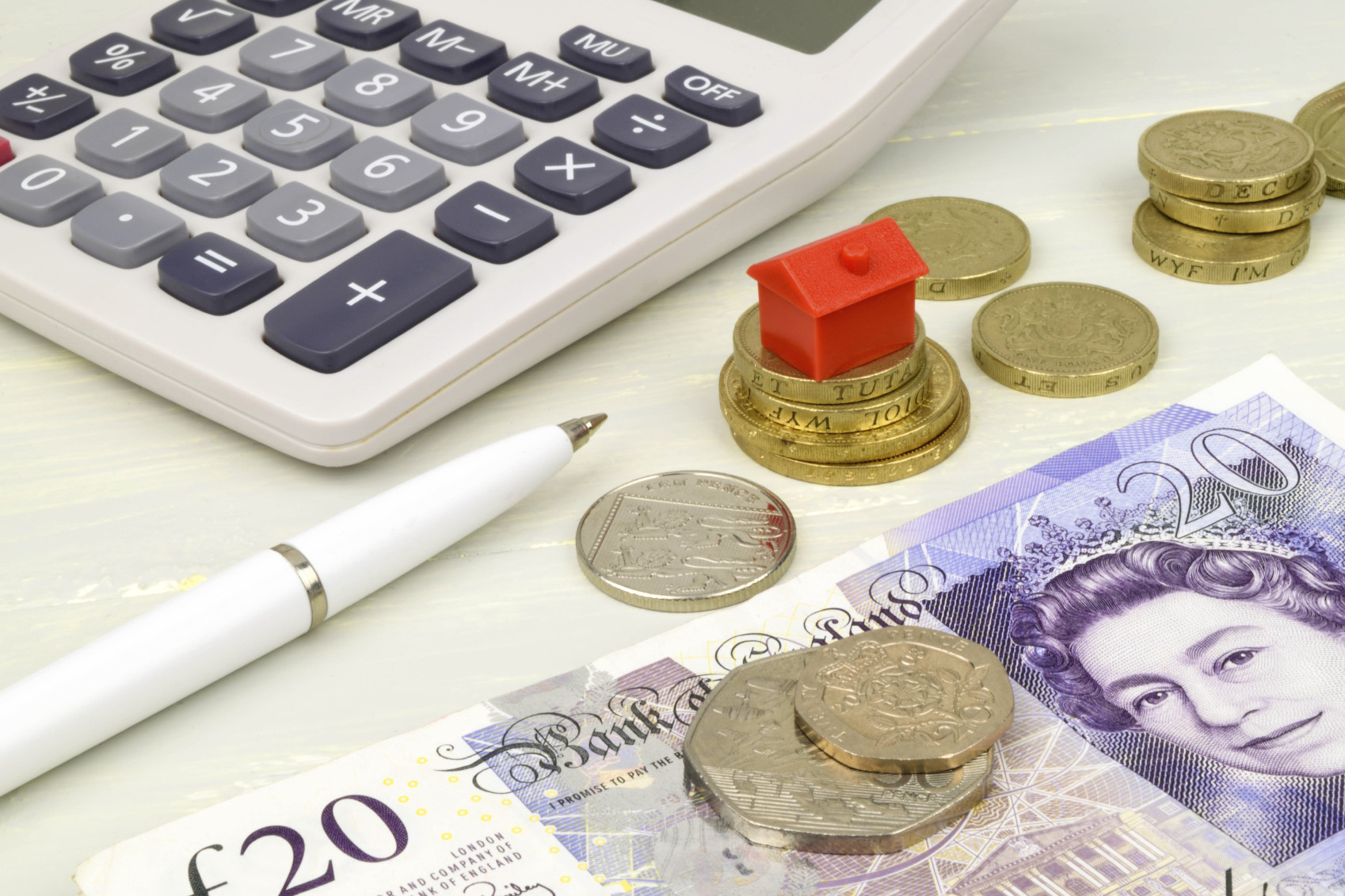 The deposit barrier 
The 'deposit barrier' is regularly cited as the main reason preventing aspiring young homeowners from buying a home. Many would-be homeowners can afford the monthly costs of buying, and are often paying as much or more in rent every month to a landlord. But they can't save for a deposit as well.
Before the financial crisis you could buy a home without a deposit with the help of a 100% mortgage. That all changed after the crisis. Even today, mortgage lenders require a 5% deposit as a minimum. What's more, lenders also charge an annual rate of interest that is at least two percentage points higher if you have only 5% deposit rather than 20%. With only a 5% deposit you will probably pay twice the annual rate compared to someone with 20%.
For those with access to the Bank of Mum and Dad, finding a 20% deposit may not be a problem, and mortgage lenders are quite willing to lend to buyers who rely on family support. However, for a great many people this is not an option.
Is there a solution?
As it happens, the answer to this question may be 'yes'.
A new 'not for profit' organisation is proposed that will raise funding from older generations to help the younger generation to buy homes. It will invest up to 20% equity in a property chosen by a homebuyer, who will own the remaining equity of at least 80%. Legal ownership of the property will be registered in the homebuyer's name only, enabling them to mortgage the property for its full value. As in cases where the Bank of Mum and Dad helps out, this will enable the homebuyer to obtain a lower cost mortgage loan at about 80% of the purchase price.
The homebuyer will pay 'rent' on the share they do not own. However, the combined cost of this 'rent' and their mortgage payments (which includes capital repayments) will be roughly equivalent to the cost of a 90% mortgage loan.
The homeowner will be free to sell the property or to buy the share they do not already own, whenever they choose. The value payable for the share will be its market value at that time.
Once a homeowner has 10% 'loan-free' equity of their own, as a result of either capital repayments on their mortgage or an increase in the property value or both, they will be in a position to increase their mortgage borrowing to 90% in order to buy the share they do not already own. The future total monthly mortgage cost will then be no more than the existing combined cost of 'rent' and mortgage payments, and there will be no need to extend the mortgage term.
This point will be reached within four years as a result of capital repayments, or much sooner if the property increases in value.
So, it may soon be possible to 'buy-pass' the deposit barrier and save your deposit while you enjoy living in your own home. Watch this space.
By Charles Wilson, a former executive at Nationwide and Abbey National
How estate agents turn people off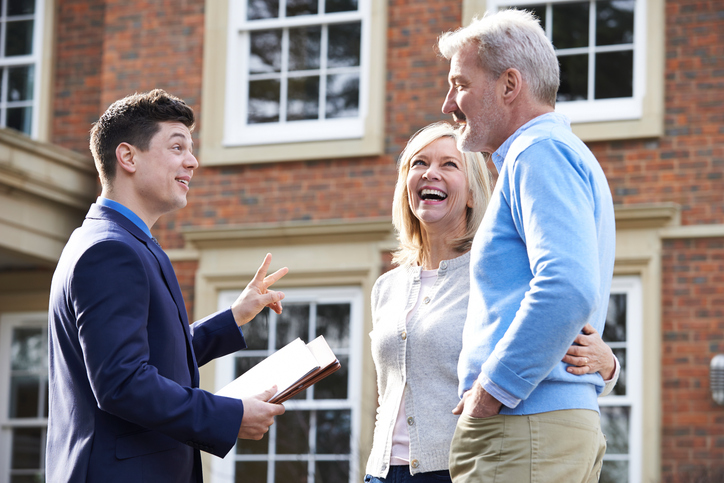 What do you look for in an estate agent?
Chances are the fees an estate agent charges and proven experience in selling houses similar to yours will figure high on the list when recruiting an agent. But how about the way they dress, their phone manner and the car they drive? They may sound like insignificant details but according to a survey by comparison tool EstateAgent4Me they're enough to put sellers off.
The survey asked consumers what they look for when selecting an agent to sell their house and, conversely, what would put them off.
Pushiness, poor time-keeping and lack of local knowledge all featured highly in the turn off list. Some 48% of homeowners said that aggressive sales tactics were a major turn off, with a similar number (47%) agreeing that poor punctuality was likely to be a major stumbling block.
Unsurprisingly one in three women said that over familiarity was an issue for them, with a third claiming that they have, or would be put off, by an agent calling them 'love'.
A lack of enthusiasm was also a no no with 39% of people saying an unfriendly attitude is enough to put them off signing on the dotted line and 19% of homeowners said they were wary of flashiness such as expensive watches and gaudy cars.
When it comes to the non-financial factors that encourage a homeowner to appoint an estate agent, a good phone manner (93%) and ability to build a rapport (87%) come out on top.
Paula Higgins, chief executive, Homeowners Alliance, says: "Having a good rapport with your agent is essential so it is not surprising to learn that pushy personalities or flashy attitudes do not exactly win over the public. First impressions aside, the fact is you want someone who can sell your home quickly, at the best possible price for the lowest fee. Keep this in mind when looking for an agent and use EstateAgent4Me to compare agents by the factors that really matter."
You can find the best local estate agents in your area today and compare them on fees, their ability to achieve asking price and how quickly they sell using our free comparison tool EstateAgent4Me.
Stamp duty? That's just the tip of the iceberg…
Problems in the housing market – is stamp duty to blame?
If latest research is anything to go by the housing market is facing yet another problem at present – to put it simply, it's stalling. And why? Because a huge number of us homeowners are staying put and extending our current homes instead of moving up the ladder and, in doing so, freeing up homes for first time buyers.
According to figures from Halifax Insurance, the number of planning applications for home extensions soared by 27% over the last five years. In London, meanwhile, applications were up 60%.
The reason for this, say the experts, is that stamp duty is putting people off – implying that we're willing to spend thousands on an extension but less willing to spend it on what feels like an extortionate tax.
But is that the case?
Stamp duty is definitely a cost we could do without when trying to work our way up the property ladder (or, indeed, get on it!), but to claim it's the overriding and only factor driving us to stay home and improve is, in my view, a reach.
Moving home is hugely expensive. Buying a home is out of many people's reach to begin with, and buying a more expensive home once you've done that is a challenge many people can do without.
Indeed, according to a study by Lloyds, a quarter of first time homeowners looking to move up the property ladder find it harder than buying their first home. Lloyds' 'Second Steppers' report reveals over a third (35%) will delay having children or have less children than they originally planned due to the challenges involved and more than half (56%) say it's taken longer than expected to buy their next home due to low savings rates.
There are also challenges on the demand side, with 39% claiming it's harder to sell their current property now compared to 12 months ago.
Let's add to that the fact the country has been gripped by uncertainty over the last 12 months following the EU referendum, the fact that wages are being squeezed thanks to higher inflation and the fact that barely a day goes by without a newspaper reporting on the ongoing housing crisis and it seems amazing that anyone would be willing to move at the moment.
Stamp duty still needs addressing and we continue to campaign for it's reform, but sadly it's just the tip of the iceberg when it comes to the barriers to moving home faced by homeowners.
Written by Christine Toner 
Bank of Mum and Dad helping their children rent as well as buy
The Bank of Mum and Dad has apparently expanded it's offering. Yes, the much utilised lender (which apparently provides as much property finance as Yorkshire Building Society and is now the UK's ninth biggest lender) is now not only funding mortgage deposits but also contributing towards rent.
New research by Legal & General found the Bank of Mum and Dad will fund over £2.3 billion of rental payments in 2017 at an average of £415 for every rental payment. One in every ten (9%) renters in the UK will receive help from family and friends to pay their rent, 6% had help with moving expenses and 5% with letting fees.
It's not surprising that so many people find themselves needing a helping hand with rent. According to estate agent Your Move's monthly rental index, rents in the UK rose by 3.1% in the year to July with every region except the South West seeing a hike. Meanwhile research by mortgage lender Foundation Home Loans found 30% of landlords in the UK have increased their rents as a result of changes to the buy to let market.
Buying more affordable longer term
Aside from being a smart investment, buying a property is often much cheaper on a monthly basis than renting and is of course helping you build your asset rather than lining the pocket of a landlord. Assuming of course you can afford to save the necessary deposit and have the income to support monthly payments.
There is no better time to make a mortgage application, with 9 out of 10 applications being made via a mortgage broker being approved during the second quarter of this year.
On top of that, recent figures from Halifax found first-time buyers in the UK are on average £651 a year better off buying their own home compared to those who rent.
Furthermore, research from Savills, reported in The Times this week, found the boom in house prices over the last five years means first time buyers who bought in 2012 have now made an average of £54,941.
And while deposits remain the biggest barrier for buyers there are plenty of first time buyer mortgages on the market that cater to borrowers who have smaller deposits as well as several government schemes. It's well worth looking at the details and,while helping your child rent, keeping an eye on the longer term and more affordable target of helping them become a homeowner.
Get free, unbiased advice from our partners at London & Country
Let us help you…