boo
Over 250,000 have given up on the dream of homeownership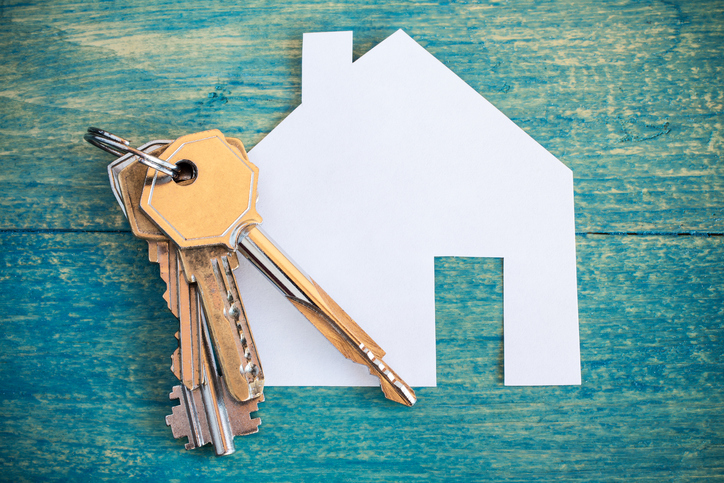 Over 250,000 non-homeowners appear to have given up on the dream of homeownership in the past year alone, according to the 2017 Homeowners Survey, an annual study conducted by the HomeOwners Alliance and BLP Insurance into the concerns, views and issues affecting British homeowners and aspiring homeowners. The study found that for the first time in five years, there has been a drop in the number of non-homeowners who aspire to own.
In 2013, 65% of non-homeowners aspired to homeownership, with this number increasing every year and peaking at 73% in 2016. But this year, the numbers have fallen for the first time, back to 71%. This equates to around 253,166 people across the country who have given up on ownership in the past 12 months. The stats mirror the rise of the government's flagship Help to Buy programme launched in 2013 and is now receding with the cancellation of the mortgage guarantee part of the scheme in 2016.

Serious Concerns
Five years on from the first Homeowners Survey, aspiring homeowners' concerns about house prices, saving for a deposit and availability of homes are the biggest issues and are worsening with time. Among aspiring first-time buyers, 86% say house prices are their most serious concern (up 3% in the past year), with 85% citing saving for a deposit as a serious problem (up 1%) and 80% worried about the availability of homes (up 2%).
The Regional Picture
The findings also reveal a deepening housing crisis, with concerns rising in nearly all areas of the country. London is suffering acutely, but the problems are not contained to the capital. While Londoners are the most concerned with house prices (87% saying that they are a problem), this is also echoed in Wales (87%) and the East of England (85%). Similarly, availability of housing is a concern for Londoners (81%) but slightly more people in the South West (82%) also stated that it was an issue in their region. Elsewhere in the country, concerns were about being able to re-pay a mortgage, particularly in Yorkshire & Humber (68%) and Northern Ireland (68%).
Stumbling block
Across the country, the number one concern among Britons remains the difficulty of getting on the property ladder in the first place. This was seen as even more of a problem this year (86% saying that it was a problem or serious problem) than last year (82%). While average earnings have increased 2.6% annually, average property price growth over the same period of 4.5% has out-paced this.
Commenting on these trends, Paula Higgins, Chief Executive of HomeOwners Alliance said:
"The HomeOwners Alliance has been tracking views of consumers for five years now, and these latest findings show that the housing crisis is deepening across the UK. This in turn is impacting on people's aspirations to get on the property ladder. While we are used to stories about people not being able to buy a home until they are 40, the story has taken a turn for the worse with people increasingly giving up altogether on the dream of homeownership.

While aspiring homeowners' concerns about house prices, saving for a deposit and housing supply grow, the change in political rhetoric around homeownership and a lack of new homes being built in the last year, plus the removal of flagship government schemes like the Help to Buy mortgage guarantee, appear to have had a negative impact on consumer attitudes. People are feeling less optimistic about their chances of buying their first property.
With the election approaching, it is vital that housing is placed at the forefront of the policy agenda and that whatever party is elected, it takes serious steps to address the growing concerns of aspiring homeowners."
Commenting on the figures, Kim Vernau, Chief Executive Officer of BLP Insurance said: "The housing crisis is worsening across the country. We are failing to deliver the numbers of homes required as a direct result of a lack of SMEs to develop over and above the numbers provided by the large house builders. The recent housing white paper from the Government proposes a wide variety of recommendations to the market for consultation, to address issues with planning and resource, with a distinct shift away from focusing solely on home ownership. This is a tacit acknowledgment that not everyone will be able to own their home.
 "It is important that post the election result, the provision of housing is seen as a critical requirement and the results of government consultations prioritised into action. In the absence of this, the opportunity for aspiring new home owners to get on the housing ladder will only continue to deteriorate."
Good news
There is some good news. Concerns are receding on issues such as negative equity and the ability to move up the housing ladder. Some 42% of UK adults say they are concerned about negative equity, compared to 44% last year, 49% in 2016 and 64% in 2014; after a steady increase in house prices. Alongside this, concern about the ability to move up the ladder has softened, down 4% in the past year to 58% (compared to 65% in 2014).
Leasehold scandal deepens with half of adults believing leasehold system broken
According to the 2017 Homeowners Survey 50% of UK adults see the current leasehold system as a very serious or serious problem, up from 42% last year. Paula Higgins, chief executive of the HomeOwners Alliance which carried out the survey said the figures show the scale of the issue.
"From house prices to tightened mortgage criteria and increased regulation there is plenty for homeowners and buyers to be concerned about at present – so for leasehold properties to be the fastest growing concern shows just how much of an issue this has become," she says.
"Unscrupulous players within the industry have turned what has been a form of tenure for centuries into a money grabbing scheme that has left thousands of buyers across the country trapped in properties that are now essentially unsaleable. Doubling ground rents and unfair clauses are leaving homeowners in a nightmare situation and the government is clearly not treating the issue with the severity it deserves. These people need help and they need it now."
To help homeowners in the leasehold trap, HOA has published a guide today – 'Living in a Leasehold House – what you need to know'
A bigger problem than anyone thought
The 2017 Homeowners Survey is now in it's fifth year. The survey gives an accurate picture of the issues affecting homeowners and buyers in today's market.
Regionally it revealed:
Those in East of England have highest level of concern nationally with 57% of adults in this region saying the leasehold/ freehold system is a serious problem
Regions with rising level of leasehold/ freehold system as a serious problem over the past year are: the North West of England (53%), Yorkshire & Humber (47%), East of England (57%), South East (53%), South West (55%), Wales (51%).
Higgins adds: "We're now at a point where we're seeing banks stepping in to protect homeowners by restricting their lending on leasehold properties. We're leaving it up to banks to police the industry while the government takes a half-hearted approach at best to what is clearly a major concern for homeowners.
"This is a bigger problem than anyone thought and if we don't address it now it's only going to get worse. UK homeowners deserve better protection than this and we must demand it,"
Research Methodology
This is the 5th Annual Homeowner Survey, a state of the nation report on the housing concerns and trends affecting homeowners and those aspiring to own.
All figures are from YouGov Plc. The surveys were carried out online. The figures have been weighted and are representative of all UK adults (aged 18+).

In 2017, total sample size was 2,081 adults of which 1301 were Homeowners. Fieldwork was undertaken 9th March 2017.
In 2016, total sample size was 2,095 adults of which 1,293 were Homeowners. Fieldwork was undertaken 4-5th April 2016.
In 2015, total sample size was 2,214 adults of which 1,390 were Homeowners. Fieldwork was undertaken 4-5th March 2015.

All figures have been checked and verified by YouGov.
Get tickets to the Southern Homebuilding & Renovating Show 2017!

According to the National Custom and Self Build Association (NaCSBA), 14,000 homes will be built across the UK in the next year. For those considering this route, the annual Southern Homebuilding & Renovating Show, sponsored for the first time by Everest Home Improvements, is marking its anticipated return to Sandown Park, from 1-2 July 2017, with hands-on tips to help consumers succeed in their property ventures.
Across two full days, visitors can speak to over 220 exhibitors and access more than 500+ advice sessions, 20+ free masterclasses on essential topics which can tackle any problem, from implementing the latest intelligent security systems to funding a remodelling project.
Six resident property specialists will be on hand to help people with all building and renovating queries and leading companies will be exhibiting their latest ranges of services and products from an array of industries including architecture; design; financial topics; kitchens; bathrooms; doors and windows; lighting; heating; ventilation; planning permission and much more. The show venue will become a useful platform for all consumers who are facing similar challenges throughout all stages of their projects, as they can soak up advice and guidance and take inspiration from successful case studies.
The Advice Centre is a hub for one-on-one impartial guidance and this year self-builders can run their ideas past property specialists with years of experience in this field. In this zone, visitors can head to the Ask the Builder area and meet an expert for advice on their renovation project.
Visitors can also come along to the Ask the Architect area where they will receive first-hand knowledge and expertise from reputable members from the Royal Institute of British Architects (RIBA), who will be able to advise on how to tackle building challenges and take plans from start to finish.
---
Claim your free pair of tickets to the Southern Homebuilding & Renovating Show 

here

!
---
T&Cs apply:
A pair of tickets is worth £24 based on the standard on-the-door rate, or £16 based on the advanced ticket price. Tickets are valid for entry on one day of the exhibition. Children aged 16 years and under are able to attend free of charge up to a maximum of four children per pair of tickets.
Please note that the free daily seminars and masterclasses can't be booked in advance but visitors should arrive early to each slot to guarantee a seat. Please see more about seminar and workshop timetable via the show website surrey.homebuildingshow.co.uk
The one-on-one appointments can only be booked on entry to the show and are offered on a first come first served basis. Arrive early to avoid disappointment.

Offer expires

3PM

30 June 2017

.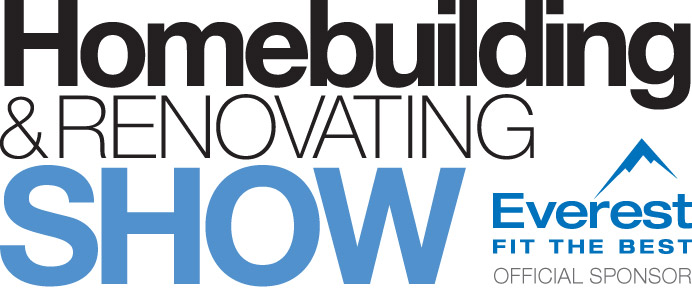 Would you buy a no frills affordable home?
Unless you've been avoiding the news for the last few years you'll be aware that the UK is in the midst of a housing crisis. To cut a long story short, there just aren't enough homes in the right places for the people who want and, indeed, need them.
One solution that has been offered comes in the form of no-frills, fuss-free homes, built quickly and sold cheaply. The so-called "naked" housing scheme has received the backing of the Mayor of London Sadiq Khan but, while it's been welcomed by many, it's not without its detractors.
What is "naked" housing?
"Naked" housing, as the name suggests, are properties that have been stripped back to the bare minimum. Costs are cut by as much as 40% giving would be buyers in London – where homes are out of reach for many young people – the chance to get onto the property ladder.
Built in council garages, car parks and warehouses the properties will be as basic as they come – with no finishes, no nice flooring and the most primitive of plumbing.
Widely reported figures suggest the properties will sell for between £150,000 and £340,000.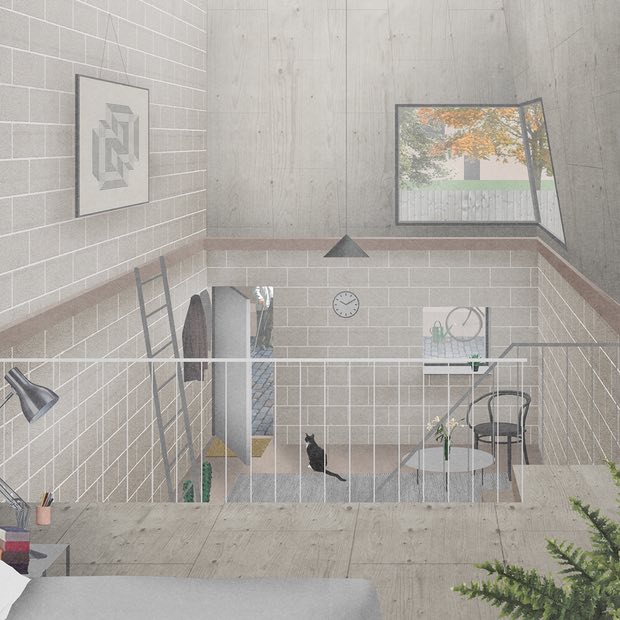 Photograph: OMMX architects
What's good about it?
Clearly, many buyers are priced out of the market right now, so anything that allows would be homeowners to buy their first property is a good thing. Some commentators have also claimed that many of the features that will be left out, such as flooring and fitted kitchens, are things that most new buyers would replace anyway so essentially they're buying a blank canvas.
London Mayor Sadiq Khan has given the scheme his blessing by awarding a £500,000 grant for the first site and promising more will be built if the first, in Enfield, is a success.
What's bad?
The idea has been criticised as taking advantage of desperate homeowners. Guardian journalist Dawn Foster hit out at the scheme, stating "squeezing money from people so desperate that they'll move into a barely-plumbed former car park involves profiting from desperation, not offering a solution."
And perhaps she has a point. Prices have risen over the years to astronomical levels. Now, rather than addressing this issue and finding a way to curb house price hikes and promote a more affordable housing market for all, we're telling buyers that the best they'll be able to afford are sub-standard homes. It's not addressing the problem, it's prolonging it.
Buyers will still be paying significant prices for what are, essentially, incomplete properties. Furthermore, the council will retain the freehold of the property. While this is being billed as a 'plus' in an attempt to keep costs down, it means buyers will have to pay ground rent and this will only further detriment the saleability of the property.
Read more about what we here at the HomeOwners Alliance think of leasehold in our recent and widely report publication "Homes Held Hostage"
There is certainly a lot to be said for simplicity and, undoubtedly, wannabe first-time buyers will be willing to buy properties without fancy kitchen designs or expensive decor in order to get a foot on the ladder, but perhaps properties that are this naked is a step too far.
Tell us what you think in the comments below!
Home buyers in the dark over new build warranties that don't deliver on expectations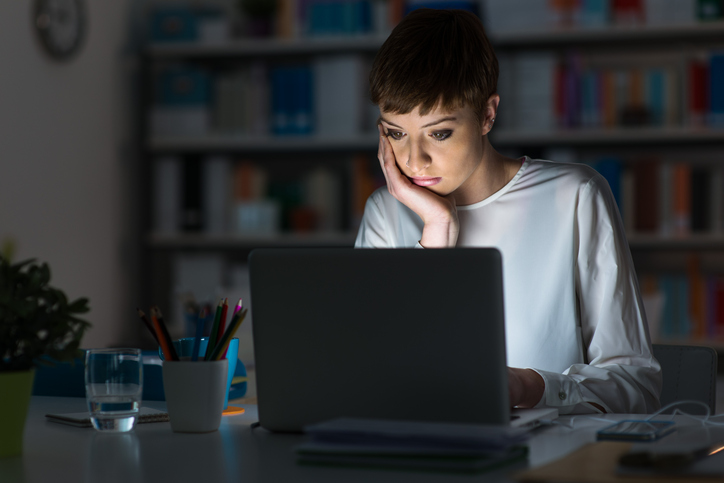 New build warranties aren't all they seem
New homes are often marketed by developers with the promise of lengthy warranties offering peace of mind. Indeed, 58% of people who have bought these types of home in the last 10 years think that the warranty was an advantage over an older property. But home buyers opting for new build properties are being left exposed by warranties that fall short of their needs and expectations.
The 2017 Homeowner Survey conducted by YouGov for HomeOwners Alliance and BLP Insurance demonstrates that there is a clear mismatch between consumer expectation and reality. Nearly half of new build property buyers in the last 10 years (46%) expect the full 10-year warranty to cover minor snagging issues on their new build home when, in actual fact, standard warranties cover issues that relate to or affect the structure of the home.
The survey findings further reinforce conclusions from the All Party Parliamentary Group (APPG) report 'More homes, fewer complaints', which stated that consumers think a warranty is a hallmark of absolute quality. Often warranties cover far less than consumers assume, in responding to the 2017 Homeowner Survey, comments such as "Covered so little it was virtually worthless" and "The cover was minimal and far below expectations" were typical responses to the survey. Amongst consumers who have bought new build properties in the past ten years, the most common misperceptions around the types of faults which aren't covered by the full 10 year warranty are electrical and wiring faults (71%), plumbing faults (63%), insulation and draft faults (58%).
Nor do many consumers appreciate that for the first two years after completion, it is down to the builder to sort out defects and after that the warranties cover matters that affect the structure of the home. Again, comments such as, "NHBC said everything I asked about wasn't their problem" and "Builder very reluctant to snag and nothing seemed to be covered by NHBC warranty" were typical. Consumers also complain that where a problem was covered by the warranty, the provider was reticent to step in and help resolve disputes with the builder.
Commenting on the findings, Paula Higgins, Chief Executive of the HomeOwners Alliance said: "The house building industry needs to do a better job at helping buyers to understand the warranty system for new build homes, how it works and how warranties are structured. Where things do go wrong in the initial two-year period, they should be resolved swiftly. If problems aren't fixed, the warranty provider needs to have the clout to compel developers to act. Consumers expect and deserve a warranty system that provides no fuss cover when problems arise as well as speedy payments for more complex issues."
The main providers of new build warranties include NHBC, LABC and PremierGuarantee. The NHBC, which provides warranties for approximately 80% of new homes in the UK, has asked the Competition & Markets Authority (CMA) to reconsider some of the rules that bind it (imposed in 1995) now that there is more competition from other providers and more choice for house builders. In addition, the housebuilding industry has come under mounting pressure to raise quality standards from the aforementioned APPG report into the quality and workmanship of new housing in England.
Consumers who have bought new build properties in the past ten years have three clear areas of importance. They want the warranty provider to take the lead on:
resolving issues (22%)
claims to be paid without fuss (18%)
full cover to the rebuild value of their home (13%)
The problems caused by high expectations around warranties are unlikely to help new build homes become more popular. This is a real issue, with twice as many UK consumers (47%) saying that they would prefer an older home that's more than 10 years old, to a new build home  (21%).
Figure 1: Interest in Buying New Build
Figure 2: Advantages of Buying New Build Home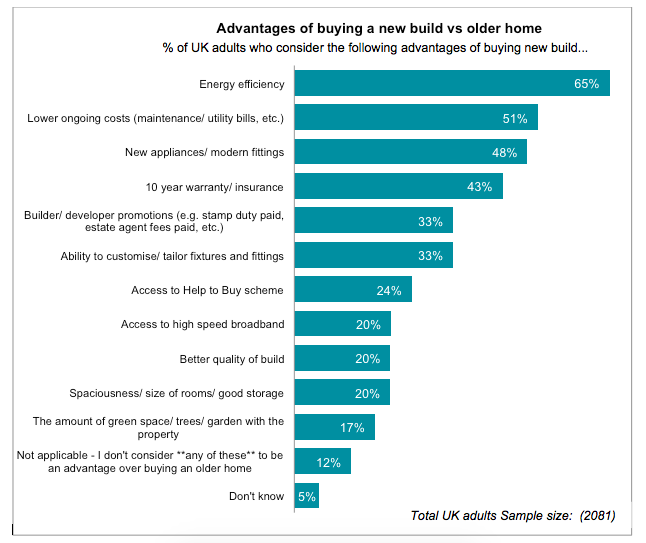 Figure 3: Faults New Build Homeowners Expect To Be Covered By Their Warranty Insurance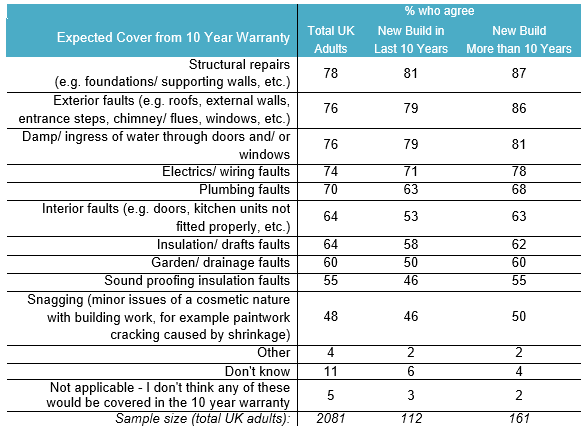 Figure 4 – Satisfaction with Warranty Cover Among New Build Homeowners
Figure 5 – Issues with Warranty Cover (Verbatim Comments)
Faults expected to be covered / not covered by warranty / not clear what faults covered
"Covered so little it was virtually worthless / Seemingly nothing is actually covered / Doesn't cover enough"
"The cover was minimal and below expectations"
"It seemed as if not much was covered with term cosmetic used when I raised a problem and rather off-putting response to the request for rectification work which seemed to suggest the warranty wasn't worth paper it was written on!"
"NHBC said everything I asked about wasn't their problem"
"Builder very reluctant to snag and nothing seemed to be covered by NHBC warranty"
"Warranty not explained adequately so I could not see how good/bad it was./ As the specifics of what is covered is not provided and incorrect assumptions can be made."
"Its cover wasn't very clear. Most faults I had were sorted by the builder coming back anyway."
"Details of insurance for escape of water and the damage caused were not explained clearly in the policy, and were not well understood by the loss adjusters."
"Our rendering badly stained because of building materials used and we weren't covered"
"Did not cover roofing problems"
"There were a lot of cracks that appeared. And they would not cover this as it was seen as the house moving & stabilising"
"Gaps developed in panels of the front door, letting in wind and rain, after 5 or 6 years, I was told within normal tolerances"
"Windows failed and were not covered"
"When the roof coping tiles disintegrated they did not want to know"
"Windows were all scratched. The NHBC was a waste of time told him to leave my house. Eventually after a lot of stress they agreed to replace"
Lengthy or difficult claims process / Unwilling to pay out
"Hard to claim for anything, too many get out clauses. Clever lawyers versus dumb customer as usual!"
"Building warranty is a waste of time. Nobody would come and look at problems of less value than £10000!"
"Never want to pay out"
"Too many terms and conditions"
"Took a long time to claim. Fobbed off all the time. Project was faulty, damp etc"
"Claim took long time to finalise/ The amount of time it took to resolve my issue/ Not quick to react"
"It was difficult getting problems sorted / Struggle to get resolution of problem / It is very difficult to deal with them"
"Made small claim in the end gave up just took too long and they were not interested. Wanted my money not my claim"
"Tedious chasing up people to fix things"
"Paper guarantees don't always manifest into practical action taken"
Difficulty getting problems put right by builder
"Plethora of faults to be corrected, slow response from builder"
"The builder retired and the insurance was useless"
"The builders went bankrupt"
"It was so difficult to get the builder back to rectify the problems"
"Lots of issues were a real hassle to get fixed needing lots of chasing and we have potholes in the drive that they refused to fix then offered a bodge job. Would pay a snagging company to handle it next time"
"We wrote to the builder asking for rectification of problems. We never received a reply"
Warranty provider no help in sorting problems with builder
"The build quality of my house was such that the builder was found, in court, to be in breach of contract. The warranty provider (NHBC) was completely useless in the process of obtaining rectification. I had to do all the ground work necessary to force the builder to be contractually compliant and to pursue a successful legal action against the builder. In only one aspect (foul drains) was the NHBC of any use at all and that was four years after we moved in."
"NHBC policy didn't cover an external wall despite a clear fault. The builder and the NHBC inspector seemed too familiar"
"We had to have whole house redecorated as the finish had been rushed in order to complete on time. The builders failed to complete works they should have, regularly didn't turn up when promised and the complaints process was terrible"
"Builders will always do their utmost to get out of making things good. When my en suite shower cubicle leaked right from day one of completion, it was put to me that I should have had carpet laid as then I might never have noticed the water on the floor. Seriously not impressed!"
"Asked me if any problems, I presented them with 4 sheets of items that needed attention, they said they would raise the bathtub to reach the (inadequate style) of seal, that was all they offered, that was in 1998 – still waiting…"
"NHBC are worse than useless – builder failed to fix various problems – NHBC did nothing"
Owner blamed for property problems that appeared
"3 years into my new home window problem wood cracked and they merits was my fault because I did not use the right varnish"
"Exterior work faulty, damp encroached in house, surveyor said exterior cracks were due to us not maintaining property, less than 4 years old. Not the case but refused to allow claim."
Poor Quality Remedial Works / Recurring Problems
"Items replaced with similar poor quality items – which went on to fail too"
Second purchaser of property / no cover
"I didn't receive any warranty cover for my home. I was the second purchaser of the property. It was 6 years old at the time of my purchasing and I didn't receive any documentation at all with regards to warranty/insurance cover."
"We were told the warranty was only 2 years and because it was shared equity the warranty expired after the government acquired not when we moved in so the contractor refused to fix any problems that we reported"
Not a reputable Warranty provider
"The conveyancer said it was 'akin' to an NHBC. It wasn't as there was no pressure on the builder in terms of construction standards and materials, so there have been major problems with noise insulation internally to the block"
Figure 6 – Warranty Insurance – What Consumer Ideal Would Be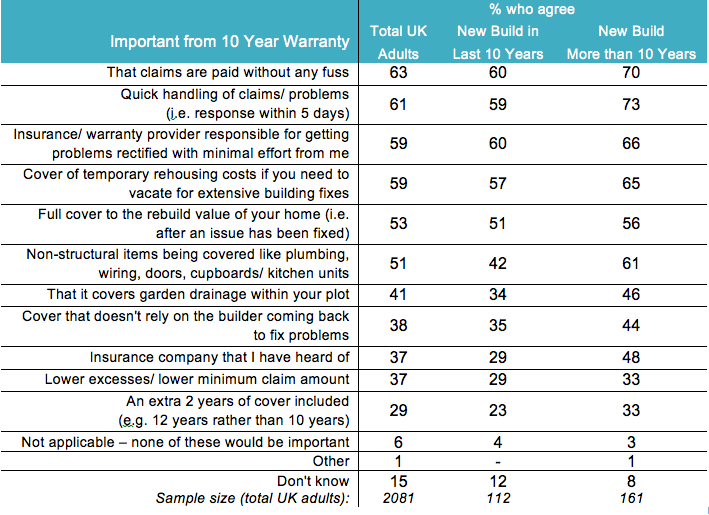 Figure 7 – Warranty Insurance – What Consumer Ideal Would Be (Most Important)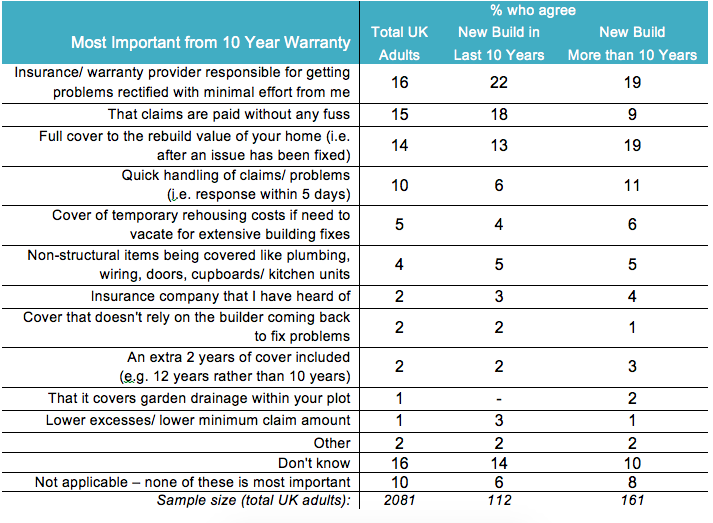 Why time is money for millennials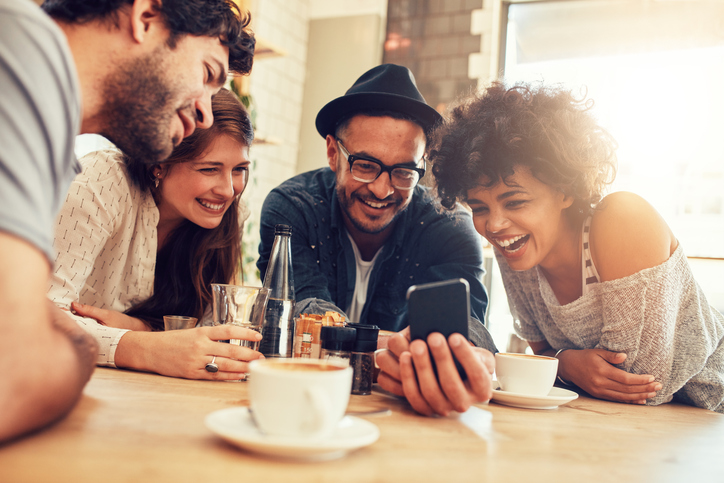 From some angles, financial advice looks a bit chicken-and-egg. You seek advice because you want to have more money, but until you have more money there doesn't seem to be much point in seeking advice. The popular image of independent financial advisers (IFAs) is that they help wealthy people to get wealthier. So if you're just starting out in your career, why bother?
There's no present like the time
When you're young, you may not have much income. But what you do have is a longer life ahead of you. And when it comes to financial planning, time really is of the essence.
This is because of the way compound interest builds up money over time. The best demonstration comes from pension savings. If Darren starts a pension at 20 and pays in £50 a month, while Ed starts one at 40 paying in £100 a month, then Darren will end up with around twice as big a pension as Ed – even though the two have paid in the same total amounts.
The magic of compound interest works for any kind of saving or investing – such as saving up a deposit for your first home. There are useful vehicles available for this (such as the Lifetime ISA and the Help-to-Buy ISA), so the earlier you can start using these, the more value they will deliver. A financial adviser can help you identify your mid-term goals and plan a savings strategy to meet them.
The earlier you start using ISAs or other savings vehicles, the more value they will deliver
Cash savings or investments?
Advice can also be crucial in choosing how to save. People think of cash savings as more secure, but if inflation exceeds interest rates (as they do now) then cash will actually lose value over time – wiping out the benefit of compound interest. Therefore, for any goal that may be several years in the future, you should consider taking on more investment risk.
Stocks and shares stand a good chance of beating cash savings over periods of five to 10 years or more. However, they can also suffer sharp dips in value, which is why advice is so important. An adviser can help you find the right level of risk for your goals, and also advise you on when to transfer into cash so that your gains are safe for when you need them.
Don't neglect your pension
Retirement may seem too far away to think about – after all, it's hard enough to save for a home and family. But now is the time for joined-up thinking. Remember that you may be even more squeezed later in life, with a mortgage to pay off and perhaps children too (raising one child can cost the equivalent of a small house).
So save as much as you can into your pension now, to maximise the effect of compound interest over the years. The time may come when your biggest extravagance is a two-year-old's birthday party – if so, you'll be glad you put in the groundwork early. A financial adviser can advise you on contribution levels, and also help you choose the right investment fund (the default fund is rarely the best-suited in the early years).
Emergency Funds and more
It's very prudent to save an emergency fund in case your income is interrupted. However, it's very hard to save more than a few months' worth of earnings. If the reason you can't work is illness or injury, you may need a more long-term solution.
A financial adviser can recommend suitable forms of insurance, such as income protection or critical illness cover. These really come into their own if you have a mortgage to pay, and are far more useful and versatile than PPI. You might never need it, but if you do, then this kind of protection can end up being worth many times what you pay into it, and can literally save you from poverty.
Getting financial advice is a chance to talk through your plans and create a long-term spending and savings strategy
What to watch for when seeking independent advice
Make sure you consult a genuine IFA, not just the person at the bank who is referred to as an 'adviser'. A bank's employee will only recommend that bank's own products, and will not perform a detailed fact-find on your circumstances as an IFA does. Consequently they are of limited use, and may even be counter-productive, by giving you a false sense that you have taken advice.
Real financial advice is less about financial products than about you and your goals. It's a chance to talk through your plans and create a long-term spending and savings strategy. Good financial advisers encourage you to think about a range of alternative futures to help you choose the one that works best and feels right.
You can find an Independent Financial Adviser to meet your specific needs by using our free finder tool, powered by Unbiased here:
Get 2 for 1 tickets to Grand Designs Live 2017!

Treat a loved one to an inspirational day out with a visit to Grand Designs Live 2017
Grand Designs Live, proudly sponsored by Anglian Home Improvements, returns to London's ExCel from 29th April – 7th May 2017.
Running for nine days, the show offers visitors a unique opportunity to see all the latest trends for the home as well as many products never seen before. Based on the Channel 4 TV series, and presented by design guru Kevin McCloud, the event will be packed with over 500 exhibitors, across six different sections where you can take away ideas and inspiration for your very own Grand Design.
---
Sorry, this competition has now ended.
Sign up to our free newsletter to be the first to know about future ticket offers!
£36,000: the value of the right estate agent
Key findings: 
EstateAgent4Me figures show the best estate agents can achieve an average of £36,000 over their asking price
The most successful agents in Britain and major cities revealed
Despite cooling property market, some estate agents are achieving prices almost 10% above asking prices
Data released by EstateAgent4Me has shown that appointing the right estate agent can net those selling their home up to £36,000 above their original asking price.

The UK's best-performing agent, Roy Brooks of East Dulwich, has achieved an average sale almost 6% above asking price over the past six months, netting clients £36,064 on average. Other successful agents have bagged their customers bonuses of over £20,000 compared to their original estimates, showing the value of thoroughly researching and appointing the right seller for your home.

At the other end of the spectrum, however, some agents are having to settle for prices which are dramatically lower than clients expected. Many estate agents who operate in prime Central London areas have had to agree sales at around 10% lower than their original asking price – meaning reductions, in some cases, of more than £700,000.

The findings were compiled using data from EstateAgent4Me, a unique online tool from HomeOwners Alliance which allows homesellers and buyers to check the vital statistics of estate agents in their area. By searching using their postcode, prospective sellers and buyers can investigate local agents' success rates, sale speeds and how likely an agent is to achieve or exceed their asking prices.

The five best performing agents in the country (in terms of added value for clients) all hailed from London and the surrounding South East, where property prices have remained buoyant over recent months:
| | | | | |
| --- | --- | --- | --- | --- |
| Estate Agent | Location | Average selling price | Average % of asking price | Average value added |
| Roy Brooks | East Dulwich, London | £657,855 | 105.80% | £36,064 |
| Wilson Heal | Amersham, Buckinghamshire | £695,000 | 104.30% | £28,653 |
| Cockburn | Mottingham, London | £329,750 | 109.40% | £28,280 |
| Christopher Edwards | Pinner, London | £358,452 | 107.90% | £26,279 |
| Simmons & Sons | Basingstoke | £383,746 | 106.90% | £24,856 |
However, there are agents in all areas of the country which regularly exceed their asking prices and earn their clients thousands. In Bristol, top-rated agents netted homesellers over £12,000 more than their asking price, while in Birmingham the best performers raked in an extra £5,700. (See below for the top-performing agents in major cities across England)

Paula Higgins, Chief Executive of the HomeOwners Alliance, said:

"We all know that choosing the right estate agent can have a big impact on the success of a home sale, but few would have predicted the financial difference it can make. An extra £36,000 may well be the difference between securing your dream home or having to make do with your second choice. Alternatively, it could pay your renovation bill once you've secured your move.

"When listing your home on the market it may be tempting to instruct the agent which gives you the highest valuation. However, by using the EstateAgent4Me tool, sellers can find out which agents are prone to over-valuing properties and which are successful in achieving or exceeding their asking price." 

The top-rated agents across England's largest cities are as follows:
Birmingham
| | | | | |
| --- | --- | --- | --- | --- |
| Estate Agent | Location | Average selling price | Average % of asking price | Average value added |
| Wolfs | Harborne | £192,450 | 103.1% | £5,787 |
| Shakespeare's | Hall Green | £230,000 | 101.2% | £2,727 |
| Evans | Kings Norton | £137,500 | 101.7% | £2,300 |
---

Bristol
| | | | | |
| --- | --- | --- | --- | --- |
| Estate Agent | Location | Average selling price | Average % of asking price | Average value added |
| Andrews | Bristol | £250,000 | 105.2% | £12,357 |
| Elephant | Bishopston | £399,950 | 102.6% | £9,986 |
| Hollis Morgan | Clifton | £237,750 | 103.8% | £8,708 |
---

Coventry
| | | | | |
| --- | --- | --- | --- | --- |
| Estate Agent | Location | Average selling price | Average % of asking price | Average value added |
| Loveitts | Coventry | £149,659 | 101.1% | £1,610 |
| Shortland Horne | Walsgrave Rd, Coventry | £150,000 | 100.9% | £1,365 |
| Whitegates | Coventry | £125,000 | 100.9% | £1,115 |
---

Leeds
| | | | | |
| --- | --- | --- | --- | --- |
| Estate Agent | Location | Average selling price | Average % of asking price | Average value added |
| Preston Baker | Roundhay Rd, Leeds | £245,000 | 101.7% | £4,095 |
| William H Brown | Headingley | £159,714 | 100.7% | £1,120 |
| Linley & Simpson | Horsforth | £162,881 | 100.1% | £168 |
---

Liverpool
| | | | | |
| --- | --- | --- | --- | --- |
| Estate Agent | Location | Average selling price | Average % of asking price | Average value added |
| Venmore | Liverpool | £73,986 | 106.8% | £4,711 |
| Sutton Kersh | Cotton Street, Liverpool | £45,000 | 110.6% | £4,296 |
---

Manchester
| | | | | |
| --- | --- | --- | --- | --- |
| Estate Agent | Location | Average selling price | Average % of asking price | Average value added |
| Harrisons | Urmston | £220,000 | 101.3% | £2,823 |
| Thornley Groves | Manchester | £166,119 | 101.3% | £2,103 |
| Springbok | Manchester | £108,250 | 102.45% | £2,587 |
---

Newcastle
| | | | | |
| --- | --- | --- | --- | --- |
| Estate Agent | Location | Average selling price | Average % of asking price | Average value added |
| Pattinson | Chillingham Rd, Newcastle | £109,967 | 103.5% | £3,733 |
| Bailey & Co | Jesmond | £239,409 | 100.9% | £2,360 |
---
Felicity Blair of Roy Brooks Estate Agents says: "It's great when an independent body affirms that you are doing a good job, and this news from HOA is exceptionally rewarding. Thank you for providing a tool to help sellers identify agents that are most accurately determining values, as we believe this is key to a successful sale."

Alec Jupp of Elephant Estate Agents says: "We are very pleased to be recognised as a top performing agent by the HomeOwners Alliance in what is a very competitive market place."

Andrew Morgan of Hollis Morgan Estate Agents says: "As an independent firm of estate agents and auctioneers we are able and, indeed, dedicated to being true agents for our clients – our whole team takes pride in guiding them professionally and emotionally through the whole process of selling to achieve the best possible price whatever difficulties need to be overcome. We quite simply take pride in doing a great job and becoming long term friends with our many satisfied clients."

To find out more about estate agents in your area, use our estateagent4me tool. For more information on selling your home, take a look at our advice pages.
House prices rise as mortgage rates tumble

Rising house prices
If you've yet to get on the property ladder or you're trying to move up it, you probably weren't exactly overjoyed to read the latest stats from Rightmove, which show the average house price in the UK is now a massive £313,000.

According to the figures, prices rose in every single region in the UK month on month except London (but, really, how much higher could they go?!) with some regions seeing hikes as big as 2.5% and Wales seeing prices soar by 7.6%.

But before you resign yourself to a lifetime of renting and start questioning how old is too old when it comes to house shares, there is some good news for homeowners to cling to. While house prices might be climbing, mortgage rates are starting to fall. In fact, buyers – and borrowers – could be in for some significant savings as some of the UK's biggest mortgage lenders embark on something of a price war.
Some of the lowest deals
With interest rates still so low, lenders are taking their rates to unseen before levels to entice borrowers. Banking giant Santander threw down the gauntlet to the competition earlier this month by launching a two year fixed tracker mortgage at just 1.14%. And that's not even the lowest on offer. Yorkshire Building Society currently has a two-year tracker at 0.89%. Meanwhile Atom Bank was forced to pull its show-stopping five year fix at 1.29% after just seven days as a result of unprecedented demand.

"Lenders have a huge appetite for new borrowers and this is clearly shown in the extent of the mortgage rate war, which is no doubt great news for anyone looking for a mortgage," says Rachel Springall, finance expert at Moneyfacts.

"There has been a distinct drop in the rates on offer for borrowers with a 40% deposit or equity in particular, as these borrowers are seen as less risky and it's easier to calculate a market-leading rate.

"New players are also eyeing up this market and are attempting to grab both the attention and trust of consumers, such as Atom Bank."
What if you don't have a 40% deposit?
These show stopping rates will require you to have a pretty sizeable deposit (of at least 40%) but if you're short on upfront cash don't despair. Rates at the higher loan-to-value (LTV) end of the market are also pretty impressive.

HSBC is currently offering a two-year fix at a rate of 1.99% up to 90% LTV while Nationwide has a two year tracker at 2.24%.

It's important to remember of course that the initial rate is just that – it will go up (possibly considerably) at the end of the term. The most important figure to look out for when comparing mortgages is the APRC (Annual Percentage Rate of Change to give it its full title) as this will take into account fees and other charges.

It's certainly a good time for borrowers. Let the price war commence!
YOUR HOME OR PROPERTY MAY BE REPOSSESSED IF YOU DO NOT KEEP UP REPAYMENTS ON YOUR MORTGAGE.
The Home Owners Alliance Mortgage Service is provided by London& Country Mortgages (L&C), Beazer House, Lower Bristol Road, Bath, BA23BA. London & Country are authorised and regulated by the Financial Conduct Authority (registered number: 143002). The FCA does not regulate most Buy toLet mortgages.
Six things that will inevitably happen when you're house hunting
What to expect when you're house hunting
So you're ready to buy a house? Bet you're filled with excitement and images of getting the keys to your home sweet home dance through your head. Enjoy these fleeting moments because, once you start the search, it's going to be rough. Take it from someone who knows… (more…)