Double whammy for first time buyers as 1 in 4 pay stamp duty alongside soaring house prices
There has been a surge of first time buyers paying stamp duty - despite the government first time buyer exemption. Why? Because the government hasn't acted quickly enough to revise the tax to reflect soaring house prices. Read more about this and other findings from our latest research.
June 21, 2022
4 minute read
Our latest research has revealed that almost a third more first time buyers are having to pay stamp duty, despite the government's first time buyer exemption. 30% more first time buyers are paying stamp duty than when first time buyer relief was first introduced 5 years ago. One in four (26%) of all first time buyers now pay stamp duty.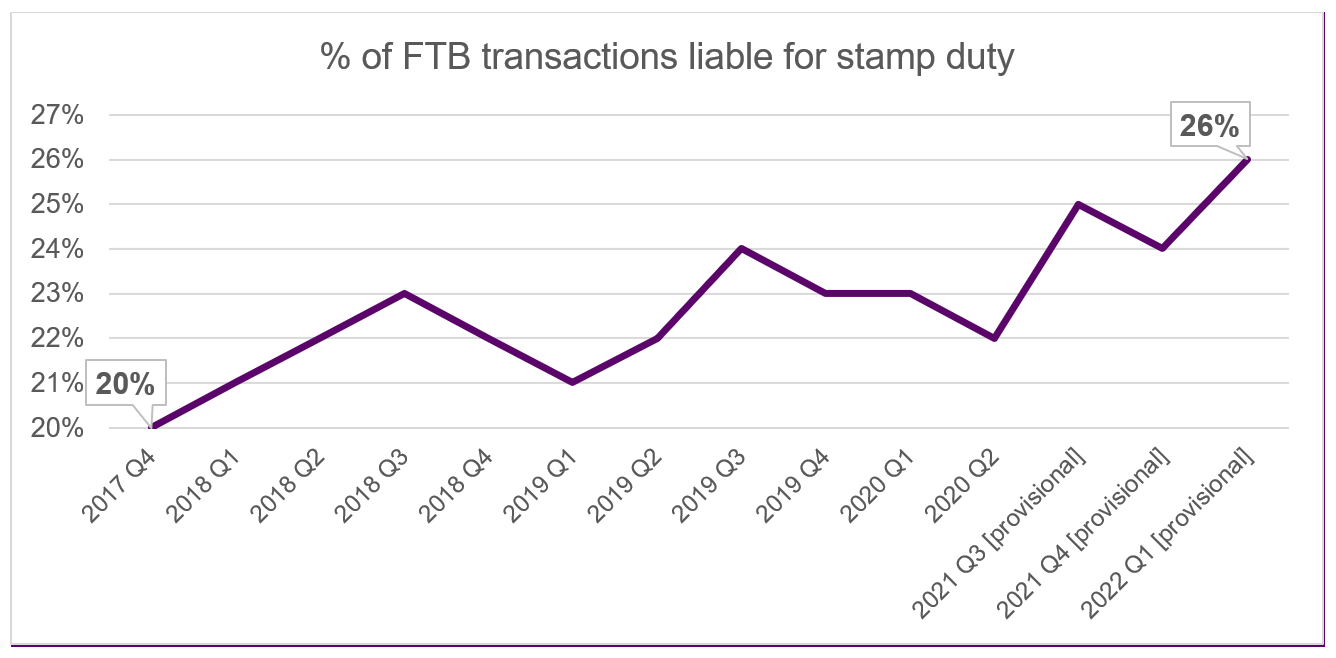 What is the first time buyers stamp duty exemption?
Stamp Duty is the tax levied on the purchase of property and land in England and Northern Ireland.
First time buyer stamp duty relief means that first time buyers buying a home up to £300,000 do not have to pay any stamp duty. If your new home is worth £300,000 to £500,000 you'll pay 5% stamp duty on the value above £300,000.
Why are more first time buyers paying stamp duty?
Unfortunately, soaring house prices alongside the fact stamp duty bands have stayed the same for 5 years means 30% more aspiring homeowners are having to find thousands of pounds more to get on the property ladder.
Commenting on the data, Paula Higgins, Chief Executive of the HomeOwners Alliance said, "It's clear that the stamp duty tax needs to be reviewed to ensure it's facilitating rather than fettering first time buyers."
"Against a backdrop of soaring house prices, cost of living crisis and increased tax burden, first time buyers of a home worth £400,000 are being hit with stamp duty bills of £5,000." 
"Alongside announcing new initiatives to increase homeownership, the government needs to increase the existing first time buyer relief threshold. The relief was introduced in 2017 to reduce the upfront costs for first time buyers. Fast forward five years and there is a real risk first time buyers become a taxation cash cow, which can't be right."
Commenting on the research, a Treasury spokesperson said, "We want to help as many people as possible get onto the housing ladder, which is why we cut stamp duty for 90% of first-time buyers who pay it via first-time buyers relief, as well as investing £10 billion to help unlock over one million new homes."
"We keep all taxes under review."
More homebuyers are paying more stamp duty
But the data reveals it's not just first time buyers paying more tax. More homebuyers are being pushed into higher stamp duty bands as house prices soar.
Almost 1 in 5 more homebuyers (+17%) have been pushed into paying higher stamp duty bands. 44% of transactions now fall in bands above £250K; up from 38% two years ago. An additional 31,500 transactions are now subject to stamp duty, compared to 2 years ago.
And 1 in 4 properties (26%) liable for stamp duty are now in bands above £500K; up from 1 in 6 two years ago (16%). These properties are subject to stamp duty rates of between 5 – 12%. (figure 3)
Investors contribute most to stamp duty coffers
Our research also found that the stamp duty surcharge continues to work as the government first intended: almost half of the stamp duty is paid by the surcharge levied at investors and those buying second homes. The additional properties stamp duty surcharge now makes up 46% of total receipts.
Commenting on the findings that investors – not homebuyers – make up nearly half of all receipts, Paula Higgins said, "We campaigned for the surcharge and continue to agree with the government that those buying a home to live in should be treated differently to those looking to make money out of property or buying a second home."
What needs to change?
The HomeOwners Alliance calls on the government to be bold and scrap stamp duty entirely for those buying a home to live in. But falling short of that, we ask the government to:
Raise the exempt threshold and bands by 100k, in line with house price growth.  These bands have not changed in 8 years.  The average UK house price has risen approximately £100K in that eight year period; from £180K in 2014 to just under £280K in 2022.
Similarly, FTB relief has not been reviewed since 2017.  The average UK house price has risen by approximately 60K or 29% over this period. The first time buyer relief should be raised from £300k to £350k as a minimum.
Commit to raising thresholds annually in line with house prices. This will reduce stamp duty costs for those downsizing and those buying an averagely priced home.
Simplify the stamp duty surcharge. Homebuyers buying a home to live in (ie their primary residence) should not have to pay the surcharge. The current system means that those who have inherited a property, who are going through a separation, or who own a rental property have to pay the surcharge on the main property they intend to live in. The change would align stamp duty with capital gains tax, which does not apply gains on primary residences.
First time buyers stamp duty – how much will I pay?
Use our calculator to find out how much stamp duty you'll pay
Stamp Duty Calculator for England & NI, Scotland and Wales
Sign up to our

FREE

weekly newsletter

for the latest news, advice and exclusive money saving offers