Energy bills soar and suppliers go bust
Brace yourself for soaring energy bills as gas prices rise and the cheaper energy providers drop like flies. Here's everything you need to know about what to expect from your energy bills, whether you should switch now and why this is happening.
November 22, 2021
5 minute read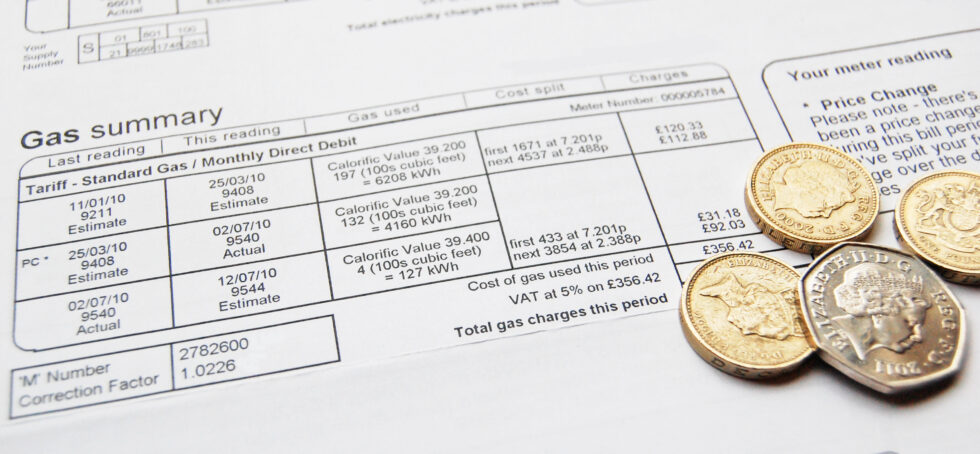 The jump in wholesale gas costs has had a wide ranging impact; from food producers warning of shortages to health service leaders warning operations could be at risk.
One major consequence of the price rise that's hitting the headlines this week is the impact it will have on energy bills for millions of UK households. And the crisis doesn't stop there. Several energy companies have gone bust, leaving consumers wondering what this means for them. 
What's happening to energy bills?
Millions of UK households will see their energy bills go up next month. This is because the energy price cap set by Ofgem – which limits the price a supplier can charge you per unit of electricity and gas – is rising from Friday 1 October.
Under the current price cap, a household that uses a typical amount of energy on a standard or default tariff will pay a maximum of £1,138 per year. This will rise to £1,277 on 1 October, an increase of £139.
While those on Prepayment meters will see an increase from £1,156 per year to £1309. This marks a jump of £153.
But the words 'price cap' can be confusing because it isn't the maximum anyone will pay – the figures are for the 'average user'. So, if you use more than 'average' you'll pay more than the price cap amount on your energy bills.
And there's a double whammy for consumers because previously, people have been able to slash their energy bills by shopping around and switching to a cheap fixed deal. However, due to the huge jump in wholesale gas prices the cheap deals many households have been used to just don't exist anymore. And at the time of writing, all the fixed rate tariffs priced below the new 1 October price cap have disappeared. And according to Martin Lewis, the cheapest fixed deals are 60% costlier than a year ago.
If you're currently on a fixed deal the good news is that your bills will stay the same for now. However, if your deal ends soon, your bills could rocket.
Should I move to a fixed energy deal now?
There are serious concerns that the next price cap, due to come into effect next April, will see an even bigger increase. A report by comparison website the Energy Shop said the price cap could jump by a further £280.
However, as mentioned above, at the time of writing, all the fixed rate tariffs priced below the new 1 October price cap have disappeared. So if you do fix now, you'll be locking in a higher rate than the new price cap. But you will guard against any future price rises.
Alternatively, you may wish to stay on your supplier's standard rate in the hope that energy prices will come down.
What happens if my energy supplier goes bust?
If your energy supplier goes bust, your supply will not be cut off.
A growing number of energy suppliers have gone bust in recent weeks and analysts Baringa project that some 39 suppliers could collapse in the next 12 months, leaving just 10 firms dominating the market. Here is the list of suppliers that have been taken over since September 2021.
Energy Companies that have been taken over in 2021
| Energy Company | New Supplier | Date taken over |
| --- | --- | --- |
| Bulb | Still Bulb under "special administration" | November |
| Social Energy | TBC | November |
| Neon Energy | TBC | November |
| CNG Energy | Pozitive Energy | November |
| Am Power | Yu Energy | November |
| Zebra Power | British Gas | November |
| MA Energy | SmartestEnergy Business | November |
| Omni Energy | Utilita | November |
| Bluegreen Energy | British Gas | November |
| GoTo Energy | Shell | October |
| Daligas | Shell | October |
| Colorado Energy | Shell | October |
| Pure Planet | Shell | October |
| Igloo Energy | E.ON Next | September |
| Symbio Energy | E.ON Next | September |
| Enstroga | E.ON Next | September |
| Green | Shell Energy | September |
| Avro Energy | Octopus Energy | September |
| People's Energy | British Gas | September |
| Utility Point | EDF | September |
| MoneyPlus Energy | British Gas | September |
| PFP Energy | British Gas | September |
If your supplier goes bust, Ofgem says you should take a meter reading, sit tight and don't switch, it says it will appoint you a new supplier and that it should only take a few days. Ofgem says it will choose your new supplier 'following a competitive process designed to get the best deal for you'. It says after it has chosen the supplier, you will be moved onto a new 'deemed' contract. This means a contract you haven't chosen. It also recommends that once the new supplier contacts you, you should ask them to put you on their cheapest tariff. Or to shop around and switch if you want to. You won't be charged exit fees.
Will my energy bills go up?
If your energy supplier goes bust and Ofgem move you onto a 'deemed' contract means your bills could go up. And in the current circumstances, if you were on a very cheap deal with the supplier that went bust, you may find the new deal you're put on is significantly more expensive by comparison.
If I'm paying back debt to my old supplier, will I still pay this to my new energy supplier?
According to Ofgem, this depends on what your new supplier agrees with your old supplier's administrators. You'll need to pay the debt back to your new supplier if they arrange to take on your old supplier's customer debts. You will not need to pay back the debt to your new supplier if they don't make this arrangement. However, you may have to continue to pay it back to your old supplier or their administrator. Your new supplier will explain the process to you.
How can I reduce my energy bills?
While you may not be able to avoid paying more for your energy, you can try to lower your bills by reducing your energy usage where possible such as by insulation your home. You can also try turning your thermostat down by 1 degree – it could save up to £85 a year. For more advice, read our Top 10 Energy Saving Tips guide. And if you're struggling, see if you're entitled to help towards your energy bills under the Warm Home Discount scheme. And speak to your energy supplier, it may be able to help or offer grants or other support. 
Sign up to our

FREE

weekly newsletter

for the latest news, advice and exclusive money saving offers