The secret to selling your house for the asking price…
Recent data shows homes could lose thousands in value after weeks on the market - and highlights the date by which you'll want to have secured a sale.
February 14, 2020
Latest research shows that the time it takes to sell a house could make – or cost – you thousands of pounds.
According to analysis from HomeOwners Alliance's estateagent4me tool, 14 days is the optimum length of time for a property to be listed on the market in order for it to achieve the maximum sale price.
Agents with an average selling time of 14 days (from day of listing to sold subject to contract) achieve the highest asking price – at 99.4% of their stated price.
But homes sold after 1 month achieve 98% of asking price, dropping to 91% after two months – costing homeowners £20,000 off an averagely priced property 
Data from over 6,500 estate agent branches across Britain shows how the eventual price paid for a property steadily decreases over time. Similarly, agents whose average selling time was less than 14 days achieved only 97.5% of their asking price.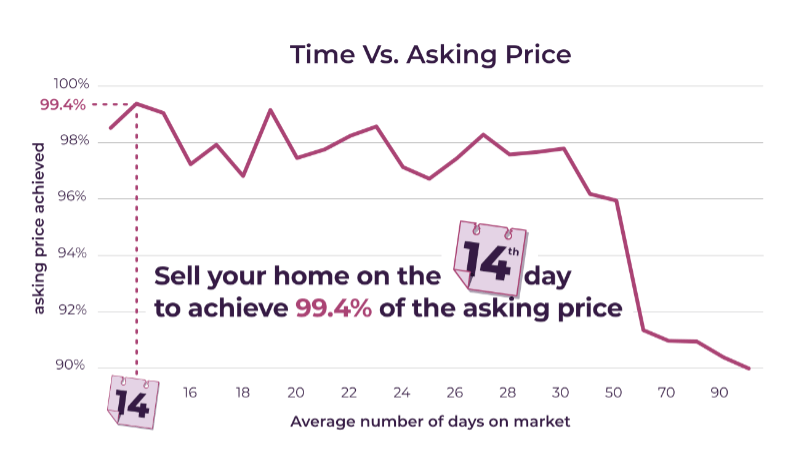 Time is money
With the average UK home now changing hands for well over £200,000, these few percentage points will equate to thousands, or even tens of thousands, for sellers.
Urban Lighthouse, an independent estate agency in Bristol, was one of the agents with a 14-day selling record and netted its clients approximately £12,000 over their original asking price of £355,760. By contrast, one of the lower performing agents selling a property of similar value and with an average selling time of three months, achieved 89.5% of asking price, costing its seller more than £41,000.
Based on average property prices across the UK (£235,000), a 14-day sale will mean the owner would be close to achieving their asking price (£1,400 below). However, the amount by which they fall short of their asking price increases significantly the longer the property is on the market. After one month, the price drop is more than £5,000 off the asking price and the drop is more than £20,000 after 2 months on the market.
Get the price right and create a buzz
Commenting on the data, Laurence Irvine, Director of Urban Lighthouse, said, "A keenly priced property will help to maximise the initial buzz which comes with a property new to the market and increase the chances of competing bidders, resulting in achieving a higher eventual price than if you start over-optimistically."
And he warned, "You will never recapture that initial buzz – even if you reduce the asking price further down the line."
How to sell my house quickly for a good price
We couldn't agree more with Laurence. This data shows just how important setting the right price is. A good estate agent will help you set the asking price, so choose them wisely. Here's how to secure a house sale by the 14th day of marketing your home.
Choose your estate agents carefully. Draw up a short list of local agents based on their track record, not their sales pitch. Estateagent4me lets you rank local estate agents by the time it takes to sell a property like yours, how close they get to achieving asking price and the fees they charge. And don't be enticed by agents over-valuing your property just to get your business.
Boost your home's kerb appeal. Our recent survey found that 68% of buyers found kerb appeal to be important when they bought their home. The features that matter most to home buyers are windows being in good condition and a roof that doesn't need repair. For other important features and how to make attract buyers and sell for a top price, see our research on how to boost your homes kerb appeal
Find your conveyancing solicitor ASAP. As soon as you have put your house on the market, find and compare quotes from conveyancing firms. Instruct your preferred firm and ask them to start pulling together a draft contract and start any basic work, such as the title enquiry.
Switch if you're unhappy. If you're selling a home which has been languishing on the market speak to your agent and review the asking price. You may also want to switch estate agent to one that has a better success rate in your local market. To find the best estate agents in your area, head to estateagent4me
Find the best local estate agents near you. Our free tool let's you rank them on how quickly they sell houses like yours, how close they get to asking price and the fees they charge
Sign up to our

FREE

weekly newsletter

for the latest news, advice and exclusive money saving offers