Help, my interest-only mortgage is maturing – what can I do?
The City watchdog has warned that 1.67 million borrowers have interest-only mortgages and that many of these home owners may have no way of paying back their debts when the final balance falls due. Read about how the HomeOwners Alliance has been helping one retired member who finds himself in exactly this position.
March 14, 2018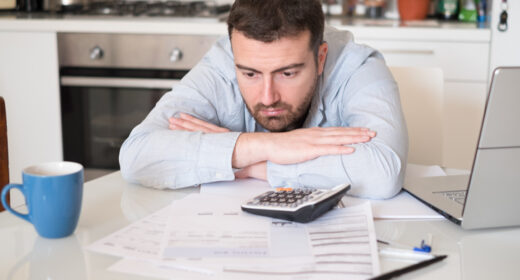 What's the problem?
Interest-only mortgages are a ticking timebomb that are in part the legacy of lax lending standards in the run up to the financial crisis when banks and building societies freely handed out mortgages which only required borrowers to pay back the interest each month and not reduce the size of their balance.
Some borrowers did not fully understand the fact that at the end of the mortgage term they wouldn't own their property and might have to hand it back to the bank if they didn't have alternative investments to repay the loan.
HomeOwners Alliance has been helping one retired member who finds himself in exactly this position. But, unlike some borrowers, David, 72, did have a plan to repay the loan. In fact it was suggested by his mortgage company.
What to do if your investment vehicle doesn't pay out
David took out an endowment policy which was once a popular type of investment designed to pay out at the end of the mortgage term and clear the debt. Unfortunately, the performance of this investment was woeful and the return it generated was a fraction of the outstanding balance leaving him with £100,000 still to repay by 2025.
David, from North London, has been told that it is unlikely that the lender will extend this deadline due to his age. However, the remaining debt is very low compared to the value of the house, which is estimated to be around £900,000 – meaning his loan-to-value is just 11%.
He is determined to stay in his home as he has a supportive network of friends nearby and doesn't want to have to downsize to a new area. He is also wary of equity release because the interest rates are higher than those of conventional mortgages and he would like to leave behind an inheritance to his two grown-up daughters.
David has a decent pension which pays £26,000 a year and he has been renting out many of the rooms in the house on Airbnb generating extra £20,000 a year in rent and feels that with these two sources of income he could afford to repay the remaining balance over the next ten years if a lender would be willing to give him this extra time.
Lending for borrowers over 70
HomeOwners Alliance spoke to two mortgage experts to find out if there are any lenders who cater to older borrowers like David who find themselves with an interest-only repayment conundrum….
Daniel Bailey of Middleton Finance says:  "Our borrower, David, has two major problems here. Firstly his age and secondly the fact that lenders do not like borrowers relying on income from Airbnb.
"Family Building Society would be the most flexible in these circumstances as they set the maximum age on a case-by-case basis.
"Based on a brief summary of David's circumstances it is likely that they would give him a term of 14 years which would allow him more time to repay the loan.
"However, the bad news is that the building society will not allow Airbnb rentals, which means that David would struggle to afford a repayment mortgage.
"In this case, an interest-only remortgage with a lender like Family Building Society would at least give him a few more years in the property, but at the end of this time he would almost certainly need to downsize or look at other retirement living options."
David Hollingworth of L&C Mortgages, says: "Interest only mortgages where borrowers have an inadequate or even no repayment vehicle are a big concern for the regulator.
"While borrowers can take action to improve their position this gets tougher as they get older. As well as employing tougher interest only criteria lenders have typically reduced their maximum age at the end of the mortgage term.
"Although lenders can offer mortgages that stretch into retirement where adequate income can be evidenced, they will often set the maximum age at the end of the mortgage at 70 or 75.
"A growing number of lenders including Halifax, Skipton and Leeds Building Society are once again starting to lend up to 80 if borrowers are already in retirement, but that is not going to be much help, given that David will be 79 at the age of his current mortgage term anyway.
"Nationwide Building Society will now consider lending up to age 85, which might provide a couple of extra years breathing space."
Hollingworth says that several small building societies such as Ipswich, Bath, Marsden and Leek United all offer some flexibility on the maximum age of borrowers so it is worth David speaking to these lenders to discuss his options.
But perhaps the most viable option for borrowers like David who are stuck with a substantial interest only debt is the 55+ mortgage from Hodge Lifetime.
Hollingworth says: "Hodge Lifetime is a specialist in the equity release market but has recognised that a lifetime mortgage may not be for all.
"It has developed a mortgage product for those over 55 which can run until age 95 at the end of the term.
"This is offered on an interest only basis and downsizing could be an acceptable repayment vehicle but they will want to be sure that is a feasible option."
Hodge offers a two-year fix at 3.5% and five-year fix at 3.9%, both up to 60% LTV with a £995 fee.  There is a two-year discounted rate option too which would have a current pay rate of 3.35%, up to 60% LTV and £995 fee.
Sign up to our

FREE

weekly newsletter

for the latest news, advice and exclusive money saving offers
Let us help you…