Getting a mortgage when you're pregnant
Do you have to tell a lender you're pregnant when getting a mortgage? Do you need proof you're returning to work? And is National Baby Making Day a real thing?! Our consumer journalist Christine Toner reveals all.
February 2, 2018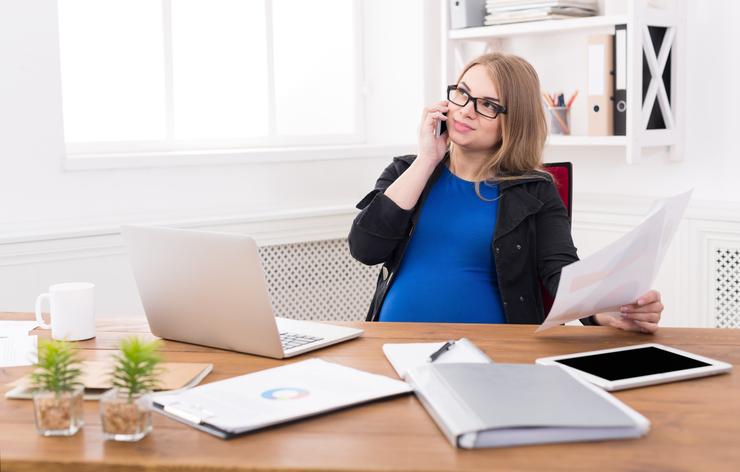 As I'm sure you're all well aware, January 2nd was officially National Baby Making Day (did you get your greetings cards out in time?). And as such women all over the country are now 'in the family way'. This means having lots of lovely conversations revealing the news – the overjoyed grandparents, the excited siblings – and some not so pleasant ones – your boss, the friend you're supposed to be hosting a hen do for in nine months time. But do you also need to reveal the happy news to your mortgage lender?
Tighter lending rules
A few years back affordability rules for borrowers taking out a mortgage got tighter as a result of the Mortgage Market Review (MMR). Keen to reduce risk, lenders began seeking more information about income and outgoings as well as stress testing the mortgage against changes, such as future income rate rises. The idea is that lenders want to be sure that the debt isn't going to become unmanageable.
Obviously, the small matter of bringing a human into the world and then, you know, raising it is likely to have an impact on your finances. So how much do you have to reveal?
Can the lender ask me if I'm pregnant?



No, the lender isn't allowed to ask you whether you're pregnant as that could fall foul of the Equality Act. However, they can ask you if your financial situation is set to change for any reason.
The whole purpose of the lender's affordability assessment is, as the name suggests, to find out whether you can afford the mortgage. If you're taking out a mortgage based on what you can afford with you and your partner both in full time work and you know full well you're not going to be returning to work after the baby is born or are likely to have very expensive childcare costs, you're doing yourself a disservice by not revealing this. Essentially the lender will be offering you a mortgage that you can't afford.
If you have savings and know you will be able to cover the mortgage for the period you're out of work, you could make that clear in your mortgage application. Or, ahem, keep the pregnancy private – so long as you're not meeting the lender or broker eight months in and the size of a baby hippo (just me?)
Even if you can manage the mortgage during maternity and paternity leave, it's worth thinking now about what your income will look like after the baby is born; will you return full time or part time work? What are the childcare costs? How will you manage the repayments at that time?
Do I have to prove I'll return to work?
Yes, some lenders will ask that you provide confirmation from your employer that you'll be going back to work.
Can I avoid lender questions?
If you already have a mortgage and you're looking for a new deal, you could avoid going into the pregnancy issue at all by opting for a product transfer. This means you stay with the same lender but move on to a new product and generally very few questions are asked. But the choice of deals might not be as good as if you shopped around all lenders so you might not get as good a rate.
What if my lender finds out I didn't reveal my pregnancy?
In theory, if you're not completely truthful in your mortgage application, your lender could repossess the property. However, this is a really drastic step to take and if you're managing the mortgage repayments, it's highly unlikely. Plus, who is to say you were aware you were pregnant when you filled out the application (a woman in Iowa gave birth to twins and didn't even know she was pregnant – it happens!)
I feel like my lender discriminated against me, what can I do?
If you think your lender treated you unfairly because you're pregnant you should file a complaint. It should be dealt with by the lender itself but if not you can complain to the Financial Ombudsman Service (FOS). 
Getting a mortgage and not sure where to start? Browse online or speak to a fee free broker now for unbiased mortgage advice from our partners at L&C  
Sign up to our

FREE

weekly newsletter

for the latest news, advice and exclusive money saving offers
Let us help you…