Estate agents to be more transparent over VAT
Estate agents in England, Wales and Northern Ireland will have to be much more upfront about the amount of commission they charge house sellers, thanks to new guidance issued by The Property Ombudsman (TPO) earlier this month.
October 4, 2016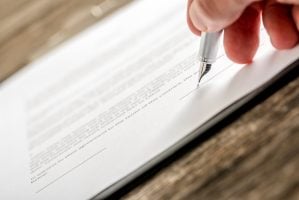 A change to TPO's Code of Practice for Residential Estate Agents insist that estate agents must now list their charges for commission in the form of a final figure based on the asking price and including VAT. Up to this point, estate agents have not been obliged to include the VAT sum, leaving it up to the seller to calculate themselves. The new rules state that the estate agent's commission fee – as a figure and including VAT – must be clearly written into the seller's written contract.
Sellers previously caught 'off-guard'
The Ombudsman acted after receiving a number of complaints concerning a lack of transparency in respect to charging commission where estate agents would list a figure for commission but without calculating the cost of VAT (merely stating that VAT was to be added). Confusion led to many sellers being caught off-guard and having to fork out much more money than they had budgeted for.
Paula Higgins, Chief Executive at the HomeOwners Alliance said:
"We welcome the Ombudsman's move to increase clarity over estate agent charges. Selling a home can prove an extremely busy and stressful time and because of this it's easy to overlook VAT charges if they are not already clearly stated. This move by the Ombudsman gives home sellers clarity over what they will paying for marketing their home up front, and avoids putting them under additional financial pressure at the point of sale when money is already very tight."
What do commission fees consist of?
The commission fee is commonly listed as a percentage rate and typically between 0.75% and 3.0% of the property's value. It is commonly listed as covering work such as advertising the property both physically and online, and other marketing material and activities which can vary. VAT in the UK currently stands at 20%.
As with existing guidelines, estate agents must also make it clear that, should the selling price of the property be higher or lower than the asking price, the commission fee would vary accordingly. With the fixed fee, clients should be informed the fee won't vary regardless of the eventual sale price.
Gerry Fitzjohn, Chairman of the TPO Board, said: "The decision was taken to carry out a full review of the Codes to reflect market developments and provide clear definitions of unfair practices."
Estate agents found to be ignoring the new ruling regarding clarity in respect to commission fees face could be reported to Trading Standards and banned from practising in the UK.
Meanwhile, further information on this issue, as well as other updates to the Property Code of Practice (including a ban on 'portal juggling') will be discussed at the TPOs annual conference 'Raising Standards' at the National Conference Centre in Solihull on Oct 12th.
The HomeOwners Alliance provides members with guidance on selling their homes. To see how we can help, find out more about the benefits of joining the HomeOwners Alliance.
Related guides
Estateagent4me – find and compare local estate agents
Sign up to our

FREE

weekly newsletter

for the latest news, advice and exclusive money saving offers