First time buyers dealt a "body blow" by the mortgage drought
The overwhelming majority of UK adults say that the difficulty in getting mortgages is a serious problem. The 2015 Homeowner Survey looks at those hardest hit...
March 19, 2015
7/10 say getting a mortgage is a serious problem
The difficulty of getting a mortgage or remortgaging is now one of the biggest housing concerns of UK adults, with more than 7 out of 10 saying it is a serious problem. According to the survey, conducted by YouGov, 72% of adults say that the ability to get a mortgage/ remortgage is a very serious (32%) or somewhat serious (40%) problem. In contrast, only 3% of adults say it is not a problem at all.
There has been growing concern about the difficulties of getting a mortgage following the introduction of new tough regulations to prevent a return to reckless lending by banks and building societies. The new regulations led to a drop in mortgage agreements, and despite a subsequent recovering, mortgage approvals have slowed sharply in recent months. This puts homebuyers, who need mortgages, at a disadvantage to cash buyers who tend to be domestic and foreign property investors.
Worst for first time buyers, divorced – and the Welsh
The perception that it is difficult to get a mortgage/ remortgage is seen across all groups in the UK. The large majority of people in every age group, every socio-economic group, in every sector of the housing market, and in every region of the country, say that getting a mortgage or being able to remortgage is a serious problem.
However, those groups who are most likely to say that getting a mortgage or remortgaging is a serious problem include:
Non homeowners who aspire to own their first home, 78% say it is a serious problem
Those at the bottom of the property ladder, with 78% of those with properties worth less than £125,000 saying getting a mortgage/ remortgaging is a serious problem. By contrast, 67% of those in properties worth over £350,000 say it is a serious problem
Divorced and separated people, of whom 80% say getting a mortgage/ remortgaging is a serious problem. In contrast, 71% of married couples say it is a serious problem.
The Welsh, with 81% saying getting a mortgage/ remortgaging is a serious problem. The region of the UK with the lowest level of concern in this area is the North East, with 65% citing getting a mortgage/ remortgaging is a very or somewhat serious problem.
Interest-only mortgage holders are also more inclined to view the ability to mortgage/ remortgage as a problem with 79% of interest-only mortgage holders versus 72% of UK adults generally saying it is a problem
Getting a Mortgage/ Remortgaging Housing Concern
(By Age, Marital Status, Homeownership, Mortgage Type, Value of Home, Region – 2015 Homeowner Survey)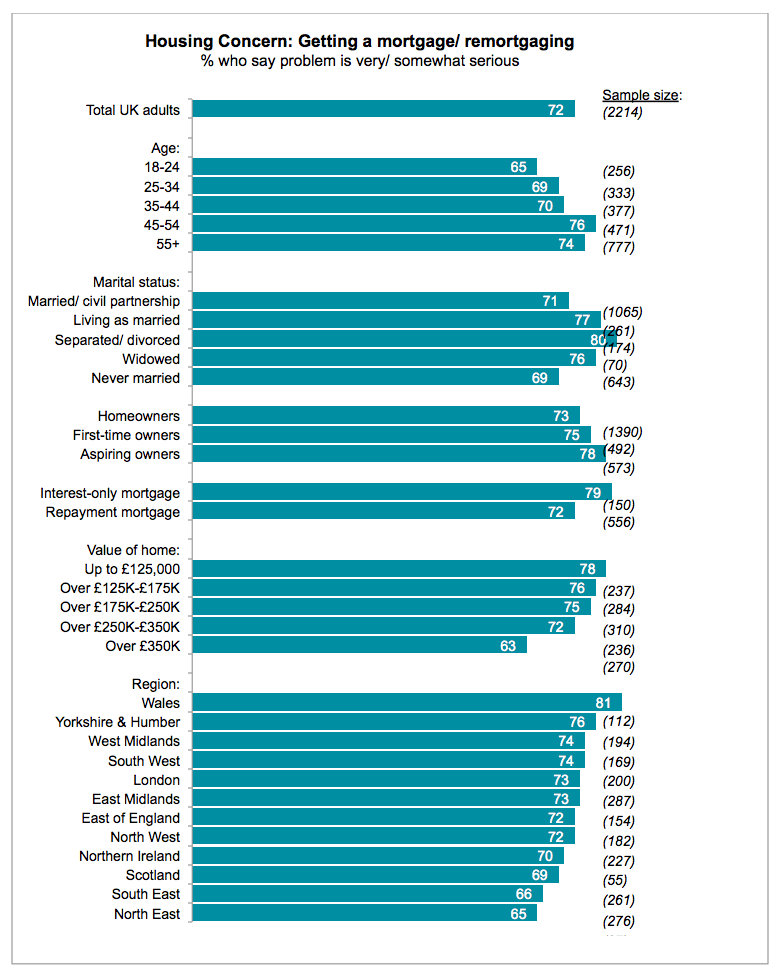 Paula Higgins, Chief Executive of the HomeOwners Alliance said today:
"Despite all the talk of help, people from all walks of life say that getting a mortgage is a major hurdle togetting on the property ladder. This is another body-blow to those aspiring to own their own home, or those hoping to move up the property ladder. We have gone from one extreme to another – from it being too easy to get a mortgage before the crisis to too difficult now. With a desperate shortage of houses and sky high house prices, for many their mortgage difficulties will be the nail in the coffin of their dream of owning a home. We hear increasing numbers of stories of people who not only have had to pull out of buying their home but also families who are trapped because they are denied the opportunity to remortgage even with a good payment history. Banks, building societies and regulators need to apply some common sense by ensuring the new rules are proportionate and applied sensibly."
Doug Crawford, CEO of myhomemove, said:
"The result of the survey highlights the importance of homeownership, particularly for first-time and young buyers. Buying a property is often seen as an important milestone in adult life, yet difficulties securing a mortgage have meant that many are waiting longer to take their first step onto the property ladder."
"The introduction of MMR last April threatened to polarise the market, however myhomemove data shows that the percentage of first-time buyers entering the conveyancing process has returned to pre-MMR numbers. Looking ahead, greater availability of low-interest rate mortgages, more competition between lenders and stabilising approval rates create an ideal opportunity for first-time buyers to own their own home."
Notes to Editor
The full 3rd Annual Homeowner Survey, a state of the nation report covering concerns and issues faced by UK homeowners, will be released on Monday 23rd March 2015.
2015 Homeowner Survey
1. All figures in the 2015 Homeowner Survey, unless otherwise stated, are from YouGov Plc. In 2015, total sample size was 2,214 adults of which1,390 were Homeowners. Fieldwork was undertaken 4-5th March 2015. The survey was carried out online. The figures have been weighted and are representative of all UK adults (aged 18+).
2. The Mortgage Market Review has resulted in a slowing down of mortgage lending as rules have tightened over affordability criteria.
3. The 2015 Homeowner survey was made possible through sponsorship by BLP Insurance, leading provider of building defects insurance, myhomemove, the UK's leading conveyancing provider and TrustMark, the Government endorsed 'find a tradesman' scheme.
4. This full 3rd Annual Homeowner Survey, a state of the nation report covering concerns and issues faced by UK homeowners, will be released on Monday 23rd March 2015. Our spotlight reports on new homes and good tradesmen, will be published in April and May.
When quoting this Press Release please link to the HOA website at http://hoa.org.uk/ and the myhomemove website at https://www.myhomemove.com/
About the HomeOwners Alliance
The HomeOwners Alliance champions the interests of Britain's homeowners and aspiring homeowners.
We are a consumer group providing helpful advice and services and acting as the voice of the homeowner in the media, lobbying for their interests in government, and campaigning against bad practices in industry.
We directly engage with government and media by conducting independent research and publishing reports that promote and champion the interests of homeowners.  In addition to our annual Homeowner Survey, previous publications include:
Why the Mystery? – An investigation into the murky world of estate agent fees and contracts
Stamping on Aspiration- The astonishing impact of stamp duty on homeowners and the housing market
On the Edge- 300,000 interest-only mortgage holders set to lose their home
The Stresses of Buying and Owning a Home
The Death of a Dream – the crisis of homeownership in the UK
We believe we are Britain's most popular and fastest growing property advice website, staying true to our mission to help homeowners facing some of the biggest and most complex decisions of their lives. Last year, more than1.5 million homeowners and aspiring homeowners visited our website, www.hoa.org.uk; viewing over 2.5 million pages.
About myhomemove
Specialising in the residential sector, myhomemove offers straight-forward, innovative solutions for conveyancing. Through its wholly-owned subsidiary, Premier Property Lawyers (the UK's first ABS law firm and the largest provider of mover conveyancing services), myhomemove helped over 40,000 buy and sell their properties in 2014.
The use of advanced technology ensures that the process of moving home is managed accurately and at an affordable cost. myhomemove is dedicated to providing a superior level of service, with a focus on speed and professionalism.
Through its position as the market leader, and having completed cases in all 109 postcode areas in England and Wales, myhomemove holds data that covers the breadth of the industry, giving it a unique insight into the UK's property market. www.myhomemove.com
Sign up to our

FREE

weekly newsletter

for the latest news, advice and exclusive money saving offers