Room for a broom: what families really want from an ideal home
A message from a family to all builders, architects, developers and Blue Ribbon judges out there about what every ideal home should include.
March 12, 2014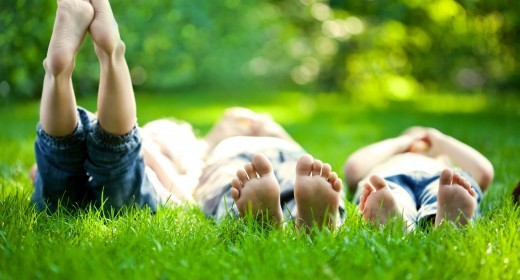 Have you ever reached for a clean item of clothing and instead of the scent of fresh laundry felt yourself enfolded in last night's dinner?  If so, then you might be one of the many families in the UK who are overdue their next house move and could be persuaded to invest in a new home.
On 19th March the judges of the Ideal Home Show Blue Ribbon Awards will be celebrating the best blueprints for domestic life in the UK today. So what should this blueprint provide for families? What makes us buy? And what should the judges be looking for when deciding which homes and developments are really ideal?
The first thing families usually look for is the kitchen. It should be wide enough to sidestep small children dancing around adults' ankles at mealtimes, with an informal eating/homework area alongside. Families frequently state that they would rather have an open plan kitchen area like this than a separate dining room, which can become an unofficial dumping ground. The kitchen should lead to the garden, perhaps via the sitting room, so that parents can see their children from both sofa and kitchen sink.
Most families want a good-sized back garden. Too many new build gardens have a patch of grass with barely enough room for the obligatory trampoline. Families need space for the trampoline, room to kick a ball around and a deck/patio where parents can quietly observe with tea or wine, depending upon the season. A front garden is nice to have but a drive to park the car in is more important.
It's not essential to have three bathrooms in a three bedroom home. An en-suite is a luxury, not a deal breaker – no-one moves because they want an en suite. However a downstairs loo is a must-have, making potty training and other emergencies easier for all involved.  Most families would rather have extra storage than another bathroom to clean.
Families need masses of storage; for ironing boards, hoovers, brooms – the basic paraphernalia of life. Many new homes do not factor this in, but it can influence hugely the purchasing decision for families. There should be space for a decent sized wardrobe in every bedroom, and ideally a larger sized bed in the main bedroom. Families who have invested in a super-king bed are unlikely to want to part with it, especially considering the number of nights when the whole family still ends up sleeping in it.
There should also be space to put the washing, so that everyone's clothes don't end up smelling of last night's dinner. Not necessarily a laundry room, but an obvious space where washing can be put while it dries, instead of picking up kitchen smells and cluttering up the house. This is crucial in the UK where 70% of the year is damp and/or humid.
So house builders, architects, developers and Blue Ribbon judges – take heed. Fresh laundry, easy potty training and room for the broom are more important than you may think when families are choosing their ideal home.
Lucy Smith
Twitter: @lucysmithuk
Linked In: http://www.linkedin.com/pub/lucy-smith/79/a9b/b87
Like us on Facebook to win tickets to the Ideal Home Show
Related reads
Sign up to our

FREE

weekly newsletter

for the latest news, advice and exclusive money saving offers
Sign up to our

FREE

weekly newsletter

for the latest news, advice and exclusive money saving offers