Oct 2019 House Price Watch
House prices are unchanged in the past month and the rate of annual house price growth slows further to 0.6%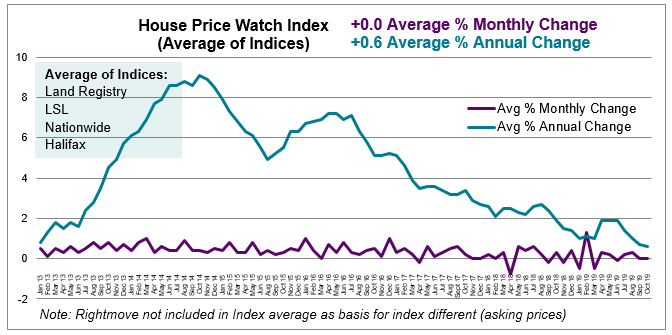 The October 2019 House Price Watch indicates that across the major indices house prices have held steady over the past month and the average annual rate of house price growth has slowed to 0.6%. This is the slowest rate of annual house price growth in almost 6 years.
House prices are steady or down in 9 out of 10 regions over the past month
Most regions have experienced a fall in house prices over the past month.
Annual house price growth has been modest across all regions of the UK. The North West and Wales have experienced the fastest rates of annual growth at 2.8% and 2.6% respectively.  London (-0.4%) and the East of England (-0.2%) have experienced a slowdown in prices over the past 12 months.
New enquiries from buyers and sellers down but agreed sales comparable to same period a year ago — indicating those already underway press on with plans
RICS residential market survey indicates that new buyer enquiries and new instructions to sell fell in October.  Similarly, Rightmove reports that the number of sellers coming to market is down 13.5% compared to October 2018.  The drop in new instructions and enquiries reflects a mood of caution with the imminent Brexit deadline.
However, the number of agreed sales is similar to the level evidenced a year ago indicating that those already underway with buying and selling are getting on with their home moving plans. Residential property transaction figures from HMRC show that transactions increased 5% in Sept (101,740). Home sales are similar to the same month a year ago.  (HMRC Sept 2019 UK residential property transactions)
What the indices say?
HomeOwners Alliance: "This month sees annual house price growth slow further still — to its lowest point in almost 6 years. With the looming October Brexit deadline, house prices stalled in 9 out of 10 regions in England & Wales. New sellers and buyers have been put off by the current climate but those already underway with their home moving plans seem keen to press on; resulting in a comparable number of agreed sales to a year ago.  Looking ahead, buyer and seller confidence is likely to be muted until the outcome of the upcoming election provides greater political and economic certainty."
Rightmove:  "In a strange Brexit-induced paradox, thousands of potential sellers are holding back compared to this time a year ago, though the number of buyers agreeing purchases is virtually the same. Ironically, this means that those who are coming to market have a better chance of selling, so while some would-be sellers are being put off, it's actually a good time to sell. Those who are ignoring the Brexit disruption have less competition from stay-away sellers, and their prospective buyers have less negotiating power, with a reduced choice of suitable alternatives."
Nationwide: "Annual house price growth remained below 1% for the 11th month in a row in October, at 0.4%. Average prices rose by around £800 over the last 12 months, a significant slowing compared with recent years – for example, in the same period to October 2016, prices increased by £9,100. Indicators of UK economic activity have been fairly volatile in recent quarters, but the underlying pace of growth appears to have slowed as a result of weaker global growth and an intensifying of Brexit uncertainty. To date, the slowdown has centred on business investment, while household spending has been more resilient. Solid labour market conditions and low borrowing costs appear to be offsetting the drag from the uncertain economic outlook. The question is whether this pattern will continue."
Halifax: "Average house prices continued to slow in October. It extends the largely flat trend which has taken hold over recent months. A number of underlying factors such as mortgage affordability and wage growth continue to support prices, however there is evidence of consumers erring on the side of caution. We remain unchanged from our view that activity levels and price growth will remain subdued while the UK navigates political and economic uncertainty."
RICS: "The October 2019 RICS Residential Market Survey continues to depict a relatively subdued sales market backdrop, evidenced by negative readings for indicators covering new buyer enquiries, agreed sales and new instructions. That being said, near term expectations for sales activity did improve to a certain degree, and a broadly stable trend is now anticipated to emerge across most parts of the country over the next three months."
To see how we calculate our House Price Watch click here and to see previous reports click here
Sign up to our

FREE

weekly newsletter

for the latest news, advice and exclusive money saving offers