Nov 2018 House Price Watch
Average annual rate of house price growth slows to 1.5% — the slowest in 5 years
Average monthly house prices are down -0.2%
The major indices report the following changes in house prices over the past month:
Rightmove (-1.7%), Halifax (-1.2%), and Land Registry (-0.2%) report a fall in house prices
Nationwide (0.4%) and LSL (0.2%) – report a rise in house prices
Land Registry refers to Oct data. Other indices refer to Nov house price data.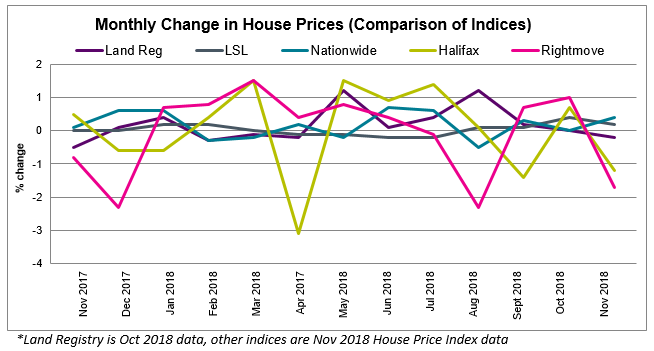 Across the major indices, house prices are down on average -0.2% in the past month. The average rate of annual house price growth slows to (1.5%).  This is the slowest rate of average annual house price growth since February 2013. (Rightmove is excluded from the average).
Regionally, annual house price growth is highest in North West and slowest in London
Apart from North West, Yorkshire & Humber and East of England, most regions experienced a fall in house prices this month.
On the up this month include: North West (1.2%), Yorkshire & Humber (1.0%), East of England (0.5%)
Down this month: North East (-1.9%), South West (-1.2%), West Midlands (-1.1%), East Midlands (-0.6%), South East (-0.4%), London (-0.3%)
Regions with the biggest annual rise in house prices include: The North West (4.9%), Yorkshire & Humber (4.4%) and the East Midlands (4.3%).
This year house prices are down in London (-1.7%) and the North East (-0.1%).
Home sales steady
The seasonally adjusted estimate of the number of residential property transactions increased by 0.1% between October 2018 and November 2018. This month's seasonally adjusted figure is 0.5% lower compared with the same month last year. (HMRC Seasonally adjusted residential property transactions)
Further softening of new buyer enquiries, alongside falling new instructions
Demand has fallen now for four successive months and new seller instructions have fallen for the fifth consecutive month.  November was the slowest month in new sales listings for twenty-eight months.  As a result, average stock levels on estate agents' books remains close to record lows. The time to complete a sale is also slowing – on average 19 weeks (the slowest since Feb 2017). Uncertainty caused by Brexit and a lack of fresh homes available for sale are seen to be impeding overall activity.  (RICS Nov, 2018 UK Residential Market Survey)
Market commentary:
HomeOwners Alliance: "On a national level, the annual rate of house price growth continues to slow – to the lowest level seen in close to five years. Transactions have stagnated with little change between October and November.   Both buyers and sellers are cooling amidst the current climate of political and economic uncertainty. Still, there are pockets of the country where house prices are climbing rapidly – notably the North West."
RICS: "The November 2018 RICS UK Residential Market Survey results are consistent with a weaker trend in sales market activity with headline indicators on both demand and supply edging further into negative territory. Furthermore, forward looking metrics suggest that momentum is likely to continue slipping in the coming three months, although a somewhat stable trend is expected to emerge further out."
Nationwide: "In the near term, the squeeze on household budgets and the uncertain economic outlook is likely to continue to dampen demand, even though borrowing costs remain low and the unemployment rate is near 40-year lows. If the uncertainty lifts in the months ahead and employment continues to rise, there is scope for activity to pick-up through next year. Interest rates are only expected to rise at a modest pace and to a limited extent in the years ahead. The housing supply picture has improved. After falling by almost 60% in the wake of the financial crisis, there has been a significant pick up in construction in recent years. New build completions in England n 2017/18 reached 195,300, around 3% below 2007/08 levels."
Rightmove:  "New sellers and their agents are reacting to market forces and lowering their pricing aspirations by more and sooner than usual.  They have acted early to try to improve the buying mood and avoid the traditional 'buyer humbug' dislike of Christmas housing activity."
To see how we calculate our House Price Watch click here and to see previous reports click here
Sign up to our

FREE

weekly newsletter

for the latest news, advice and exclusive money saving offers
Let us help you…