Mar 2020 House Price Watch
Home sales remained relatively stable in March and average annual house price growth is currently 2.4%. However, a slow down is expected with unprecedented actions being taken to curb the spread of the coronavirus. We look at views from experts on how the pandemic could impact the housing market.
House prices stable before Covid-19 restrictions but what will happen now?
What the indices say
HomeOwners Alliance: "Housing market activity was strong in January, February and early March and house price data reflects this early activity.  It is clear we ended the month in a completely different place to where we started.  With strict covid-19 stay at home measures ordered, the housing market is in effect paused and it is likely to take a few months before we see the market returning to some semblance of normal as government restrictions are eased. The longer term impact on house prices will depend on how long it takes for the economy and buyer and seller confidence to recover following a period of hibernation."
Nationwide: "Before the pandemic struck the UK, the housing market had been steadily gathering momentum. But housing market activity is now grinding to a halt as a result of the measures implemented.  Indeed, a lack of transactions will make gauging house price trends difficult in the coming months. The medium-term outlook for the housing market is also highly uncertain, where much will depend on the performance of the wider economy. Economic activity is set to contract significantly in the near term. But the raft of policies adopted to support the economy should set the stage for a strong rebound once the shock passes, and help limit long-term damage to the economy. These same measures should also help ensure the impact on the housing market will ultimately be much less than would normally be associated with an economic shock of this magnitude."
Halifax: "It's clear we ended the month in very different territory as a result of the country's response to the coronavirus pandemic. On a practical level, most market activity has been paused, with the public rightly following advice to stay at home, and estate agencies, surveyors and conveyancers temporarily closing as a result. With viewings cancelled and movers being encouraged to put transactions on hold, activity will inevitably fall sharply in the coming months. With less data available, calculating average house prices is likely to become more challenging in the short-term. It's still too early to assess what potential long-term impacts the current lockdown might have on the UK housing market. While there is significant uncertainty at the moment, much depends on the time it takes for restrictions to be lifted, the pressure that has been exerted on the economy and the effect this has on consumer sentiment."
Rightmove:  "Given the lockdown and pausing of key activities in the housing market, statistics on the number of properties coming to market, new seller asking prices, and new sales agreed are not meaningful. You do not have a functioning market when buyers can't buy and sellers can't sell. Most sellers already on the market, and those with a sale already agreed, appear to be continuing with plans to move once it has been deemed safe enough to do so. We think it will take several months or more for the market to find its feet in this new unsteady world. During this slow-motion period we do not expect significant price falls, as home sellers will not be prepared to cut prices while it is still not clear how the general public, businesses, financial markets, and the government are going to handle the transition to whatever turns out to be the new normal."
Transactions down slightly in March but expected to drop sharply in April
Residential property transaction figures from HMRC show home sales in March down marginally on February at 99,440 vs 99,650.  Looking ahead, property transactions are expected to fall sharply in April as coronavirus restrictions on the housing market are now in force. The public are following advice to stay at home, and estate agencies, surveyors and conveyancers are temporarily closing as a result.
House prices up on average 0.1% in the past month and +2.4% over the past year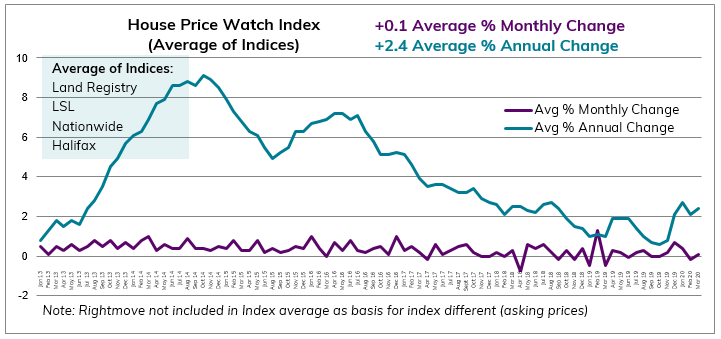 Monthly shifts in house prices reported by the major indices: Land Registry -0.6% (Feb), Nationwide +0.8%, Halifax 0%, Rightmove +1.0% (Mar).
The Mar 2020 House Price Watch report indicates house prices are up +0.1% over the past month and the average annual rate of house price growth is 2.4%.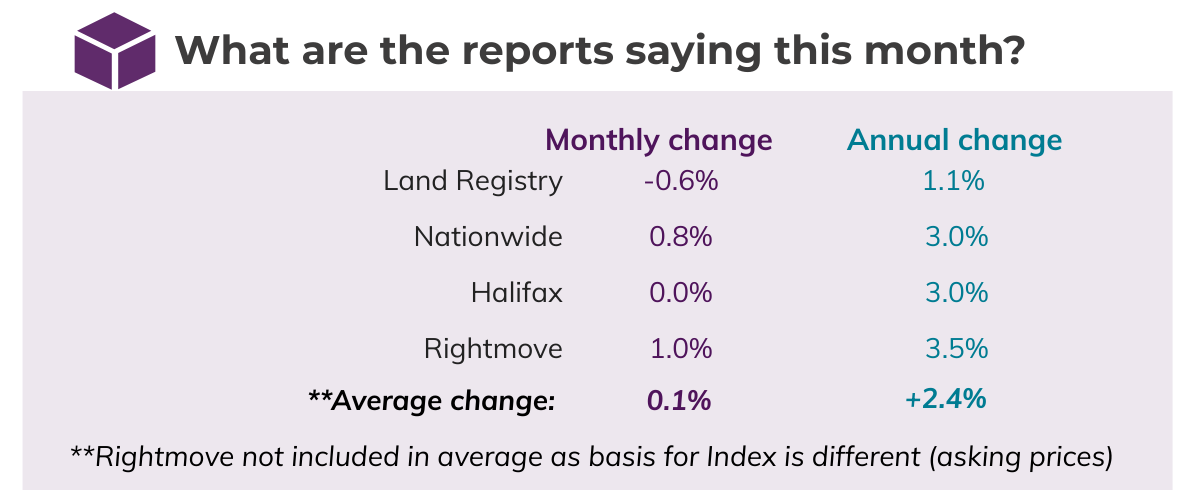 House prices are down in most areas over the past month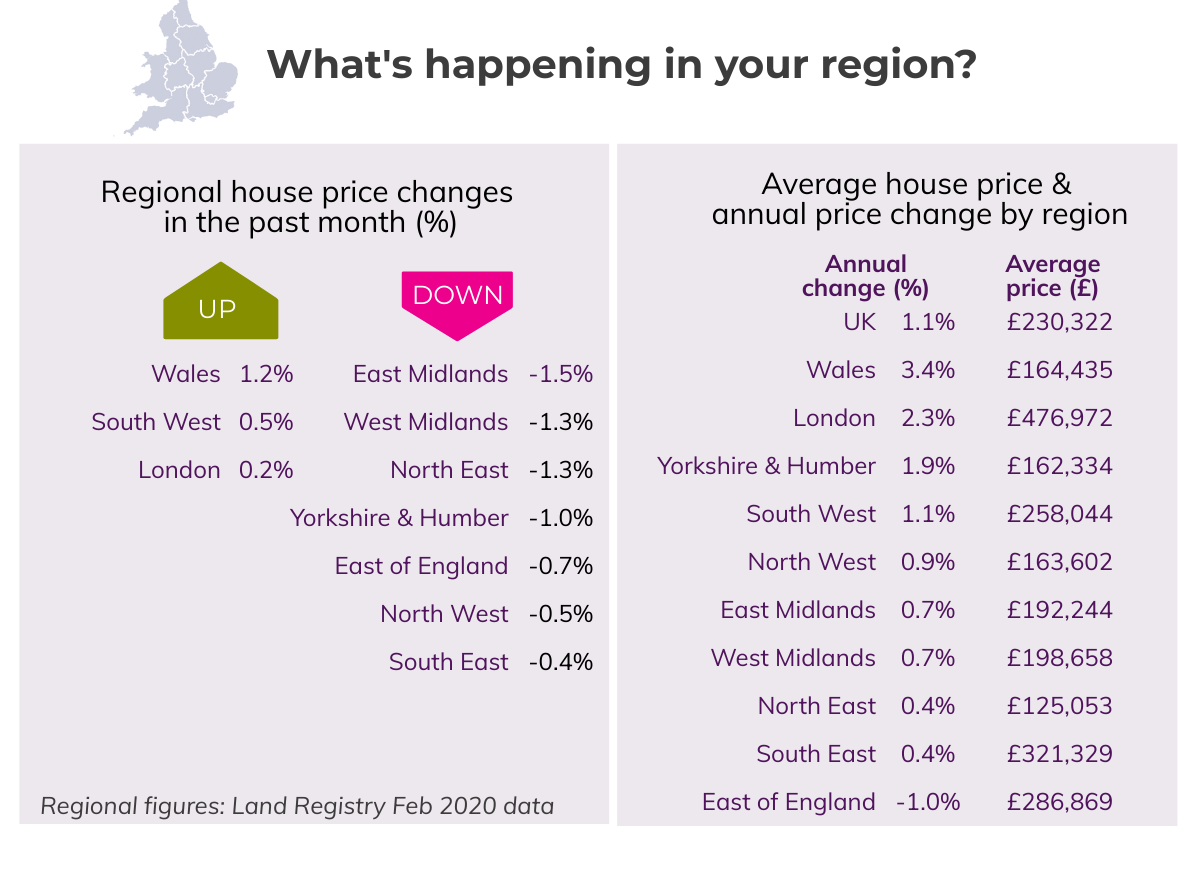 To see how we calculate our House Price Watch click here and to see previous reports click here