Mar 2019 House Price Watch
Average annual house price growth steady at 1.0%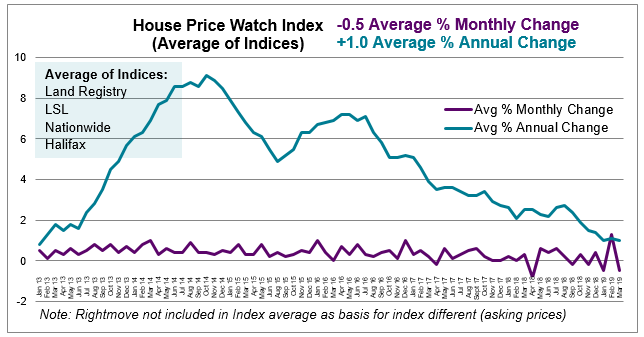 HomeOwners Alliance says: "The average annual rate of house price growth continues to hover around 1%. Confidence from both buyers and sellers is subdued with enquiries and instructions down again this month.  The uncertain economic climate continues to weigh on buyer and seller confidence in some parts of the country. Notably, in London and the South East demand is falling faster than the supply of homes for sale, resulting in declining house prices in these areas.  While, house prices continue to rise in Wales and the North West."
The major indices report modest or negative house price growth this month
The March 2019 House Price Watch average of the major indices indicates house prices are down over the past month (-0.5%) and the average rate of annual house price growth is steady at (1.0%).
Monthly and annual changes in house prices reported by the major indices:
Land Registry refers to Feb data.  Other indices refer to Mar house price data.  Rightmove is excluded from the average as the basis for the index is different (asking prices).
Views from Nationwide and Halifax:
Nationwide: "UK house price growth remained subdued in March.  Measures of consumer confidence weakened around the turn of the year and surveyors report that new buyer enquiries have continued to decline, to their lowest level since 2008. While the number of properties coming onto the market has also slowed this doesn't appear to have been enough to prevent a modes shift in the balance of demand and supply in favour of buyers in recent months."
Halifax: "Annual house price growth held steady and is still within our expectation for the year.  The need to build up a deposit before getting a mortgage is still a challenge for many looking to buy a property.  However, the combined effect of fewer homes for sale and fewer people looking to buy continues to support prices in the long-term.  These conflicting challenges when combined with the ongoing uncertainty around Brexit have had an impact across the country but notably in London, meaning continued subdued price growth for the time being."
Annual house price growth is highest in Wales and the North West and slowest in London and the South East
House prices are up in a number of regions this month: North West (1.3%), East of England (0.5%), West Midlands (0.4%), Wales (0.2%).
And down in other regions: Yorkshire & Humber (-2.5%), London (-2.0%), South East (-1.7%), North East (-0.4%).
Regions with the biggest annual rise in house prices are: Wales (+4.1%) and the North West (4.0%).  House prices are down over the past year in London (-3.8%), the South East (-1.8%) and the North East (-0.8%).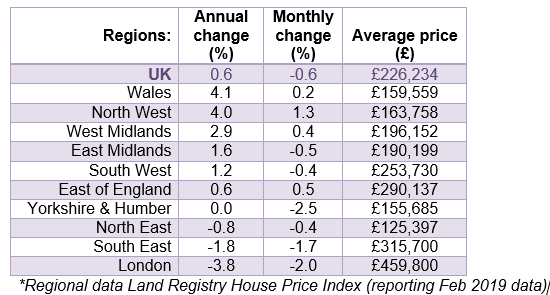 Home sales increase in February
Homes sales increased 1.7% between February and January, 2019. Transactions are 2.7% higher than February 2018. (HMRC Seasonally adjusted residential property transactions)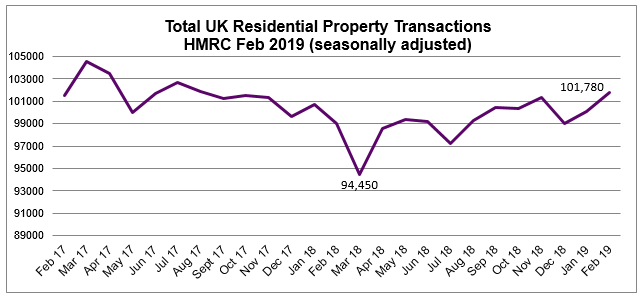 Buyer enquiries and seller instructions continue to fall nationally but stock levels are higher in London and South East where prices are falling
Demand has fallen now for eight successive months and new seller instructions are also down over the past month.  The average number of homes available for sale on estate agent books is steady in most regions (stock levels are higher in London and the South East compared to a year ago). (RICS Mar 2019 UK Residential Market Survey).
 Market views from the Royal Institute of Chartered Surveyors (RICS) and Rightmove:
Rightmove:  "While March marks the start of spring, temperatures have yet to rise in the housing market.  Buying activity remains cooler than usual, with hesitation as some buyers await a more settled political climate.  There's greater resilience the further away you get from the London market and there's a sound bedrock of demand for the right property at the right prices, reinforced by ongoing housing needs combined with cheap mortgage borrowing."
 RICS: "Results show little departure from the subdued picture evident across the sales market for several months now.  This lack of momentum is likely to continue for a while longer."
To see how we calculate our House Price Watch click here and to see previous reports click here
Sign up to our

FREE

weekly newsletter

for the latest news, advice and exclusive money saving offers