July 2019 House Price Watch
House prices up over the past month but transactions at lowest point in 6 years
Most indices report rising monthly house prices but slowing annual house price growth
The July 2019 House Price Watch indicates that across the major indices, house prices have increased on average 0.2% in the past month and annual house price growth has slowed from +1.9% last month to 1.4%.
Transactions at lowest point in 6 years
The latest property transaction figures from HMRC show home sales are at their lowest point in six years.  June 2019 transactions are down 9.7% on the previous month and are down 16% on June 2018. The last time transactions were lower was April 2013 (81,170). (HMRC June 2019 UK residential property transactions)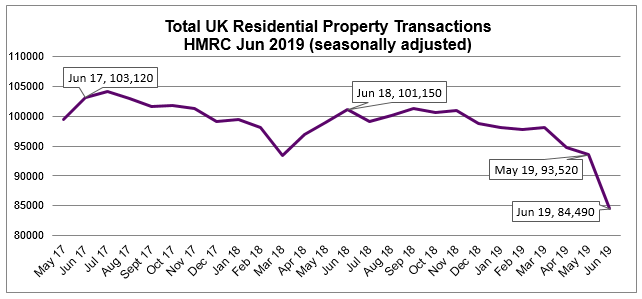 Buyer enquiries are up slightly in the past month but agreed sales have not improved (July RICS residential market survey). Rightmove also report that fewer properties are coming to market, down by 7.8% in July compared with the same period a year ago.  With agreed sales down, estate agents' total average stock per branch is higher than at any time in the last four years. The average time to secure a buyer is now 62 days, the highest at this time of year since 2013.
Regionally, annual house prices are rising fastest in Wales, the Midlands and the North West and are falling in London, South East and South West
House prices are up this past month in all regions except the South West (-0.4%).
The biggest monthly house price rises have been in the North East (+1.7%), the East Midlands (+1.6%), Wales (+1.2%) and the South East (+1.1%).
There is a north-south divide in terms of the annual change in house prices. Positive house price growth is evident in all areas outside of London, the South East and the South West.
The biggest annual rise in house prices is in Wales (+4.4%), followed by the East Midlands (+3.2%).
What the indices say?
HomeOwners Alliance: "At a national level, annual house price growth has slowed somewhat over the past month. Transactions have been particularly sluggish – at their lowest point in six years; suggesting that the uncertain political climate is affecting buyer and seller confidence.  Regionally, house price growth reflects a North-South divide with annual house prices rising outside of London, the South East and the South West. The biggest annual house price growth is evident in Wales, the Midlands and the North West."
Rightmove:  "The housing market fundamentals remain largely sound in many parts of the country, but the current political climate means that the crucial ingredient of confidence has been impaired, and that is causing some potential buyers and sellers to hesitate. Those who have postponed their purchase should note that estate agency branches have more sellers on their books than at any time for the last four years, so there should be more choice of properties to buy. It could be a good opportunity to negotiate a relative bargain in the second half of the year, if they can set aside the continuing Brexit distractions."
Nationwide: "While house price growth has remained fairly stable, there have been mixed signals from the property market in recent months. Surveyors report that new buyer enquiries have increased a little, though key consumer confidence indicators remain subdued. Data on the number of property transactions points to a slowdown in activity, though the number of mortgages approved for house purchase has remained broadly stable. Housing market trends will remain heavily dependent on developments in the broader economy. In the near term, healthy labour market conditions and low borrowing costs will provide underlying support, though uncertainty is likely to continue to exert a drag on sentiment and activity."
Halifax: "We have seen a reported drop off in the number of properties sold during the early months of summer, which may lead some to speculate a downturn is on the horizon. However, new buyer enquiries are up, and favourable mortgage affordability – driven by low interest rates and strong wage growth – should continue to underpin prices for the time being. In the longer-term, we believe there is unlikely to be a step change in market activity until buyers and sellers see some form of resolution to the current economic uncertainty."
RICS: "Survey results show some of the improvement seen in near term expectations last month has been partly reversed this time out. In particular, the outlook for prices three months ahead has turned slightly negative once more, while respondents envisage sales remaining flat over the same time frame. That said, new buyer enquiries picked up slightly for the second consecutive month, although this has yet to feed into any meaningful increase in agreed sales."
To see how we calculate our House Price Watch click here and to see previous reports click here