Jul 2018 House Price Watch
House prices up on average 0.6% in the past month and up 2.6% in the past year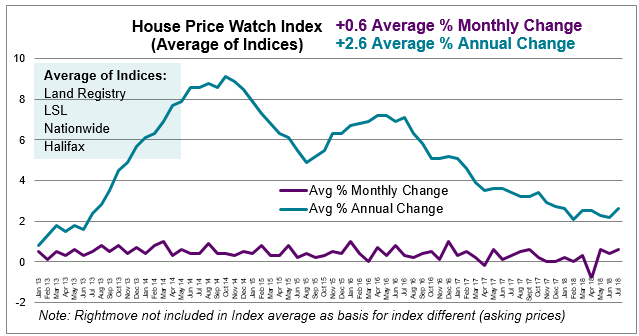 Most of major indices report a rise in house prices in the past month
Halifax (1.4%), Nationwide (0.6%) and Land Registry (0.4%) report house prices up
LSL (-0.2%) and Rightmove (-0.1%) report a fall in house prices
Land Registry refers to June data. Other indices refer to July house price data.
The average of the major indices indicates house prices have risen over the past month (0.6%) and the average rate of annual house price growth is up to (2.6%). (Rightmove is excluded from the average)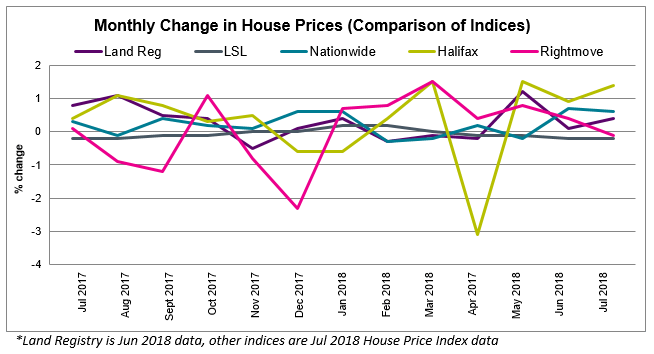 Mixed regional picture — annual house price growth highest in Midlands and Wales, lowest in London and North East
Regions with the biggest monthly and annual change in house prices include: The West Midlands and Wales.
London (-0.7%) and the North East (0.6%) have experienced a fall in house prices over the past year.
Home sales down 3.2% year on year
Home sales dropped 0.8% between June and July 2018. They are 3.2% lower than July last year. (HMRC Seasonally adjusted residential property transactions)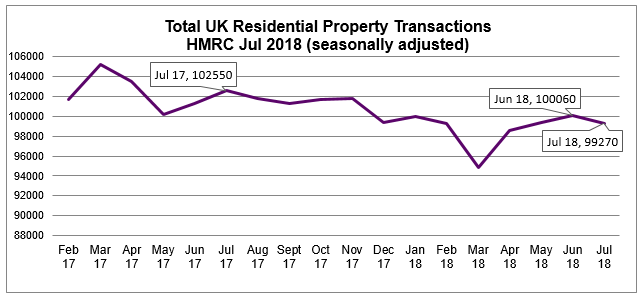 Stock of homes for sale tight – buyer enquiries and new instructions up
There have been modest increases over the past month for new buyer enquiries and new instructions. Average stock levels on estate agent books are relatively stable. (RICS July, 2018 UK Residential Market Survey)
Market commentary:
HomeOwners Alliance: "Nationally, overall activity is down with little pick-up in buyer demand or new seller enquiries. The ongoing shortage of homes available for sale is putting upward pressure on house prices. The market continues to reflect a varied picture regionally with the Midlands and Wales experiencing the fastest pace of house price growth, while London and the North East are experiencing a fall in house prices.
Halifax: "House prices picked up in July, the largest increase since last November. While quarterly and annual rates of house price growth have improved, housing activity remains soft. Despite recent modest improvements in mortgage approvals, the latest survey data for new buyer enquiries and agreed sales suggest that approvals will remain broadly flat until the end of the year. The labour market remains robust with numbers of people in employment rising. Pressures on household finances are also easing as growth in average earnings continues to rise at a faster rate than consumer prices. With the recent rise in the Bank of England Base Rate, we do not anticipate that this will have a significant effect on either mortgage affordability or transaction volumes."
Nationwide: "There was a slight uptick in annual house price growth in July but annual house price growth remains within the fairly narrow range of c2-3% which has prevailed over the past 12 months, suggesting little change in the balance between demand and supply in the market. It is likely that the Bank of England's Monetary Policy Committee will increase rates. While the impact for borrowers is likely to be modest, it's important to note that household budgets have been under pressure for some time because wages have not been rising as fast as the cost of living. Indeed, in real terms (after adjusting for inflation) wage rates are still at levels prevailing in 2005."
Rightmove: "Most regions in the middle and north of Britain have brisk market conditions where buyers eagerly soak up extra supply of suitable property coming to market and where there is enough momentum to support an increase in prices. With less momentum further south, any increase in property coming to market often leads to more property choice and gives buyers more negotiating power. Whilst stock levels are very limited in the brisker market locations, from a national perspective as we enter the summer holiday period the total stock per estate agency branch is at the highest level for nearly three years."
To see how we calculate our House Price Watch click here and to see previous reports click here
Sign up to our

FREE

weekly newsletter

for the latest news, advice and exclusive money saving offers
Let us help you…