Jan 2021 House Price Watch
January 2021 shows the first signs of the housing market coming off the boil with the rate of annual house price growth slowing for the first time since June. We take a look at what the major indices are saying and what's happening with house prices in your area.
Annual house price growth slows for the first time in 7 months
"There are signs that the housing market is calming after a frenzy of activity in recent months. New buyer enquiries and seller instructions are beginning to soften and house price growth is starting to slow with the average annual rate of house price growth 6.8% this month down from 7.0% last month.
It is likely that the current lockdown is deterring some would be buyers or sellers from starting their house purchase or sale right now. As the stamp duty holiday nears its end, the added boost this was providing to the market is also likely to be dissipating."
Most of the indices report house prices down in January: Nationwide (-0.3%), Halifax (-0.3%) and Rightmove (-0.9%).  Land Registry reflecting December house prices notes a rise of +1.2%.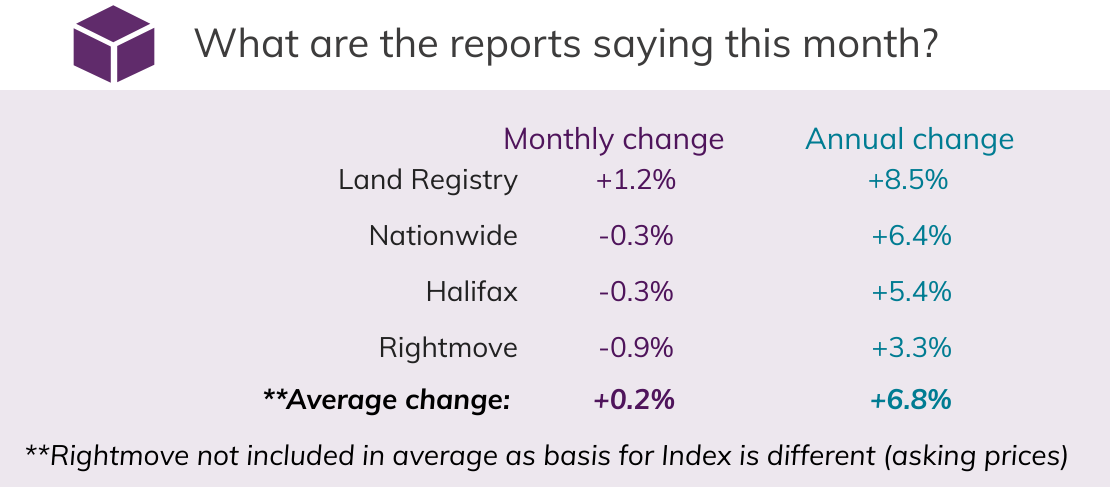 What's happening in your area?
House prices have increased in all regions except London over the past month.
Dec transactions highest in 10 years but 2020 volumes down year on year
UK home sales of just under 130K in December were a 10 year high, up 13% on November and 31.5% higher than December last year.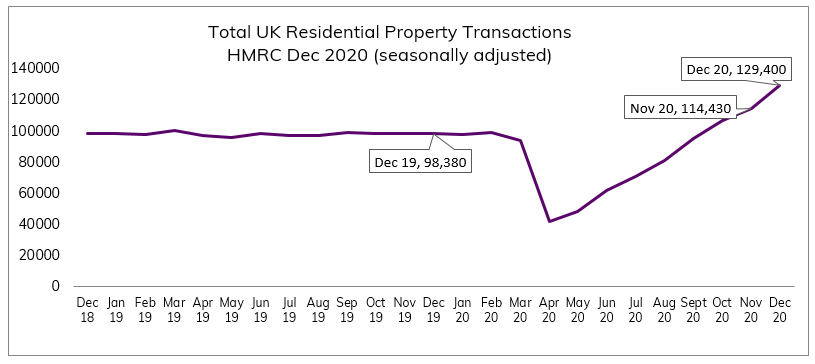 However, overall provisional transaction figures for 2020 indicate that the number of completed home sales is down 11% on 2019 figures (likely as a result of the housing market closure in April/ May).
RICS January residential market survey indicates new buyer enquiries and new listings from sellers have both fallen for the first time in 7 months. However, Rightmove indicates that buyer interest remains high.
What the indices say
RICS: "The January 2021 RICS UK Residential Survey results point to a generally weaker trend in activity across the sales market to open the year. Survey contributors suggest that, although agents have been permitted to remain open during the third national lockdown, the overall situation around the pandemic at present is deterring would-be buyers and vendors."
Nationwide: "January saw the annual rate of house price growth slow modestly – the first monthly decline since June. To a large extent, the slowdown probably reflects a tapering of demand ahead of the end of the stamp duty holiday, which prompted many people considering a house move to bring forward their purchase."
Rightmove:  "Housing market activity in the first few weeks of January often sets the tone for the whole year, though the 2021 outlook is somewhat muddied by the challenges of the pandemic and by the 31st March stamp duty holiday deadline. However, two main things stand out. Firstly, sellers who have come to the market are continuing to price very competitively, with some perhaps still hoping to find a buyer and complete before the tax-saving cut-off. Secondly, buyer activity has continued to exceed the same period a year ago, even though 2020 also had a very active start."
Halifax: "There are some early signs that the upturn in the housing market could be running out of steam, with the annual rate of house price inflation cooling. Industry figures for agreed sales remain well above pre-pandemic levels but new instructions to sell have decreased noticeably, and total stock held by estate agents has risen to its highest level since before the EU referendum in 2016."
See previous House Price Watch reports and How we calculate the House Price Watch average
Sign up to our

FREE

weekly newsletter

for the latest news, advice and exclusive money saving offers