Jan 2018 House Price Watch
Nationally house prices are unchanged in the past month and average annual house price growth is 2.7%.
Nationally, there was no change to house prices in the past month while the rate of annual house price growth continues to slow
There is a mixed picture from the major indices over the past month. Nationwide (0.6%) and Land Registry (0.1%) report a rise in house price growth over the past month. LSL (0%) say monthly house prices are stable.  Halifax (-0.6%) and Rightmove (-2.3%) report a fall in house prices. Land Registry refers to November house price data.  Nationwide, Halifax, LSL and Rightmove refer to December house price data.
Across the major indices, house prices are unchanged in the past month and have slowed to an average rate of annual growth of 2.7% (Rightmove is excluded from the average).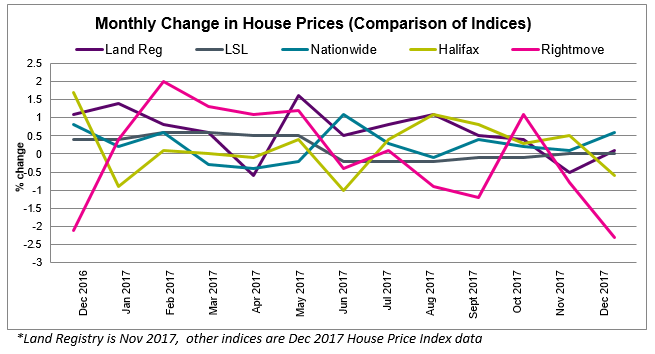 Home sales increased in November
UK home sales are up 0.6% between October and November 2017.  Transactions are 7.1% higher than November 2016.
Mortgage approvals for house purchases, which are a leading indicator of completed house sales, are up slightly 0.4% between October and November.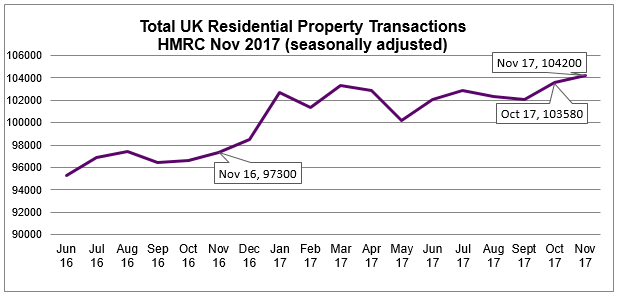 Market commentary:
HOA: "2017 sees a cautious close to the year — pockets of the country are seeing strong house price growth but overall annual house price growth continues to fall.  Looking ahead to 2018, Brexit puts a cloud of uncertainty over the economy, buyer confidence and the housing market. It is unclear at this stage how different regions will be impacted by Brexit. However, demand from first time buyers and those needing to move to accommodate growing families is likely to remain robust. Alongside this demand, a shortage of both sellers and new homes being built means our housing market will continue to be shaped by a lack of supply and we can expect ongoing upward pressure on prices. We would expect annual house price growth in the range of 2% in 2018."
Nationwide:  "Disparity in house prices across the UK has been a recurring theme in recent years. 2017 saw the beginnings of a shift as rates of house price growth in the South moderated towards those prevailing in the rest of the country.  London saw a particularly marked slowdown.  Looking ahead to 2018, how the housing market performs will be determined in large part by developments in the wider economy.  Brexit developments will remain important.  We expect the UK economy to grow at modest pace.  Subdued economic activity and ongoing squeeze on household budgets is likely to exert a modest drag on housing market activity and house price growth. It is not clear how Brexit will impact regional dynamics (its impacts on different sectors and the resulting geographical consequences). We expect house prices to record a marginal gain of around 1% in 2018."
Halifax:  "The housing market in 2017 followed a similar pattern to the previous year. House price growth slowed, whilst building activity, completed sales and mortgage approvals for house purchase all remained flat.  This has been driven by a squeeze on real wage growth and continuing uncertainty over the economy.  However, nationally, house prices in 2018 are likely to be supported by the ongoing shortage of properties for sale, low levels of housebuilding, high employment and a continuation of low interest rates making mortgage servicing affordable in relative terms.  Overall we expect annual price growth to continue in the range of 0-3% at the end of 2018."
Rightmove:  "2017 finishes up with an annual rate of +1.2% and 2018 will be a tale of different markets with a forecast of +1%.   2018 will continue the 2017 trend by being a mixed bag of different price pressures both up and down.  Demand is driven by many factors but two are key and over-ride the backdrop of uncertainty. Firstly, the desire to get onto the housing ladder, which is financially influenced by the bank of Mum and Dad, the rising cost of renting, and the limited time window between the effective zero-rating of first-time buyer stamp duty and prices increasing in response. Secondly is the need for space and schooling for growing families which is hard to postpone. Demand for the right property in these sectors will nudge up prices, with the more buoyant northern half of the country seeing most of the price rise hotspots. In contrast many sellers in the upper end of the market will struggle unless they price more aggressively to tempt wealthier but more hesitant buyers."
Regional Summary:
In the past month, house prices fell in many parts of the country including the North East (-1.0%), London (-0.9%), Yorkshire & Humber (-0.8%), Wales (-0.7%), South West (-0.5%) and East of England (-0.2%).
Areas experiencing the highest annual house price growth include the West Midlands (+7.2%), East Midlands (+6.4%), South West (+6.2%), North West (+6.2%) and East of England (6.0%).
Annual house price growth is slowest in London (2.3%) and the North East (2.3%).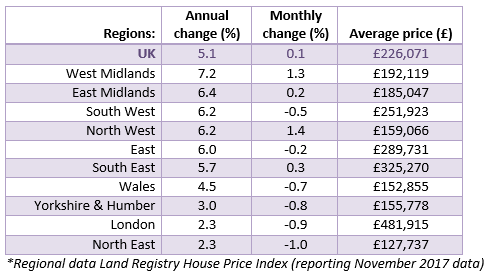 To see how we calculate our House Price Watch click here and to see previous reports click here
Sign up to our

FREE

weekly newsletter

for the latest news, advice and exclusive money saving offers
Let us help you…