Feb 2020 House Price Watch
Home sales increased in January and February and average annual house price growth is +2.1%. However, a slow down is expected with unprecedented actions being taken to curb the spread of the coronavirus. We look at views from experts on how the pandemic may begin to impact the housing market.
Strong start to 2020 but tide expected to turn as coronavirus measures come into effect — What the indices say
HomeOwners Alliance: "Whilst January and February were buoyant months for the housing market, the extensive impact the coronavirus is now likely to have on the economy means the tide is likely to turn rapidly.  With strict stay at home measures ordered, there is likely to be a massive slowdown in housing transactions for the next few months. The longer term impact on house prices will depend on how long it takes for the economy to recover following a period of hibernation."
Nationwide: "UK annual house price growth edged higher in February.  However, the global economic backdrop remains challenging, with the coronavirus outbreak expected to weigh on global activity in the coming quarters."
Halifax: "The UK housing market has remained steady heading into early spring with house prices increasing in February.  Looking ahead there are a number of risks, including the potential impact of coronavirus, which continue to exert pressure on the economy and we wait to see how these will affect housing market sentiment later this year."
Rightmove:  "The market has been waiting for several years for a window of certainty, and 2020 seemed set to be the year when many would look to make a move and satisfy their pent-up housing needs. However, the current fast pace of the housing market could now be temporarily affected by the spread of the Covid-19 coronavirus."
RICS : "The February 2020 RICS Residential Survey results again point to a pick-up in sales market activity during the month. New buyer enquiries, agreed sales and fresh listings all reportedly increased over the survey period, extending a run of positive readings going back to December. That said, although near term sales expectations remain positive, optimism has moderated somewhat, with anecdotal evidence suggesting concerns over the economic impact of the coronavirus are weighing on the outlook to some extent."
Home sales rise in January and February but expected to fall in months ahead
RICS residential market survey indicates new buyer enquiries, agreed sales and fresh listings all reportedly increased in February.  Residential property transaction figures from HMRC show home sales in February of 103,870 are up 4.5% on January and up 6% on February 2019.  Looking ahead, property transactions are expected to fall sharply in April as strict stay at home coronavirus measures are put in place.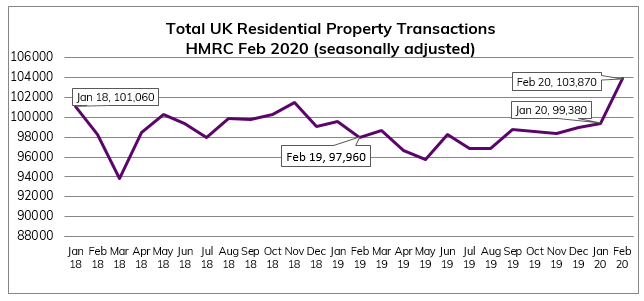 House prices down on average -0.2% in the past month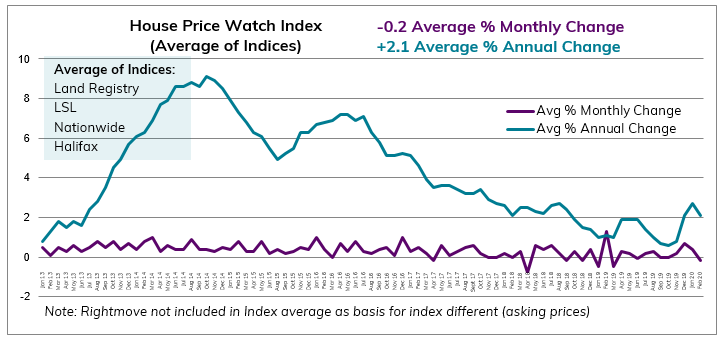 Monthly shifts in house prices reported by the major indices: Land Registry -1.1% (Jan), Nationwide +0.3%, Halifax +0.3%, Rightmove +0.8% (Feb)
The Feb 2020 House Price Watch report of the major indices indicates house prices are down -0.2% over the past month and the average annual rate of house price growth is 2.1%.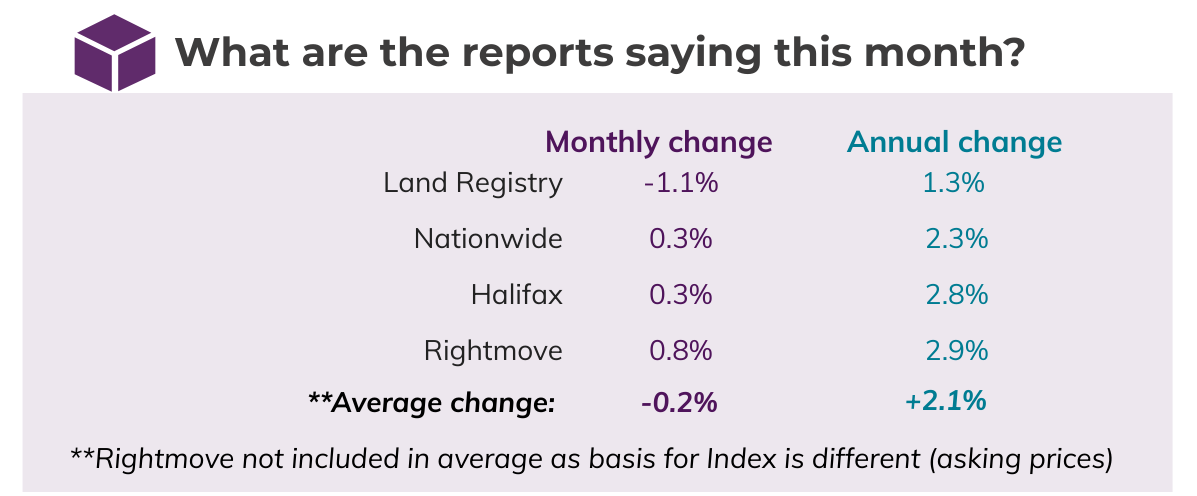 Land Registry reports a slowdown in house prices in most parts of the country in January despite strong market activity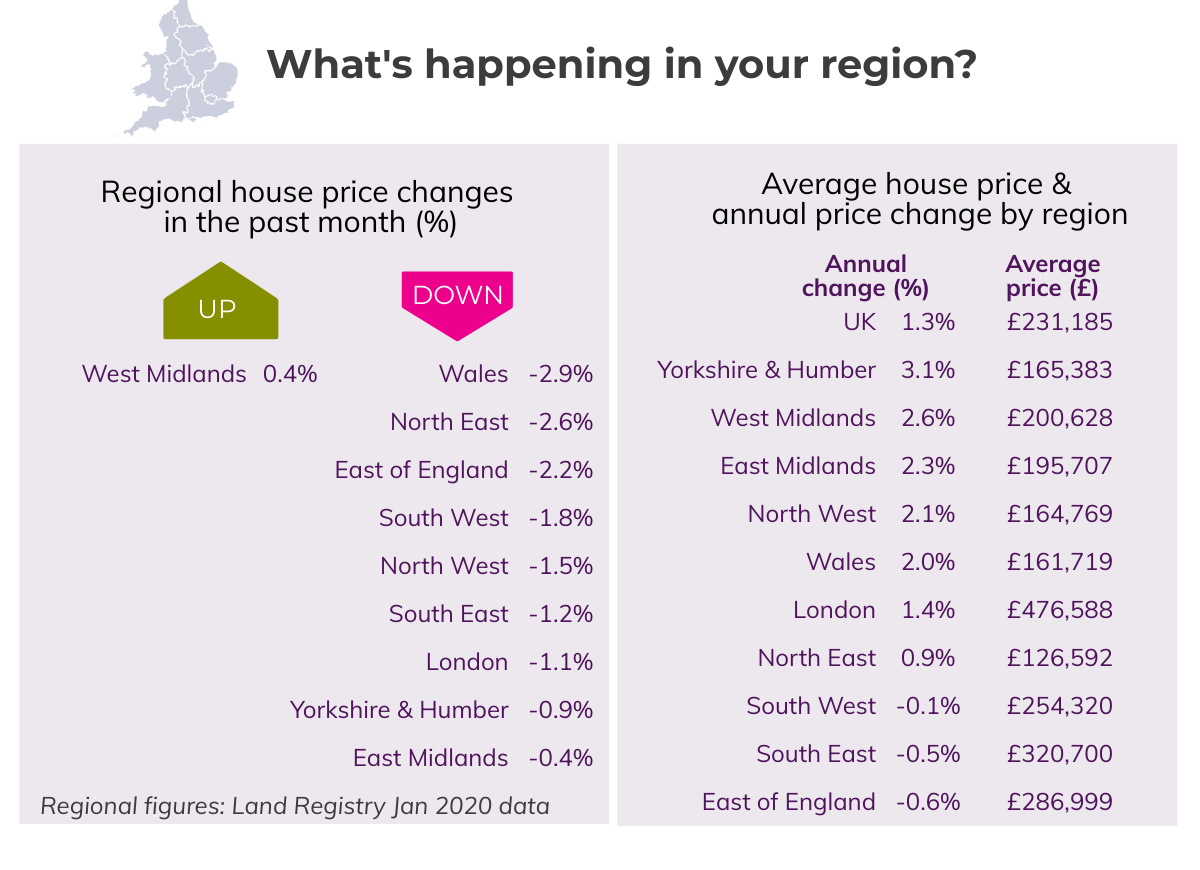 To see how we calculate our House Price Watch click here and to see previous reports click here