Feb 2019 House Price Watch
Average annual house price growth steady at 1.1%, below wage inflation
The average annual rate of house price growth is 1.1%.  Wages are now rising faster than house prices with wage growth estimated to be 3.5% (source: ONS).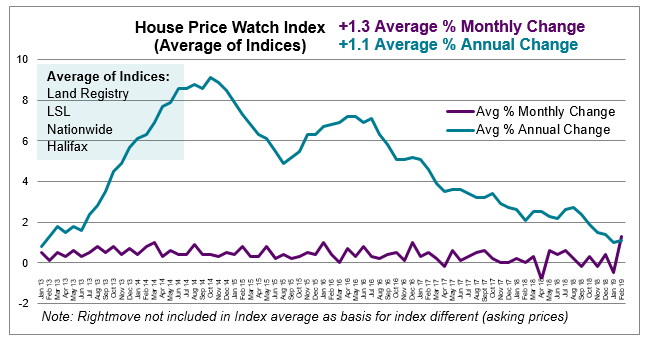 HomeOwners Alliance says: "The average annual rate of house price growth continues to hover around 1%. With house price inflation now below annual wage growth of 3.5%, buyer affordability should improve. Brexit uncertainty is still seen to be weighing heavily on both buyer and seller confidence and hampering overall market activity. The question is whether improving buyer affordability can overcome the current climate of uncertainty."
Mixed monthly reports from major house price indices
According to Halifax, house prices are up 5.9% in February, while Nationwide says house prices are down -0.1% this month.
Here are the monthly and annual changes in house prices reported by the major indices: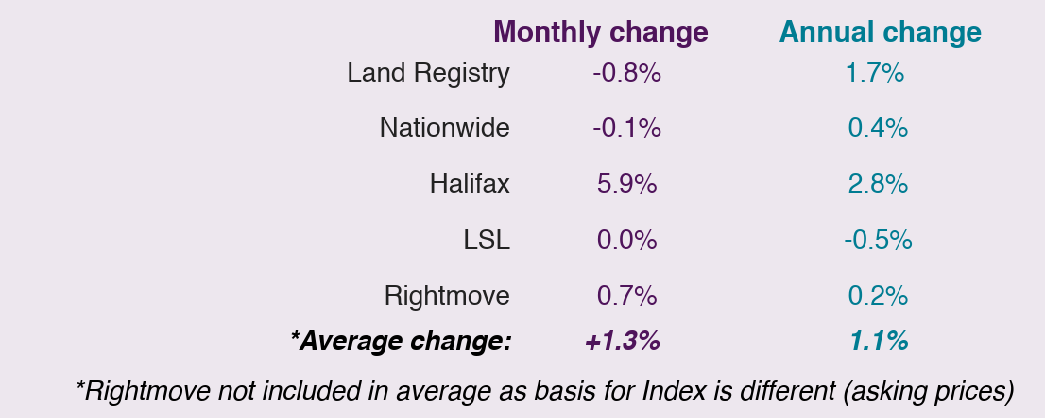 The average of the major indices indicates house prices are up over the past month (1.3%). The average rate of annual house price growth is (1.1%).  (Rightmove is excluded from the average). Land Registry and LSL refer to Jan data.  Other indices refer to Feb house price data.
Views from Nationwide and Halifax:
Nationwide: "After almost grinding to a halt in January, annual house price growth remained subdued in February, with prices just 0.4% higher than the same time last year.  Indicators of housing market activity, such as number of property transactions and the number of mortgages approved for house purchase have remained broadly stable in recent months but survey data suggests sentiment has softened."
Halifax: "House prices have grown on an annual, quarterly and monthly basis for the first time since October 2018.  The shortage of homes for sale will certainly be playing a role in supporting prices.  Annual house price growth is still subdued compared to 2015 and 2016 when average growth was 8.3%.  People are still facing challenges in raising a deposit which means we continue to expect subdued price growth for the time being, however, the number of sales in January shows that overall resilience of the market is still evident."
House prices are down in most areas this month. Annual house price growth is highest in Wales and the Midlands and slowest in London and the East of England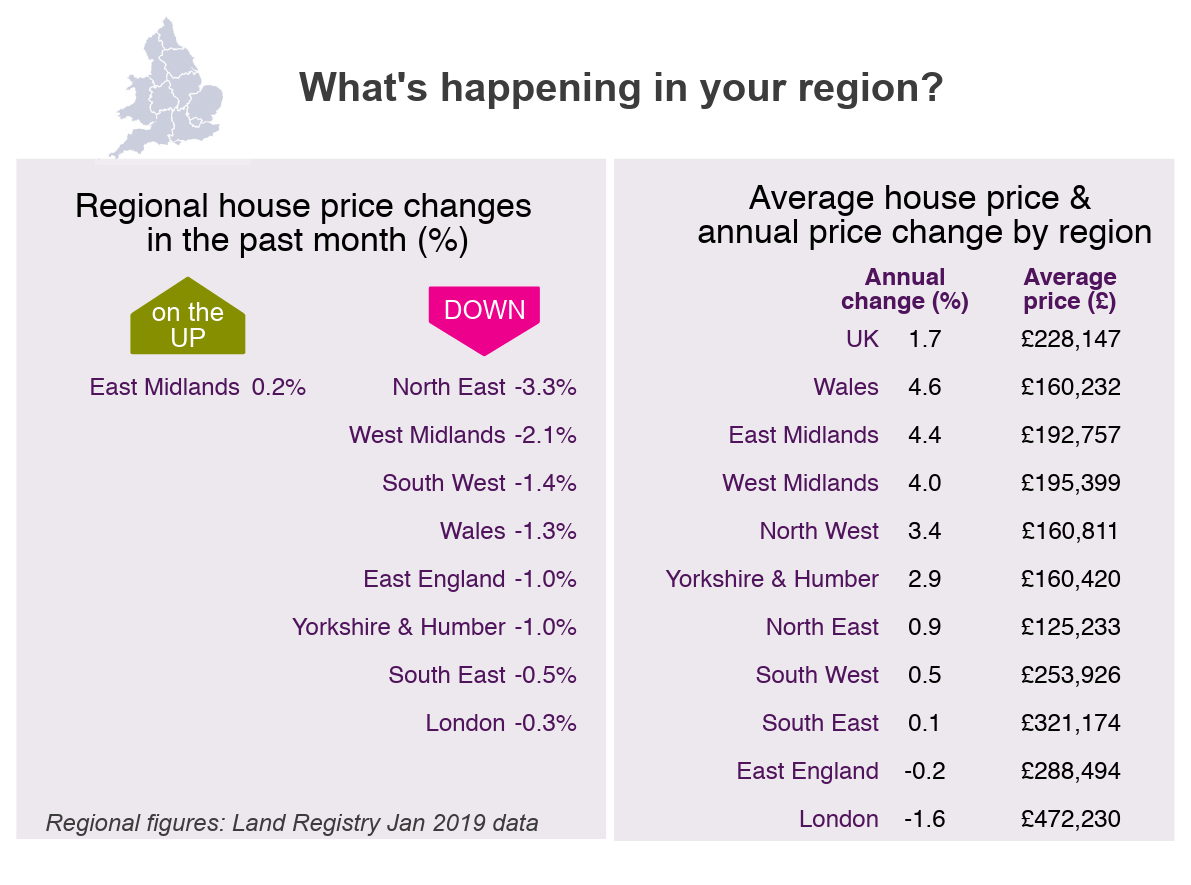 Total 2018 homes sales are lower than 2017 but higher in the first month of 2019
2018 transactions are down 2.7% on 2017. There were approximately 1.190 million residential property transactions in 2018 and 1.223 transactions in 2017. Home sales are up 0.8% in the first month of 2019 and up 1.3% on January 2018. (HMRC Seasonally adjusted residential property transactions)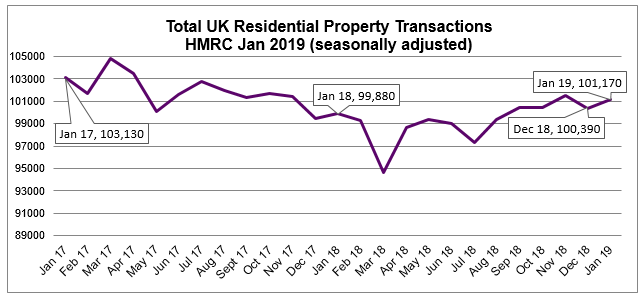 Brexit uncertainty is impacting buyer enquiries and seller instructions
Demand has fallen now for five successive months and new seller instructions have fallen for the last six months.  As a result, average stock levels on estate agents' books remains close to record lows. (RICS Dec, 2018 UK Residential Market Survey).
The Royal Institution of Chartered Surveyors comments on the impact of Brexit: "Results continue to signal the market is struggling for momentum, with key indicators on enquiries, sales and new instructions all remaining subdued. In an extra question included this month, aimed at drawing out the most significant force holding back activity at this point in time, 77% of Chartered Surveyors across the UK cited Brexit uncertainty as the biggest challenge facing the housing market at present. Furthermore, 71% felt it was impacting both buyers and sellers, while only 8% were of the view that Brexit was not having an affect on either."
Forward outlook from Rightmove:  "Longer daylight hours and green shoots appearing in gardens herald the start of the traditionally more buoyant spring market. Sellers' subdued pricing is now being outstripped by higher average wage growth, meaning that buyer affordability is on the rise at the fastest rate in nearly eight years. Buyers are also being given the leg-up by cheap mortgage rates, if they can meet lenders' criteria and lay their hands on a large enough deposit. In theory the scene would be set for an active spring if it were not for the uncertain political backdrop. As it is, the extent of that activity will depend on the degree of hesitancy among sellers to try to sell and be realistic on price, and buyers overcoming short-term uncertainty and taking a medium-term view that this is a good time to buy. As always those decisions will also be influenced by local market dynamics."
To see how we calculate our House Price Watch click here and to see previous reports click here
Sign up to our

FREE

weekly newsletter

for the latest news, advice and exclusive money saving offers