Feb 2018 House Price Watch
Nationally house prices are up 0.2% in the past month and average annual house price growth is 2.6%.

Early 2018 housing market activity remains subdued
With the exception of Halifax, the major house price indices report a rise in house prices over the past month. Rightmove (0.7%), Nationwide (0.6%), Land Registry (0.4%) and LSL (0.2%) report a rise in house price growth over the past month. Halifax (-0.6%) report a fall in house prices. Land Registry refers to December house price data. Nationwide, Halifax, LSL and Rightmove refer to January house price data.
Across the major indices, house prices are up slightly in the past month (0.2%) and have slowed to an average rate of annual growth of 2.6% (Rightmove is excluded from the average).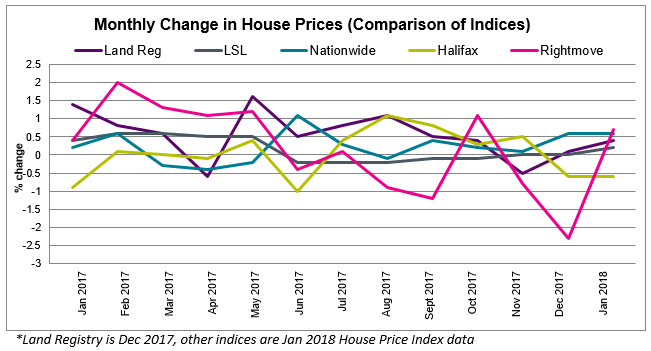 Home sales, mortgage approvals and new buyer and seller enquiries all decline
UK home sales are down 3.8% between November and December 2017. Transactions are 0.1% lower than the same month last year.
Mortgage approvals for house purchases, which are a leading indicator of completed house sales, decreased significantly 5.7% between November and December.
RICS report a decline in both new buyer enquiries and new instructions to sell over the past month leaving the stock of homes available for sale on estate agent books further depleted.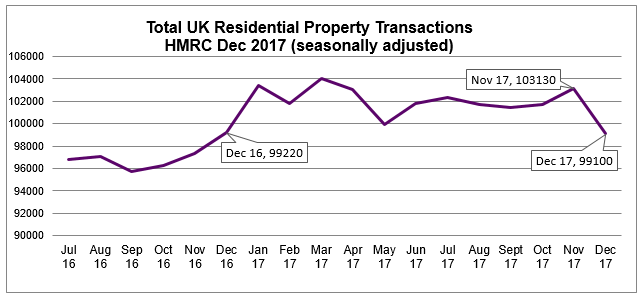 Market commentary:
Nationwide: "Activity has been subdued on both the demand and supply side of the market. The flow of properties coming onto estate agents' books has been more of a trickle than a torrent for some time now and the lack of supply is likely to be the key factor providing support to house prices."
Halifax: "Household finances are still under pressure as consumer prices continue to grow faster than wages. It is still too early to see any impact for first-time buyers from the abolition of stamp duty on purchases of up to £300,000 which was announced in the November budget. Despite the recent rise in Bank of England base rate, mortgage rates are still very low. This combined with an ongoing acute shortage of properties for sale will continue to underpin house prices over the coming months."
Rightmove: "The average price of property coming to market is similar to the rise at this time a year ago with virtually identical number of properties coming to market. Buyers are still price-sensitive with sales agreed numbers in the last quarter of 2017 down 5.5% on the same period a year ago. Sellers of properties suitable for first-time buyers are set to have the greatest chance of sales success following last Autumn's stamp duty saving boost."
RICS: "Results show the year starting off in a very similar vein to the closing stages of 2017. New buyer enquiries, instructions and sales all continue to drift lower (in net balance terms), while near term expectations point to a flat outturn for activity in the coming months. Having said that, there is a little more optimism regarding the twelve month sales outlook which is now at least modestly positive in virtually all parts of the country."
Regional Summary
In the past month, house prices nudged upwards in most parts of the country particularly the North East (2.7%), South West (1.0%), Wales (1.0%).
Areas experiencing the highest annual house price growth include the South West (7.5%) West Midlands 6.3%), East Midlands (6.3%).
Annual house price growth is slowest in London (2.5%) and Yorkshire & Humber.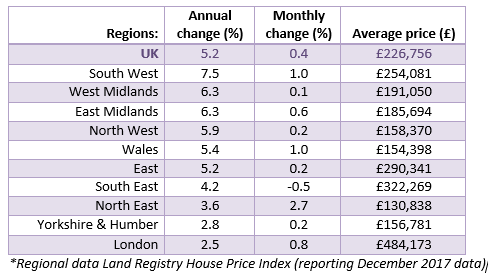 To see how we calculate our House Price Watch click here and to see previous reports click here
Sign up to our

FREE

weekly newsletter

for the latest news, advice and exclusive money saving offers
Let us help you…