Dec 2019 House Price Watch
House prices accelerate as 2019 comes to a close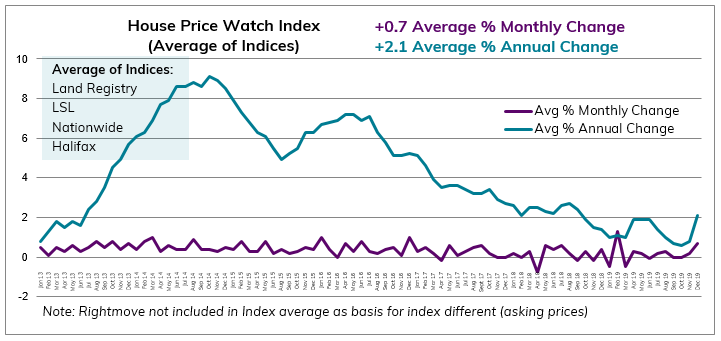 In the Dec 2019 House Price Watch, the major indices report the following changes in house prices over the past month: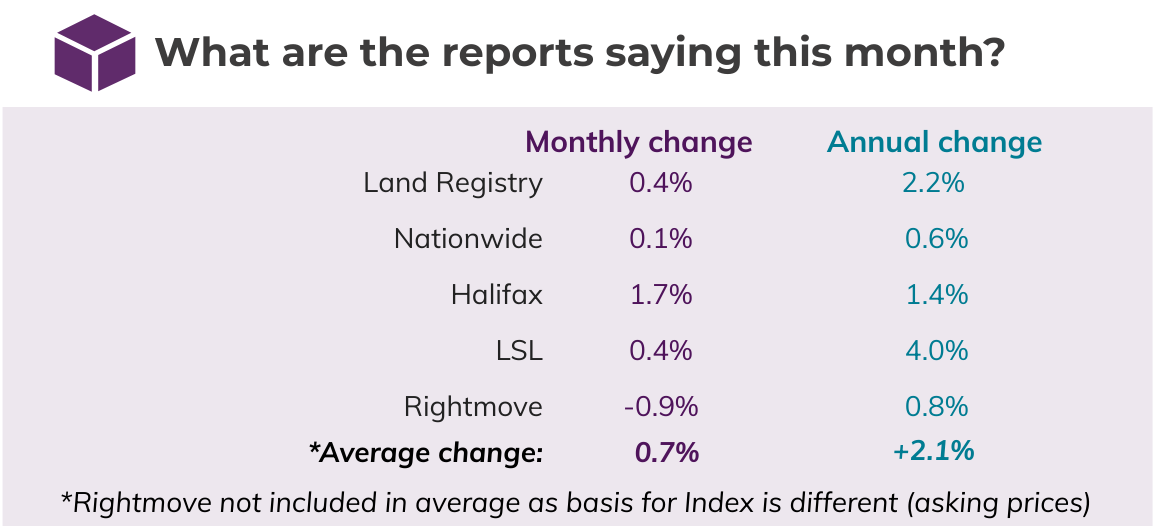 House price growth picked up in the last month of 2019 with house prices up across the major indices on average 0.7% in the past month and up 2.1% in the past year.
House prices are up over the past year in most regions
Most areas of the UK have experienced a rise in house prices over the past year.  The most significant rates of annual house price growth are in Wales (+7.8%), the West Midlands (+4.0%) and the North West (+3.8%).
There has been a slow-down over the past year in the East of England (-0.7%) and modest annual growth in the North East (1.4%), South West (1.1%)/ South East (1.0%) and London (0.2%).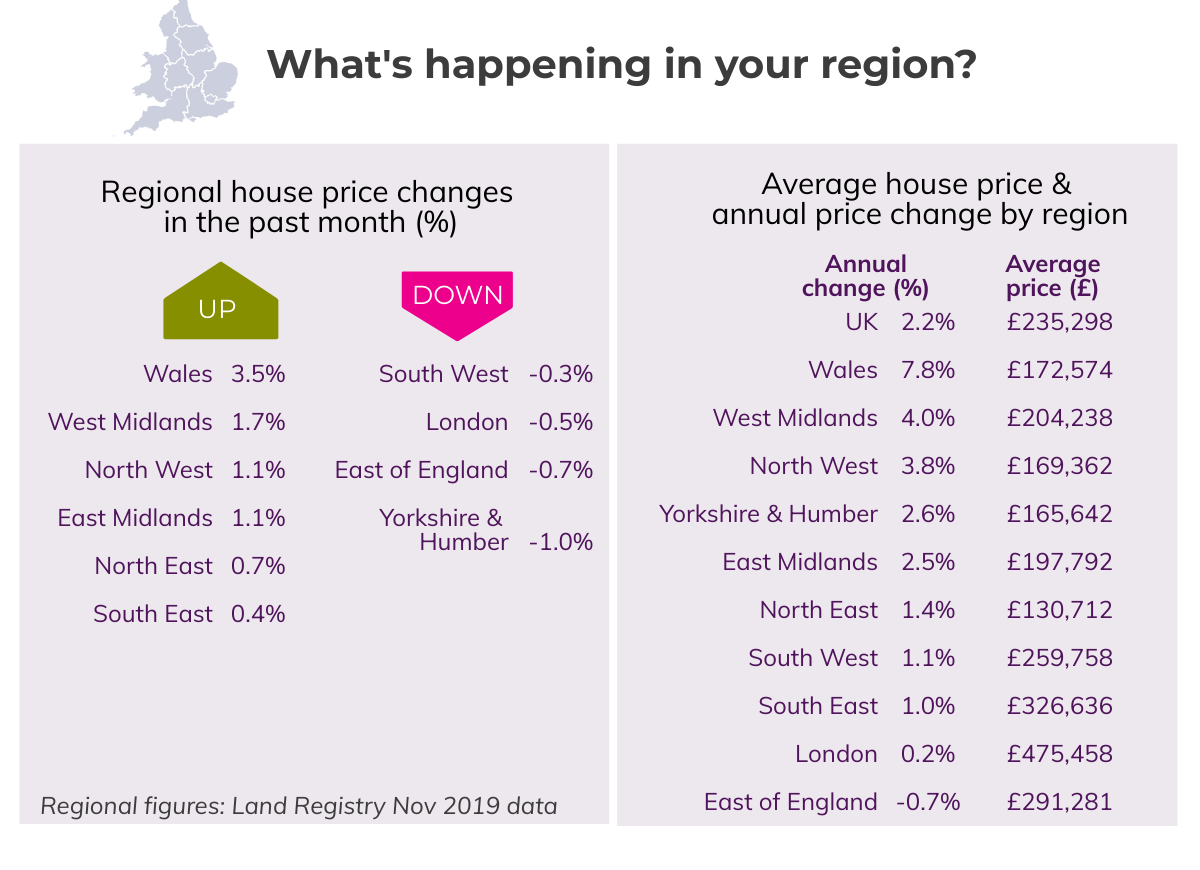 New buyer enquiries and seller instructions improve in December
RICS residential market survey reports a rise in new buyer enquiries in December. Agreed sales and seller instructions also increase (though more modestly) over the month. For 2019, Rightmove reports that buyer demand is almost level with the previous year, but that the number of properties coming to market is down by 8%.  As a result, the available properties for sale on estate agent books is at near record lows.
What the indices say – predictions for 2020
Most of the indices are predicting more robust activity and higher house price inflation in 2020:
HomeOwners Alliance: "House price growth accelerated as 2019 came to a close. The average annual rate of house price growth across the major indices for 2019 is near 2%. Looking ahead, 2020 should see an end to the period of uncertainty and we would expect to see buyer and seller confidence improve and result in increased activity this year.  The ongoing shortage of homes available for sale may both constrain activity and put upward pressure on house prices. HomeOwners Alliance expects to see modest annual house price growth nationally of 2% in 2020."
Nationwide: "Annual UK house price growth edged up as 2019 drew to a close. Indicators of UK economic activity were fairly volatile for much of 2019, but the underlying pace of growth appeared to slow as a result of weaker global growth and an intensification of Brexit uncertainty. Looking ahead, economic developments will remain the key driver of housing market trends and house prices. Much will continue to depend on how quickly uncertainty about the UK's future trading relationships lifts as well as the outlook for global growth. Overall, we expect the economy to continue to expand at a modest pace in 2020, with house prices remaining broadly flat over the next twelve months."
Rightmove:  "With much of the political uncertainty removed, we expect that the number of properties for sale will recover as more new sellers come to market, making up some of this year's lost ground. However, property supply is still limited, with estate agents having the lowest proportion of properties available for sale in two years, and this will fuel modest gains in the national average asking price of property coming to market. Rightmove predicts that the price of property coming to market in Britain will rise by 2% in 2020."
Halifax: "Average house prices rose by 4% over 2019, at the top of our predicted range of growth for the year. Looking ahead, we expect uncertainty in the economy to ease somewhat in 2020, which should see transaction volumes increase and further price growth made possible by an improvement in households' real incomes. The shortage of homes for sale and low levels of house-building will continue to limit supply, while the ongoing challenges faced by prospective buyers in raising deposits will serve to constrain demand. As a result, we expect a modest pace of gains to continue into next year."
RICS: "The December 2019 RICS Residential Market Survey results point to an uplift in sentiment following the result of the General Election. Sales expectations have risen sharply and a number of key activity metrics have moved into positive territory for the first time in several months. That said, this is also expected to lead to a pick-up in house price inflation both in the coming months and across the year ahead as a whole."
To see how we calculate our House Price Watch click here and to see previous reports click here
Sign up to our

FREE

weekly newsletter

for the latest news, advice and exclusive money saving offers
Let us help you…