Dec 2018 House Price Watch
Average annual rate of house price growth slows to 1.4% — slowest in 5 years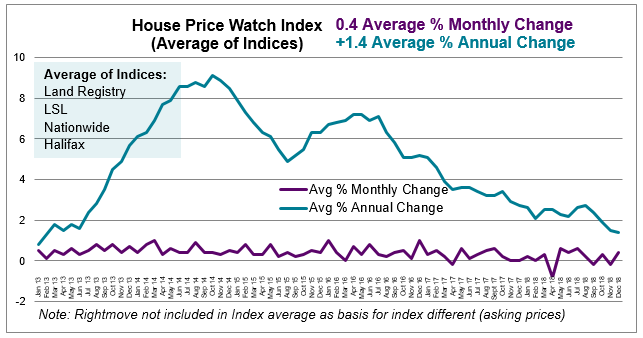 UK house prices are up on average 0.4% in the past month
The major indices report the following shifts in house prices over the past month:
Halifax (2.2%), and LSL (0.2%) indicate house prices are up
Rightmove (-1.5), Nationwide (-0.7%) and Land Registry (-0.1%) – indicate house prices are down
Land Registry and LSL refer to Nov data. Other indices refer to Dec house price data.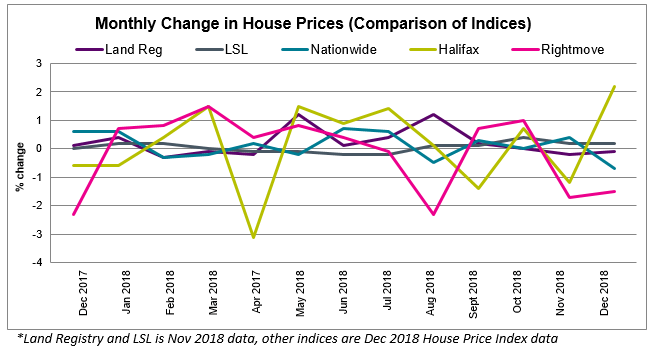 The average of the major indices indicates house prices are up over the past month (0.4%) and the average rate of annual house price growth has slowed further to (1.4%).  This is the slowest rate of average annual house price growth since February 2013. (Rightmove is excluded from the average).
Annual house price growth is highest in Wales and slowest in London
The country is split as to whether house prices are up or down:
On the up this month include: North East (1.2%), South West (1.1%), East of England (0.8%), East Midlands (0.3%) and Wales (0.2%)
Down this month: Yorkshire & Humber (-1.3%), London (-1.2%), North West (-0.6%), West Midlands (-0.4%), South East (-0.1%)
Regions with the biggest annual rise in house prices include: Wales (4.6%), West Midlands (4.6%), East Midlands (4.4%), South West (4.3%).
London has experienced a fall in house prices this year (-0.7%).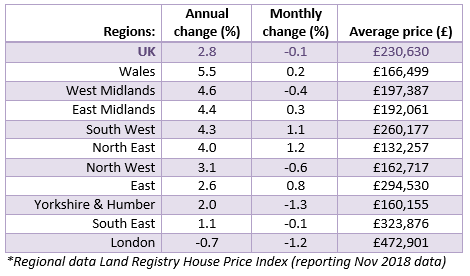 2019 Market predictions:
HomeOwners Alliance: "On a national level, the annual rate of house price growth continues to slow – to the lowest level seen in close to five years. Both buyers and sellers are cooling amidst the current climate of political and economic uncertainty. Still, there are pockets of the country where house prices are climbing. The outlook for 2019 depends largely on how quickly certainty on Brexit and the economy can be provided.  We expect to see slow house price growth in 2019, in the region of 0.5%-1.5%."
Nationwide: "UK house price growth slowed noticeably as 2018 drew to a close, with prices just 0.5% higher than December 2017. It is likely that the recent slowdown is attributable to the impact of the uncertain economic outlook on buyer sentiment. Near term prospects will be heavily dependent on how quickly this uncertainty lifts, but ultimately the outlook for the housing market and house prices will be determined by the performance of the wider economy – especially the labour market. The economic outlook is unusually uncertain. However, if the economy continues to grow at a modest pace, with the unemployment rate and borrowing costs remaining close to current levels, we would expect UK house prices to rise at a low single-digit pace in 2019".
Halifax: "Overall, house price growth in 2018 was very much within the range of 0-3% as we forecast at the start of the year. In 2019, we're expecting continued stability in house prices with between 2% and 4% price inflation. This is slightly stronger than 2018, but still fairly subdued by modern comparison. However, this expectation will clearly be dependent on the Brexit outcome, with risks to both sides of our forecast."
RICS: "It is evident that the ongoing uncertainties surrounding how the Brexit process plays out is taking its toll on the housing market. Caution is visible among both buyers and vendors and where deals are being done, they are taking longer to get over the line. Significantly the forward-looking indicators reflect the suspicion that the political machinations are unlikely to be resolved anytime soon. The bigger risk is that this now spills over into development plans making it even harder to secure the uplift in the building pipeline to address the housing crisis."
Rightmove:  "Rightmove's forecast for 2018 was that prices would rise by a subdued 1% as lacklustre wage growth and tighter lending criteria could no longer support rising prices in some regions. However, the northern regions are keeping the national figure in positive territory as 2018 draws to a close. We forecast that 2019 will see a similar pattern with the north still broadly out-performing the south, though our prediction for the year ahead is slightly more muted with the overall national average flat at 0%."
To see how we calculate our House Price Watch click here and to see previous reports click here
Sign up to our

FREE

weekly newsletter

for the latest news, advice and exclusive money saving offers
Let us help you…