Aug 2019 House Price Watch
House prices are up but the pace of annual house price growth slows further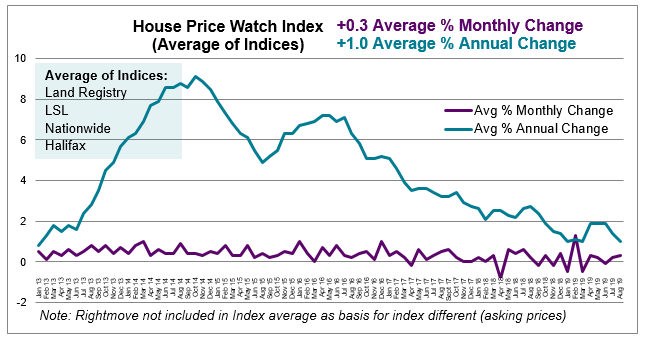 Most of the indices report steady or rising house prices over the past month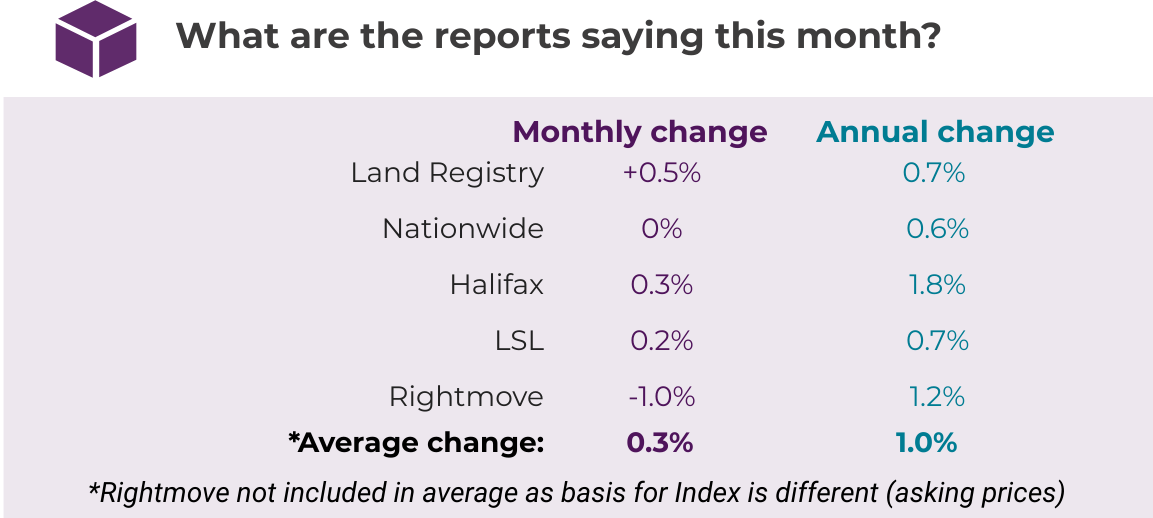 The August 2019 House Price Watch indicates that across the major indices, house prices have increased on average 0.3% in the past month and annual house price growth has slowed from +1.4% last month to 1.0%.
Transactions at lowest point in 6 years
The latest residential property transaction figures from HMRC show that home sales fell again in July, down 8.5% on June and down 12% on July, 2018.  The last time transactions were lower was six years ago in April 2013 (81,170). (HMRC July 2019 UK residential property transactions)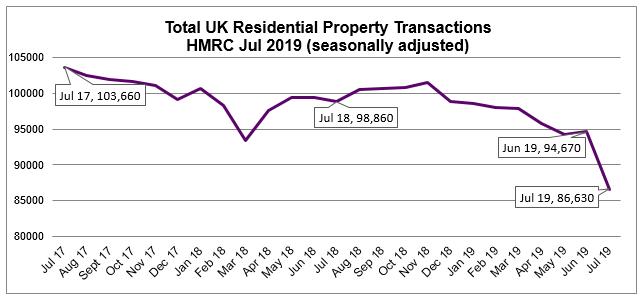 The number of buyer enquiries and seller instructions is virtually unchanged in August. But, agreed sales have decreased further according to the RICS residential market survey. Rightmove also report that fewer properties are coming to market, down by 7.8% this month compared with the same period a year ago.  However, with agreed sales down, estate agents' total average stock per branch is actually higher than at any time in the last four years. The average time to secure a buyer is now 62 days, the highest at this time of year since 2013.
House prices are up in most regions over the past month but an increasing number of areas have experienced a fall in house prices over the past year
House prices are up this past month in all regions except the North East (-2.1%) and the South East (-0.7%).
The number of regions reporting a fall in house prices over the past 12 months has expanded. While declining house prices have been evident in London for some time, house prices are now down year on year in the North East (-2.9%), South East (-2.0%), London (-1.4%) and the East of England (-0.5%).
Wales continues to be the region experiencing the biggest rise in house prices over the past 12 months (+4.2%).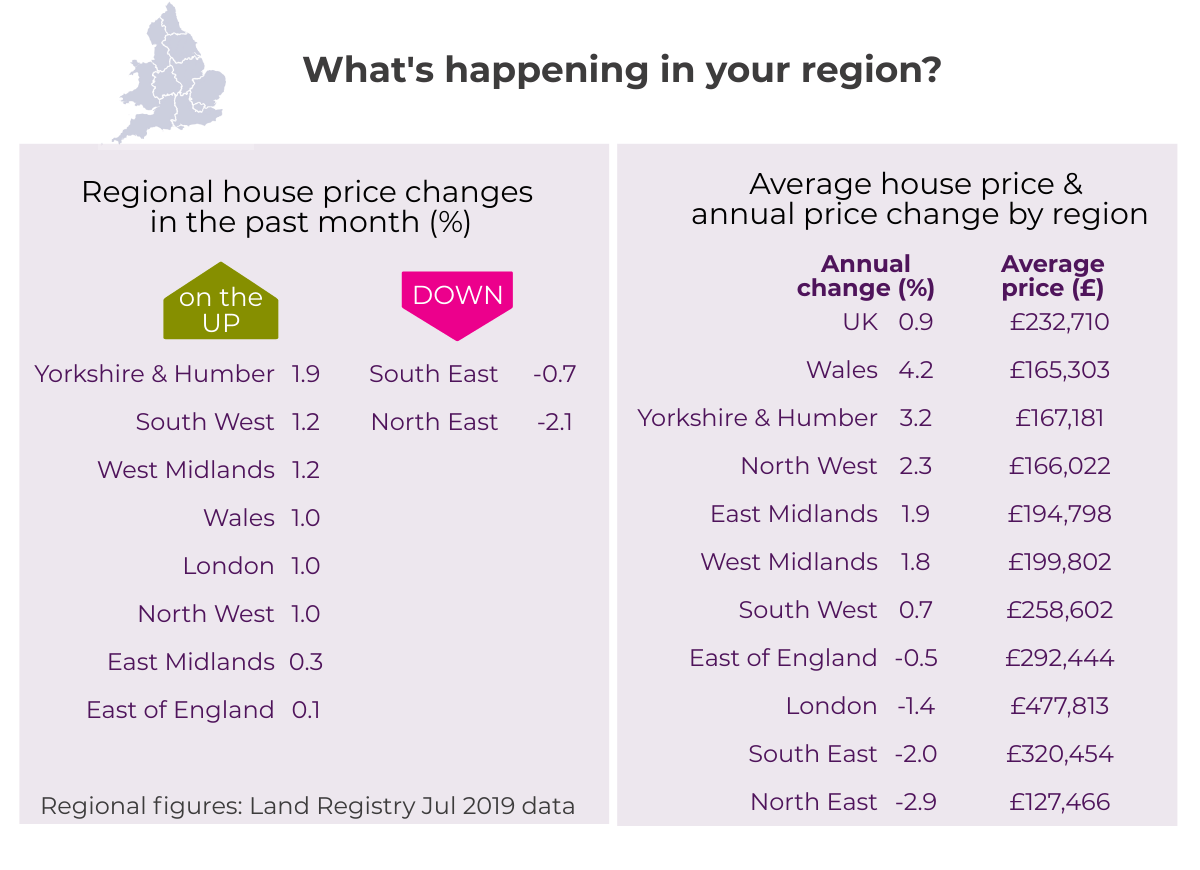 What the indices say?
HomeOwners Alliance: "At a national level, annual house price growth has slowed in recent months. Transactions have been particularly sluggish – at their lowest point in six years – suggesting ongoing Brexit uncertainty is affecting buyer and seller confidence.  Regionally, we have been seeing falling house prices in London for some time but there are signs this trend is extending to other areas of England. Annual house price growth continues to be most buoyant in Wales."
Rightmove agent view:  "Many vendors at this moment in time seem happy to demand slightly lower asking prices if it means they can get the deal out the door as quickly as possible in light of the ongoing Brexit uncertainty, with buyers correspondingly capitalising on the newfound affordability that creates. The 'wait and see approach' doesn't seem to be as attractive as it once was and the more confident buyers are well suited to this change. It will be interesting to see how the market responds in the next couple of months once it has adjusted to the new Prime Minister and political chatter surrounding all things Brexit." Glynis Frew, CEO of Hunters
Nationwide: "While house price growth has remained fairly stable, there have been mixed signals from the property market in recent months. Surveyors report that new buyer enquiries have increased a little, though key consumer confidence indicators remain subdued. Data on the number of property transactions points to a slowdown in activity, though the number of mortgages approved for house purchase has remained broadly stable. Housing market trends will remain heavily dependent on developments in the broader economy. In the near term, healthy labour market conditions and low borrowing costs will provide underlying support, though uncertainty is likely to continue to exert a drag on sentiment and activity."
Halifax: "There was no real shift in house prices in August. This further extends the predominantly flat trend we've seen over the last six months, with the average house price having barely changed since March. While ongoing economic uncertainty continues to weigh on consumer sentiment – with evidence of both buyers and sellers exercising some caution – a number of important underlying factors such as affordability and employment remain strong. Although the housing market will undoubtedly be influenced by events in the wider economy, it continues to show a degree of resilience for the time being. We should also not lose sight of the fact that the single biggest driver of both prices and activity over the longer-term remains the dearth of available properties to meet demand from buyers."
RICS: "Survey results point to a renewed deterioration in near term expectations, with respondents anticipating a decline in activity over the next three months. Brexit uncertainty is again highlighted as a significant factor causing hesitation amongst buyers and vendors. Nevertheless, a more stable trend in sales is envisaged at the twelve month horizon."
To see how we calculate our House Price Watch click here and to see previous reports click here
Sign up to our

FREE

weekly newsletter

for the latest news, advice and exclusive money saving offers
Let us help you…