Apr 2018 House Price Watch
UK house prices edge upwards on average 0.3% in the past month and up 2.5% in the past year
Nationally, rates of house price growth differ across the major indices
Rightmove (1.5%) and Halifax (1.5%) report a rise in house prices in March
LSL (0.0%) reports stable house prices in March.
Nationwide (-0.2%) and Land Registry (-0.1) report a fall in house prices.
Land Registry refers to February data. Other indices refer to March house price data.
The average of the major indices indicates house prices are up slightly over the past month (0.3%) along with the annual rate of house price growth (2.5%) (Rightmove is excluded from the average).
House prices fall in London over past 12 months
Over the past 12 months, house prices have risen in all areas but London (-1.0%).
In the past month, house prices have fallen in a number of areas in the country according to the latest regional data from Land Registry.  London (-2.2%) has seen the biggest fall in prices, followed by the South West (-1.1%), the East of England (-0.4%), South East (-0.1%) and Yorkshire & Humber  (-0.1%).
The West Midlands (7.3%) and East Midlands (6.3%) have the fastest annual rates of house price growth.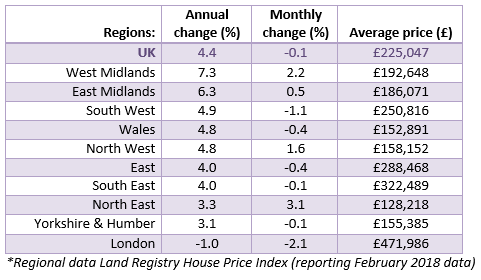 Buyer enquiries and seller instructions remain subdued.  Difficult market conditions in London increasingly apparent
RICS reports a continuing decline in both new buyer enquiries and new instructions to sell over the past month. The stock of homes available for sale on estate agent books is near an all-time low. Rightmove report 5% fewer properties In March than a year ago.  In London, where difficult market conditions are apparent, RICS reports a rise in the number of properties being withdrawn from the market for sale when compared with a year ago.
Home sales and mortgage approvals decline in February
With a lack of choice hindering demand, agreed sales continue to fall.
UK home sales dipped 0.3% between January and February.  Transactions are 0.7% lower than February 2018.
After the sharp rise in mortgage approvals for house purchases in January, mortgage approvals fell by 4.8% in February (approvals are down by 7% compared to the same time a year ago). Mortgage approvals are a leading indicator of completed house sales.
Concern about house prices reaches a five year high.
According to recent results from the HomeOwners Alliance 2018 Homeowner Survey (polling over 2000 UK adults), concern about property prices is higher than at any point in the last five years. A massive 83% of UK adults believe house prices are a 'serious' problem, up from 77% five years ago.
Market commentary:
HomeOwners Alliance: "While activity and house price growth is softer than it has been in recent years, concern over house prices is the highest it has been in the last five years according to our annual Homeowner survey. Affordability concerns are on the rise and seem to be a key factor at play in falling buyer demand. Whilst the lack of properties available for sale is likely to keep upward pressure on house prices, we would expect affordability pressures to continue to be a brake on house price growth in the months ahead."
Nationwide: "On the surface, the relatively subdued pace of house price growth appears at odds with recent healthy rates of employment growth, a modest pick-up in wage growth and historically low borrowing costs.  However, consumer confidence has remain subdued, due to ongoing squeeze on household finances as wage growth continues to lag behind increases in the cost of living."
Halifax:  "Activity levels, like house price growth, have softened compared with a year ago.  Mortgage approvals are down compared to 12 months ago, whilst home sales have remained flat in the early months of the year.  This lack of direction in the housing market is in stark contrast to the continuing strength of the UK jobs market.  The unemployment rate is now the joint lowest since 1975 and in the three months to January there were 402,000 more people in work compared to a year earlier. "
RICS: "Continue subdued momentum…For the time being at least, little prospect of the tide turning to any meaningful extent over the near term.  However, as has been the case for a number of months, the regional breakdown shows much of the weakness stemming from London and the South East, while conditions appear somewhat firmer in other parts of the UK."
Rightmove:  "It remains to be seen if this month's eleven-year price rise high for March is a catch-up anomaly after two more subdued price rise months, or an early sign of price pressure building up a real head of steam as we enter the spring market.  Either way, sellers need to be mindful of increasingly stretched buyer affordability, and the more they increase prices the more buyers will hit their ceiling of what they can save for a deposit and borrow for a mortgage.  There still seems to be potential price headroom in parts of the country, especially, in some of the regions in the north.  However, sooner or later higher prices tend to mean fewer people can afford to move and that is one of the factors keeping the annual rate of increase subdued.
To see how we calculate our House Price Watch click here and to see previous reports click here