Electric car charging at home
Electric cars are increasingly popular, spurred on by the government's aim to ban new petrol and diesel cars from 2030. And from 2022, electric car charging points will be legally required in new build homes. Here's everything you need to know about electric car charging at home, the practicalities and costs...
Post updated: November 23rd, 2021
4 minute read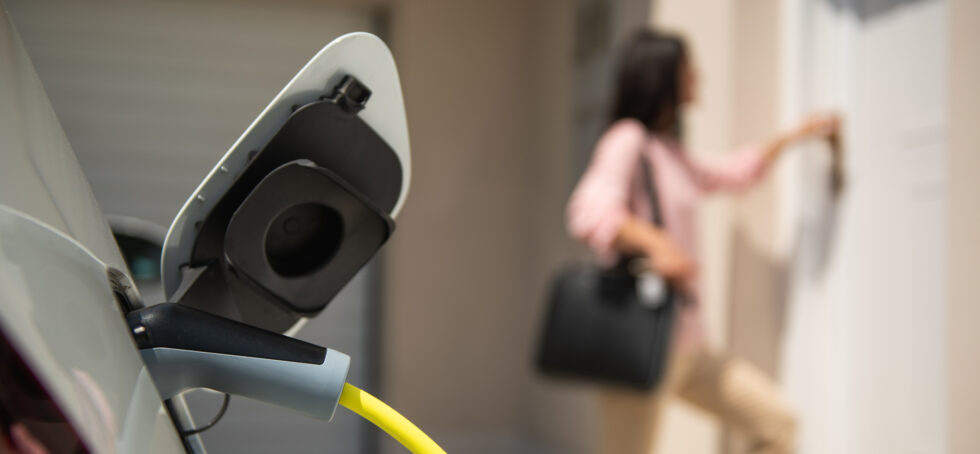 A recent report found searches for electric cars jumped by 91% in a day at the start of the recent crisis at the fuel pumps.  But interest in electric cars isn't a blip: the government has set 2030 as its target to ban the sale of new petrol and diesel cars.
And Boris Johnson announced yesterday that electric car charging points will be legally required in new build homes from next year (2022). This should see up to 145,000 electric car charging points installed across the country each year. New-build supermarkets, workplaces and buildings undergoing major renovations will also come under the new law.
But most people will need to adapt their homes to accommodate a charging point.
Electric car charging at home. Where do I start?
To charge your electric car at home, you'll want to get a 'wallbox' installed – this is an electric car charging point which takes the form of a wall-mounted box. In most cases you'll need off-street parking like a driveway or garage, but check with your preferred wallbox provider. While you can plug your electric car into a regular three-pin wall socket, it will take an extremely long time to charge – typically upwards of 30 hours.
Do I need to ask permission to charge my electric car at home?
If you have off road parking and you're installing a wallbox, you don't need to apply for planning permission, providing certain conditions are met. These include its size and the fact it can't face onto or be within two metres of a public highway. For leasehold properties, depending on the terms of the lease, you may need to ask your freeholder for consent too.
If you don't have off-road parking, you may want to run a cable across the pavement to your car to charge it. Some councils have offered advice on how to do this safely but others are advising against it completely. So if you're considering this, make sure you ask your local council what its policy is. And bear in mind, even if you cover the wire with a cover it still creates a trip hazard.
Electric car charging at home –  How much does a charger cost?
Through the Electric Vehicle Homecharge Scheme, the Government offers a grant towards buying and installing a wallbox at home which will cover 75% of the cost, capped at a maximum of £350. In order to qualify, the charging unit must be fitted by a supplier approved by the Office for Zero Emission Vehicles and they'll claim for the grant on your behalf. There are some conditions to meet, for example you can't claim for the grant if you've previously used the scheme (or its predecessor the Domestic Recharge Scheme) unless you own two eligible electric cars. And the wallbox charger must have smart functionality.
Assuming you can claim the grant, it will typically cost between £450-£1,200 to purchase and install a wallbox. To save money you could choose a lower power rate. Although this means it will take longer to charge your car. Also, some wall boxes will let you opt for a longer cable, which is more expensive. However, for most people you'll pay around £500 – £700 to buy a wall box and have it installed when using the EVHS grant.
If you live in Scotland you can get up to £300 funding from the Energy Saving Trust on top of the EVHS grant. Plus an extra £100 if you live in one of the most remote parts of Scotland.
How much does charging an electric car at home cost?
The cost of charging your electric car at home will be included in your normal electricity bill. So it's important to be on the best home energy tariff to keep the cost as low as possible. You might also want to shop around for off-peak prices, as many energy companies offer lower electricity prices at night when the demand on the grid is reduced and energy prices are cheaper. Some energy companies even offer tariffs specifically for electric car drivers, which might be worth investigating, such as EDF's Go Electric tariff.
The cost of charging your car at home will depend on the type of car you buy and the length of time they take to charge. For example, a Tesla Model S with a 100 kW battery will take longer to charge than a Renault Zoe with a 30 kW battery.
Charging an electric car at home costs about £9.20 for a full charge according to podpoint.com. Most drivers will charge their electric car overnight, waking up to a full battery every morning.
Electric car charging at home – how much value does it add to my house?
It's tricky to get an exact answer to how much value having a wallbox will add to your home because some studies that say it can cause an enormous difference have simply compared the average price of houses in each area with electric car charging points with those that don't, which is too simplistic and also misleading. However, with the shift towards electric car ownership it's a selling point that's only going to become more appealing over time to potential buyers.
What is a smart electric car charger?
In simple terms, if you have a smart electric car charger, every time you plug in your car to charge, the charger sends data to the charging operator. Using this data, the operator can establish the best time for your car to charge. This will put less pressure on the grid and it could work out cheaper for you too, depending on your tariff.
Are you thinking of getting an electric car? Or perhaps you're all set up and charging it at home already. Share your experience and comments below
Sign up to our

FREE

weekly newsletter

for the latest news, advice and exclusive money saving offers