Make your home space work for you
As we emerge from lockdown, we've got some suggestions to switch up and make the most of your space, from re-arranging your furniture, addressing the blank walls, making space for creativity and establishing an effective home-working space.
April 14, 2020

No office? Re-arrange the furniture
Many people have opted for the kitchen table as their home office. That's probably ok if you can avoid the constant call of the fridge and kettle. And if you don't have kids. If you're managing to work from your kitchen table, especially during the Easter "holidays", then hats off to you and your ability to zone out the noise! Even when virtual school resumes, we have learnt that guiding a child through distance learning and doing your job can be overwhelming.  Open plan kitchens and living spaces only contribute to our over-exposure to the rest of the family.
So, if you can find a room away from a main living area to create your makeshift office, then you might find your work and family benefit.
Increasingly we are hearing of people turning to their bedrooms. How about using your dressing table? Moving the side table from the hallway? Or getting the put-up table from the shed? Wherever you manage to carve out your office space, try to position your desk near a window.
One of our website users told us they've resorted to the garage. There's no window, but they do have a heater, plug points, lighting and an old shelving unit as a desk. They couldn't be happier in their isolation – from their family.
If you haven't got furniture you can adapt for your new office desk, check out stores like Argos, Ikea and Amazon. They have desks available from £40 still available, though you may have to wait a few weeks for delivery.
Get planting
If you're lucky enough to have a garden, use it. Getting outside and getting some fresh air is important for our sanity. If you're not one to sit around and need a project on the go, dig up some space for a vegetable patch or try a raised vegetable planter if you are short on space in your beds.
If you are a keen gardener, now could be a good time to invest in a greenhouse to give you more options as to what you can grow when. Prices range from £200 to more than £1,000, and online orders are still available. Aluminium frames are a good option as they don't rust. Roof vents ensure there is no overheating in the summer.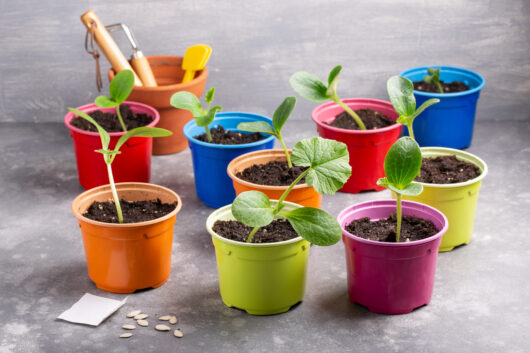 And don't forget the house plants too. Show you care about the space you're now spending more time in and add a little greenery. There are lots of plant delivery companies and your local garden centre may also still be delivering. Place plants in corners to soften the edges of a room, play with different heights to make the space look more interesting and don't neglect your desk.
Move the TV
No doubt you're all watching a lot more TV during these strange times. But why not change things up by moving it. The TV is often the focal point of a living room. By moving it's position to another end of the room or another wall, you can re-arrange your chairs. Rather than the sofa facing the TV, how about arranging two sofas opposite each other with the TV at one end and the coffee table in the centre? It's a simple way to switch up your view.
Frame those photos
Sick of looking at bare walls? With many of us are worrying about the impact of lockdown on the economy and our jobs, now is clearly not the time to be investing in your art collection.
But it could be the ideal time to sort out family photos ready for framing. Or get them printed and framed for you now with online services like Photobox and Snapfish. LA LA LAB is another company which lets you print framed prints and posters from your phone using their app to be delivered straight to your door.
Set up a craft/ puzzle area
We're used to a nice, clear kitchen island or table. But with everyone looking for space and parents looking for activities to keep the kids and teens entertained, it's time to let go of the minimalist in all of us.
Let your kitchen table or island or a spare corner of the floor be the permanent craft table. We've found that even the grumpiest of teens can't resist the pull of a half completed puzzle if it's left out on display.
And it's not just for the kids. It's been well reported that crafting really does make us happier and less anxious: in a study published in the British Journal of Occupational Therapy of more than 3,500 knitters who had depression, 81 per cent of respondents said they felt "happy" after knitting, with more than half feeling "very happy". There are endless craft activities, sets and tutorials online, but the Crafts Council is a good place to start.
Tell us how you've adapted your living space while in lockdown..
Sign up to our

FREE

weekly newsletter

for the latest news, advice and exclusive money saving offers
Sign up to our

FREE

weekly newsletter

for the latest news, advice and exclusive money saving offers