Sponsored Post
Humidity in the home, why you should care, and what you can do about it.
Excess moisture - or humidity - in your home can lead to a range of issues. We've asked Airthings to explain why it matters and how we can reduce humidity in the home.
January 28, 2020
3 minute read
Humidity in our homes is something we all try to avoid. It causes mould, moisture, creates condensation on our windows and is unanimously undesirable. However, humidity is not only a nuisance that we find unpleasant. It is also one component of overall indoor air quality (IAQ), and can have an impact on overall human health.
Humidity and our health
Not only can high humidity levels influence our homes and health, but overly low humidity levels are now known to help the spread of infection.
High levels of dampness and humidity can supply enough moisture to facilitate mould growth. Mould has been linked to the development of asthma and its symptoms. 5 million people in the UK alone are known to suffer with asthma*, making it an incredibly common condition. A popular charity called Asthma UK, found that 42% of the people they speak to with asthma tell them that mould and fungi can trigger it.
What causes humidity indoors?
In layman's terms, humidity refers to the amount of water vapour present in the air. A multitude of things can cause these levels to fluctuate including the weather.  In fact, anything from drying laundry, to leaks, can give off moisture which can lead to excess humidity. Even the moisture trapped in warm air can touch cold walls and revert to water. This is nothing to worry about, unless the levels get excessively high or excessively low.
What can I do to reduce the humidity levels in my home?
If you know you have a problem with humidity levels, then there are a few things you can do that can make a difference;
First, ascertain if you have too high or too low humidity through monitoring
Ventilation is key. Open windows to let fresh air into your home and improve air circulation.
Often the bathroom has high humidity, install a bathroom extractor fan to improve air circulation.
Install a cooker hood to extract steam, heat, cooking fumes and odours from the air
Place a dehumidifier in parts of your home that suffer from high humidity levels
How can I test the air quality in my home?
Airthings offer a range of smart home devices that monitor and help you to manage an extensive range of components that affect our air quality – such as radon, VOC's (airborne chemicals), CO2, temperature, pressure and of course humidity. By using Airthings devices, you are able to get a clear picture of what your indoor air quality is, and can adjust ventilation and make small changes to dramatically improve your air.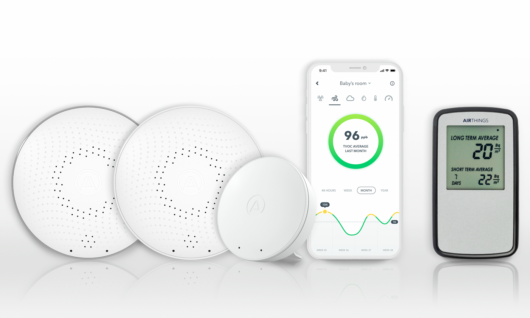 Data is delivered by a free and easy to understand app for you to view on your smart device, or by an even more comprehensive dashboard you can access via your PC. In addition, many Airthings devices are optimised for Amazon Alexa, Google Assistant and IFTTT.
Check out Airthings at www.Airthings.com, and take control of your indoor air quality.
*Source: British Lung Foundation
Sign up to our

FREE

weekly newsletter

for the latest news, advice and exclusive money saving offers