End Our Cladding Scandal campaign
This week we were proud to put our name to the End Our Cladding Scandal campaign. The campaign calls on the government to act to end the scandal of residents trapped in private residential blocks with dangerous Grenfell style cladding.
May 2, 2019
What's the issue?
Since the Grenfell Tower fire on June 14 2017, 176 private residential buildings have been discovered with similar, dangerous cladding systems.
While money has been provided for remedial work on social housing blocks, there is no funding to remove this material from private buildings.
This is resulting in the cost being passed to leaseholders who face the double threat of financial ruin and a devastating fire.
What's the solution?
The End Our Cladding Scandal campaign calls on ministers to act to end this scandal. Inside Housing say other solutions have been tried and have failed. The campaign calls for a fund (not a loan) to remove this material as a way to save leaseholders from the situation they have been placed in and to prevent a second disaster.
The campaign has support from politicians across the political spectrum, the National Housing Federation, the Chartered Institute of Housing, the Royal Institute of British Architects, the Grenfell United group of survivors and bereaved from the Grenfell Tower fire and celebrities including the TV architect George Clarke. We're proud to add our name to the list and hope we can help deliver action.
A leasehold and quality scandal double whammy
Here at the HomeOwners Alliance we are struck by this terrible situation which sees home owners victims not just from poor quality homes (many of them new or relatively new build) but from the outdated leasehold system.
First of all, the fact these homes have been built using material that fail to meet fire safety standards is appalling.
To then learn new home buyers, as leaseholders, are facing bills of tens of thousands of pounds each to fix the buildings they are leasing from the freeholder just beggars belief.
According to the Guardian, some homeowners have even been conducting their own 24-hour fire watches to reduce the costs of keeping residents safe in the meantime. In Manchester, one of the worst affected cities, residents at Burton Place were told last month they were each facing £80,000 bills for repairs to replace wooden cladding, combustible insulation and missing fire breaks.
The Guardian reports housing secretary, James Brokenshire, has repeatedly insisted it is the responsibility of freeholders and developers to pay, and has threatened unspecified action if they do not. This has led to frustration among private leasehold homeowners who point out that the government started releasing a £400m fund to fix social housing last October.
Who should pay?
It's our view that cladding has not been removed because freeholders and warranty providers do not want to take responsibility. These homeowners are stuck in a void with no end in sight.
We think someone needs to take responsibility and do the right thing. Whether that's developers who were responsible for construction, freeholders who are responsible for managing and benefiting from the buildings now. Someone needs to do the right thing, not leave those homeowners leaving in unsafe homes with no where to go.
Paula Higgins, chief executive of the Homeowners Alliance said,  "Government needs to bang heads together and find a solution quickly because these people have been sold a duff product. If no one takes responsibility then Government must step in and take action to protect people urgently."
Discussions are understood to be active in Whitehall about setting up a government fund before the two-year anniversary of the Grenfell disaster in June, but housing ministers are said to be facing resistance from the Treasury.
The End Our Cladding Scandal Campaign
The End Our Cladding Scandal is a crucial campaign. Thousands of people are effectively imprisoned in their own homes, in buildings that are unsafe. Something needs to be done to protect leaseholders from the cost of re-cladding and soon.
Click here to find out more about the campaign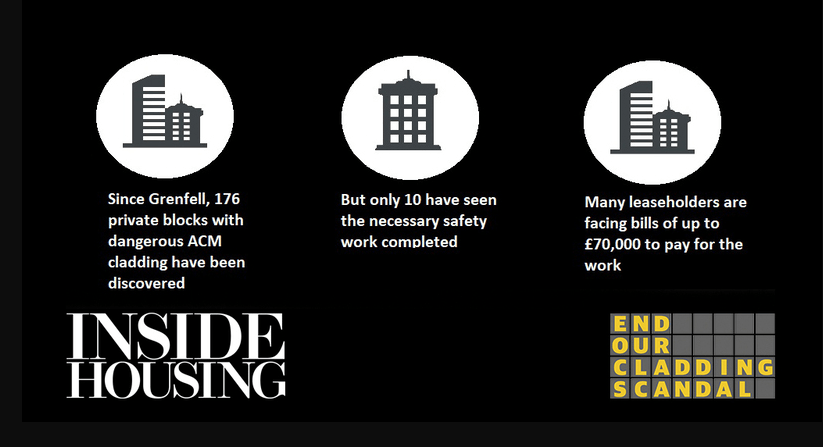 Sign up to our

FREE

weekly newsletter

for the latest news, advice and exclusive money saving offers
Let us help you…