Leasehold scandal deepens with half of adults believing leasehold system broken
The UK's broken leasehold system is now the fastest growing concern for homeowners, latest figures have revealed. We take a closer look at the scandal.
May 16, 2017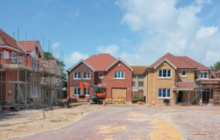 According to the 2017 Homeowners Survey 50% of UK adults see the current leasehold system as a very serious or serious problem, up from 42% last year. Paula Higgins, chief executive of the HomeOwners Alliance which carried out the survey said the figures show the scale of the issue.
"From house prices to tightened mortgage criteria and increased regulation there is plenty for homeowners and buyers to be concerned about at present – so for leasehold properties to be the fastest growing concern shows just how much of an issue this has become," she says.
"Unscrupulous players within the industry have turned what has been a form of tenure for centuries into a money grabbing scheme that has left thousands of buyers across the country trapped in properties that are now essentially unsaleable. Doubling ground rents and unfair clauses are leaving homeowners in a nightmare situation and the government is clearly not treating the issue with the severity it deserves. These people need help and they need it now."
To help homeowners in the leasehold trap, HOA has published a guide today – 'Living in a Leasehold House – what you need to know'
A bigger problem than anyone thought
The 2017 Homeowners Survey is now in it's fifth year. The survey gives an accurate picture of the issues affecting homeowners and buyers in today's market.
Regionally it revealed:
Those in East of England have highest level of concern nationally with 57% of adults in this region saying the leasehold/ freehold system is a serious problem
Regions with rising level of leasehold/ freehold system as a serious problem over the past year are: the North West of England (53%), Yorkshire & Humber (47%), East of England (57%), South East (53%), South West (55%), Wales (51%).
Higgins adds: "We're now at a point where we're seeing banks stepping in to protect homeowners by restricting their lending on leasehold properties. We're leaving it up to banks to police the industry while the government takes a half-hearted approach at best to what is clearly a major concern for homeowners.
"This is a bigger problem than anyone thought and if we don't address it now it's only going to get worse. UK homeowners deserve better protection than this and we must demand it,"
Research Methodology
This is the 5th Annual Homeowner Survey, a state of the nation report on the housing concerns and trends affecting homeowners and those aspiring to own.
All figures are from YouGov Plc. The surveys were carried out online. The figures have been weighted and are representative of all UK adults (aged 18+).

In 2017, total sample size was 2,081 adults of which 1301 were Homeowners. Fieldwork was undertaken 9th March 2017.
In 2016, total sample size was 2,095 adults of which 1,293 were Homeowners. Fieldwork was undertaken 4-5th April 2016.
In 2015, total sample size was 2,214 adults of which 1,390 were Homeowners. Fieldwork was undertaken 4-5th March 2015.

All figures have been checked and verified by YouGov.
Sign up to our

FREE

weekly newsletter

for the latest news, advice and exclusive money saving offers