Hard-hitting recommendations to tackle poor quality of new homes
HomeOwners Alliance and BLP Insurance back All Party Parliament Group (APPG) initial recommendations
May 22, 2016
The All Party Parliament Group (APPG) inquiry into the quality of new-build homes has made a number of hard-hitting recommendations from creating a New Homes Ombudsman, to requiring developers to produce a Home Information Pack and giving buyers a right to inspect and survey their property before financial completion.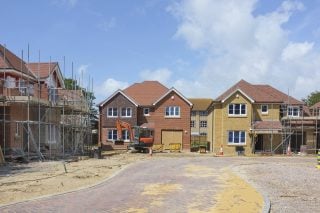 The recommendations are supported by the findings of the 2016 Homeowner Survey conducted online by YouGov for HomeOwners Alliance and BLP Insurance, which explores what quality means to potential new build home buyers along with the key quality checks buyers would aim to undertake. HomeOwners Alliance share the concern that whilst we need more new homes built, the pressure to build is coming at the expense of quality.
Key Findings from the Homeowner Survey:

– 58% want a survey as a quality check before buying a new build home

– New builds are not popular – more than twice as many people prefer an older home (49%) to a new build home (19%)

– When considering new homes quality, people are likely to focus on size of rooms (74%), the feeling of space on the development (65%), layout (62%) and the level of finish (61%)
– The reputation of the house builder, the quality of the sales process or the provision of detailed floor plans fall further down the list in terms of what signals quality

When assessing quality, consumers currently place less emphasis on aspects of
the sales process or particulars of the property. HomeOwners Alliance and BLP Insurance agree with the APPG that these aspects require greater attention and are potential risks for new build homebuyers. Standardised house building contracts and builders to provide homebuyers with an information pack in plain English should make it clear what consumers are buying and their legal obligations.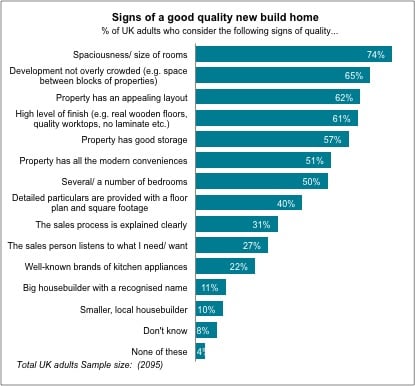 Another recommendation from the committee is that there should be a mandatory right for buyers to inspect and, should they wish, carry out a full survey of their property prior to financial completion. The survey's findings support this recommendation with 58% of UK adults saying they would want to undertake a snagging survey as a quality check if buying a new build.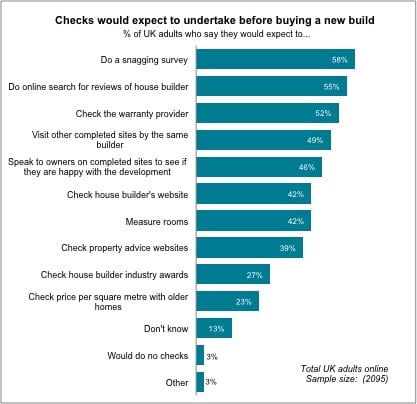 Paula Higgins, Chief Executive of HomeOwners Alliance, said: "The MPs recommendations are spot on. We see day in and day out people having the most appalling time trying to get their new home fixed. A lot of this is due to the rush to build quickly. New home buyers must have the right to inspect their home and to get a full building survey before the keys are handed over. This will be a practical step to encourage builders to deliver homes to their customers and not their shareholders.

Buying a new home should mean years of worry-free ownership. Yet that is not always how it turns out. A new Homes Ombudsman should help to support owners to get their faulty home fixed. We have also issued today a practical guide on how to get things fixed in your new home."

Kim Vernau, Chief Executive Officer, BLP Insurance said:
"BLP fully supports the APPG review and its headline findings. Transparency coupled with clarity in terms of the contractual requirements of purchasing a home and the quality of the product that the consumer is receiving for their money are fully supported by BLP's Code for the Sale of New Homes. This is a mandatory Code that applies to the majority of clients who require our BLPSECURE policies since 1st June 2015. The right for the Home Buyer to survey the property prior to completion is also a pragmatic step to mitigate the number of issues likely to arise post completion."

Sign up to our

FREE

weekly newsletter

for the latest news, advice and exclusive money saving offers
Sign up to our

FREE

weekly newsletter

for the latest news, advice and exclusive money saving offers