Homeowners are at risk of letting "the wrong ones in"
New data released reveals that homeowners in the UK could be inadvertently letting rogue tradesmen into their homes by failing to conduct the right checks.
April 18, 2015
2015 Homeowner survey reveals poor checks on tradesmen by UK homeowners
Homeowners rate being polite and prompt as signs of good tradesmen
The statistics from the HomeOwners Alliance's 2015 Homeowner Survey and TrustMark – the only Government endorsed 'find a tradesman' scheme for all trades in and around the home – reveal that homeowners heads are being turned by cues such as prompt arrival(84%), using polite language (51%) and even taking their shoes off at the door(38%). Age is also a factor with nine times as many homeowners saying that an older and more experienced person was a sign of a good tradesman (39%), rather than a younger person with recent training (4%).
When asked about the checks householders undertake before hiring a tradesman, traditional checks such as visiting a former client's project or asking for written references from former clients are done by only a minority of people (39% and 28%) compared to twice as many people who rely on personal recommendation (81%).
Almost half of homeowners (46%) say they would check if the tradesman was in a doorstep directory, when often these are paid for advertising slots with few checks done.
On smaller jobs, less than half (39%) of homeowners would check that a receipt or invoice will be given, despite recent prompts by Shadow Chancellor, Ed Balls.
Previous data from TrustMark revealed that incompetent tradesmen cost UK homeowners £1.9bn between 2013 and 2014, five times more than domestic burglary claims.
Paula Higgins, CEO of the HomeOwners Alliance said: 
"People don't want flash tradesmen, but ones that show good old fashioned values of listening to what their customers want, turning up on time and giving upfront quotes. It can be a complete nightmare getting the wrong tradesman in, so it is really worth investing the time to make sure you get the right one."
Liz Male MBE, Chairman of TrustMark, said:
"The research certainly shows that the UK is at risk of letting the wrong ones in. Rogue traders are the vampires of the sector, seeking out vulnerable homeowners and taking valuable jobs away from the best tradespeople in the country. Checking recent work and up to date qualifications are vital checks – TrustMark is the only scheme that checks live projects, on site, by experts".
Figure 1: Signs of a Good Tradesman (2015 Homeowner Survey)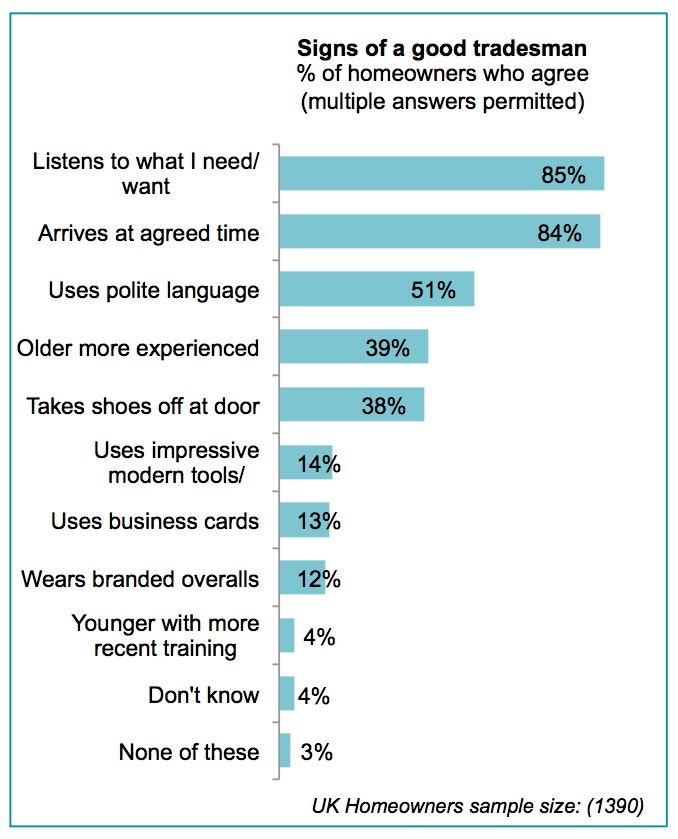 Figure 2: Checks Carried Out Before Hiring a Tradesman (2015 Homeowner Survey)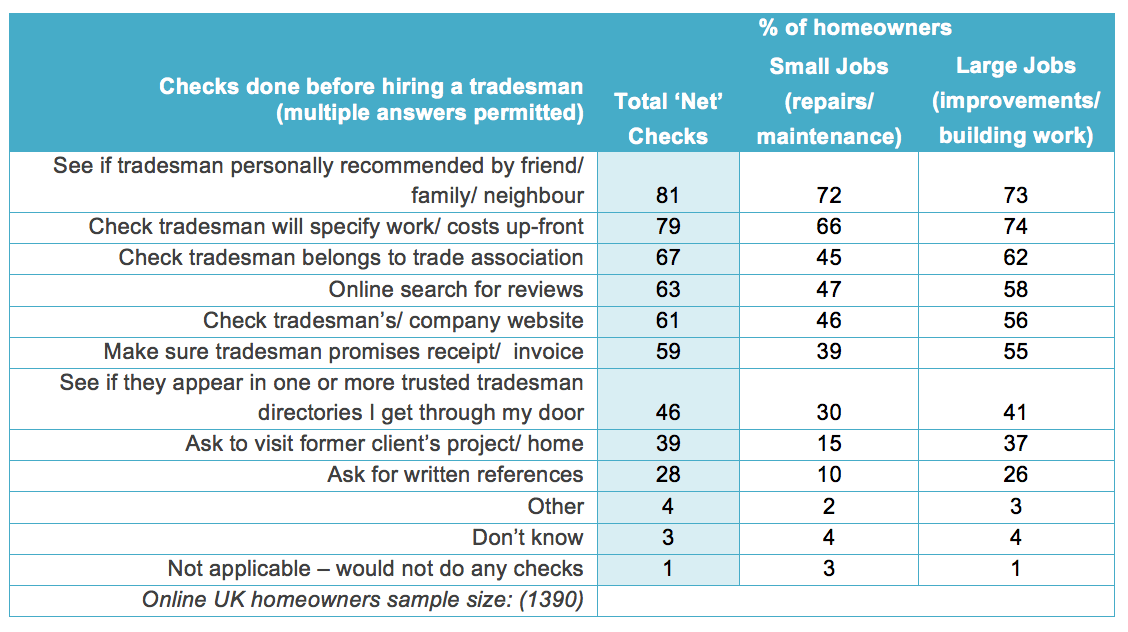 Figure 3: Checks Before Hiring a Tradesman By Gender & Age (2015 Homeowner Survey)
Figure 4: Regional Checks Carried Out Before Hiring a Tradesman (2015 Homeowner Survey)
ENDS
Notes to Editor
2015 Homeowner Survey
All figures in the 2015 Homeowner Survey, unless otherwise stated, are from YouGov Plc. In 2015, total sample size was 2,214 adults of which1,390 were Homeowners. Fieldwork was undertaken 4-5th March 2015. The survey was carried out online. The figures have been weighted and are representative of all UK adults (aged 18+).
Previous TrustMark data quoted is from the TrustMark Annual reports which surveyed 2,000 British Homeowners on behalf of WITH PR in 2014 and 2015
The 2015 Homeowner survey was made possible through sponsorship by TrustMark, the Government endorsed 'find a tradesman' scheme, BLP Insurance, leading provider of building defects insurance, myhomemove, the UK's leading conveyancing provider.
Earlier releases of the 3rd Annual Homeowner Survey, a state of the nation report covering concerns and issues faced by UK homeowners, found that confidence was slowly returning to the housing market (press notice 23/3/15) and polled voters on the most popular housing policies being touted by the political parties (press notice 30/3/15)
When quoting this Press Release please link to the HOA website at http://hoa.org.uk/ and the TrustMark website at http://www.trustmark.org.uk/
For media enquiries about TrustMark, please contact: elizabethjones on Elizabeth.jones@withpr.co.uk or on 02072497769
For media enquiries about HomeOwners Alliance, please contact:
Paula Higgins on paula@hoa.org.uk or 07947 240 293, hello@hoa.org.uk or 020 3397 3292
About TrustMark
TrustMark is the only Government-endorsed scheme for all trades in and around the home. It acts as a signpost to help householders find quality local firms and expert tradespeople working to Government-endorsed standards. All TrustMark firms are extensively checked for their trading practices, customer service and their technical skills.
TrustMark is the most comprehensive and reliable 'find a tradesperson' scheme for all home repair and improvement work. It is the only scheme covering the full range of relevant trades which operates according to Government-endorsed standards.
TrustMark offers the largest database of accredited tradesmen in the country with details of more than 18,000 licensed tradespeople with an easy to use UK wide postcode search facility.
TrustMark has 32 scheme operators with more than 12,000 inspected and registered firms across the UK for all the key trades that work inside and outside the home.
All TrustMark firms' technical skills have been independently checked through on-site inspections by experts to ensure a high quality of workmanship and trading practices.
Furthermore, TrustMark is the only scheme that requires qualified inspectors to do these visits, so that technical competence is checked as well as business practices and customer satisfaction.
In April 2014, with the support of the Consumer Minister and a wide range of industry and consumer protection supporters, TrustMark launched the most comprehensive set of standards to date for its registered tradesmen, to give homeowners better protection and peace of mind.
TrustMark firms must offer insurance backed warranties and deposit protection, as well as operating a user-friendly complaints procedure.
TrustMark is not an advertising directory or a website that sells leads to consumers. It is a registered social enterprise, operated under licence from the Department for Business, Innovation and Skills (BIS). As a not-for-profit organisation it does not make money from consumers.
trustmark.org.uk
About the HomeOwners Alliance
The HomeOwners Alliance champions the interests of Britain's homeowners and aspiring homeowners. We are a consumer group providing helpful advice and services and acting as the voice of the homeowner in the media, lobbying for their interests in government, and campaigning against bad practices in industry.
We directly engage with government and media by conducting independent research and publishing reports that promote and champion the interests of homeowners.  In addition to our annual Homeowner Survey, previous publications include:
We believe we are Britain's most popular and fastest growing property advice website, staying true to our mission to help homeowners facing some of the biggest and most complex decisions of their lives. Last year, more than1.5 million homeowners and aspiring homeowners visited our website, hoa.org.uk; viewing over 2.5 million pages.
Sign up to our

FREE

weekly newsletter

for the latest news, advice and exclusive money saving offers
Let us help you…