Public support action to address housing shortage by advertising new homes in UK first
With an election a matter of weeks away, our 2015 Homeowner Survey, sponsored by BLP Insurance, myhomemove and Trustmark, asked the UK public which of the major housing policies touted by political parties they support.
March 30, 2015
Homeowners support raising inheritance tax threshold
Support for increasing tax on homes over £2m, but new council tax preferred over a new annual property tax or 'mansion tax'
Ending the Right to Buy most evenly divides the electorate
Programmes to support first time buyers are popular
The survey shows support for advertising new homes in the UK before they are marketed abroad (80%). Such policies are much more popular than introducing a new annual property tax or "mansion tax" (60%), raising the threshold of inheritance tax (51%), or ending right to buy (42%),
The public wants fairness in the property market. The survey, carried out by YouGov, found that the overwhelmingly most popular policy would be a requirement for developers to market homes in the UK before marketing them overseas, a policy put forward for Londoners by Boris Johnson, with 80% of adults supporting it and only 3% opposed. It means that the most supported housing policy amongst UK adults is not being offered nationally by any of the main political parties in the upcoming election. It is the most popular housing policy in all regions of the UK apart from Scotland.
The second most popular housing policy, proposed by Labour, is charging higher council tax rates on homes that are not occupied year round, with 70% supporting it, and only 13% opposed.
There is support for increasing tax on homes worth over £2million, but the preferred option is introducing a new higher rate council tax band (supported by 68%, and proposed by the Liberal Democrats), rather than a new annual tax, or so-called "mansion tax" (supported by 60%, and proposed by Labour). Amongst those who value their own homes as worth 500k+ there is a massive 37% difference of opinion. 7 out of 10 support an additional top band of council tax on homes over £2 million, compared to one-third who support a new annual tax on property over £2 million.
Government initiatives to help first-time buyers tend to be popular, such as extending the Help to Buy 5% deposit scheme (supported by 65%) and the Starter Home Initiative (offering discounted new homes to first time buyers and supported by 61%). This suggests that the recent Help to Buy ISA could also prove to be popular.
There is a desire among homeowners to raise the threshold of inheritance tax, with 58% supporting it. Support for the policy is higher amongst those who are older and those who have higher value homes, with 82% of those who value their homes as worth over £500,000 supporting it. However, only 40% of non-homeowners support the policy, with the average across the adult population being 51%.
In terms of building more homes, there is little support for building on Green Belt Land, even if it is deemed to have minimal environmental or amenity value. The building of new towns and Garden cities is the preferred option.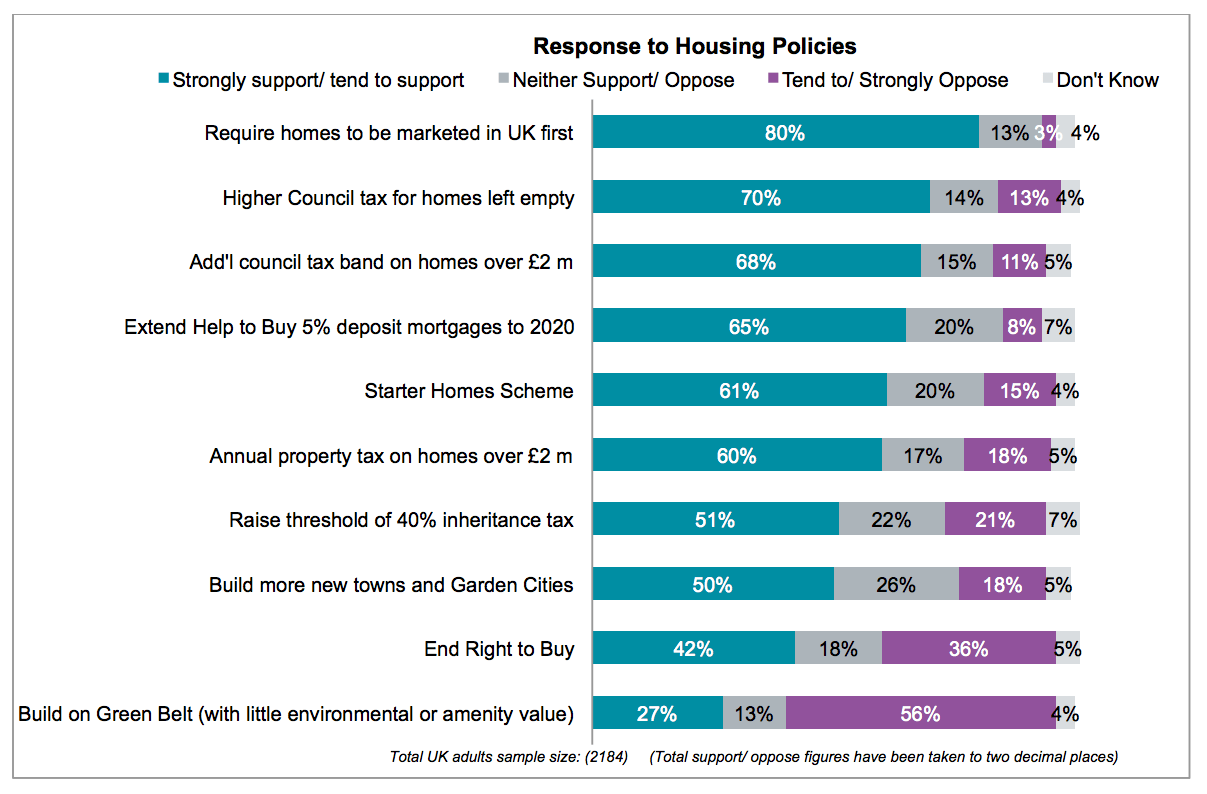 Key Findings from the You Gov poll of potential housing policies indicates: 
The most popular housing policies respond to the shortage of homes crisis in the UK
80% of UK adults strongly/ tend to support a policy which would require developers to market new homes in the UK ahead of marketing them overseas
70% of UK adults strongly/ tend to support a policy which discourages homes which are left vacant by charging these homeowners a higher level of Council tax
Support for increasing tax on homes worth over £2m, but, but introducing a higher rate council tax band is preferred over a new annual tax, or so called 'mansion tax'. 68% are in favour of an additional Council tax on properties worth more than £2million and 60% support an annual property tax on homes over £2 million. However, amongst those who value their homes as worth more than £500k the difference is far greater – with 70% supporting an additional top band of council tax on homes over £2million, but only 33% supporting a new annual tax on property over £2 million.
However, among homeowners, there is strong support for raising the threshold at which 40% inheritance tax is due. 58% of homeowners, and 82% of those who valued their home as near the inheritance tax threshold would like to see this rise. Regionally, there is greatest support among homeowners in the East of England (68%) and South East (67%).
Programs aimed at helping first-time buyers tend to be popular. Nearly two in three UK adults (65%) support extending the Help to Buy 5% deposit scheme and most welcome the Starter Homes Initiative (61% in support).
1 in 3 adults (36%) oppose an end to the Right to Buy your council home, although 42% support it. It is the housing policy that most evenly divides the electorate. Regions most opposed include areas with a larger density of social housing – London (44% oppose) and the North (37% oppose) (see figure 2).
In terms of the building of new homes, Garden Cities are preferred to building on Green Belt Land (even if it is said to have little environmental or amenity value). 50% support Garden Cities development, while 56% opposed building on Green Belt land even if it has little or no amenity value.
Those aspiring to get on the property ladder have higher levels of support than the UK population generally for development of new homes and for programs that help to make buying a home more affordable. 80% support the Starter Homes Initiative (compared with 61% nationally), 73% support extending Help to Buy to 2020 (compared with 66% nationally), 59% support more building of new towns and Garden Cities (compared with 50% nationally) and 37% support Green Belt development (versus 27% nationally). Support for Ending the Right to Buy Council homes is lower (35% vs 42% among the general UK population)
In Scotland there is more support for increasing tax on high value homes and empty homes than there is for requiring developers to market properties in the UK first.
Paula Higgins of the HomeOwners Alliance said:
"People strongly believe homes are for living in, not speculating with or leaving empty. With an acute shortage of housing, the priority for the public is to ensure that those who want to own the roof over their head are not at a disadvantage to foreign buyers and those who have second homes. Too many people are struggling to get on the housing ladder, and often end up feeling the system isn't fair – it is time that politicians acted to level the playing field. Homeowners are pragmatic about increasing taxes on higher value properties, but clearly prefer it to be done by introducing a new higher-rate band of council tax, rather than the so-called mansion tax, an entirely new tax on property imposed by national government. Homeowners are generally keen to be able to pass on their family homes to their children, which is why there is support for an increase in the inheritance tax threshold."
Wayne Tonge, BLP Insurance, said: 
"The unwavering popularity of initiatives to help first time buyers is no surprise and we applaud anything to help give aspiring homeowners a foot on the ladder. However the buck does not stop there and the whole industry needs to get on board to meet this increasing demand for homes.  We need to make sure that we are building homes to last rather than simply chasing a house building statistic. Opposition to building on Green Belt Land highlights one of the biggest challenges faced by developers today – the shortage of available land. With solutions to the problem few and far between, we welcome any move to enable communities to take back under-used or unused land owned by Local Authorities. 
Doug Crawford of myhomemove said:
"Current and aspiring UK homeowners want radical action from politicians to fix Britain's housing market. As the general election approaches, the most popular housing policies are those that make the best use of the housing that is being built by ensuring that homes are not left empty or sold to foreign investors before they are even offered to domestic buyers.  The Help to Buy Scheme has already given a really important boost to the UK's housing market, making it very popular – a large majority want it extended.  The housing market will clearly be a key battleground of this election so the big question is whether any of the political parties have any manifesto surprises up their sleeves for UK homebuyers."
Response To Housing Policies Among Different Interest Groups
2015 Homeowner Survey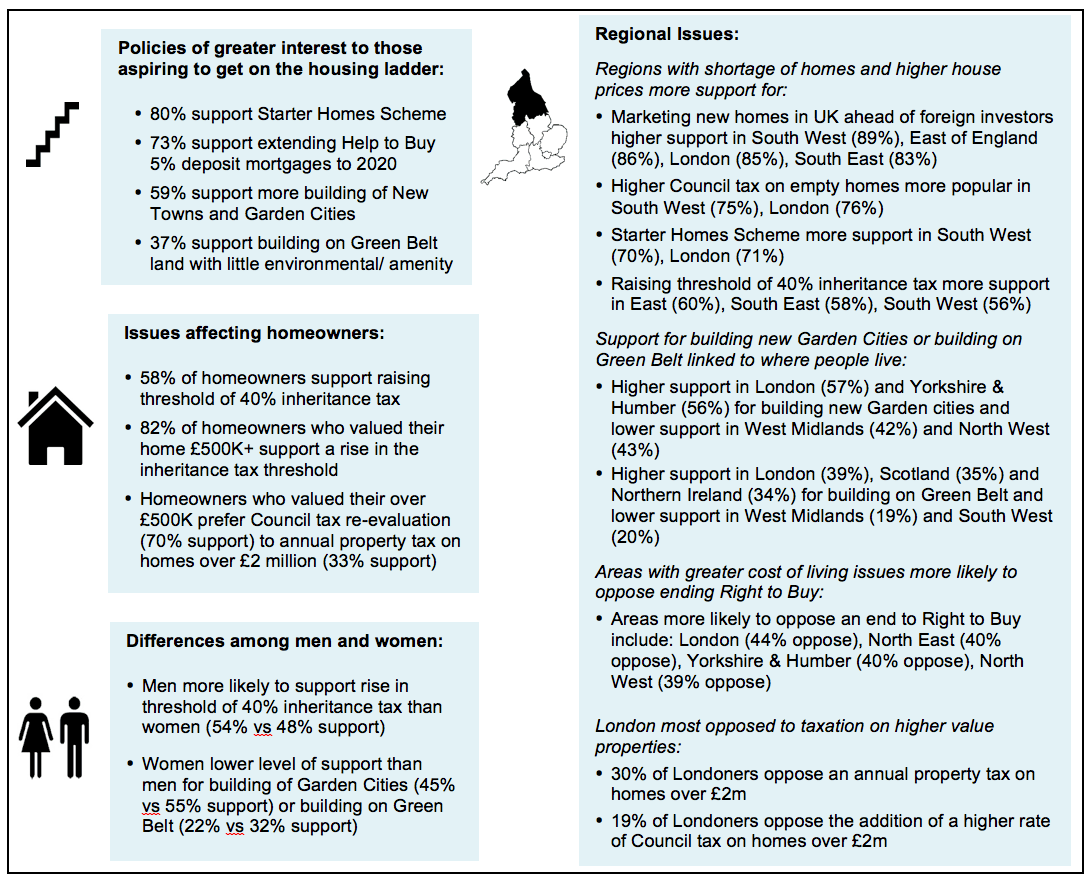 Regional Look at Support for Potential Housing Policies

Response to Potential Housing Policies By Homeownership
2015 Homeowner Survey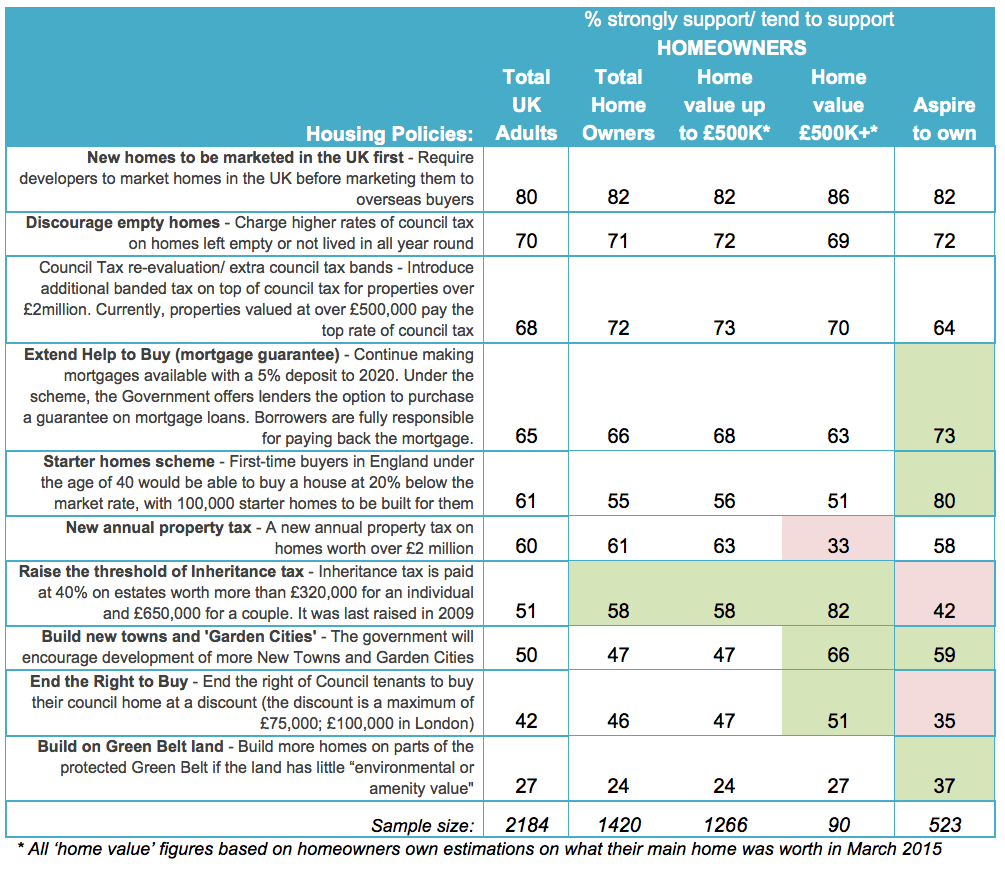 Demographic Differences to Potential Housing Policies
2015 Homeowner Survey
Homeowner Survey
All figures in the 2015 Homeowner Survey, unless otherwise stated, are from YouGov Plc. Total sample size was 2,184 adults. Fieldwork was undertaken between 6th – 9th March 2015. The survey was carried out online. The figures have been weighted and are representative of all GB adults (aged 18+).
Other releases from this year's Homeowner Survey include: Difficulties getting a mortgage and Confidence in the housing market rebounds
The 2015 Homeowner survey was made possible through sponsorship by BLP Insurance, leading provider of housing warranty insurance, myhomemove, the UK's leading conveyancing provider and TrustMark, the Government endorsed 'find a tradesman' scheme.
When quoting this Press Release please link to the HOA website at https://hoa.org.uk/ the BLP website at https://www.blpinsurance.com/ and the myhomemove website at https://www.myhomemove.com/
For media enquiries about HomeOwners Alliance, please contact Paula Higgins on paula@hoa.org.uk or 07947 240 293, hello@hoa.org.uk or 020 3397 3292
For media enquiries about BLP Insurance, please contact Broadgate Mainland, Lianne Robinson, Cara Penkethman and Henry Adams on 020 7726 6111 or BLP@broadgatemainland.com
For media enquiries about myhomemove, please contact Jade O'Gara, Head of Marketing at myhomemove, jadeogara@myhomemove.com, 07980 734 757 or Rebecca Brown, Marketing Copywriter at myhomemove, rebeccabrown@myhomemove.com, 01162405565
About the HomeOwners Alliance
The HomeOwners Alliance champions the interests of Britain's homeowners and aspiring homeowners. We are a consumer group providing helpful advice and services and acting as the voice of the homeowner in the media, lobbying for their interests in government, and campaigning against bad practices in industry.
We directly engage with government and media by conducting independent research and publishing reports that champion the interests of homeowners.  In addition to our annual Homeowner Survey, previous publications include:
We believe we are Britain's most popular and fastest growing property advice website, staying true to our mission to help homeowners facing some of the biggest and most complex decisions of their lives. Last year, more than1.5 million homeowners and aspiring homeowners visited our website, www.hoa.org.uk, viewing over 2.5 million pages.
At hoa.org.uk, we provide independent advice for the key moments in owning a home, supported by legal and industry experts. Get our free newsletter with a market-wide view of house prices and all the latest tips on buying, selling, improving and managing homes. On our website you can find free independent guides, checklists and top tips.
About BLP Insurance
BLP Insurance offers housing warranty insurance and commercial development latent defects insurance underwritten by Allianz Global Corporate & Specialty SE. Our insurance is a compelling alternative to the 'traditional' 10 year new home warranty solutions and our commercial latent defects insurance product is the most comprehensive in the market. Unlike traditional new homes warranties, BLP's insurance covers the building – not the developer – and does not ask developers to pay up front registration fees, ongoing membership fees, bonds, guarantees or deposits. For claims, only proof of damage is required not proof of liability. BLP's cover is approved by all of the major British mortgage lenders.
We provide peace of mind for homeowners and protect their investment from the risk of undiscovered defects, because: our insurance policies are backed by an AA rated global insurer; we will have properly assessed the build project from design through to workmanship on site, to help minimise the chance of future defects; and if a defect does arise the homeowner won't have to prove who is to blame, just that there is a defect.
We have been providing construction insurance since 1989, trading as BLP Insurance since 1999. We are owned by Thomas Miller, a world class insurance services business at the forefront of the insurance industry for over 125 years. BLP Insurance is regulated by the FCA. www.blpinsurance.com
About myhomemove
Specialising in the residential sector, myhomemove offers straight-forward, innovative solutions for conveyancing. Through its wholly-owned subsidiary, Premier Property Lawyers (the UK's first ABS law firm and the largest provider of mover conveyancing services), myhomemove helped over 40,000 buy and sell their properties in 2014.
The use of advanced technology ensures that the process of moving home is managed accurately and at an affordable cost. myhomemove is dedicated to providing a superior level of service, with a focus on speed and professionalism.
Through its position as the market leader, and having completed cases in all 109 postcode areas in England and Wales, myhomemove holds data that covers the breadth of the industry, giving it a unique insight into the UK's property market. www.myhomemove.com
Sign up to our

FREE

weekly newsletter

for the latest news, advice and exclusive money saving offers