Tradesmen scams: don't be a victim
Fraudulent tradesmen cost homeowners a small fortune and sadly there are too many stories of people who have fallen prey to them. In many cases, the offenders are long gone before we realise we've been ripped off, leaving us with little chance of either seeing the job put right or getting our money refunded.
January 21, 2014
Our home is our most valuable asset so we need to be  vigilant when it comes to hiring someone to work in or around it.  Whilst rogue traders operate throughout the year, there is likely to be an increase in their numbers following extreme weather conditions such as high winds and floods – bogus property repairers often trick people into paying high prices for unnecessary or shoddy work!
Not all tradesmen operate within the law or regulations so it is essential that all homeowners only use reputable and legitimate tradesmen who are licensed by either a trade association or a 'find a trader' scheme such as TrustMark, who vet and inspect their tradesmen.
TrustMark's Stuart Carter has put together a list of warning signs for homeowners to watch out for and some advice to ensure you don't become the next victim.
Common scams
NEVER agree to have work done by somebody who turns up uninvited on your doorstep.  Just say 'no' and don't feel that you're being impolite. By law, door-to-door traders must leave when you tell them to and if they refuse to comply, call the police as they are breaking the law.
DON'T agree to 'on the spot' house repairs and tell the person you're not interested, or that you want to get some independent advice.  Lawful tradesmen won't mind arranging to come back later while you check out their offer.
Signing a contract immediately
NEVER sign on the dotted line straight away.  Ask for all quotes, contracts and receipts to be in writing and read their terms and conditions very carefully.  Often cheap deals have hidden costs; so do your research to see if you can get a better deal elsewhere.
NEVER pay cash, even if it appears to be cheap.  If a builder is evading tax, the chances are that he won't be very honest with you, either.  Ensure that you obtain clear invoices of the work carried out and ideally pay by cheque or credit card.
DON'T pay upfront – only pay for work that has been done, never in advance.  However, if materials need to be bought in advance by the tradesman, it is reasonable that the customer is asked to pay a fair percentage of these costs but only as the job progresses.  It has become a common scam where a tradesman asks for money at an early stage of the works, and then disappears.
No business number in the local phone book
Before you take on a tradesman, check how long they have been around, such as looking them up on the Internet or an old telephone directory.  It is a common feature of rogues that they trade under a string of different names often only using a mobile number.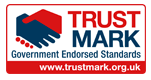 TrustMark is the only scheme supported by Government, industry and key consumer organisations such as Citizens Advice, Trading Standards Institute, Age UK and the HomeOwners Alliance and together they are all signposting people to TrustMark.
Check out our Find a Tradesman Tool powered by Trustmark. Or if you have already been recommended a  tradesman but want to check if they are TrustMark registered call the TrustMark hotline on 01344 630 804
Related guides
Sign up to our

FREE

weekly newsletter

for the latest news, advice and exclusive money saving offers
Sign up to our

FREE

weekly newsletter

for the latest news, advice and exclusive money saving offers