September 2014 House Price Watch
This month's House Price Watch indicates house prices are up on average 0.9% in the past month and up on average 8.8% in the past year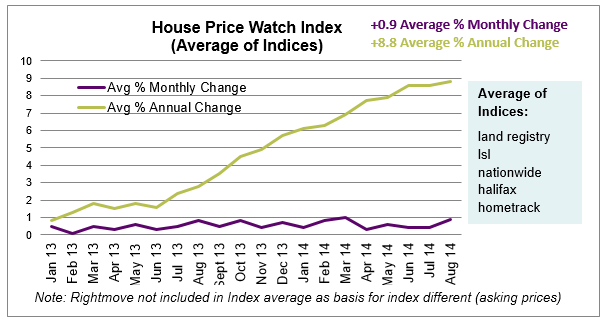 Moderate house price growth as supply/ demand gap narrows
Whilst average house prices continue to rise, weaker demand and increasing supply have reduced upward pressure on house prices in recent months.
Hometrack's monthly survey of estate agents and surveyors indicates new buyer numbers are down 0.9% for a second month.  The time a property is on the market before it sells is up for the second month from an average of 5.9 weeks in June to 6.3 weeks in August. The proportion of asking price achieved is down for the third month from 96.8% in May to 95.9% in August. (Price falls are usually noted when this measure falls below 94%).
Rightmove: "A drop off in buyer demand and an 8% increase in property coming to market this month compared to August last year means more competition to sell, hence national average new seller asking prices have come down for the last two months."
The possibility of an interest rate rise in 2015 in a climate of low wage growth is likely to put pressure on housing affordability and result in more price sensitive demand in the months ahead.
Nationwide notes that house price growth to date this year has outpaced earnings by a wide margin but that low mortgage rates have kept housing affordability to within historic levels. "The prospect of interest rate increases together with subdued wage growth may temper demand in the quarters ahead."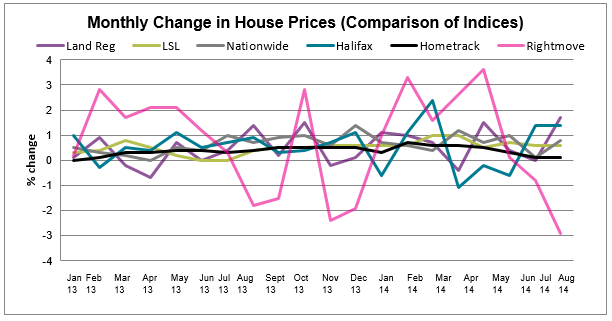 Regional Summary – Average house prices edge upwards in most regions
London, the South East and Wales saw the biggest monthly change in average house prices.
Prefer pictures, see our Infographic
To see how we calculate our House Price Watch click here or to see previous reports click here
Let us help you…
Sign up to our

FREE

weekly newsletter

for the latest news, advice and exclusive money saving offers