Sept 2017 House Price Watch
Across the major indices, house prices are up on average 0.5% in the past month and up 3.2% on average in the past year. The trend shows a slowing of annual house price growth.
Activity and monthly house prices up. Pace of annual house price growth slows.
The major house price indices differ as to whether house prices are up or down over the last month. Land Registry (1.1%) and Halifax (1.1%) say monthly house prices are rising.  Nationwide (-0.1%), LSL (-0.2%) and Rightmove (-0.9%) say monthly house prices are falling.  Land Registry and LSL refer to July house price data.  Nationwide, Halifax and Rightmove refer to August house price data.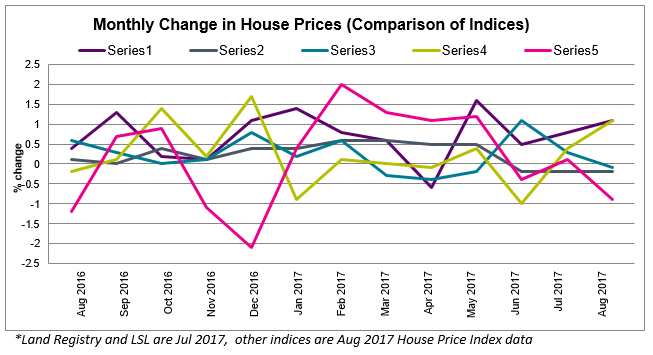 Commenting on the figures, Katherine Binns, HomeOwners Alliance Research Director: "This month's House Price Watch shows a varied story perhaps accounting for the differing views of the major monthly house price indices.  There are pockets of the country seeing strong house price growth.  However, other regions, notably London, continue to see house prices depressed and the overall national annual trend in house prices continues to slow."
Home sales and mortgage approvals pick up in July.
After several months of slowing housing activity, UK home sales increased in July — up 1.3% between June and July 2017.  Transactions are also 8.3% higher than July 2016. Home sales from July 2016 may have been affected by a slowdown following the result of the EU referendum.  (HMRC seasonally adjusted figures).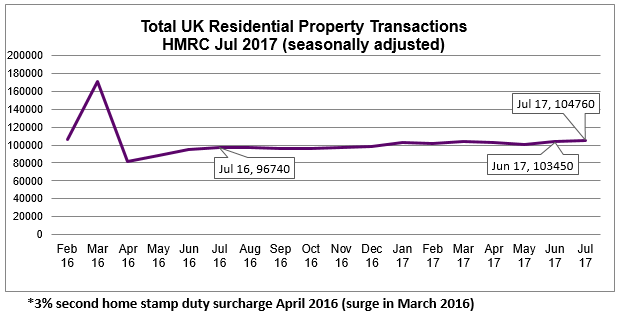 Mortgage approvals for house purchases, which are a leading indicator of completed house sales, are also up between June and July – up 5.2% — the highest level since January of this year.
On the back of higher mortgage approval figures, Halifax comments:  "Recent figures for mortgage approvals suggest some buoyancy may be returning, possibly on the back of strong recent employment growth, with the unemployment rate falling to a 42 year low. However, wage growth is still lagging increases in consumer prices, which is likely to add pressure on household finances and increase affordability challenges for some buyers."
Shortage of homes for sale is putting upward pressure on house prices.
The August 2017 RICS UK Residential Market Survey reports little change in buyer enquiries in August. New sales instructions are down (although the drop in instructions appears to be stabilising now).  Average stock levels on estate agents' books have declined for the 17th consecutive month leaving the homes available for sale at an all-time low.
Given the ongoing climate of constrained supply, Nationwide comments: "Constrained supply is likely to continue to provide support for house prices. The stock of homes on estate agents' books remains close to 30 year lows and the number of new homes coming onto the market remains subdued.  As a result, we continue to expect prices to rise by around 2% over 2017 as a whole."
Regional Summary
House prices increased in many parts of the country in the past month with the biggest rise in the North East (+3.3%).
The rate of annual house price growth varies significantly across the UK.  The East Midlands (7.5%), the East of England (7.0%), the South West (7.0%) and the West Midlands (6.9%) are experiencing the highest rates of annual house price growth.
Annual house price growth continues to be depressed in London (2.8%).  Other regions with slower annual house price growth include Wales (3.1%) and the South East (3.8%).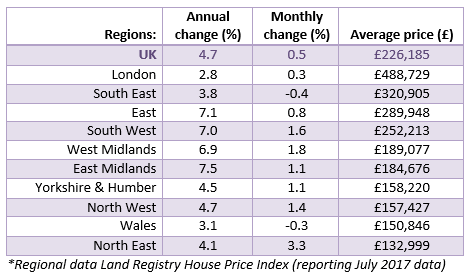 RICS comments on the varied regional perspective: "There is an increasingly mixed picture across the UK housing market. Although the headline level shows a return to growth, sentiment is less positive in prime central London and to a lesser extent the wider South East, alongside the North and East Anglia."
To see how we calculate our House Price Watch click here and to see previous reports click here
Sign up to our

FREE

weekly newsletter

for the latest news, advice and exclusive money saving offers
Let us help you…