October 2014 House Price Watch
This month's House Price Watch indicates house prices are up on average 0.5% in the past month and up on average 8.5% in the past year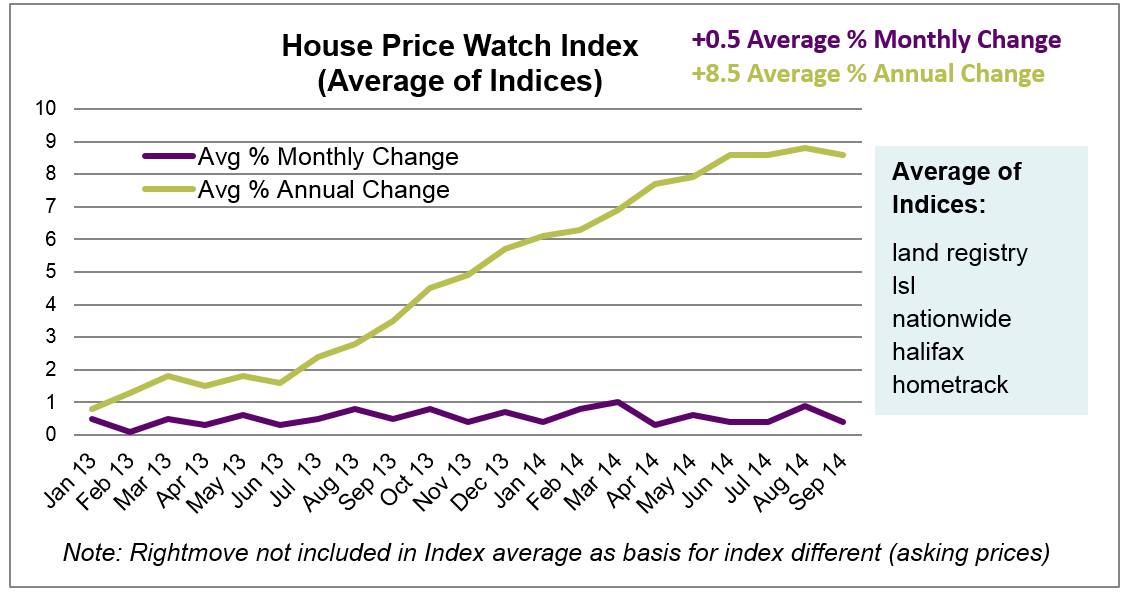 House prices begin to plateau
The trend in cooling house prices continues as new buyer inquiries decline.
Hometrack's monthly national survey of estate agents and surveyors indicates new buyer numbers are down 2.1% in September and other indicators also show a slowdown:  the number of property listings is down 0.3% and sales agreed are down 1.6% in September.  "There's a distinct chill in the air this month: after a strong run over the last 18 months, the momentum of house price rises has started to turn with growth now at a standstill for the first time since January 2013."
The future outlook is mixed.  On the one hand, low interest rates and solid labour market indicate demand is likely to return. On the other, uncertainty about interest rates, tougher affordability checks and a general election on the horizon are expected to weigh on buyer confidence. 
Rightmove expects that after a very hectic first half to the year, their latest data suggests the market will resume strong activity but at a slower pace.
Nationwide notes "The outlook remains uncertain. There have been tentative signs from surveyors and estate agents that buyer demand may be starting to moderate but the low level of interest rates and strong labour market suggest that underlying demand is likely to remain robust."
Halifax suggests the recent changes announced by the Financial Policy Committee limiting high loan to income lending should help to constrain house price growth over the medium and longer terms.
LSL indicates that it is still uncertain what impact the new mortgage market rules and the recent Bank of England's interventions will have on the market.
Hometrack comments: "This loss of momentum in price growth comes at the end of a very strong run of 18 months in which the market was fueled by pent-up demand, with Help to Buy fanning positive market sentiment.  That surge of demand has now receded, bringing the latest cycle to an end with no equivalent buyer 'push' or 'pull' on the horizon."
Overall, a more subdued housing market is expected for the balance of 2014.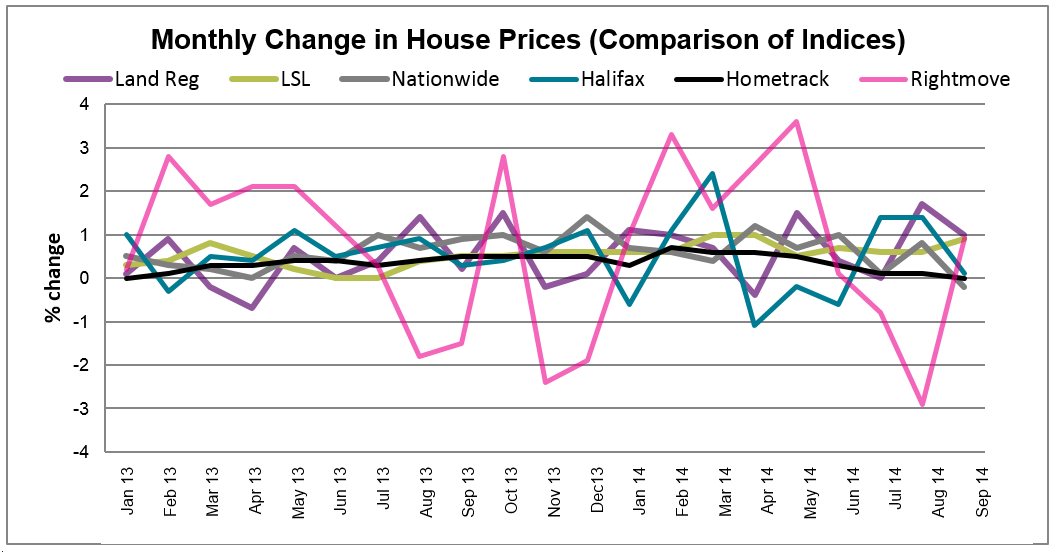 Regional Summary – Most regions saw a small uplift in average house prices in the past month
There are differences in the regional fluctuations between indices reporting August data and those reporting September data.  Land Registry August data indicated a sharp rise in London +2.7%, while Hometrack noted a decline in house prices of -0.1% in the capital in September.  Similarly, Land Registry August data noted a rise in the South East of +1.7% and Hometrack recorded a more nominal rise of 0.1% in September.
Prefer pictures, see our Infographic
To see how we calculate our House Price Watch click here or to see previous reports click here
Sign up to our

FREE

weekly newsletter

for the latest news, advice and exclusive money saving offers
Let us help you…