Oct 2017 House Price Watch
Across the major indices, house prices are up on average 0.4% in the past month and up 3.1% on average in the past year. The trend shows a slowing of annual house price growth.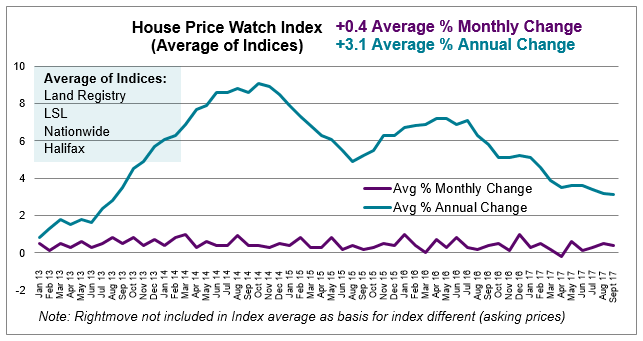 Cooling of activity and continued slowing of annual house price growth
The major house price indices differ as to whether house prices are up or down over the last month. Land Registry (0.5%), Halifax (0.8%) and Nationwide (0.2%) say monthly house prices are rising.  LSL (-0.1%) and Rightmove (-1.2%) say monthly house prices are falling.  Land Registry refers to August house price data.  Nationwide, Halifax, LSL and Rightmove refer to September house price data.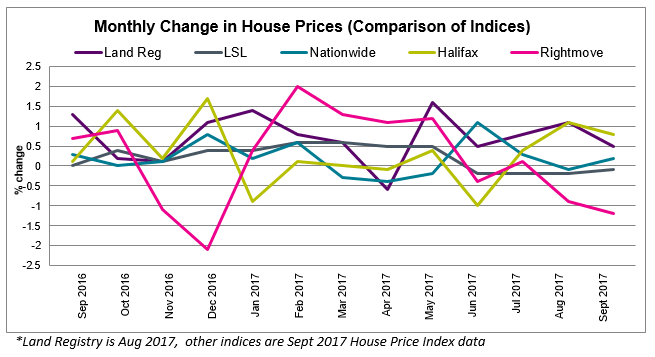 Across the major indices, house prices are up on average 0.4% in the past month and up 3.1% on average in the past year (Rightmove is excluded from the average).  The annual trend shows a slowing of annual house price growth.
Commenting on the figures, Katherine Binns, HomeOwners Alliance Research Director: "The autumn bounce we have experienced in recent years has not materialised in 2017.  Activity is subdued, with buyer demand and sales down a fraction in the past month.  Prices continue to nudge upwards nationally, supported by a shortage of homes available for sale, but the rate of annual house price growth continues to slow.  With the Bank of England's Monetary Policy committee indicating a rise in interest rates is likely in the coming months, we would expect the cool climate to continue."
Home sales and mortgage approvals dipped slightly in August
UK home sales fell slightly in August – down 0.5% between July and August 2017.  Transactions are actually 6.6% higher than August 2017. It is worth bearing in mind, however, that home sales from August 2016 may have been affected by a slowdown following a period of uncertainty after the result of the EU referendum.  (HMRC seasonally adjusted figures).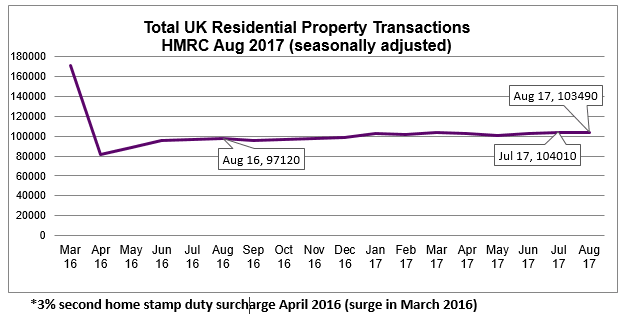 Mortgage approvals for house purchases, which are a leading indicator of completed house sales, were also down between July and August  – down 2.7%.
Buyer demand falls but shortage of homes sustains house prices
September 2017 RICS UK Residential Market Survey shows a drop in new buyer enquiries and a drop in agreed sales.  New sales instructions held steady.  The stock of homes available for sale on estate agents' books remains at near record lows.  The continued shortage of homes for sale is keeping upward pressure on house prices.
Market commentary:
Nationwide:  "At its September meeting, the Bank of England's Monetary Policy Committee signalled that if the economy evolves broadly in line with its expectations an interest rate increase is likely in the months ahead.  This would be the first increase in the Bank Rate since July 2007.  We would expect a modest rise in the Bank Rate, by itself, to have only a modest impact on economic activity."
Halifax:  "UK house prices continue to be supported by an ongoing shortage of properties for sale and solid growth in full-time employment.  However, increasing pressure on spending power and continuing affordability concerns may well dampen demand.  There has been recent speculation on the possibility of a rise in the Bank of England base rate.  We do not anticipate this will have a significant effect on transaction volumes."
Rightmove:  "There were Autumn price bounces nationally in 2014, 2015 and 2016 but the south of the country has turned this month into a bit of a damp squib, whilst some northern regions are still showing marginal signs of upward price pressure. Estate agents are clearly advising many sellers that they have to lower their price expectations to fit in with buyers' stretched financial resources, with that price compromise hopefully generating extra buyer interest."
RICS: "Results are symptomatic of a market lacking momentum at the national level. Headline indicators on demand and sales slipped deeper into negative territory, with this subdued picture anticipated to persist over the coming months.  Feedback from contributors suggests the recent shift in interest rate expectations may be contributing to the more cautious tone in market sentiment."
Regional Summary
In the past month, house prices have fallen in London (-1.0%) and remained stable or increased in most other regions.
Annual house price growth is lowest in London (2.6%) and highest in the North West (6.5%), East Midlands (6.4%), East of England (6.4%) and the South West (6.4%).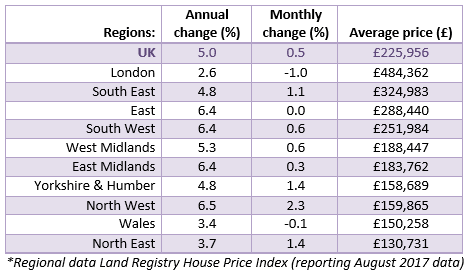 To see how we calculate our House Price Watch click here and to see previous reports click here
Sign up to our

FREE

weekly newsletter

for the latest news, advice and exclusive money saving offers
Let us help you…